Amerisleep Mattress Reviews 2021
Updated on: January 26, 2021

Mattress Reviews
Amerisleep makes five different mattresses, each of them designed with a type of sleeper in mind. Their beds are easily named: the Amerisleep AS1 through the Amerisleep AS5. According to their website, stomach and back sleepers respond better to the firmness of the Amerisleep AS1 or Amerisleep AS2, while side sleepers do better on the Amerisleep AS3 or up.
30 Second Summary: Amerisleep Mattresses
What Mattress Materials are Used by Amerisleep?
In designing their five different mattresses, Amerisleep keeps it pretty simple and uses only a few high-quality materials.
Bio-Pur®
Instead of using traditional memory foam in their beds, Amerisleep designed a breathable plant-based memory foam called Bio-Pur®. When manufacturing this foam, Amerisleep substitutes as much petroleum as they can with castor bean oil to make their beds healthier for both the environment and sleeper.
Bio-Pur® has an advanced open-cell structure, allowing for optimal airflow and breathability. A significant concern with memory foam is its tendency to trap heat. For hot sleepers, this can be what turns them away from a memory foam mattress altogether. Amerisleep created this foam as a solution for hot nights, allowing you to get comfortable sleep on a memory foam bed.
On top of being five times more breathable than traditional memory foam, Bio-Pur® is more responsive, too. Some memory foam mattresses create a "sinking" feeling which many find to be uncomfortable. To prevent discomfort, Amerisleep designs this foam to bounce back in 3 to 4 seconds, compared to memory foam's average 20 to 30-second response rate.
HIVE® Technology
Found in every mattress except the AS1 is the Affinity layer featuring HIVE® technology, formerly known as SMT technology. HIVE®, otherwise known as Harnessing Intelligent Ventilation & Energy, offers targeted spinal support and pressure relief due to its unique shape and construction.
HIVE® has dynamic firmness. In places your body needs support, such as your torso and neck, HIVE® feels firmer and provides more sturdy support. However, in areas you're prone to pressure points, such as your hips and shoulders, HIVE® feels softer and allows for deeper compression in the mattress.
Not only does this technology reinforce neutral spinal alignment, but it also promotes healthy sleep styles and offers relief for chronic pain.
Bio-Core®
The base layer in every Amerisleep mattress is the supportive Bio-Core®, a poly-foam layer designed to give the rest of the mattress shape and support. This sturdy foam extends the longevity of your mattress by preventing premature wear and tear.
Despite its proven durability, , Amerisleep still offers a 20-year warranty to backup to their Bio-Core®, ensuring your investment will last.
Active Flex
While the AS5 is labeled as Amerisleep's softest mattress, it may not feel that way to all sleepers. That's where the Active Flex layer comes in, found only in the AS5 mattress.
The second layer of the AS5 is Active Flex, a latex-like poly-foam. This layer is cushioning and contouring like memory foam but has a quick response time to keep you feeling elevated "on top" of the mattress rather than cradled inside of it. The point of including this layer is to give the bed a little more support.
If you're a lighter individual, say under 150 pounds, the AS5 may feel firmer than the AS4 due to this extra layer of support. However, the AS5 is perfect for heavy sleepers who are looking for a soft memory foam mattress and don't want to sacrifice support.
All of Amerisleep's foam layers are CertiPUR-US® certified, too. Meaning their beds are free from ozone depleters, mercury, lead, formaldehyde, heavy metals, PBDE flame retardants, and are low in Volatile Organic Compounds (VOCs). Due to the lack of chemicals in their mattresses, Amerisleep beds are less prone to off-gassing, which you may know as the chemical smell commonly encountered when unboxing foam mattresses.
Amerisleep Makes Mattresses for Types of Sleepers
Amerisleep's AS1 is their firmest mattress, fit for back or stomach sleepers. While Amerisleep mentions on their site that stomach sleeping is unhealthy, and none of their beds are intended to promote that sleep style, the AS1 would be their most compatible mattress for that sleeping position.
The AS1 is rated a 7 out of 10 on the firmness scale, and is great for anybody looking for an extremely solid mattress.
Inside, it has 2 inches of Bio-Pur® and 8 inches of Bio-Core®, totaling 10 inches in all. This mattress does not have the Affinity layer featuring HIVE® technology.
When you lay on this mattress, the Bio-Pur® will cushion to your body and relieve pressure points, but won't feel so soft that you sink in.
Amerisleep AS2 – Rated as Best for Back Pain
The next mattress in their line-up is the AS2, a medium-firm model. On their website, they mention the AS2 is most comfortable for back sleepers and is their best mattress for back pain relief. In fact, Business Insider recently featured the AS2 as its recommended bed for lower back pain.
The AS2 has 2 inches of Bio-Pur®, 3 inches of Affinity layer with HIVE® technology, and 7 inches of Bio-Core®, totaling 12 inches tall.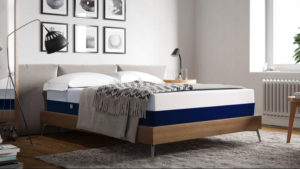 Amerisleep's AS3 mattress is their top-selling model, designed to offer an even balance of comfort and support. A true medium, this bed is great for combination, back, and side sleepers. It's also a suitable option for couples who have different sleep styles but need a comfortable middle-ground.
The AS3 has 3 inches of Bio-Pur®, 2 inches of Affinity layer with HIVE®, and 7 inches of Bio-Core®, coming in at a total of 12 inches tall.
When you lay on the AS3, the Bio-Pur® will cradle your body while still offering adequate spinal support.
Amerisleep AS4 – For the Dedicated Side Sleeper
The Amerisleep AS4 is their medium-soft model, best for side and back sleepers. The AS4 features something a lot of other memory foam mattresses on the market don't— 4 inches of the comfort layer.
Many memory foam mattress brands hesitate to use more than 2 or 3 inches of memory foam as the top layer because they fear it'll retain heat. However, Amerisleep can pack on the memory foam because its Bio-Pur® is more breathable; this allows you to get cushioning, cloud-like sleep without overheating in foam.
Below the 4 inches of Bio-Pur®, this bed contains 1 inch of Affinity layer with HIVE® technology and 7 inches of Bio-Core®. Like the AS2 and AS3, this model is also 12 inches tall.
The last Amerisleep mattress to mention is the AS5 model. The AS5 is advertised as their softest mattress and is an excellent option for heavy sleepers looking for a soft bed due to its extra supportive design.
The AS5 contains four layers and measures at a whopping 14 inches in height, so it's a little lofty. Because it's a bit taller, it's usually easier to get in and out of bed.
Inside the AS5 is 3 inches of Bio-Pur®, 2 inches of Active Flex, 2 inches of Affinity layer with HIVE® technology, and 7 inches of Bio-Core®. All in all, it has the same top-rated design as the AS3, but with a little extra support.
FAQs About Amerisleep
When looking for your next mattress, it's important to consider the company you are buying from. Below we will cover the most common questions asked about Amerisleep.
When Was Amerisleep Founded?
Amerisleep was founded over a decade ago in 2007. At the time, the company was one of the first bed-in-a-box mattress companies to hit the market— as many of the brands we know today didn't emerge until 2012 or later. As the years passed, they've had time to get the hang of online mattress sales and perfect their craft.
For the sake of simplicity, many online brands choose to make and sell one mattress. Doing this simplifies the shopping process and takes the guesswork out of choosing your next bed. However, Amerisleep decided to go a different route and offer more than one mattress.
Instead of choosing to invest their energy into creating one universally comfortable bed, they put a heavier emphasis on creating the best mattresses to promote healthy, pain-free rest for different sleep needs. With that, Amerisleep now has five different best mattresses in 2021.
How Many Mattresses Does Amerisleep Make?
Five. Amerisleep's mattresses are the AS1, AS2, AS3, AS4, and AS5. They all contain a variation of the same sleep-promoting technologies but differ in firmness to be compatible with different sleeping positions.
How Much Do Amerisleep Mattresses Cost?
As their beds range in firmness levels, they vary in price, too. Below, we list the price for each model based on Queen sizes.
The Amerisleep AS1 costs $909.
The Amerisleep AS2 is $979.
An Amerisleep AS3 costs $1049.
Their Amerisleep AS4 is $1259.
The Amerisleep AS5 costs $1539.
Do Amerisleep Mattresses Come with a Sleep Trial and Warranty?
Amerisleep understands buying online can be daunting, so they offer a generous 100-night sleep trial with each of their beds— giving you over three months to test it out. You have the option to return your mattress for a full refund or exchange it for a different model if you find it doesn't meet your needs.
If you find your new Amerisleep bed is all you thought it would be and decide to keep it, it's backed by a lengthy 20-year warranty. Usually, mattress brands offer a limited 10-year warranty— so we can appreciate this brand's additional coverage.
Where Can You Buy an Amerisleep Mattress?
As an online brand, Amerisleep sells most of their beds on their website— amerisleep.com. However, in the past few years, they've opened showrooms in a select few states as well. If you're located in Texas, Arizona, Oregon, or Colorado, there may be a showroom near you.
Amerisleep also sells their beds through their Amazon storefront. Just make sure you're buying from Amerisleep and not a third-party seller when shopping on Amazon.
Regardless of how you buy, every bed comes with the same trial period and warranty agreement we covered above.
What Are Other People Saying About Amerisleep?
Overall, Amerisleep has a 4.7 star rating on Google. Each of their mattresses is well-received, but many people mention the AS3 as being their favorite model. We noticed most of the reviews discussed not only their new mattress but also the helpful customer service they received.
Many reviewers say these beds bring them the pain relief they were looking for and are the reason they get better sleep night after night. A lot of reviews mentioned waking up feeling more refreshed, too.
When commenting on Amerisleep's customer service, several reviews mentioned the customer service team was responsive, knowledgeable, and helped them feel more confident buying online. The reviews mentioning the return policy talk about how easy the process was and how helpful the customer service team was throughout.
Did You Find Your Next Bed?
We hope this guide has given you more insight into the Amerisleep brand and what they have to offer. If you're looking for a high-quality memory foam mattress, you can't go wrong with an Amerisleep. However, if memory foam isn't what you're looking for, check out our other mattress reviews to learn about different brands and beds.