Best Amazon Prime Day Mattress Deals 2023
Updated November 22, 2023

Best Mattress Sales
This year, Amazon Prime Day kicks off on October 13th. For Prime members, Amazon's Prime Day is the biggest sales event of the year, offering even more savings on almost everything—including mattresses.
In previous years, Prime Day has been a one-day-only event, leaving people glued to their computers or smartphones, searching for the best deal before the day ends. However, this year, Amazon is giving you more time to buy, extending Prime Day through October 14th. To make it easier, we put together a list of the best Amazon Prime Day mattress deals.
30 Second Summary: Best Amazon Prime Day Mattress Deals
Zoma — Another innovative company offering savings during Prime Day 2023 is Zoma. Their memory foam and hybrid mattress are available for $150 off. This is a great price on a supported and pressure-relieving mattress that provides deep, restorative sleep. Of their three models, our favorite is the slim Zoma Start for its affordability.
Amerisleep — We recommend shopping with Amerisleep for the best Prime Day mattress deals. They offer five top-rated memory foam and three hybrid mattresses, each at a competitive price. On Amazon Prime Day, you can score even more savings on their comfortable beds with a 30 percent discount!
Vaya

— The Vaya Mattress is a hypoallergenic, all-foam mattress that works well for most body types and sleep positions. The natural elasticity of the Vaya Foam keeps sleepers lifted, rather than sunk in the mattress. On Prime Day 2023, you can save $300 off on any Vaya Mattress. 
Best Amazon Mattress Deals of 2023
| | Mattress | Highlights | Price |
| --- | --- | --- | --- |
| | Zoma Start | Gel memory foam and buoyant transition foam with a durable base foam | |
| | Amerisleep AS3 | Contains HIVE® technology to promote healthy spinal alignment and ease pains | |
| | Amerisleep AS5 Hybrid | Pocketed spring coil base provides accurate contouring and reduces motion transfer | |
| | Zoma | Features Triangulex™ technology to alleviate pressure and prevent discomfort | |
| | Zoma Hybrid | Combination of gel-infused memory foam and a spring coil base for a balance of cushioning and support | |
| | Vaya | Affordable all-foam mattress designed to resist sagging and promote healthy sleeping positions | |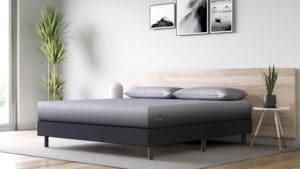 Zoma is an innovative mattress company that is delivering great savings this Prime Day. Zoma is well-known among professional athletes for their exceptional mattresses. Zoma offers three mattress models—the Zoma Start, the original Zoma Mattress, and the Zoma Hybrid—contain layers that improve recovery for those who lead an active lifestyle.
Zoma's mattresses contain responsive foam layers that conform to the body and relieve pressure points without causing a deep sink. The top gel memory foam layer absorbs and dissipates body heat to regulate temperature. In the original Zoma Mattress, this comfort layer also incorporates Triangulex™ technology. Hundreds of triangle-shaped segments form three support zones for a deeper compression under the shoulders and enhanced lumbar support.
Beneath the comfort layer, Zoma includes a responsive transition layer called Reactiv™. This material keeps the hips and shoulders from sinking too far into the bed and forcing the spine to bow. This feature allows sleepers to wake with less pain and all of Zoma's mattresses rely on Reactiv™ foam.
Instead of a stable foam base, the Zoma Hybrid contains pocket coils for targeted support in areas you need it the most, including the lower back. Pocket coils also give the Zoma Hybrid better edge support, so you can rest easy without worrying about rolling off the bed during the night.
This Prime Day, the Zoma Mattress, Zoma Hybrid, and Zoma Start are $150 off. You can enjoy better sleep under $1,000 for a queen size bed with Zoma. All mattresses are backed by 10-year warranties and a 100-night sleep trial. If you are not happy with the bed after giving yourself time to adjust, you can return it for a full refund.
Amerisleep is one of our recommended mattress brands to buy this Prime Day. We like the Amerisleep brand because they sell comfortable and supportive eco-friendly memory foam and hybrid mattresses. Each of their beds ranges in firmness and are designed for specific sleep styles. On their website, Amerisleep describes each bed's firmness and who it's recommended for, making shopping with them a breeze.
Plus, they offer a 100-night risk-free sleep trial with each of their beds, giving you the chance to try one out and see if it's comfortable enough for your sleep needs. If it's not a fit after breaking it in, you can swap it for a different model or return for a full refund.
This Prime Day, Amerisleep is discounting each of their advanced mattresses for 30 percent off—allowing you to buy a luxury bed at an affordable price. Stop by Amerisleep's Amazon page to score significant savings on October 13th and 14th.
Below, we will outline each Amerisleep mattress and why it might be right for you.
Amerisleep's AS1 is their firmest mattress, and it's built to support back and stomach sleepers. The cover of the AS1 is a soft, breathable fabric designed to keep you cool throughout the night and prevent night sweats.
The top layer of the AS1 is 2 inches of pressure-relieving Bio-Pur®. Bio-Pur® is Amerisleep's plant-based memory foam. This material cushions your curves and alleviates muscle tension, preventing aches and pains. Plus, because Bio-Pur® is partially plant-based, it retains less heat than traditional memory foam mattresses.
The next and last layer of the AS1 is 8 inches of supportive Bio-Core® foam to give the bed durability and maintain its shape.
If you're looking for an extremely firm memory foam bed, the AS1 is right up your alley.
Amerisleep AS2 – Best Mattress for Back Pain
The Amerisleep AS2 is Amerisleep's medium-firm mattress. It was recently featured in Business Insider as their recommended mattress for back pain, and we couldn't agree more. In this bed, Amerisleep uses the same state-of-the-art foams found in the AS1, but with an additional layer of back support.
The top layer of the AS2 is 2 inches of Bio-Pur®, like the AS1. Below the layer of Bio-Pur® is the Affinity layer with HIVE® technology. The goal of HIVE® technology is to provide adequate support and maintain a healthy spinal position.
When you lay on the AS2, the Bio-Pur® cushions your body, while HIVE® technology offers extra support to your midsection, neck, and feet, keeping your spine neutral. This mattress provides relief for existing pains and may even prevent new pains from forming.
The last layer of the AS2 is 7 inches of Bio-Core® to give the bed extra support and durability.
The AS2 is also now available as a hybrid mattress. The Amerisleep AS2 Hybrid has a medium-firm, Bio-Pur® comfort layer and Affinity foam transition layer with HIVE® technology.
Instead of a foam base, this hybrid has a spring coil support system. Each spring coil in this base is pocketed to create independent movement and accurate contouring. These coils are also zoned to prevent pressure points. Near the joints, wire gauges are thinner and compress easily. Along the back, coils are thicker and more supportive.
Amerisleep's AS3 is their most popular mattress. Designed to have a medium firmness, this bed offers the perfect balance of comfort and support. Because the AS3 can adapt to and adequately support a large variety of sleep styles, it's a fit for most sleepers.
Amerisleep recommends their AS3 to back, side, and combination sleepers. Its universal comfort level also makes it a great fit for couples with different sleep styles.
The AS3 has 3 inches of their pressure-relieving Bio-Pur®, 2 inches of zoned HIVE® technology, and 7 inches of supportive Bio-Core®. Together, these layers provide sleepers with cushioning comfort without sacrificing necessary spinal support.
Amerisleep's AS3 Hybrid Mattress is similar to the AS3 with a medium, Bio-Core® comfort layer, and HIVE® transition layer. The pocketed spring coil base in this hybrid is zoned to protect the joints from pressure points and keep the body lifted and aligned. This base is also reinforced with edge support, making getting in and out of bed more comfortable.
If you're searching for a plush mattress, the AS4 should be on your radar. We like Amerisleep's AS4 because they use 4 inches of Bio-Pur® foam to create a cloud-like sleep experience.
Amerisleep recommends their AS4 for side sleepers in need of a soft bed, but it's important to note this bed is likely too soft for back and stomach sleepers.
Most memory foam mattress brands hesitate to use more than 2 or 3 inches of memory foam in their beds due to the risk of heat retention. What good is a comfortable bed if it causes you to wake up hot? However, because Bio-Pur® is plant-based, it's more breathable than traditional memory foam. This allows Amerisleep to use more foam in their beds—creating a plush mattress that isn't a heat trap.
Altogether, the AS4 has 4 inches of Bio-Pur®, 1 inch of Affinity with HIVE® technology, and 7 inches of Bio-Core®.
Amerisleep AS5 – Best Soft Mattress for Heavy Sleepers
Heavier sleepers often have a difficult time finding a soft mattress that offers adequate comfort and support. Amerisleep designed their AS5 mattress to be soft and supportive for sleepers over 230 pounds.
The AS5 contains a layer none of the other Amerisleep models do—Active Flex. Active Flex is a highly-responsive, latex-like foam. Allowing you to sink slightly into the material, Active Flex is still durable enough to keep you lifted. This gives plus-size sleepers the comfort they want without uncomfortable sinking.
The Active Flex layer in the AS5 is located directly below the layer of Bio-Pur®, so plus-size sleepers can reap the benefits of both memory foam and zoned support. The base of the memory foam AS5 is made with Amerisleep's Bio-Core® support foam, a durable foam that prevents premature sagging and indentations.
Amerisleep's AS5 Hybrid has the same Bio-Pur® comfort layer and Active Flex transition layer as its memory foam counterpart. However, the AS5 Hybrid has a spring coil support base that is zoned to provide the perfect level of support to each area of the body.
All foam layers of each Amerisleep mattress are certified by CertiPUR-US® to be free of harmful chemicals. This certification also guarantees the bed will have minimal off-gassing, or "new mattress" smell when brought indoors.
Because Amerisleep sells direct-to-consumer, they're able to sell their beds at an affordable price, and this Prime Day, they're discounting their beds 30 percent off. This deal includes their generous 100-night sleep trial, 20-year warranty, and free shipping to anywhere in the continental United States. Don't miss out on unbeatable savings—take advantage of their Amazon Prime Day deals.
When it comes to scoring a high-quality mattress at a fraction of the price, the Vaya Mattress is a good choice. Vaya prides itself on creating long-lasting comfort for those on a budget. The Vaya Mattress has a simple construction of only two foam layers, but this bed delivers quality comfort and support for a good night's sleep.
The Vaya Comfort Foam is a thick, 3-inch comfort layer with an open-cell design. The comfort layer contours to the body's natural curves without sleepers feeling stuck. The plush foam also won't trap heat because of the improved air circulation inside the mattress material.
The Vaya Support Foam is 9 inches thick and evenly distributes body weight for even wear and tear. You'll love the steady support that enhances the contouring properties of the Vaya Comfort layer. The Vaya Support Foam consistently supports the body without developing soft spots.
This Prime Day, you can score a queen size Vaya Mattress for only $599. This is a great price considering most companies charge at least $1,000 for their memory foam beds. When shopping with Vaya, you get a high-quality bed, a lower price point, a generous 100-night sleep trial, and a 10-year warranty.
4. Tuft and Needle
Tuft & Needle is another top-rated mattress-in-a-box brand offering great savings this Prime Day. You rarely see Tuft & Needle offering discounts on their beds, so if you've had your eye on a T&N, we'd recommend buying now!
Tuft & Needle specializes in designing comfortable all-foam mattresses. When they first launched, they sold only their flagship T&N bed. After they saw the success of the T&N, they released an upgraded version of their namesake bed, the Mint™. The Mint™ was designed to offer everything the top-rated T&N bed did, but with more cooling technologies—making it ideal for hot sleepers. The third Tuft & Needle mattress is the Nod, created exclusively for Amazon.
This Prime Day, Tuft & Needle is discounting their T&N, Mint, and Nod at 20 percent off. Each Tuft & Needle mattress comes with a 100-night sleep trial and a 10-year limited warranty.
5. Bear
We are fans of the well-known Bear brand because they design their beds for athletes to help them sleep better, recover faster, and perform at the top of their game.
Bear sells two different mattresses, a memory foam model called Bear and a hybrid version of it with the same name. Both of their beds receive glowing reviews, and deciding between the two comes down to personal preference. If you prefer a bouncier mattress, choose their hybrid; but if you like cushioning comfort, their memory foam model is the better option.
During Prime Day, Bear is discounting their memory foam flagship model by $100 and their hybrid $200.
6. Nolah
If you're a side sleeper, you should consider the Nolah mattress. Nolah is an all-foam mattress brand that specializes in making the best mattress for side sleepers.
In each of their mattresses, they use proprietary Nolah AirFoam™ as an alternative to memory foam. They've designed this foam to be 4 times more pressure relieving than standard foam, so it's great for side sleepers or people with chronic pains.
Nolah makes two beds, the Nolah 10" and the Signature 12". Their Signature 12" is unique because this bed is flippable, meaning you can choose between two firmnesses whenever you want.
Nolah is offering a variety of deals this Prime Day. When buying either of their beds, you have two options for savings. If you have your eye on the Signature 12", they're offering either a $300 discount with code SIGNATURE or a $125 discount with two free pillows with the code AIRFOAM. On the other hand, if you prefer the flagship Nolah 10" model, you have the option to receive two free pillows with your purchase by using the code AIRFIBER or discount the mattress $125 with promo code ORIGINAL.
7. Purple
Purple is an innovative online mattress brand that features their Smart Comfort Grid™ in each of their beds.
The founders of Purple created the Purple mattress to be the world's first "No-Pressure" bed. They engineered hyper-elastic polymer into a grid, their Smart Comfort Grid™, to ease pressure points and increase airflow through the mattress.
Purple makes 4 different beds: the all-foam Original Purple, and hybrid mattress models Purple.2, Purple.3, and Purple.4. During Prime Day, Purple is offering free sheets with every mattress purchase.
Tips for Buying through Amazon
Amazon is a one-stop-shop for almost everything you could ever need—from home goods to clothing to food. Though there are several benefits to buying through Amazon, convenience being the biggest, you still need to be cautious before purchasing.
Be Mindful of Third-Party Sellers
Amazon is such a large platform and there are thousands of people who sell their products through this site. Some businesses even sell their products exclusively through Amazon. That said, you don't always know who you're buying from. It's not uncommon to see popular products being resold through Amazon, and this is especially prevalent with mattresses.
When shopping on Amazon, always take note of who the product is being sold and shipped by. In the product description, it should have a spot that plainly states, "Shipped and Sold by." This tells you whether or not you're buying from the company directly or buying from a third-party seller.
Typically, third-party sellers sell their products for less than what major brands charge, so many people stumble upon them and think they've found a steal. However, what they don't tell you in the product description is that your new bed comes without a sleep trial or warranty.
Sleep trials and warranties only apply to the original owner of the mattress, and because these third-party sellers are technically the original owners of the bed they're selling, they cannot transfer the sleep trial or warranty to you, the next owner.
Play it safe and always buy through a brand's Amazon page to ensure your purchase is protected and you receive a sleep trial and warranty.
Check the Return Policy & Warranty Information
It probably goes without being said, but always read the product description before making a purchase on Amazon. The product's description should tell you whether or not your new bed comes with a sleep trial and warranty. If it doesn't mention either, don't just assume your bed comes with warranty coverage and a trial period. Instead, contact the seller to ask for more information.
Every mattress we mentioned in our guide comes with a trial period and warranty coverage, whether you buy through the brand's site or their Amazon storefront. However, if you're interested in a bed not mentioned here, be thorough in your research to ensure your bed comes with at least a warranty. It's crucial to find a mattress with warranty coverage of at least 10 years, as this protects it through the duration of its expected lifespan. Beds without warranty coverage probably aren't worth buying, anyway.
Other Mattress Sales of the Year
Amazon Prime Day isn't the only big mattress shopping day. Other mattress sales that shoppers can jump on for big savings:
Frequently Asked Questions
What type of mattress is best for a daybed?
A daybed is similar to a futon in that you can sit and relax on it during the day and sleep on it at night. Unlike a futon, a daybed should have a headboard. Most daybeds require a twin size mattress, and foam mattresses are a popular choice for their blend of comfort and support.
What is the best time to buy a mattress?
Amazon Prime Day isn't the only big mattress sales day of the year. If you're interested in buying a new mattress, you'll find some of the best deals during Presidents Day, Memorial Day, the Fourth of July, Labor Day, and Black Friday. But don't worry if you've missed out on these sales since Amazon and other online sellers tend to offer low prices year-round.
How can I get a deal on a mattress?
Waiting for one of the big mattress sales days is one way to get an excellent deal on a new bed. You can also shop online sellers for low mattress prices—they usually have fewer costs to meet than a traditional brick-and-mortar store and tend to pass their savings along to the customer.
If you're looking to upgrade your entire bedroom instead of just buying a new mattress, you might want to compare the different bundle sets companies offer. Bundles can add on sheets, pillows, protectors, bed frames, and even adjustable beds at a discounted price.
Do you need a new box spring every time you buy a new mattress?
You don't need to necessarily buy a new box spring when you replace your mattress. Many box springs last a full decade, while a mattress might last between five to eight years depending on its type and quality.
However, when you're buying a new mattress it's wise to consider if it's compatible with a box spring. You shouldn't place a foam mattress directly on a box spring because the inner coils aren't spaced close enough for consistent support. If you have a box spring you wish to keep using, try slipping a bunkie board in between the box spring and your mattress.
What mattresses do hotels use?
Traditionally, hotels have outfitted their rooms with innerspring mattresses, though many are now switching over to memory foam mattresses. Hotels often improve their bed's comfort by dressing them with sheets, comforters, blankets, and a pile of goose down pillows. Hotels change their mattresses out for new ones fairly regularly, around every three to five years, to ensure their guests are always sleeping on a quality bed.
Did You Find Your Next Bed?
We hope our guide has helped you find the best deals on mattresses during Amazon's Prime Day. Before clicking purchase on a new mattress, always remember to double-check who you're buying from and the warranty coverage your bed comes with to make sure you're making a smart investment.
If you're interested in learning about other mattress types or mattresses for your specific sleep style before Amazon's Prime Day sale kicks off, check out our other mattress guides!