Best Mattress For a Lightweight Person: Reviews and Buyers Guide

Mattress Guides
In the mattress world, a petite or lightweight sleeper is someone who weighs less than 130 pounds. Since petite sleepers put less pressure on their bed, they generally need a softer mattress to sleep restfully. The extra cushioning responds well to different weights and ensures petite people don't experience uncomfortable pressure build-up.
If you're a skinny or small-framed person, there are a large number of mattresses suited for your body type to ensure you're comfortable and supported. We review some of the best mattresses for petite sleepers to promote a good night's rest.

Best Mattresses for a Lightweight Person: 30 Second Summary
Amerisleep AS5 – The AS5 is our recommended mattress for petite sleepers because the zoned support technology promotes proper posture and cushions the hips and shoulders.
Zoma Hybrid – Zoma Hybrid alleviates pressure points with gel memory foam and keeps your spine in healthy alignment with zoned support.
Vaya Mattress – The responsive comfort layer on the Vaya Mattress cushions and cradles the joints. However, the supportive, bounce of this material keeps your body lifted and aligned.
Best Mattresses for a Lightweight Person
The soft Amerisleep AS5 is a good fit for petite people who prefer sleeping on their side. This 14-inch mattress has four layers and is wrapped in a plush and breathable cover to promote a cool and comfy night's sleep.
The mattress's comfort layer is made from Amerisleep's proprietary memory foam, Bio-Pur®. This plant-based foam partially features castor oil in place of petroleum-based oils to produce a non-toxic and eco-friendly foam.
Bio-Pur® is also superior to traditional memory foam because it is more breathable and responsive. A bouncy and responsive bed is especially useful for petite sleepers who won't place much pressure on the surface.
The second layer is exclusive to the AS5, consisting of responsive Active Flex. As the name suggests, Active Flex adds a dash of reactiveness to the surface without reducing its plush feel.
Next up is the bouncy Affinity layer with HIVE® technology. While you may not be able to feel a transition layer directly—like you do with a comfort layer—the Affinity layer is an important factor for keeping you comfortable in bed. With the HIVE® technology, the Affinity layer is firmer around your back, while being extra cushiony around the hips and shoulders.
At the bottom of the bed is Bio-Core®, a sturdy foam built to protect the bed from developing sags. It also provides enough support for your spine and prevents lower back pain.
The Amerisleep AS5 comes with a 100-night sleep trial. Not only that but Amerisleep backs their mattresses with a 20-year warranty.
AMERISLEEP AS5
Soft feel perfect for petite sleepers
HIVE® technology encourages spinal alignment
Supportive foam base is resistant to sagging
100-night sleep trial and 20-year warranty
At a medium-soft bed, the Zoma Hybrid works well for petite sleepers who sleep on their sides or switch positions throughout the night. The Zoma Hybrid contains three layers of foam with a pocketed support layer. The four layers are encased by a stretchy and moisture-wicking mattress cover called AirCloth.
At the top of the bed is 2 inches of gel memory foam with Triangulex™ technology. With the gel infusion, the comfort layer provides both cushioning and breathability so you sleep undisturbed.
With a softer mattress, a common issue is an uncomfortable sinkage. It can make you feel trapped in bed and make it difficult to move. The Zoma Hybrid offsets this with 2 inches of Reactiv™ foam, a springy material built to minimize sinkage so you can shift in bed easily.
The star of the Zoma Hybrid is its durable pocketed coil support layer. Each of the coils is wrapped in fabric to minimize motion transfer and noise without reducing the bed's bounce.
Underneath the coils is a hybrid foam to maintain the bed's structural integrity.
Zoma mattresses come with a 100-night sleep trial and a 10-year warranty. They ship to your home for free and come with free returns if you choose not to keep the one you picked.
ZOMA HYBRID
Gel memory foam comfort layer
Pocketed spring coil base
Transition layer with targeted lumbar support
100-night sleep trial and 10-year warranty
The Vaya Mattress is here to help you sleep cool and comfortable, all at an affordable rate. At 12 inches thick, it contains 2 foam layers and has a stretchy and plush cover.
The top of the bed contains Vaya Comfort Foam, Vaya's proprietary foam. Unlike basic memory foam, Vaya Comfort Foam is highly breathable and elastic, providing a better bounce so you don't feel stuck in your mattress. Still, it provides enough sinkage to cushion your curves without leading to pain or pressure points.
The mattress's base layer is made from Vaya Support Foam. This sturdy foam prevents the mattress from sagging or going lumpy.
Both layers are CertiPUR-US® certified to keep your bed safe from harmful additives. The Vaya Mattress has a 100-night sleep trial and a 10-year warranty. It also comes with free shipping and returns.
VAYA MATTRESS
Ventilated cover encourage airflow
Buoyant foam comfort layer
Stable foam base is resistant to sagging
100-night sleep trial and 10-year warranty
Another good option offered at Amerisleep is the AS3 Hybrid bed. This bed is just a bit firmer than the AS5—with a medium feel—which works well for petite sleepers who want to sleep on their backs or stomachs.
The AS3 Hybrid's top layer is Bio-Pur® to provide cushioning and pressure relief. Rather than being made entirely of foam, the AS3 Hybrid contains a pocketed coil support system.
The mattress's coil layer offers needed support for your body and spine and a healthy bounce, making it easy to shift around in bed. The coils are sturdier around the perimeter of the mattress, ensuring you don't fall out of bed accidentally as well as making getting in and out of bed easier. The coil layer increases air circulation throughout the mattress, so for hot sleepers.
A thin foam at the base supports the coils and the upper layers.
Amerisleep mattresses are CertiPUR-US® certified, ensuring the beds are free from harsh chemicals and won't release an off-gassing odor. You can try the AS3 Hybrid for 100 nights. Along with that, the bed comes with a 20-year warranty. Amerisleep also provides free shipping and returns.
AMERISLEEP AS3 HYBRID
Medium firmness ideal for couples
Plant-based memory foam comfort layer
Supportive pocketed spring coil base
100-night sleep trial and 20-year warranty
For added bounce and airflow, consider the Vaya Hybrid. Similar to the Vaya Mattress, the Vaya Hybrid is both affordable and high-quality. With three layers, the Vaya Hybrid has a medium feel.
The Vaya Hybrid features Vaya Comfort Foam and a lightweight cover. The Comfort Foam adds extra bounce to the bed while ensuring your body stays aligned for restful sleep.
The coils in the support layers are wrapped in a soft fabric to maximize support and minimize noise. Each coil moves independently to better support your body and provides good motion isolation from one side of the bed to the other—an important feature for couples.
There's also a thin foam base to support the coil layer.
With the Vaya Hybrid, you get a 100-night sleep trial to test out the bed and a 10-year warranty for defects and sags deeper than an inch.
VAYA HYBRID
Affordable price
Wrapped spring coils provide contouring
Responsive foam comfort layer
100-night sleep trial and 10-year warranty
Types of Mattresses For Lightweight Sleepers
The type of mattress you have determines how comfortable it is for you. Some popular mattress types for petite sleepers include memory foam, latex, innerspring, and hybrid.
Memory Foam
Memory foam mattresses are a good choice for petite sleepers because they respond well to minimal weight and provide lots of pressure relief. Most mattresses feature memory foam as the comfort layer of mattresses, while the foundations are made of poly-foam.
Traditional memory foam is known to trap body heat and causes you to sink uncomfortably, even if you're petite. Excessive sinkage makes it difficult to move and can misalign your spine.
When looking for a memory foam bed, we recommend a plant-based memory foam or one infused with copper or gel. Plant-based and infused memory foams are cooler, more durable, and springier than basic memory foam.
Latex
Latex is a natural foam made from the sap of rubber trees. Latex and memory foam are similar since they both relieve pressure and pain. However, latex mattresses have a natural bounce and fast response time, unlike memory foam.
When sleeping on latex, you're unlikely to sink or feel stuck in bed, but a latex bed still cradles your body's curves. If you prefer sleeping on your mattress rather than in it, latex foam may be the right mattress for you.
Innerspring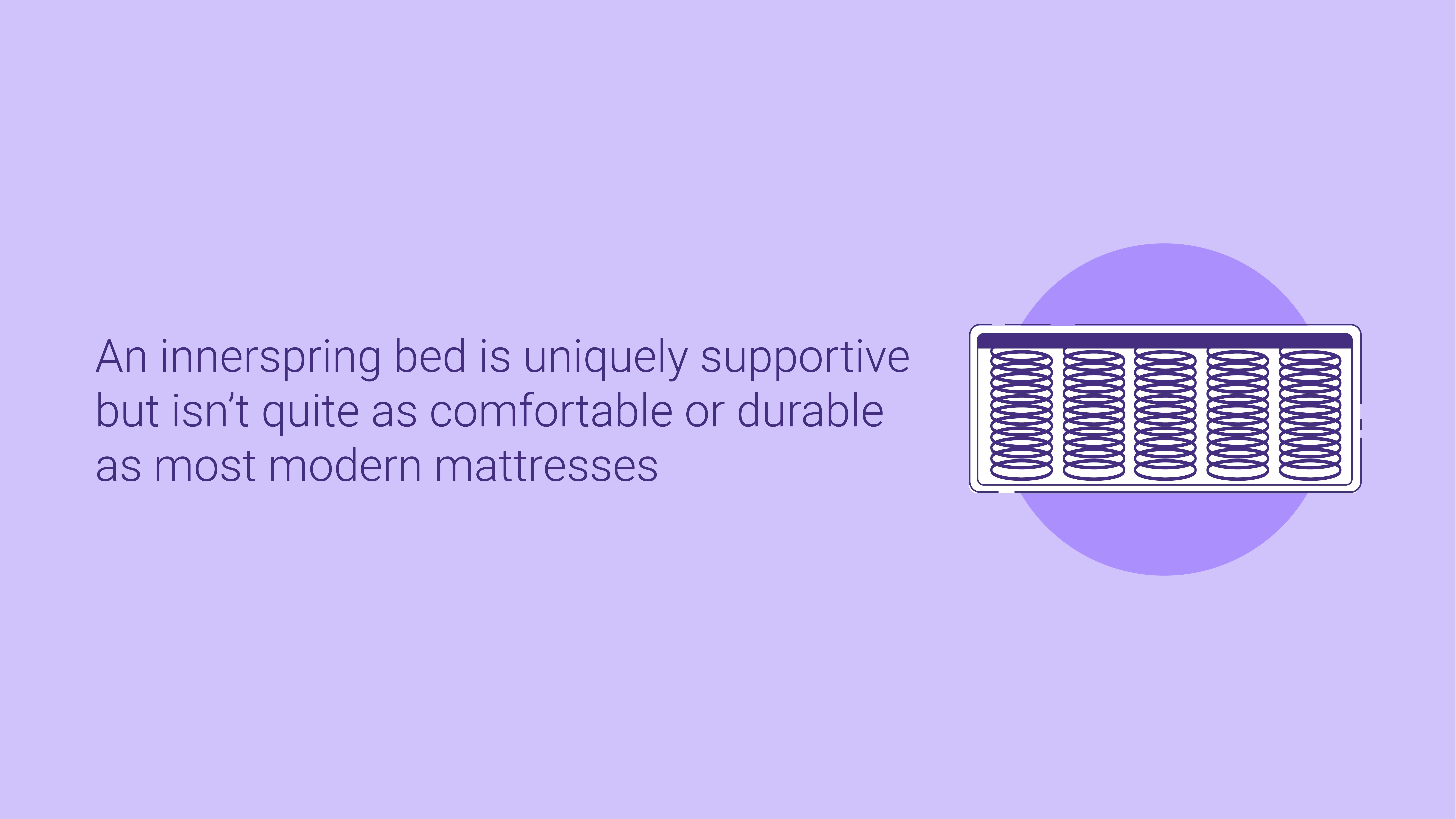 Innerspring mattresses are a well-known and affordable style of bed. An innerspring mattress features a coil support layer and a pillow top or Euro top comfort layer. Pillow tops and Euro tops generally contain foam, cotton, down, or wool.
An innerspring bed is uniquely supportive but isn't quite as comfortable or durable as most modern mattresses today since the comfort layer isn't as thick or pressure relieving. As a petite person, it's best to avoid innerspring mattresses and opt for a bed with a thicker comfort layer.
Hybrid
Hybrid mattresses contain at least a 2 to 3-inch comfort layer—frequently made of memory foam or latex—with a support layer from pocketed coils. This type of mattress provides excellent pressure relief, bounce, and breathability.
Traditional innerspring mattresses can be noisy and the coils can snap. With the pocketed coils in a hybrid, the coils are quiet and less likely to break. Pocketed coils also provide great edge support, making getting in and out of bed easier.
Choosing a Mattress Firmness As a Lightweight Sleeper
The mattress firmness scale ranges from 1 to 10, with 1 being the softest and 10 being the firmest. Finding the right firmness levels comes down to your sleeping position and size. As a petite person, you'll need a softer mattress than the average person based on your sleeping position.
Back Sleeper
Back sleeping is a great position for keeping your spine aligned and preventing pain or pressure build-up. When back sleeping, it's important to have a mattress firm enough to prevent the hips from sinking and throwing your spine out of alignment.
Mattresses for back sleepers are often medium to medium-firm. However, as a petite person, a medium mattress (between 5 to 6) should be comfortable when back sleeping. This firmness will evenly distribute body weight and prevent painful sinkage.
Side Sleeper
While back sleeping was once considered the best sleeping position, new research has shown that side sleeping is the healthiest sleeping position.
When side sleeping, the shoulders and hips—the widest parts of the body—carry the brunt of body weight. In most cases, the best mattresses for side sleepers are soft to medium. Petite sleepers should use a soft to medium-soft mattress (1 to 4) to prevent pressure build-up. An overly firm mattress can cause hip and shoulder pain and stiffness.
Stomach Sleeper
Stomach sleeping is not the healthiest sleeping position because it unnaturally curves the neck and pain, leading to pain. Still, it can be difficult to transition into a new sleeping position.
If you're struggling to try a new position at night, the best mattresses for stomach sleeping are often medium to medium-firm (5 to 7). Firmer mattresses are essential to prevent your hips from sinking and throwing your spine out of alignment.
FAQs
Are soft mattresses bad for you?
Soft mattresses—a popular firmness choice among side sleepers—are not bad for you. Firm mattresses are not better than soft mattresses; it comes down to which firmness is better suited for your body type and sleeping position.
Soft mattresses work well for petite people who sleep on their side or switch positions. With this in mind, your soft mattress should still feature a thick support layer. If your mattress's support layer doesn't account for at least half of your mattress, the mattress will likely not support your spine well and will break down quickly.
Do mattresses have a weight limit?
Yes, depending on the size of the mattress you own, most mattresses have a weight limit between 250 to 500 pounds.
Now, if you exceed this weight limit, the bed won't just snap in half. Instead, excess weight will wear the bed down quicker, causing the bed to go lumpy, develop soft spots, and sag overall. However, if you're petite, it's unlikely that you'll have to worry about weight capacities.
How do couples who don't weigh the same choose a mattress?
It's rare for couples to weigh the same and mattress brands know this, so finding a mattress that fits both of you shouldn't be difficult.
If you are a petite person and your partner is average-sized or overweight, the best option is to get a split king mattress. This way, you and your partner can each choose a mattress to fit your needs for your half of the bed.
If this is not an option—perhaps due to your budget or the size of your living space—another possibility is to get a medium mattress. Medium mattresses offer the best balance of support and cushioning, thus making them the best beds for couples with different needs.
What is the best mattress for a heavy person?
Just like petite people, plus-sized people should find mattresses better suited for larger people to ensure they're well-supported and have quality sleep. Plus-sized people put more pressure on the bed, thus certain beds may not feel as supportive as expected and can potentially bottom out.
Mattresses for heavier sleepers should be slightly firmer than the average recommendation for their primary sleeping position.
What is a shorty mattress?
A shorty mattress—also called a junior length bed—is a bed size designed for children, not petite people. They are thinner and narrower than twin beds, for small children who won't need much room.
Although a petite person may be lightweight, we don't consider a shorty bed compatible with a petite adult. Adults should look into any mattresses larger than a twin, but a queen is most popular.
Conclusion
Your body weight makes a difference when choosing the best mattress for you and as a petite sleeper, we suggest looking for softer beds with lots of cushioning.
With all of our mattress recommendations, make sure you take advantage of sleep trials to ensure you choose a mattress well. With a sleep trial, you get the opportunity to try a new mattress at home and, and if a bed doesn't work for you, you can return it for a refund hassle-free.