Best Down Alternative Pillows: Reviews and Buyer's Guide
Updated November 22, 2023

Bedding Guides
Down pillows are some of the most comfortable and cushioning pillows on the market, but they may not work for everyone. Allergy-sufferers or people with easily irritated airways might get less sleep on a down pillow thanks to the fluffy feathers. Furthermore, down can sometimes poke through the cover, causing a whole slew of sleep disruptions and discomfort. Thankfully, in the age of innovation, there are down alternative pillows.
Down alternative pillows have a very similar feel to down, but they are usually made with hypoallergenic materials like polyester, cotton, or gel-infused microfiber. In this article, we'll go over some of the top-rated down alternative pillows available today, how much you can expect to invest in one, and their many pros and cons.
Best Down Alternative Pillows
How do you choose the best down alternative pillow to fit your needs and preferences? Consider your budget, your sleeping position, and your preferred firmness, since not all down alternative pillows feel the same. Always read customer reviews to get a complete picture of each pillow you come across.
The AmazonBasics is an offshoot of the retail giant Amazon, and they sell tons of basic household items at an affordable price, including a down alternative pillow. These come in a set of two and in two sizes, standard, and queen.
Like most down alternative pillows, this one uses a polyester fill. The density is quite soft, so it's probably best for stomach and back sleepers. The polyester and 100% microfiber shell are Oeko-Tex® certified, meaning the fabric is free of harmful chemicals. On top of being hypoallergenic, this pillow is smooth and soft, so you'll get a comfortable night of sleep.
You can buy this pillow through Amazon and it comes backed with a limited 1-year warranty.
Amazon sells our favorite down alternative pillow, but to learn about your other options, read our guide comparing the best pillows of this year.
As you may have guessed from their name, The Canadian Down & Feather company makes lots of down and feather pillows, but they offer also down alternatives. Their Gel Microfiber pillow is made with a 100% cotton cover and filled with gelled microfiber, keeping the user nice and cool.
This pillow is classified as medium-firm, so it should be suitable for most sleeping styles. The 2-inch gusseted edge provides even support and loft. A gusset is an extra piece of fabric sewn into the sides of the pillow to give it more height.
If you ever need to clean your CD&F pillow, you can simply put it in the washing machine. It comes with a 3-year warranty and you can buy it from their website or on Overstock.com.
While a good pillow can help alleviate pressure points, they offer only a fraction of the benefits best adjustable beds can provide. Read our guide to learn more.
Malouf specializes in making gel-infused pillows using foam or down alternatives. This model uses gel-coated microfibers that don't shift or clump. The 250-thread count cotton cover only amps up the comfort level, so you'll sleep soundly without having to constantly fluff your pillow.
You can buy this pillow in queen, king, and even a body size (20 inches by 54 inches). When you buy the Malouf Microfiber pillow, you'll get a 3-year warranty which covers any defects in the material beyond normal use.
Malouf recommends you wash the zippered cover before using, and always wash it separate from other items so the zipper doesn't catch on and snag anything. Then, to wash your pillow, spot-clean it with a gentle soap.
You can buy it directly from their website or Amazon.
The eLuxury Overstuffed Down Alternative Pillow comes in a 100% cotton casing. This breathable cover is wrapped around the 100% polyester fiberfill, which provides the user with a firm feel. Because it has a high density and loft, it's a comfortable pillow for side sleepers.
You can easily wash this pillow in your washing machine using a mild detergent— you can even stick in the dryer on low heat! Although it doesn't come with a sleep trial, it's backed by a customer satisfaction guarantee, so you can return it at any time with no questions asked.
You can buy the top-rated eLuxury Supply Down Alternative Pillow on Amazon, where it comes in a standard-size 2-pack.
To get the most comfortable sleep and wake up every morning pain-free, read our guide on finding the best mattress for back pain.
The In Style Furnishings down alternative pillow comes in a 2-pack with standard or queen size options. The filling of this pillow is quite unique— In Style Furnishings uses 7D virgin grade 700g polyfill, providing ample support for all sleeping positions.
The 233 thread-count cover is soft enough that you don't need to slip a pillowcase over this pillow if you'd rather keep it simple. The materials are all hypoallergenic, helping you avoid any irritation while you sleep.
This pillow is machine-washable and comes with a customer-satisfaction guarantee. You can buy it on Amazon.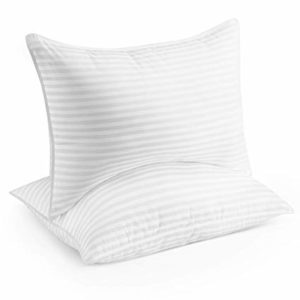 This pillow also comes in a 2-pack, and you can choose from the queen or king-size depending on your size and preferences. The 100% cotton cover encases a 100% poly gel fiber filling. The gel infusion keeps your head nice and cool all through the night.
The Beckham Hotel Collection pillow is dust mite, mold, and mildew-resistant on top of being hypoallergenic, keeping your sleeping space clean and bacteria-free. The pillow's medium-firm construction ensures no shifting or clumping.
You can purchase the Beckham Hotel Collection pillow via Amazon, where you will receive the company's 30-day customer guarantee, allowing you to return the pillow within that time frame if it doesn't meet your expectations.
Time to upgrade your entire bed set? Read our guide of the best mattress to find your next bed.
Down, Feather, and Down Alternative Pillows: What's the Difference?
Down pillows are usually made using the feathers from the backs of duck or geese wings. Note that down and feather pillows are not quite the same, although they are often described interchangeably. Down is the soft fiber located by the bird's chest, and it's very fluffy. Once in a pillow, it conforms easily to the head and neck. Because of the manufacturing process, it's also the most expensive filling of the three.
Feather pillows are made with the wings and the back feathers of ducks and geese. They are soft and fluffy like down but are more prone to poking through the pillowcase because of their quills. Both down and feathers can irritate allergies, and that's where down alternative pillows come in. Feather pillows are commonly filled with at least some down, but they cost less than all-down pillows.
See our comparison guide of down and feather pillows for more information.
Down alternative pillows are most often made using synthetic polyester fibers, unlike down and feathers, which are animal products. You might wonder if down alternative really does feel like down if it comes from a completely different source— the answer is that it certainly can, depending on the brand and construction. Our down and down alternative pillow guide offers an in-depth comparision.
Are Down Pillows for Everyone?
In general, most sleeping positions can be comfortable on a down pillow. However, certain sleeping styles might need to make a few more modifications to get the full benefits of down alternative, so use caution.
Side and stomach sleepers should always use a pillow with medium or low loft, regardless of pillow type, in order to keep their backs and spines in a healthy position. Back sleepers will probably be most comfortable on down alternatives since they typically enjoy moldable, squishy pillows.
Lightweight sleepers who weigh less than 130 pounds may be quite comfy on a down alternative pillow because they won't need to readjust or fluff up the pillow as much.
Anyone who suffers from respiratory allergies can find some relief with a down alternative pillow since they are almost always made using hypoallergenic materials. Additionally, those who sleep hot might choose down alternative because they're better cooling pillows than memory or latex foam.
While we don't want to discourage anyone from trying out a down alternative pillow, there are some who might not enjoy them as much as others. If you need your pillow to support more than 230 pounds, down may not be for you.
Those who deal with chronic shoulder or back pain might be fluffing their down alternative pillows so often it starts to disrupt their sleep. If you need more support for your painful joints, check out foam pillows instead.
If you suffer from sleep apnea or snoring, you will need a high-loft pillow to keep your head elevated and your airways open. A down alternative pillow is prone to sinking quite a bit and therefore might not work for you.
Interested in the benefits of memory foam? Read our other guide on finding the best memory foam mattress for your sleep needs.
Pros and Cons of Down Alternative
Sometimes when we hear "alternative" used to describe something, we run the other way. We're worried it just won't be the same, and sometimes it isn't. However, down alternative really does feel quite similar to down and it comes at a fraction of the price, too. Let's examine all of the pros and cons attached to this pillow type.
Pros
Price
One of the major reasons people prefer down alternative to down is because it's cheaper– plain and simple! Down is one of the most luxurious and costly pillow materials, so penny-pinchers can jump for joy at the similar feel of down alternative without paying the extra price.
The average queen-size down alternative pillow costs between $20-30. Compare that to the average cost of down pillows—$90-120.
Odor
Foam pillows, because of how they are made, can come with an unpleasant off-gassing smell. While it usually dissipates, it can linger in some lower quality models, making uninterrupted sleep a distant memory. Down pillows are also associated with unpleasant smells since they are made with animal byproducts. Down alternatives shine in this area because they come with little to no smell at all, giving them an advantage over other pillow types.
Cooling
Down alternatives retain less body heat than other pillow types (especially foam), and so they are perfect for warmer climates or sleepers who really need a cool sleeping surface.
Hypoallergenic
Like we have previously mentioned, down alternative is hypoallergenic, which is one of the primary reasons people opt for it over down or feather pillows.
Moldable
Like their down and feather counterparts, down alternative pillows are moldable and offer quite a bit of cushioning. This can be a pro or con depending on your sleep position and weight, but generally, those choosing down alternative prefer this softer feel. Adaptability is also one of the key features in many of the most comfortable pillows on the market.
Availability
Down alternative pillows are easier to find than down or feather pillows, which are often only sold on hotel supply websites or in member-only club warehouses.
Machine Washable
Down alternative pillows are usually machine washable— yes, the entire pillow. Foam, latex, and down pillows cannot be washed that way because it will damage them, but down alternative is less finicky. This is a major plus for those who want a pillow they can easily maintain. Note there are some exceptions to this— some down alternative pillows are spot-clean only.
Cons
Lifespan
Sadly, down alternative is very similar to down in this regard. Both pillow types are known for flattening very quickly, unlike foam or latex which spring back without too much sinkage. Most users report their down alternative pillows need to be replaced after 2-3 years due to clumping and sagging.
Not as supportive
For sleepers needing a higher, firmer loft, down alternative is not the best option. This group includes snorers, some side-sleepers, and heavier sleepers weighing 230 lbs or more. Additionally, if you experience back or neck pain, down pillows may provoke rather than alleviate your pain.
Noise
Down alternatives aren't as noisy as down, feather, or even buckwheat pillows, but they can still make some noise. If you need complete silence in order to sleep, opt for memory foam or latex pillows.
Shape
To keep them fluffy and lofty, you will probably need to shift the pillow around a lot. This can be a pro since it allows the user to customize their pillow exactly how they like it, but for some, it only adds to the amount of time they aren't sleeping.
Additional Factors to Consider
Before you take the plunge into your down alternative pillow, consider a few other factors.
Size
You can get down alternative pillows in almost all the sizes available for other pillow types.
Standard (20 inches by 26 inches): The smallest size and usually the cheapest.
Super Standard (20 inches by 28 inches): Sometimes known as "jumbo" pillows, although they are only 2 inches longer than standard-size pillows.
Queen (20 inches by 30 inches): A good, basic option for anyone who moves around a lot while they sleep.
King (20 inches by 36 inches): Great for anyone who tosses and turns; they also make excellent back or headrests while you watch TV or read in bed.
Euro (varies, but always square): Not common for sleeping, but can be used for back and headrests.
Body (20 inches by 54 inches): Body pillows are great for any who need extra support on their abdomens or backs, like pregnant women.
Durability
Like the down pillows they were preceded by, down alternatives are not known for their long lifespan. They are prone to clumping and flattening after only a few years, so if you're looking to keep this pillow for a long while, you might need to invest in something more long-lasting, like foam or latex.
Of course, if you plan on using these pillows in a guest room or for your child, they can be the perfect, affordable option. The nice thing about down alternative is even though it's not as long-lasting as other pillow types, it's definitely the cheapest.
Care and Maintenance
We've already mentioned that most down alternative pillows can be machine-washed. Most come with a removable machine-washable cover as well, so you'll be able to keep your sleeping space nice and clean without too much fuss.
Always, always read the care instructions attached to the label. If you can't find them, look on the company's website. You're much better off following the instructions that came with your specific product instead of just assuming your pillow can be washed in a machine and consequently ruining it.
Frequently Asked Questions
What is the best pillow for all sleep positions?
If you're shopping for a pillow that can accommodate any sleep position, we recommend buying one with an adjustable fill. A down alternative pillow would be a good choice, as would a pillow with genuine down or shredded foam. If you can fluff the pillow up or squash it down, it might be the right one for you.
How often should pillows be washed?
You should wash your pillow every three months and your pillowcase as often as once a week. Washing your pillow and pillowcase often will prevent dust mites, bacteria, and allergens from settling inside. Most down alternative pillows are machine washable, but you should double-check the pillow's care label to be sure.
What kind of pillows do they use in 5-star hotels?
High-end hotels often have goose down pillows, down alternative pillows, or pillows with a mix of down and feather. Down alternative is a common choice, possibly because the fill is more cost-efficient than a genuine down pillow. Hotels also create a luxurious feel by offering a large number of pillows—you might find as many as 8 to 10 pillows in a hotel suite along with a high-quality hotel mattress.
When should you throw away pillows?
A pillow's quality influences how soon you might need to replace it. An inexpensive pillow might need replacing in as little as 6 months. A higher quality pillow might last between 3 years to a decade, depending on its materials.
As a general rule, a well-made pillow that you can fluff up and machine wash will last longer than a pillow with a block design. However, a good down alternative pillow may still need to be replaced within a couple of years.
Why do pillows turn yellow?
Pillows usually turn yellow because of your sweat. Even as we sleep, we sweat to stay cool. A pillow can absorb that sweat, and once the sweat dries it might leave behind a yellow stain. You might be able to get your pillow looking new again by laundering it with a whitening solution.
Did You Find the Right Down Alternative Pillow for You?
Down alternative is a cost-effective, comfortable option for anyone who prefers the feel of down pillows but can't stomach the lofty price tag, sneeze-inducing feathers, or high maintenance factor. Down alternative pillows can usually be washed in the machine and they feel just as soft and cushy as down.
If you've read through our article and don't think down alternative is the right pillow type for you, check out our other article covering the best pillows and see if you can find a match there.