Best Percale Cotton Sheets (2023): Reviews and Buyer's Guide

Bedding Guides
Cotton sheets are soft, affordable, and easy to care for. However, not all cotton sheets are the same. The weave of the cotton determines how the material feels, how breathable it is, and how much it weighs. Percale cotton sheets are made with a one-under-one-over pattern that creates a smoother and softer feeling fabric. Plus, percale is more durable than most cotton weaves and has a lightweight, airy feel.
If you sleep hot or live in a warmer climate, percale cotton sheets may be just what you need for a good night's sleep. Below, we introduce you to our picks for the best percale sheets of 2023. Our buyer's guide also highlights the benefits of percale sheets and what to look for as you shop.
Best Percale Cotton Sheets of 2023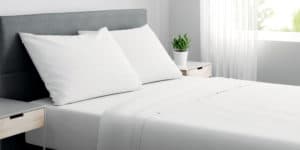 The Amerisleep Percale Cotton Sheet Set features 300-thread count, 100 percent long-staple percale cotton. This material is ultra-soft and creates an inviting sleep space you will want to crawl into at the end of each day.
The tight percale weave gives Amerilseep's sheets a smooth, crisp feeling that will keep you cool and comfortable throughout the night. The high thread count cotton also makes these sheets airy and breathable. Plus, each sheet set comes with an 18-inch deep pocket design. This feature ensures that your sheets will stay firmly in place throughout the night, even if your mattress is 15 to 16 inches thick. This pocket depth is also ideal for adjustable bed frames. With more material, the sheets will stay in place as the bed is raised.
Amerisleep's Percale Sheets are available in most standard mattress sizes, including twin, twin XL, full, queen, king, California king, and split king. Each size is available in four classic colorways, including light gray, dark gray, light gray stripes, and dark gray stripes. One set includes a fitted sheet, flat sheet, and two standard size pillowcases.
AMERISLEEP PERCALE COTTON BED SHEET SET
300 thread count, 100 percent long-staple percale cotton
18-inch deep pocket design
1-year limited warranty
The Snowe Percale Sheet Set is made with 100 percent long-staple cotton. This material has a 500 thread count cotton and an Italian milled percale weave that creates a luxury feel.
The use of Egyptian cotton gives this sheet set a crisp, light texture that will keep you cozy, yet cool throughout the night. With an OEKO-TEX Standard 100 certification, you can be sure this material has not been chemically treated. Each Snowe Percale Sheet Set comes with a 17-inch pocket depth that is suitable for most mattress sizes.
Snowe's Percale Sheets are available for full, queen, king, and California king size beds. You can choose from five different colors, including white, ash gray, slate blue, classic ivory, and timeless blush. A standard set includes one fitted sheet, one flat sheet, and two pillowcases. Snowe's 90-day risk-free trial period allows you to test the sheets in the comfort of your own home. If you are not satisfied, Snowe will exchange the sheets or provide a full refund.
SNOWE PERCALE SHEET SET
500 thread count, 100 percent long-staple percale cotton
Available in 5 different colors
60-day sleep trial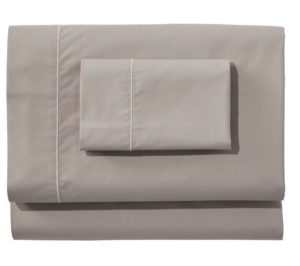 These L.L.Bean sheets feature 220 thread count organic cotton fibers. With a GOTS (Global Organic Textile Standard) and an OEKO-TEX certification, you can rest assured that there will be no harmful pesticides lingering in this material. Chemical residues can be especially helpful if you suffer from allergies or other sensitivities.
L.L.Bean's organic sheets are made with only 100 percent cotton and constructed with a tight percale weave for better breathability. These crisp, inviting sheets won't trap body heat or disrupt your sleep with night sweats or overheating. They are available for twin, full, queen, and king size mattresses. A 15-inch pocket depth makes them more versatile and allows them to remain firmly in place on most beds.
These percale sheets come in a variety of colors, including Chambray blue, cream, gray, and white. Each set includes a flat sheet and a fitted sheet, matching standard size pillowcases are sold separately.
L.L. BEAN ORGANIC COTTON PERCALE SHEET SET
220 thread count, 100 percent percale cotton
GOTS organic certification
Available in four different colors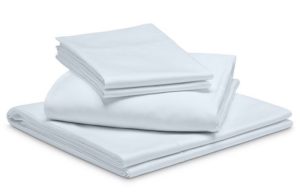 The Riley Home Percale Sheet Set is made with 100 percent long-staple combed cotton. The pillowcases and the flat sheet also feature a thin Baratta stitch with a color-on-color design. This added embellishment gives this sheet set a decorative and stylish look.
The percale weave on these sheets gives them a cool and crisp feel. The pillowcases feature envelope closures, so they stay firmly in place even if you toss and turn during sleep. Riley Home's sheets are also certified by OEKO-TEX Standard 100—guaranteeing they are free of any substance that could be potentially harmful to human health. With nine different colors, including their limited edition colors, cornflower, sea glass, and silver micro-check, you are sure to find a style that fits your bedroom decor.
This sheet set is designed to fit a twin, twin XL, full, queen, king, or California king size mattress. One fitted sheet and two standard size pillowcases are included in the set. The king and California king size sets include king size pillowcases. Flat sheets are sold separately and cost between $50 and $80 depending on the size needed.
RILEY HOME PERCALE SHEET SET
100 percent long-staple percale cotton
OEKO-TEX certified
Available in nine different colors
The Thomas Lee Cotton Percale Sheets feature 500 thread count, long-staple Pima cotton that is grown in the United States. The percale weave is also produced in the United States at a facility that uses only wind power and recycled rainwater.
The high thread count cotton gives these sheets a soft, smooth texture. Plus, the percale weave helps to wick heat and moisture away from the body as you sleep. The queen, king, and California king size fitted sheets feature an 18-inch pocket depth suitable for mattresses between 15 and 16 inches thick. The full set has a depth of 15 inches.
These Thomas Lee Sheets are available in white and ivory. You can take advantage of their 30-night guarantee to make sure you're happy with the comfort and quality. If you not completely satisfied, Thomas Lee will exchange the set or issue you a full refund.
THOMAS LEE COTTON PERCALE SHEET SET
500 thread count, 100 percent percale Pima cotton
Sustainably manufactured
18-inch pocket depth on the queen, king, and California king sizes
What to Consider When Shopping for Percale Cotton Sheets
As we mentioned above, percale cotton refers to the type of weave used to construct the material. This weave consists of a tight, one-under-one-over pattern that makes the fabric smooth and crisp. Percale sheets are also incredibly durable, yet lightweight and cool—perfect for hot summer nights.
To help you identify high-quality sheets, we offer some tips to keep in mind as you shop.
Thread Count
The thread count refers to the number of threads per square inch of material. This is determined by counting the threads both lengthwise and widthwise. Fabric that has 100 threads lengthwise and 100 threads widthwise, will have a thread count of 200.
Sheets made with a percale weave must have at least 180 thread count fabric. You will notice that most percale cotton sheets have a 200 to 500 thread count. A high thread count material, between 300 and 400, will likely be softer and more durable.
Construction
Percale cotton sheets are generally of better quality than most. These sheets are made with an extra-long staple or long-staple cotton fibers. The "staple" refers to the length of the cotton fiber used for construction. Long-staple fibers are 1 and ¼ inch long, while extra-long staple fibers are 2 inches long—giving them more "staples." Each "boll" of cotton, the cluster or ball that is pulled from the plant, has about 250,000 individual fibers, these fibers are known as "staples."
Extra-long staple cotton refers to Pima or Egyptian cotton. Sheets made with these materials tend to be more expensive. Long-staple cotton sheets are more cost-effective and generally have a similar feel when compared to extra-long staple. Both of these fibers are smoother and more durable than short stable varieties, which measure 1 and ⅛ inch long.
Sheets made with a percale weave are typically made with 100 percent cotton. However, some percale bedding may feature a blend of cotton and synthetic fibers, such as polyester, or rayon.
Organic Materials
Both extra-long staple and long-staple cotton can be grown organically, without the use of pesticides and herbicides. However, if the material is labeled "organic" it should come with a GOTS (Global Organic Textile Standard) certification.
Some materials will claim to be "natural" or "eco-friendly," but this does not necessarily mean they are organic. If you are looking for organic sheets due to allergies or other sensitivities, select one with a GOTS certification. However, keep in mind that organic-cotton fibers generally increase the price of the sheet set.
Benefits of Percale Cotton Sheets
Breathability
Fabrics made with a tight percale weave are strong and durable. However, they are also lightweight, breathable, and feel cool to the touch. If you tend to sleep hot, percale sheets are a perfect choice. However, only 100 percent cotton percale sheets will offer maximum breathability. Those blended with synthetic fibers may retain heat.
Durability
Pilling is often caused by friction and results in clumping along the surface of the material. After repeated use, this can change the look and feel of the material. It can also make it weaker and prone to rips and tears. The tight weave of percale sheets results in less pilling and deterioration—giving these sheets a much longer lifespan. Some percale sheet sets can last up to 5 years.
Low Maintenance
Most percale sheets made with 100 percent cotton are machine washable and can be dried on a low setting. If the sheets are made with a blend of fabrics, be sure to read the care instructions. Cotton sheets made with a blend of delicate materials, such as silk, may need to be dry-cleaned.
Affordable Price
Most high-quality percale sheets cost between $90 to $400 depending on the size of the set. Those with organic certifications and extra-long staple fibers, such as Pima and Egyptian cotton, will have a higher price. However, with a wide range of options, you are sure to find a set that fits well within your budget.
Care and Maintenance
100 percent cotton percale sheets tend to wrinkle easily. Some brands blend cotton with other materials to make them wrinkle resistant. However, synthetic fibers can change the breathability of the material. Below, we outline the best way to care for your percale cotton sheets and avoid wrinkles.
Washing
If your percale sheets are made with 100 percent cotton, they will likely be machine washable. However, be sure to read the care instructions first. When washing your sheets, it is best to wash them on a warm water cycle to kill germs and bacteria.
You can wash your sheets with items that are similar in color. However, be sure to remove items with zippers, buttons, or other embellishments that cause rips or tears to your sheets. One hundred percent cotton sheets tend to shrink slightly after the first washing, but it should not be enough to change the fit.
Drying
Once your percale sheets are washed, you can dry them on a low heat setting. Once drying is complete, remove the sheets immediately and make your bed. By spreading out the sheets while they are still warm, you can reduce wrinkles. Ironing can also help remove wrinkles, but this process can be time-consuming.
Frequency
It is a good idea to wash your bedsheets once a week. This will help keep your bed free of germs and odor-causing bacteria. If you are worried about damaging your sheets with frequent washes, you can purchase two sets and swap them between washes.
Storage
Depending on where you live, cotton percale sheets may not keep you warm enough in winter months. Therefore, you will want to store your sheets during colder months. It is best to store your bedding in a cool, dry place away from any moisture. This will prevent mold and mildew from forming.
Frequently Asked Questions
Are cotton percale sheets wrinkle-free?
One hundred percent cotton percale sheets are not wrinkle-free. However, with proper washing and drying, you can reduce the appearance of wrinkles. Some brands add synthetic fibers or chemical treatments to make their percale sheets wrinkle resistant, but these additions can change the texture and breathability of the material.
What is the difference between cotton and cotton percale sheets?
Cotton percale sheets are different from standard cotton sheets because they're constructed with a one-under-one-over weave. This pattern creates a durable material with a smooth matte finish. Percale is resistant to pilling and is more breathable than traditional cotton weaves. With at least a 180 thread count cotton, percale sheets are also soft, yet crisp and cool.
Is percale better than Egyptian cotton?
Percale refers to the weave of the cotton, while Egyptian cotton refers to the type of cotton. Egyptian cotton has extra-long staple fibers and often has a higher thread count than most. This makes bedding made with Egyptian cotton soft and luxurious. Egyptian cotton sheets can also be produced using a percale weave to increase durability and create a smooth, crisp texture.
Are percale sheets soft?
Percale sheets made with 100 percent cotton are soft, but they also have a crisp, smooth, and inviting feel that keeps you cool throughout the night. Some brands use a cotton and poly blend to increase the softness of the material, but these blends can also decrease the material's breathability. Combed or brushed cotton can also make sheets with a percale weave softer.
What is the thread count of percale sheets?
Percale cotton should have a thread count of at least 180. Most percale cotton has a thread count between 200 and 500. In most cases, a material with a thread count between 300 and 400 is ideal. This fabric will have a soft, luxurious feel and will be more cost-effective.
What is the difference between percale and sateen sheets?
Sateen also refers to a type of weave. Sateen uses an over-under pattern with a ratio that is often greater than 1 to 1. For example, one style may involve four-over-one-under, while another may use two-over-one-under. A sateen weave causes more threads to go in one direction, while percale is consistently one-over-one-under and creates a taut, durable pattern.
Sateen sheets are often shinier, while percale is matte. Sateen is not as breathable or as crisp as percale. Percale sheets also have a lower price point.
Conclusion
There is nothing more comforting than climbing into crisp, cool sheets at the end of a long day—this is especially true during the summer months. A set of high-quality percale sheets can help you relax and experience fewer night time disruptions due to overheating. Plus, percale sheets are durable and strong enough to keep you comfortable throughout many years of use.