Best Buckwheat Pillows: Reviews and Buyer's Guide
Updated November 22, 2023

Bedding Guides
Did you know buckwheat hulls can be used to make comfortable and supportive pillows? More popular in East Asia, buckwheat pillows are starting to gain traction in the United States. These pillows conform to your head and neck, reduce pressure points, and can have their loft adjusted.
Since buckwheat pillows are new to the U.S. market, there aren't a ton of good buying guides readily available. In this article, we will cover our 7 recommended buckwheat pillows, what exactly makes buckwheat good for pillows, and the pros and cons to consider before you make a purchase.
7 Best Buckwheat Pillows
Filled with thousands of premium shells grown and milled in the USA, the Hullo™ Buckwheat Pillow provides ergonomic support to the head and neck. The buckwheat hulls compress and shift inside the organic cotton twill cover to align the spine, allowing muscle and ligament relaxation.
The Hullo™ pillow is completely adjustable. By unzipping the auto-locking hidden zipper (which means the zipping mechanism will not unzip unless tension is applied to the zipper), you can remove or add buckwheat casings to increase or decrease the loft.
While traditional pillows retain heat, Hullo's™ buckwheat hulls encourage air circulation by allowing oxygen to move freely between the kernels.
Everything used in this pillow is organic and sourced in the USA. Hullo™ partners with UPS Ground to send out packages, giving you fast and free shipping. Hullo™ also sports a 60-night, hassle-free sleep trial so you can try out the pillow and decide if you like it enough to keep it. If you don't, send it back for a full refund within the 60-day period.
Hullo™ offers our favorite buckwheat pillow, but if you're looking for the best pillow of the year, view our other guide for more options.
Organically grown buckwheat hulls promote cool air circulation and comfort through close contouring.
You can mold this pillow to match your sleeping style by pushing the shell fill around, removing some fill, or adding more. Because these pillows are so adaptable, many have compared their conformability and pressure-relieving abilities to high-quality memory foam pillows.
Even though there is one other pillow on our list with a lower price tag, we have deemed the Zen-Chi as the best value pillow thanks to its durability. The Zen-Chi's organic fill and cotton cover are long-lasting, so you should get your money's worth with this pillow.
The Zen-Chi buckwheat pillow comes with between 4 and 12 lbs of hulls depending on what size pillow you get: king, queen, twin, Japanese. If you need a refill, Zen-Chi will send you a 2 pounds of replacement hulls for $19.95.
With their 100% satisfaction guarantee, you can send the pillow back 30 days after your purchase date— no questions asked.
While the PineTales™ buckwheat filling contributes greatly to the quantity of airflow, without a breathable pillow cover, the cooling filling would be irrelevant. PineTales's™ designer covers aren't just super soft; they allow air to pass through the fabric, removing heat in the process.
Another feature the cover has going for it— it's hypoallergenic. This cover won't cause rashes or irritate skin conditions.
The blended cotton and bamboo cover is thick, stopping foreign particles like allergens from infiltrating the pillow. The cover also sports a zipper, allowing the cover to be removed, and is machine washable.
The zippered cover makes the pillow adjustable. You can remove or fill the pillow as much as you like. Just remember to put the removed filling in a sealed plastic bag to preserve its freshness. The adjustable feature makes this pillow perfect for all sleep positions. Thin the pillow out for back and stomach sleeping or give it lots of loft for side sleeping.
Pine Tales™ offers another filling option— millet hulls, which provide the same support as buckwheat. They are actually rated as more comfortable than buckwheat filled pillows due to the smaller and smoother hulls.
PineTales™pillows come in two different sizes: standard and Japanese (14 inches by 20 inches). With the purchase of this pillow, PineTales™ offers a 45-day return policy. On the off chance that you aren't completely satisfied with your purchase, you can return the product for a full refund— you don't even have to pay for return shipping.
Interested in upgrading your entire bed set? Read our post on finding the best mattress of 2023 to help you get better sleep.
The Beans72 Aromatherapy buckwheat pillow is filled with USDA-approved and 100% organic, hulls that have been triple air cleaned. The filling is mixed with a cup of dried lavender flowers. Together, the two fillings create a comfortable sleep experience that will support your neck and soothe you to sleep faster.
Beans72 filled their pillow with more filling than enough filling. This means that the pillow has lots of loft. Unless you're the sort that takes filling out for a thinner pillow, in which case, seal that pillowing in a plastic bag and use it later when you need to replace the filling.
The cotton covers are manufactured with a zipper that allows the customer to adjust the filling. The cover has a smooth and comfortable texture. Great for people with sensitive skin. It's also very durable, which means that the pillow will last you for a long time.
Beans72 organic buckwheat pillow is available in 6 different sizes: king, queen, twin or standard, Japenese, and travel. You can get a complete refund within 30 days of purchase if the pillow is defective. You must return it with its original packaging and follow all return instructions.
The ComfyNeck Pillow is a cylinder-shaped pillow made to support and conform to the neck and head. This pillow isn't advisable for stomach sleepers, as it will bend the spine in a stressful position. However, for back and side sleepers, this pillow should be very supportive.
American-sourced buckwheat hulls fill an organic cotton twill fabric cover— also USA grown. The buckwheat shells are completely eco-friendly because they are cleaned without chemicals. The soft cotton cover has been sourced by the Texas Department of Agriculture, which is the nation's leader in agriculture. They promote healthy living by setting a standard that regulates everything from gas to school lunches to ensure the health of the general public.
This pillow comes in 4 different sizes: extra-large, large, medium, small. Each pillow will arrive on your doorstep within 5-7 business days. Expedited shipping options are available to those who request it. For those unsatisfied with the ComfyNeck pillow, the company offers a 60 return policy that starts from the date of purchase.
The high-quality hull filling the Original Buckwheat Pillows® is therapeutic and comfortable. To relieve stress from the neck and shoulders, the hulls customize themselves to the shape of the sleeper, providing durability and support.
We love this pillow for side sleepers because it has the perfect loft to support your neck in this sleeping position. Plus, the pillow's zippered cover allows those who prefer a thinner pillow to take out filling and adjust the pillow to their liking. All in all, this pillow is very breathable because the adjustable buckwheat fill allows for proper airflow.
The fill isn't machine washable but the cover is. To protect the buckwheat hull filling, you should always use the pillow with a pillowcase.
Every material used in these pillows is made or sourced in the USA. They come in a wide range of sizes: king, queen, twin standard, Japanese, and travel. The company also sells replacement hulls.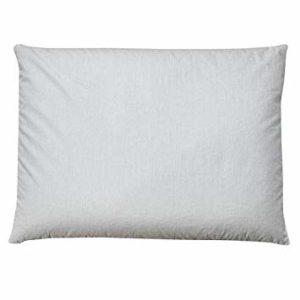 This AS SEEN ON TV product customers give high praise as a firm, supportive pillow with close-conforming comfort. It can reduce muscle stress in the head, neck, and shoulders. The premium buckwheat hulls shape themselves to the sleeper's head and neck. By aligning the head and neck to the rest of the spine, the body is relieved of headaches, stiff neck, and muscle pain while promoting air circulation for a cool head.
The durable cotton cover also cultivates airflow, creating a soft sleeping surface for your head.
Unfortunately, the pillow only comes in one size: Japenese size (14 inches by 20 inches). An unopened package can be returned within 30 of purchase. Opened packaging need to be returned within 15 days of buying.
Plagued with back pain? While a good pillow can help, investing in the best mattress for a bad back can make all the difference. Read our guide to learn more.
What is a Buckwheat Pillow?
Buckwheat pillows, also called Sobakawa pillows, are filled with Buckwheat hulls (otherwise known as buckwheat shells or casings). The filling is simple, but don't let that fool you.  Often, it's the simplest products that yield the best results.
Buckwheat hulls are smaller than a dime, and the natural material is extremely supportive.
The pillow feels like a heavy bean bag. The buckwheat shells give firm, flexible support, deeply conforming to the head, neck, and shoulders. The contouring properties align the user's spine and alleviates their pressure points.
The hulls allow air to pass through the pillow without restraint, maintaining a constant neutral temperature— even if the user the type to overheat. It's actually the coolest pillow filling on the market.
Most buckwheat pillows come with zippered covers that allow the customer to reach in and remove or add hulls to adjust the height of the pillow. The typical organic cotton cover and buckwheat fill make this pillow extremely eco-friendly— a plus for those who are environmentally conscious.
How to Choose a Buckwheat Pillow
There are a few additional factors to consider once you've decided on a buckwheat pillow, like your budget and the pillow loft. Even the pillow's loft isn't a major concern since most sobakawa pillow filling is adjustable.
Read on to learn about who would benefit from a sobakawa pillow, the usual sizes available, and about the materials and construction.
Who Needs a Buckwheat Pillow?
While sobakawa pillows can benefit everyone, there are some people that may gain more from sobakawa pillows than others.
Back and side sleepers who need a firm and conforming pillow may find some comfort in buckwheat pillows. Back sleepers can adjust the pillow to give it a thinner loft. Too much loft can displace the spine's alignment. A thinner pillow will keep the sleeper's spine in a neutral position, avoiding strain.
The shells will cup the neck for better support and make room for the head, allowing the cervical spine to align with the rest of the spine.
The buckwheat allows air to pass through the fill unhindered, which means people who overheat will have an easier time sleeping if they use one.
Those who snore will also profit from this pillow. Because of buckwheat's conforming nature, the throat and nasal passages are more likely to open, leading to easier breathing.
People combating allergies will find relief with this pillow— especially people allergic to latex, down, and feather pillows. It may not be your first choice, but buckwheat pillows are one of the best hypoallergenic pillows on the market.
Sobakawa pillows can benefit everyone; however, we do not recommend them for people who like to sink into their pillows, sleep lightly, or cannot carry heavy weights since a buckwheat pillow can weigh up to 15 lbs. That's more than most pregnant women are recommended to carry.
Wanting to switch up your sleeping position? Consider an electric adjustable bed frame to help you find the most comfortable angle to doze off.
Pros and Cons of Buckwheat Pillows
Before you make your purchase, you should understand the pros and cons that come with the product. That way, you aren't caught off guard by any quality the product may not have.
Pros of Buckwheat Pillows
Support: Sobakawa pillows are some of the best pillows for neck pain. Buckwheat's ability to compress and shift cultivates close contouring. This allows muscles and ligaments to relax, which enables tissue repair during the night. After a couple of nights, the sleeper may notice a considerable reduction in their neck pain.
The buckwheat pillow isn't just great for the cervical spine. It's also a good knee pillow for back sleepers. Just slide the pillow under the knees to relieve pressure on your lower back. The pillow is heavy enough that it won't move, which is a blessing for those who kick in their sleep.
Sleeping Cool: Unlike foam or latex, buckwheat doesn't retain body heat. Even though buckwheat compresses nicely, air still passes through each individual kernel. Because the hulls are able to retain constant airflow, the sleeper maintains a cool temperature.
Allergies: Most pillow fillings aren't naturally hypoallergenic. Down, feather, and latex pillows can trap allergens, causing an onslaught of breathing issues, mostly in asthmatic patients. Buckwheat is a great alternative for these people.
Customizable: Most buckwheat pillows have zippered covers that allow the customer to move the filling around, take some out, or put more in. Aside from shredded memory foam bamboo pillows, the sobakawa pillows have the most moldable filling. Shift the pillow filling around however you like to create a comfortable shape to sleep on.
Snoring Aid: Pain relief isn't the only positive outcome of the pillow's head and neck support. By alleviating the stress from the neck muscles and pulling the head into alignment, the supportive filling opens up the airways, potentially preventing snoring.
However, for those that suffer from obstructive sleep apnea, this pillow may only help a little bit. We recommend seeking the advice of a physician before switching your sleep environment if you have a diagnosed sleeping disorder.
Forming the pillow so that the head is slightly raised above the chest will prevent the tongue from falling to the back of the throat, helping the lungs to breathe easier.
Cons of Buckwheat Pillows
Price: On average, buckwheat pillows cost $50 to $75. This is a little more expensive than the pillows you can pull off the shelves at department stores. However, if you're willing to pay extra for good quality, a buckwheat pillow is not that expensive at all.
Higher quality buckwheat fill is more expensive. The price can shoot up to $100; however, we have found anything above $100 accounts for the brand name, not necessarily for higher quality materials.
Weight: If you think memory foam and latex is heavy, you'll be reconsidering your definition of heavy when you pick up a buckwheat pillow. The average standard-sized sobakawa pillow weighs around 10 lbs.
This may make the pillow hard to mold or move when you're half asleep, especially for the elderly and children.
Shape: Buckwheat is extremely absorbent. Sweat and other gunk get trapped in the pillow's filling. Because of this, the filling is prone to clumping. Low-loft pillows are even more likely to clump than high profile pillows.
Noise: Laying down on a pillow filled with hulls will cause the kernels to run together, making a crackling sound. This sound will be more noticeable when you first get the pillow. Over time the hulls will break down and become softer, which reduces the noise.
This noise can be disruptive, particularly to light sleepers.
Odor Potential: An earthy smell emits from buckwheat. This may result in sleepless nights. However, the smell will go away with time and use.
Other Natural Bedding to Consider
If eco-friendly materials are a consideration when you're shopping for bedding, we suggest looking for options with cotton, wool, bamboo, and down.
Sheets and Blankets
Pillows
If buckwheat isn't necessarily the material for you, there are other natural fills and materials to consider:
Frequently Asked Questions
Are buckwheat pillows noisy?
Yes, buckwheat pillows do tend to make a rustling sound when the pillow is moved. The sounds often decrease over time as you break in the hulls. Some sleepers find their pillows much quieter after a couple of months.
Do buckwheat pillows smell?
Yes, buckwheat pillows can smell. However, many find the smell pleasantly natural, rather than anything sharp or sour. How much the buckwheat hulls smell can vary.
Do buckwheat pillows get bugs?
It's unlikely that a buckwheat pillow will attract more bugs than the average pillow. Buckwheat hulls are vacuumed and cleaned before they're sold, removing anything that might attract bugs or would promote mold and mildew growth. The pillow also promotes enough airflow to carry off the allergens that can attract pests.
Can buckwheat hulls be washed?
It's not a good idea to wash your buckwheat pillow in the washing machine—or at least, don't wash the entire pillow. You'll want to pour the hulls into a bag so you can wash your pillow cover. Once the cover is completely dry, simply pour the hulls back into the pillow.
Can you heat up a buckwheat pillow?
Trying to heat up your buckwheat pillow can be a very bad idea. It's common for a buckwheat pillow to have a metal zipper, which will not fare well in the microwave. And heating up the hulls in a microwave safe container won't do you any good either, as the heat will only make the hulls brittle and unsupportive.
Did You Find the Best Buckwheat  Pillow?
While buckwheat pillows may not be for everyone, it's a valid option for back and side sleepers who need a firm, conforming pillow. Customer reports of muscle and pain relief make the product at least worth a try— especially for those that sleep hot.