Best Bamboo Pillows: Reviews and Buyer's Guide

Bedding Guides
Bamboo fabric regulates temperature by retaining cold temperatures. Like linen or Lycra®, bamboo material is very breathable. It acts as a barrier against pollen and dust and kills bacteria on contact. Bamboo makes for a high-quality pillow, as it won't cause you to sleep hot and won't let allergens gather where you sleep.
It's also a renewable and sustainable resource— only one of the many qualities that make this material eco-friendly.
In this article, we'll discuss all the characteristics of bamboo pillows, how to choose one for yourself, and of course, we'll break down six of our favorite bamboo pillows.
Best Bamboo Pillows
The Coop Home Goods Eden pillow is filled with shredded, viscoelastic memory foam and polyester fill and wrapped with a viscose rayon cover.
The dual-material filling establishes the perfect balance between comfort and support. The memory foam is CertiPur-US® and GREENGUARD Gold certified. Both of these certifications ensure the product was made using low chemical emissions to help protect the air quality of the environment and your home.
The fill is very lofty but adjustable. If the pillow is too lofty for your taste, you can pull down the zipper and remove or spread around the filling to customize the pillow to your comfort level.
The polyester liner is made from stretchy and lightweight materials that do not hinder support given to the head and neck by creating tension across the entire pillow surface when it is under pressure.
The bamboo cover provides a bacteria-free and hypoallergenic environment where your head can rest. The bamboo fabric is breathable and moisture-wicking.
The Eden Pillow comes in Queen and King sizes and has a 5-year warranty.
As a side note, the Coop Home Goods brand has a body pillow version of this pillow that sells for $70. It's also one of the best pillows for side sleepers who are experiencing pressure buildup and joint pain.
Made in the USA, the Snuggle-Pedic Ultra Luxury Bamboo Shredded Memory Foam Pillow is made using finely shredded memory foam. The result is a lofty and adjustable pillow with the CertiPUR-US® stamp of approval.
The Snuggle-Pedic pillow can be washed in the washing machine, including the Kool-Flow® removable cover, which has a zipper for easy washing.
Snuggle-Pedic's Kool-Flow® cover is designed with a micro-vented design that offers air circulation, moisture-wicking, and breathability. In short, keeping cool with this pillow won't be a problem.
The memory foam filling and bamboo cover are antimicrobial, allergen-free, dust mite resistant, and non-toxic. Material quality is guaranteed since all materials are made at Snuggle-Pedic's factory in Southern California. Every aspect of the materials manufacture process is under the Snuggle-Pedic's supervision, making it less likely you'll get faulty merchandise.
With the purchase of a pillow, you have the option to return or exchange the pillow free of charge and a 20-year warranty. It comes in three sizes: standard, queen, and king.
The Cara Clark pillow is wrapped in a soft textured bamboo cover and filled with high-quality, shredded memory foam filling.
The certiPUR®-UScertified foam filling promotes air circulation and breathability while preventing bacteria and dust mites from cultivating. The foam filling helps relieve snoring, migraines, neck and back pain.
The pillow's adjustable nature allows the sleeper to customize the fill to meet their sleep needs. In other words, this pillow can work in tandem with a good quality mattress to properly support all sleeping positions.
Meanwhile, the washable cover has a zipper to make it easily removable. All you have to do is place it in a washing machine and wash with cold water. It can be machine dried as well using low heat.
On Amazon, you can get the pillow in a set of two or one and in king or queen sizes. The product comes with a 30-day return policy; however, it does not come with a warranty.
Interested in upgrading your entire sleep set? Read our post on finding the best adjustable bed to help you get better sleep.
Unlike the last three pillows on our list, the Zen Bamboo Pillow is filled with plush premium gel fibers for extra cooling. Once again, the adjustable loft allows maximum comfort to all sleeping positions.
The intricate bamboo cover is weaved to cultivate breathability and enhance the materials moisture-wicking properties. Another plus that comes with the weave is the no-shift construction, meaning the pillow won't slide out from underneath you as you sleep.
In addition to its breathable, sturdy construction, the cover is stain and fade-resistant and machine-washable.
Together, the pillow's materials support a dust mite, mold, and mildew-resistant environment. They are entirely allergen and chemical-free, making this pillow great for those with asthma and allergies.
The pillow comes in both king and queen sizes. It comes in packs of two and has a 30-day satisfaction guarantee, and can be bought one the zen bamboo website or Amazon. If you don't like it, you can return it for a full refund within the 30-day window.
Unfortunately, we couldn't find any warranty information for this pillow.
USA TODAY rated the Xtreme bamboo pillow as the "Best Pillow Made in the USA for 2019." It's perfect for stomach sleepers. While the other pillows on our list are  quite  lofty, this pillow has a thinner profile, making it perfect for stomach sleepers. It's also adjustable!
While down and cotton pillows lose their loft even after limited use, the Xtreme Comfort Slimsleeper won't. The adjustable memory foam inside can relieve stress on the nerves and muscles in the neck.
The bamboo cover maintains all the benefits that typically come with bamboo. The cover acts as  a barrier against foreign particles such as bacteria and allergens.
The Xtreme Comfort pillow comes in three sizes: standard, queen, and king. While this pillow is built for comfort, support, and durability, Xtreme Comfort understands their pillow isn't for everyone. With the purchase of a pillow, you will get a 30-day trial and option to return it within that window if you find it isn't right for you. The pillow has a 6-year warranty attached as well.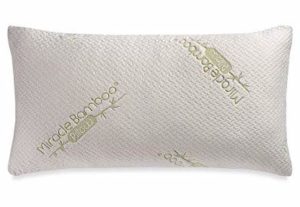 The Original Miracle Bamboo Pillow's outer shell is made from viscose bamboo fabric. It's incredibly durable and temperature-regulating. Additionally, the pillow is antimicrobial, allergen repellant, and mold and dust mite-resistant.
The bamboo pillow is filled with shredded memory foam to foster correct alignment. Memory foam pillows are soft and resilient, maintaining their shape even after being put under pressure for long hours.
This shredded memory foam pillow comes with a 60-day return policy and a 10-year warranty. The queen size pillow comes in three different firmness options: soft, medium, or firm.
Guide to Choosing the Best Bamboo Pillows
Now that you know you want a bamboo pillow, your search is going to be a little easier. But that doesn't mean your window shopping is done. There are still other factors to consider before making a decision. Read on to learn about those options.
What is a Bamboo Pillow?
Bamboo pillows are named for the outer bamboo shell that holds the entire pillow together. Often called the pillow cover, the fabric is made from fibers of the bamboo plant— a species of grass—  and spun from thousands of yarn.
Unlike traditional pillows, typically filled with cotton or alternative down, bamboo pillows have lots of loft from high-end, shredded memory foam or solid memory foam used as the fill. Density and style vary largely from pillow to pillow. The fill loft (For those that do not know, loft is a term used to describe the height of a pillow) and price will fluctuate from one pillow to the next, too.
All of these materials together create a hypoallergenic, antimicrobial, and highly breathable sleeping experience.
A comfortable pillow can help alleviate back pain, but sometimes you need more. Read our article on finding the best mattress for back pain relief and start getting better sleep.
Different Bamboo Pillow Types
Solid memory foam bamboo pillows: These pillows are filled with 100%  memory foam pillow and have a bamboo cover. Because this pillow is a bit thicker, denser, and more supportive, it is best for side sleepers.
Solid memory foam pillows are usually firmer than loose-fill pillows. Because of their support, they relieve neck pain by preventing your head from sinking too far down into the pillow.
Shredded memory foam bamboo pillows: These are the most popular bamboo pillow type— at least, according to Amazon. The pillow's natural fluff helps with contouring which caters to back sleepers by scooping and supporting the neck.
Even though these pillows have lots of loft, they still maintain a firm feel, which is why these pillows work so well for back and side sleepers.
Gel-infused shredded bamboo pillows: Gel-infused shredded memory foam adds to these pillow's cooling properties. As a shredded pillow, it's best for back and side sleepers. Unlike fiber-fill of down— which compresses completely upon impact— shredded foam only compresses in areas with pressure. In other words, pressure from the head will cause the foam to compress but the neck, which does have as much pressure, will be cradled and supported instead of left with no support at all.
The coolness the pillow provides is an added perk good for those that overheat.
Adjustable shredded memory foam bamboo pillows: By being able to shift the material inside, back and side sleepers can carve a notch in the pillow for the head to settle. This stops any unnecessary straining by allowing the head and neck to sit at a natural angle.
Who Can Benefit From a Bamboo Pillow?
While everyone can benefit from a high-quality pillow, there are a few people who use these pillows to address more specific sleeping concerns.
Due to the naturally hypoallergenic nature of bamboo, people prone to allergies or skin irritations are the first category of people that could greatly benefit from this pillow. Allergy-sufferers who use traditional bedding materials are prone to waking up with stuffy noses or irritation since traditional bedding materials attract and retain allergens.
Chronic neck and back pain can be alleviated from the loft that these pillows frequently provide. More often than not, pain is caused by misalignment of the spine. When the spine is subjected to awkward positions all night, it will become sore. Over time, a sore neck can turn into persistent pain.
Finding a pillow with the right amount of loft can help you achieve alignment and alleviate the pain.
Sometimes insomnia can be caused by heat retention in your pillow or mattress. The bamboo pillow's cooling features will help draw heat away from the sleeper by maximizing air circulation. This will not only help you get to sleep faster, but it will also encourage you to stay asleep.
How to Choose a Bamboo Pillow
While there may only be four types of bamboo pillows to choose from, there are plenty of other factors to consider before buying.
Material
Almost all bamboo pillows are made from the same basic materials. Shredded memory foam or whole memory foam make up the filling. Even though bamboo pillows occasionally use another type of material filling, you'd be hard-pressed to find one that doesn't use memory foam.
Memory foam is remarkably resilient. It bounces back to its natural shape even after long periods of pressure. A pillow made from memory foam will rarely need fluffing over its down or feather counterparts.
Typically a bamboo pillow will have a liner that is used to give a more supportive sleeping surface and maintain the pillow's shape. It doubles as a protective barrier to the pillow filling by making it harder for foreign particles from passing through to the pillow's center.
The pillow's final piece is the bamboo outer cover. This is the piece that gives it its namesake. Bamboo is naturally cool, moisture-wicking, antimicrobial, and hypoallergenic.
Size
Normally you wouldn't think that pillows size mattered much. But it does. Not only does it affect your quality of sleep, but it makes your bedroom look aesthetically pleasing.
Aside from the typical sizes offered— king, queen, and standard— there's also full-body pillows for additional support. They can cradle the body to alleviate chronic pain or maintain spinal alignment. Full-body pillows come in C, I, L, and J shapes and can be 55 inches or longer.
Lifespan and Warranty
The warranty can define a product's durability. Before a company places a product on the market, they run it through multiple tests to determine how long the product will last. Based on the average results of the testing, the product is given a warranty.
Unlike mattresses who have a standard 10-year or 20-year warranty, Bamboo pillows don't have a specific warranty length. However, we suggest getting a pillow with at least a 2-year warranty. Especially if it is made out of memory foam fill.
Pillows warranties typically cover the materials and workmanship of the pillow. If the memory foam fill losses loft or starts to disintegrate even with proper care and handling, a warranty claim can be filed.
Certification and Safety
As a customer, certifications are your best friend. While there are many different certifications for many different things, they all state that the product met a standard of safety for the customers, employees, and/or the environment.
Some more common certifications are CertiPUR-US® and GREENGUARD GOLD.
The CertiPUR-US® certification states that the material was made without ozone depleters or PBDEs, TDCPP or TCEP flame retardants. It also means that the materials were made without mercury, lead, and other heavy metals. A CertiPUR-US® certified product meets the Customer Product Safety Commission's guidelines and emanates low volatile organic compounds (VOC) into the air.
Making sure the product inside your home has low VOC will ensure there isn't any harmful chemicals being released into the air. High levels of VOC can cause eye, nose, and throat irritations. Headaches, loss of coordination, and nausea are also common. In more serious cases, liver and kidney damage, and nervous system failure can occur.
GREENGUARD GOLD identifies interior products and materials with low chemical emissions by testing and labeling products and materials that have met and passed standards based on established chemical exposure criteria.
Consider Your Sleep Position
Sleep position plays into your overall health more than you know. Sleep and spinal issues have been known to stem from something as little an awkwardly angled neck night after night. Read on to learn about your sleep position and some of the health risks.
Stomach Sleeper
Stomach sleeping is the unhealthiest way to rest. When you sleep face-down, it creates extra stress on your spine, which can result in chronic back pains later on down the line. Plus, it's not uncommon for stomach sleepers to experience soreness or stiffness in their necks as well. To get healthy sleep, we recommend switching to side or back sleeping. However, if you find it too difficult to change up your sleep style, firm mattresses and low-loft pillows (less than 3 inches thick) can offer stomach sleepers proper support.
Back Sleeper
Back sleeping is considered a healthy sleeping position because it allows your spine to rest in a neutral position.
In this sleeping position, a firm pillow with minimal loft is needed. Too much or too little loft will cause the head to angle unnaturally, making sleeping uncomfortable.
Side Sleeper
Side sleeping is the most common sleeping style. It is the only sleeping position that requires a lofty pillow. A good pillow for side sleepers closes the gap between your neck and the mattress. A high profile pillow with firm support will help side sleepers sleep without becoming sore.
Combo Sleeper
Combination sleepers don't stick to one sleeping style. They switch between two or more sleeping styles throughout the night. Their pillow's loft should be kept at a medium height an firmness to accommodate for the many different sleeping positions they can be in throughout the night. A mattress for combination sleeping should be similarly responsive to movements.
Other Pillows
The traditional feather pillow isn't the only pillow on the market anymore. Modern pillows have solved the age-old crick-in-the-neck problem— among other issues. Below you'll find a few other popular pillow types.
Memory Foam
Since the early 2000s, memory foam pillows have revolutionized the way we think about pillows. Memory foam not only gave us a place to rest our heads, but it also supported our head and neck, keeping the spine in alignment and alleviating pain in the process.
Memory foam is a viscoelastic polyurethane foam with high resilience. Most modern memory foam products have open cell structures and are infused with gel beads for added cooling.
Memory foam pillows are suggested for back and side sleepers beside of the support and the loft the pillow type offers.
Traditional
Traditional pillows are filled with loose fillings such as down, polyester fiber, feather, wool, or cotton.
Traditional  pillows can range from being incredibly expensive to very cheap, although a pillow's price is wholly determined by the filling quality and the structure of the outer cover.
A traditional pillow is best for back and stomach sleepers because these pillow types tend to lose height once pressure has been placed. Since back and stomach sleepers are sleeping flat on the mattress, they don't need as much loft as a side sleeper.
Latex
Like most memory foam pillows, latex pillows are solid and firm; however, latex pillows are made of a white sap from Talalay trees and are extremely supportive. They are much more dense and heavier than memory foam. Unlike memory foam, latex doesn't have as much give, but still close-conforming. This pillow is best for side sleepers due to loft and support.
Why Get a Bamboo Pillow
Bamboo material comes with numerous benefits, all of which contribute to a good night's sleep.
Naturally Organic
Bamboo doesn't need pesticides or plant food to grow quickly. Because of this, bamboo saplings can be grown and collected organically.
Bamboo fabric is made from bamboo wood pulp and fiber treated through a chemical process.
The softened bamboo fibers are spun into a material known as viscose rayon, which is then spun again into a yarn. The yarn is woven into a fabric used to create bamboo covers, bamboo sheets, and more.
Great for All Sleeping Positions
Bamboo pillows come in a wide variety of shapes and lofts. You are sure to find one of the most comfortable pillows that fit your needs and sleeping style. Make sure to have a firm grasp on your sleep needs to choose the correct option.
Sleep Cooler
For those who sleep hot or live in hot climates, moisture-wicking and heat regulation is an important feature to have in your bedding. It just so happens that bamboo fabric is effective at both. Bamboo fibers are incredibly absorbent. They promote airflow by allowing oxygen to pass through the material and disperse along the pillow's outer shell. This way, the pillow doesn't retain heat.
Environmentally Friendly and Sustainable
Like hemp, bamboo can grow all throughout the world all year long, making it one of the most sustainable resources on earth. Bamboo is not affected by droughts or unfertile soil. It doesn't need to be irrigated or treated with chemicals or pesticides. On top of that, the plant grows incredibly fast.
When bamboo is manufactured into fabric, the chemical process takes place in an enclosed chamber. Both the air in the chamber and the chemicals are recycled. This cuts down on ozone depleters and creates an earth-friendly product.
Maintenance and Care
If you've had a memory foam pillow, you understand that maintenance is needed to preserve a hygienic and supportive sleep environment.
Cleaning and airing out a high-density pillow will ensure the life of your pillow.
For some people, spending all day washing a pillow and waiting for it to dry is too time-consuming. Most prefer a pillow that can be thrown in the wash.
With that being said, bamboo pillows should be hand-washed, largely because the filling is almost always memory foam, which cannot be machine-washed.
Shredded pillows need to be tumble dried on low heat. However, solid memory foam bamboo pillows will need to be air-dried. You can speed up the process by placing the pillow under a fan.
Airing Out Your Bamboo Pillow
When you first receive your pillow, you might find it has a chemical-like scent— otherwise known as off-gassing. This is common in many foam products because they require several chemicals to produce. But don't worry, while this scent may be unpleasant, it's not dangerous. Letting the pillow air out for a couple of hours can help eliminate any off-gassing odors.
Over time, our pillows start to smell no matter how well we take care of them, as they can collect dead skin, sweat, and facial oils. To rid your nice pillow of any less-than-pleasant scents, sprinkle some baking soda over it and let it sit in the sun for around two hours. Then, vacuum up the baking soda and repeat on the opposite side of the pillow.
Fluffing Your Bamboo Pillow
While bamboo pillows won't lose their loft after one night's rest, they will begin to flatten after weeks of use. Memory foam may be resilient, but it doesn't defy the laws of gravity.
Are you wondering how to fluff a pillow? The easiest way to fluff your pillow is to toss it into the dryer on low heat.
Set your machine to low heat and tumble it for around 15 minutes. The movement and heat will break up the foam shreds and fluff the foam to its full volume.
Washing Your Bamboo Pillow
While fluffing and airing out your bamboo pillow is simple, washing it is a whole other ball game.
You're going to need to clean your pillow at some point. Your pillowcase can only protect the pillow for so long. It's recommended that memory foam filling pillows are cleaned once a month.
Depending on the pillow care tag, you can throw it in the wash under a certain setting, or you'll have to hand wash it.
If you would like to know the detailed method of washing a bamboo or memory foam-based pillow, please visit our article on how to wash memory foam pillows. Just keep in mind, the care instructions for the product should be your first method of washing if you want to preserve the longevity of your pillow.
Frequently Asked Questions
Can I put a bamboo pillow in the dryer?
It's not recommended to toss your bamboo pillow in the dryer since the heat can cause your pillow's foam to fall apart. Instead, let your pillow air dry in a sunny spot after it's been washed. For best results, rotate your pillow occasionally while it dries.
Do bamboo pillows need a pillowcase?
It's always a good idea to use a pillowcase with your pillow, regardless of what type your pillow is. A pillowcase acts a barrier between the sweat and dead skin cells from your face, which can attract dust mites when they build up inside a pillow. You should wash your pillowcase once a week to keep it clean and limit allergens in your bed.
Why do pillows turn yellow?
Sweat is usually the main reason why a white pillow turns yellow with time. The yellow stain is left behind once your sweat dries up. Whitening solutions can freshen up your pillow and make it look as good as new.
What's inside a bamboo pillow?
Contrary to what you may think, a bamboo pillow isn't filled with bamboo. Most bamboo pillows contain shredded or solid memory foam for a conforming feel. It's the pillow's cover that's made with bamboo.
How do you fluff a bamboo pillow?
There are few ways you can fluff a pillow. Some people like to grip both ends of the pillow and push them together. Others like to shake it or give the pillow a few punches. Feel free to try each out and see what works best for you.
Did You Find Your Perfect Pillow?
To summarize, bamboo pillows are the perfect product for allergy relief. They encourage a hygienic sleeping surface by killing bacteria on contact.
While there isn't a best bamboo pillow for everyone, these pillows do have varied traits that can cultivate great sleeping experiences for many different people. If you would like other options, visit our best pillows post.