Best Organic Cotton Sheets: Reviews and Buyer's Guide
Updated November 22, 2023

Bedding Guides
Truly organic products are grown, harvested, processed, and manufactured without the use of toxic chemicals. Not only are organic cotton sheets healthier for you, they're better for the environment. Organic cotton sheets with the right independent certifications will let you rest easy knowing your bed set is free of harmful chemicals.
Cotton is naturally breathable and softens with age. Sheets made of cotton come in different weaves affecting texture, drape, weight, and breathability. And, don't forget to check the thread count as it can make a difference in durability and feel.
In this guide, we discuss the best organic cotton sheets available and offer tips on choosing the most comfortable bedding for your sleep needs.
Best Organic Cotton Sheet Sets
Magnolia Organics focuses on comfort and sustainability. The Dream Collection features GOTS certified organic cotton, meaning everything from the growing of the cotton to the final packaging of the sheets meets established eco-conscious standards. A GOTS certification requires that 70 percent of the final product be made from organically produced materials. There are also limitations to the chemicals that can be used in the remaining 30 percent.
This 300-thread count sateen sheet set comes in seven colors. A 15-inch drop and 360-degree elastic edge on the fitted sheet allows them to fit most mattresses. The silky drape of the Dream Collection makes them stand out. The sheets fall over the body, moving with a fluidity that adapts to changing sleep positions.  Sateen has a heavier weave than percale, but the Dream Collection's breathability is suitable for summertime use.
SOL Organics Classic Organic Sheets have a luxurious texture and the GOTS certification to assure you they're safe from harmful chemicals. SOL is also Free Trade certified, which means the raw materials and manufacturing have taken place where workers are paid fair wages in safe conditions.
These classic sheets are offered in six colors and seven sizes, including California and split-king options. The long-staple cotton used to make them create soft, durable sheets that grow softer and more inviting with time. However, it's their texture that sets them apart. They have a creamy, lightweight feel that allows the sheets to glide over the body without snagging or sticking. When you add breathability to their list of characteristics, you've got a sheet that's a fit for those who overheat at night, too.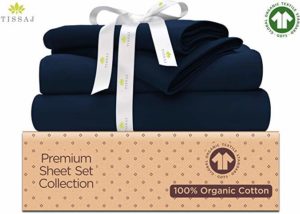 Tissaj Home Essentials ups the thread count to 500 in this set. They're both GOTS and OEKO-TEX Standard 100 certified. We've mentioned the GOTS certification, but the OEKO-TEX Standard 100 is slightly different. Every aspect of the product must be found free of a long list of harmful substances, including azo dyes, heavy metals, and formaldehyde. It requires an examination of both human and environmental safety factors.
This set comes in five colors with a smooth sateen weave and fit mattresses up to 16-inches thick.  The 360-degree elastic edges assure a tight fit of the fitted sheet. While higher thread counts don't always mean a better sheet, it does make these ones comfortable and durable. However, high thread counts can lead to an initially stiffer sheet. It might take a few washings before these ones get the softness normally associated with cotton sheets.
Essentia is another manufacturer devoted to sustainability and quality. Their sheets may be pricey, but they're GOTS certified. Essentia is also Green America Gold certified, which means they've passed specific benchmarks to be recognized as a socially and environmentally responsible business.
Essentia's 300-thread count sheets are thick with a softness you'll notice right out of the package. However, like all cotton, that softness deepens with each washing. This set has a comforting drape that rivals heavier weaves but with a cool, velvety feel that glides over the skin.
Essentia's set comes in four sizes, so there are limitations. However, they only use natural dyes, which limits the color options to white and a natural sable.
The Green Farmer produces a safe, soft organic sheet set at an affordable price. They're GOTS certified, so they've met the strict standards that require 70 percent of the product be organically produced.
Green Farmer offers a more affordable organic alternative with their sheets. This set comes in 14 color options, more than many other organic manufacturers offer. However, you can rest easy as all dyes are GOTS certified, too. Initially, this set has some stiffness, but the smooth sateen weave glides across the skin and grows more comfortable with each washing.
Organic Cotton Sheets: Factors to Consider
The texture, breathability, and durability of your sheets influence your ability to get a solid night's rest. These are the factors you'll need to take into consideration as you're searching for the perfect organic cotton sheets.
Weave
A fabric's weave affects its weight, texture, and breathability. Organic cotton is commonly found in three weaves:
Percale: Percale sheets have a one under, one over weave that makes them crisp and lightweight. They're an excellent choice for warmer climates or people who sleep warm.
Sateen: Sateen sheets have a four over, one under weave that creates a noticeable sheen. They have a heavier drape and denser weave than percale, which causes more heat retention. Those who live in cool climates or who easily get cold at night will appreciate a sateen sheet. Depending on your climate and natural temperature preferences, you may be able to use sateen sheets year-round.
Flannel: Flannel can be made of cotton, wool, synthetic fibers, and even vegetable fibers. Organic cotton flannel sheets feel fuzzy due to their napped finish. One or both sides may be napped depending on the weave. Flannel varies in thickness and weight. Flannel sheets are incredibly warm due to the high number of tiny air pockets created by the weave.
Thread Count
When you see a sheet's thread count, it's referring to how many threads, both horizontal and vertical, are contained in a one square inch space. Higher thread counts are generally associated with softer, more durable sheets. However, it can take time for high thread count sheets to reach a comfortable texture and drape.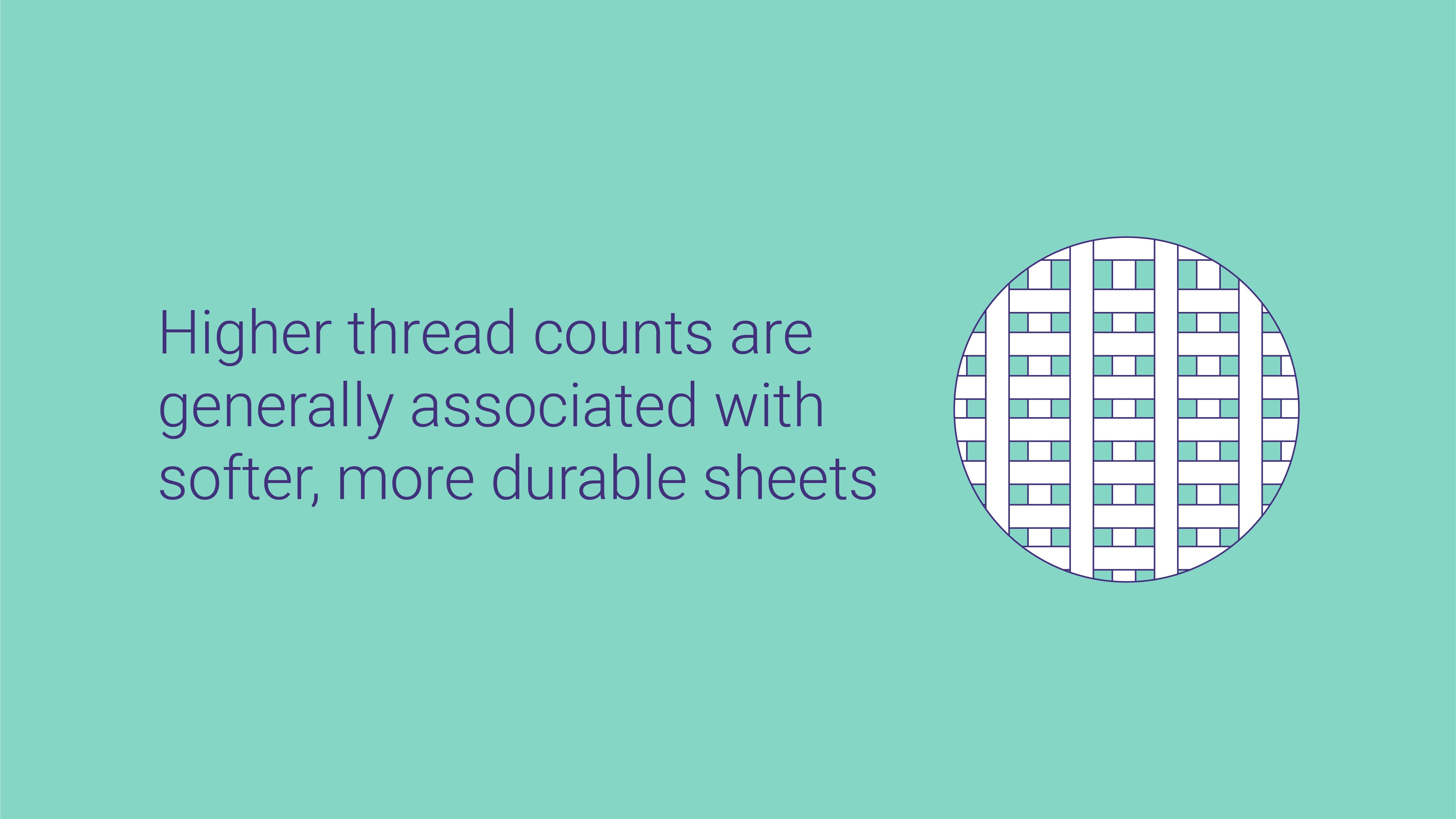 When more threads are packed into a smaller space, it makes for a thicker, stiffer sheet. It can take many times through the washing machine to soften a high thread count sheet. Some sheets may never reach the same level of softness of a sheet with a lower thread count. Most people find a good balance between softness and durability in the 300 to 600-thread count range.
Staple Length
Staple refers to the length of the cotton fiber. Different varieties of cotton have staples of different lengths. Cotton sheets with long or extra-long staples (ELS) create threads with superior strength, softness, and durability.
Certifications
The terms organic, green, and all-natural are often used interchangeably. However, they don't mean the same thing. If you want the best organic bed sheets that are free of harmful dyes and chemicals you'll need to look for certifications from independent organizations that have monitored production and tested the products to make sure they are organically produced. For organic textiles that often includes:
Global Organic Textile Standard (GOTS): This certification assures that the cotton has been organically produced, harvested, and manufactured. The organization monitors both human and environmental safety issues. To receive this certification, the resulting textile must be made with at least 70 percent organic fibers. Farms and facilities can be GOTS certified too.
OEKO-TEX Standard 100: This certification doesn't necessarily guarantee that the cotton or textile is organic. Rather, it's been tested for harmful chemicals and levels of VOCs. To get the full Standard 100, every component of the product must be tested.
These are the main certifications you see on organic cotton sheets, but there could be others. Some certifications indicate eco-friendly practices, while others apply to human safety or the manufacturing process. If you're not sure what a certification means, look it up online so you know what part of the farming, harvesting, or manufacturing process to which it applies.
Certifications can be expensive for manufacturers to obtain. They definitely add to the price of organic sheets. However, certifications also let you know that a manufacturer isn't adding in green buzzwords to boost their sales.
Sheet Budget
Organic cotton sheets with certifications start in the $50 to $70 range. These sheets may have a lower thread count, although you can find some 300 or 400-thread count sheets in this range. Sheets made of long-staple cotton start at around $70 and run to about $150. The difference in price may depend on the kind of cotton used to make the sheets as well as any extra certifications.
Organic cotton sheets with high thread count and made of ELS cotton will run in the $150 to $300 range. While price won't tell you everything you need to know about sheets, you should expect sheets in this higher price range to have incredible durability due to the use of extra-long staple cotton.
Sleeping Cool and Breathability
The structure of the cotton fiber gives it natural breathability. Cotton has a relatively rough, non-uniform structure that creates many tiny spaces for air to move and flow. It's an excellent fabric for sheets because it lets the sleeper's heat freely move away from the body.
While cotton is naturally breathable, you have to be careful with the weave. Sateen, for example, has a denser weave, which will retain more heat than percale. Flannel also naturally retains heat. Think about how warm you like to sleep. You may even need to buy different sheets for different seasons. Many sleepers choose to use flannel cotton sheets during colder months and percale cotton sheets during warm, summer months.
FAQs
Are organic cotton sheets better?
Organic cotton sheets will have the same characteristics and texture as non-organic cotton sheets of the same quality. Organic cotton and non-organic cotton have the same texture and feel. Non-organic sheets may have an odor from the manufacturing process, but so, too, can organic sheets. Their differences come in how they're grown, harvested, and produced.
With organic sheets, you won't run the risk of exposure to pesticides, herbicides, chemicals, or harsh dyes. That isn't to say that all non-organic sheets have those substances, but with organic sheets, you know they're not present.
Is Egyptian cotton better?
Egyptian cotton is made from the Gossypium Barbadense variety of cotton. This particular variety has an extra-long staple that does create a soft, durable sheet. However, there are other cotton varieties with similar lengths and properties. So, yes, Egyptian cotton is better than many types of cotton, but it's not the only source of high-quality cotton.
Are Giza sheets better?
Giza sheets are made from one particular species of Egyptian cotton that has one of the longest staples available. That extra-long staple gives strength and longevity to each fiber and thread, making these sheets some of the most highly sought after. They also come with a price tag that reflects their quality.
What are the best sheets?
The best sheets for you depends on your specific needs. First and foremost, the sheets should let you get a comfortable night's rest and fit within your budget. But, ask yourself what you really need and want from your sheets?
If you're looking for durability and longevity, a high thread count should be at the top of your list. Those who sleep warm should opt for a breathable, lightweight percale sheet. Budget-conscious shoppers should look for a set in the $50 to $70 range that has a GOTS and/or OEKO-TEX Standard 100 certification. If you want softness right out of the box, prewashed, 300-thread count sheets are a good bet because you can feel the natural softness immediately.
Are cotton or linen sheets better?
Both cotton and linen are light and breathable yet also durable materials. Linen tends to be the more resilient of the two, but some sleepers prefer cotton's natural softness—it can take a few washes for a set of linen sheets to soften up. It's possible to find quality sheets made with either material.
Organic Cotton Sheets: The Bottom Line
Look for sheets with certifications from independent organizations that monitor farming, harvesting, and production of the cotton from start to finish.
Decide on the weave that's right for you. Sateen and flannel will keep you warm while percale keeps you cool.
Look for sheets with long or ELS cotton that falls within your budget.
Organic sheets will not only allow you to sleep in breathable comfort, but they also provide peace of mind. The more chemicals and VOCs you can keep out of your home the better.