Best Linen Sheets: Reviews and Buyer's Guide

Bedding Guides
Linen sheets are a staple in the bedroom because of their comfort and aesthetic The crisp, wrinkled look adds a bit of character in one's bedroom while its breathability and temperature-regulating properties makes it one of the preferred sheets in summer and in winter.
They are made from flax fibers that are thicker than cotton and weaved more thoroughly than other kinds of sheets.
Linen sheets are a long-term investment because of their durability that lasts for decades. However, not all linen sheets live up to the expectations. People typically complain about the poor weave quality and how low quality linen sheets tear easily.
This article will help you in picking the right linen sheets for you – from the selection of colors, pocket depth, and texture.
Let's jump right in.
Best Linen Sheets

Belgian flax is the most common fiber used in making linen. However, Tuft & Needle's linen sheets are made with Certified European Flax. Despite being more budget-friendly, Certified European Flax is just as durable and sought after as Belgian Flax. The soft and durable fabric is woven and sewn in India.
The sheets are pre-washed, which means they are soft straight out of the package. The fitted sheet has 16-inch deep pockets to accommodate mattresses up to 14 inches tall. The fitted sheet also features durable elastic to hold the sheet in place no matter how many times you toss and turn.
Tuft & Needle offers a 100-night sleep trial and a 2-year warranty with every set of linen sheets.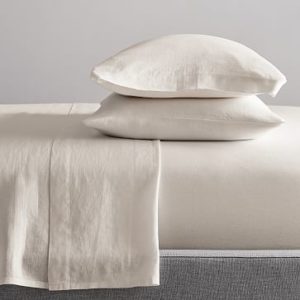 The West Elm Belgian Flax Linen Sheets have a soft, luxurious feel that does not wear and tear easily, resulting in a breathable sheet with a lived-in look that softens every wash.
Made from 100 percent Belgian flax, the sheets come in four neutral colors, including beige and light grey. The sheets are available in full, queen, king, and California king sizes, and fit most mattresses up to 15-inches deep. The sheets will keep you cool in the summer and warm in winter.
West Elm allows returns within 30 days of receiving an order and refunds the full selling price. The original receipt is required upon return in West Elm stores and outlets for free. Machine-wash in cold water with non-chlorine bleach if needed and tumble dry low then remove promptly. Do not overheat as it can cause wrinkles.The crisp natural texture of the sheets allows you to skip the iron but if needed, steam or iron on warm.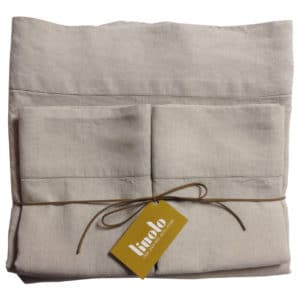 Can't find the right color that suits your taste? Linoto has a wide array of color you can choose from in different neutral shades. Moreover, the sheets add an heirloom feel in your bedroom.
Made from long-staple flax linen sourced from Italy and Belgium, the sheets are pre-washed with a non-toxic and non-petroleum-based biodegradable soap. If you have a pillow-top mattress, Linoto linen sheets have deep pockets that fit well for thicker mattresses. Linoto linen sheets come in 15 neutral colors, ranging from twin to California King sizes. The thick and sturdy sheets weigh 6 ounces except for the flax, oatmeal, and ivory sets that weigh 7 ounces.
The company provides replacements within 30 days free of charge with a money-back guarantee. The return package must include the returned item and the copy of the packing slip or email purchase confirmation. The sheets are machine-washable like most linen sheets. To dry, use low heat.

Cultiver linen sheets are thicker compared to other linens in this list but still breathable and temperature-regulating in warm and cool weather.
Made from 100% linen, the sheets are pre-washed to ensure that they are soft from the moment you pull them off the bag. The sheets have extra 18-inch deep pockets to fit most mattress heights. You can choose from a selection of 15 neutral colors and two stripe patterns, ranging from twin, queen, king, and California king sizes. The set comes with its own linen bag for neater and easier storage. The company can send you different swatches to test out before purchasing.
The company only allows unused, unwashed, and unmarked sheets for returns within 30 days upon receiving the items and takes 5-10 business days to process the refund. In washing and drying the sheets, the sheets can be machine-washed in warm water with any detergent without optical whiteners or brighteners. Tumble dry low and remove promptly. Do not bleach, soak, dye, or use any harsh chemicals. Do not dry clean. In ironing, use a warm iron setting or steamer.

Snowe linen sheets are light and airy (310 thread count), but not too thin, that delivers a "buttery soft" feel that entices you to stay in bed all day.
Made from Belgian flax crafted in Italy, the sheets undergo a unique air-washing process to relax the linen fibers and deliver a soft sheet fresh from the rack. Linen is rough in nature because of the flax fiber, but it softens after several washes. Some companies, like Snowe, pre-wash their sheets to make them a bit softer than regular linen.
Nonetheless, the softness of the Snowe linen sheets does not compromise its durability.  The fitted sheets have 15-17 inches pocket depth that accommodates any mattress height. The linen sheets keep you cool in summer and cozy in winter. The sheets come in essential white, ash gray, and slate blue for a sleek, crisp look.
The company offers a 90-day return period with free shipping and returns within the continental US. For care instructions, wash separately without chlorine bleach and tumble dry low. Iron in the warm setting if needed.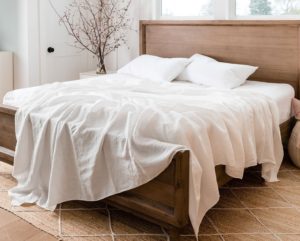 Not everyone has the same preference when it comes to linen sheets. Most people prefer softer sheets while a few prefer grainier linen sheets. Rough Linen sheets live up to their name as the roughest of all brands mentioned in this article. However, they're not so rough that they compromise the comfort and quality of your sleep.
Rough Linen sheets are heavier compared to other linen sheets but still breathable even in a warm environment. The grainy texture is not at all a nuisance. Furthermore, the fabric used for the sheets are of superior quality from China and sewn in the United States.
The company accepts unwashed linen sheets within 30 days but offers no warranty like Cultiver's. However, you can request swatches to help you pick the right linen sheet for you before purchasing.  Just like most linen sheets, sheets from Rough Linen can be machine-washed in cool water with like colors. Dilute a small amount of mild detergent. Do not bleach. Tumble dry in a medium or hot setting and remove promptly. Or, you can line-dry the sheets, just make sure to not expose them under too much sunlight.

If you want to enjoy the comfort and aesthetic of linen sheets without breaking the bank, then the Merryfeel French Linen sheets are the best option for you. If you're buying linen sheets for the first time, you may want to try something more affordable while deciding if linen is fit for your sleep needs. Merryfeel's French budget-friendly sheets are luxurious and long-lasting without costing too much.
Made from pure French flax, the sheets are pre-washed to soften the rough texture of the linen sheets. Merryfeel linen sheets feature a deep 15-inch pocket to accommodate thicker mattresses. Furthermore, the sheets are antibacterial and hypoallergenic.
The sheets are available in twin to California King sizes except Twin XL in eight colors. The colors of Merryfeel French Linen sheets do not easily fade after multiple washes because of the pretreatment of dye for impurities to the flax.
These sheets can be machine-washed and tumble-dried on a warm setting; however, the manufacturing company recommends line-drying if possible.
8. MagicLinen Melange Linen Sheet

If you're channeling a casual elegant look for your bedroom, the MagicLinen Melange linen sheet set is perfect for you. The sheets are the perfect combination of airy and sturdy.
The sheets are hand-cut and sewn by skilled sheet craftsmen to ensure the highest quality of linen sheets. MagicLinen sheets are made with European flax and manufactured in Lithuania. The sheets are stone-washed and made from OEKO-certified, non-toxic materials and dyes. These sheets fit every mattress size and are available with either regular 10-inch pockets or extra-deep 18-inch pockets.
You can also choose the color or pattern of your choice- ten colors, two striped options, and one grid pattern. The sheets are comfortable in winter under thick blankets.
MagicLinen allows returns within 30 business days of delivery and issues refunds for full selling price excluding shipping costs and additional taxes.  The company takes 4-5 business days to process the refund.  The items must be in good condition upon return. Just like other linen sheets, MagicLinen sheets can be hand-washed or machine-washed at low temperature. Do not bleach or use any harsh detergents. Tumble dry in low heat.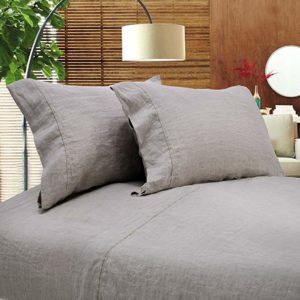 Another budget-friendly alternative is linen sheets from Simple and Opulence. What make these sheets unique are their embroidered designs. Like the Merryfeel linen sheets, the sheets deliver a luxurious feel without breaking the bank.
It's a common misconception that anything manufactured in China is of inferior quality. The truth is, China has more advanced mills that are not available in Europe and America. Cutting edge mills in China weave sheeting in more modern, double-width looms that results to durable and long-lasting sheets. The sheets have deep pockets to fit mattresses up to 16 inches thick. The sheets come in dark gray, gray, linen, purple, white, and hand-drawing gray with available sizes for twin, full, queen, and king beds.
The sheets can be machine-washed and tumble dried on low to medium heat. Wash the linens separately from dark colors. You can iron them on a warm setting if needed.
Factors to Consider When Choosing the Best Linen Sheets
There are several things to consider before buying linen sheets to ensure you're selecting the best sheet set for your sleep needs:
Thread Count
Thread count is the number of threads (horizontal and vertical) in a square inch of fabric. The thread count determines the quality of the sheet: a higher thread count means a finer sheet. However, extremely high thread count means the sheets are less durable and prone to breakage.
The ideal thread count for linen is 80-120 but most linen manufacturers mention the weight instead. The ideal weight for linen is around 6 ounces.  Nonetheless, the low thread count of linen does not indicate a lesser quality but rather thicker fibers.
Thread counts in linen are not high like those of cotton and percale sheets because the fibers are thicker, which make it impossible to weave them in a tight weave. The thick fiber also delivers a rougher texture compared to cotton and percale. The lower the thread count, the rougher the sheet.
Material
The fibers used to make linen come from the flax plant. Flax fibers are thicker and longer than cotton, which results in a rougher texture but stronger and more breathable fabric. The best linen sheets are made in Europe, specifically in Ireland, France, Lithuania, and Belgium. However, the quality of linen is not only based on the quality of flax fiber, but also the quality and consistency of the weave. Linen sheets use a one-over, one-under weave pattern to produce a durable fabric.
Size
The pocket depth of linen sheets should also be considered since linen sheets are prone to shrinkage, even those pre-washed linen sheets. That's why it is recommended to buy linen sheets a little larger than you need to accommodate the depth and shrinkage. The weight can also affect the thickness and warmth of the sheet.
Weight
People who live in warmer climate opt for a lighter sheet while people in less temperate climate opt for heavier sheets. The mattress and duvet also affect your preference. If you have thick duvet and foam mattress, stick to a lighter sheet. If you have lighter duvet and innerspring mattress, pick a heavier sheet.
Color/Pattern
Many linen sheets are garment-dyed in small batches that result in a variation of color. Most linen sheets come in neutral shades compared to cotton sheets. It's unlikely to find bold colors and prints in linen sheets. Few linen sheet manufacturers offer patterned designs.
Durability
Longevity and durability are important things to consider in buying linen. Linen sheets with high-quality fiber, yarns, and construction can last for about 8-10 years. Softening treatments also cause premature aging in sheets. The quality of finer and weave determines the durability and longevity of the sheet. Sheets made from poor quality fibers tend to tear after a few uses. Reputable brands, like the ones mentioned in this article, ensure that their raw materials are the finest and authentic. Antique linen sheets last for 50 years or so but modern linen sheets are more of a luxury purchase nowadays than a long-term investment.
Softness
Linen sheets are not supposed to be cottony soft when you first take them out of the package. Since linens are rougher and most people look for soft sheets, some manufacturers pre-wash the sheets in chemicals to produce softer linens. However, chemicals amplify the coarse texture of the sheets. Linens soften over time, so you don't need to stress over their rough texture. When looking for linen sheets, choose linen sheets that are not prickly or too rough for your skin.
Common Questions
Is linen also good for sheets?
While cotton sheets are the most common, linen sheets deliver the same comfort that cotton sheets can offer. The difference is, cotton sheets are softer and silkier while linen sheets are crisper — however, linen does soften after several washes. Linen sheets are durable and last about a decade with care.
Are linen sheets comfortable to sleep on?
According to experts, linen sheets are one of the most breathable because they allow an increase of airflow, wick away moisture, and keep you cool. Made from natural fibers, linen sheets are hypoallergenic and antibacterial, perfect for people with sensitive skin. Because of its temperature-regulating properties, linen is ideal in warm and cool seasons.
How long should linen sheets last?
Top-quality linen sheets last for 10 to 12 years under normal use. Choose linen sheets with high-quality fabric and follow the manufacturer's care instructions to ensure your linens last.
Why is linen so expensive?
The tedious production process plays a huge part in the price of linens. Flax fibers are harder to weave because they are inelastic and prone to breakage, which is why linen sheets are expensive. It's also expensive to cultivate flax plants, further increasing linen's price.
How do you break in linen?
If you want to soften up a new set of linen sheets, try washing them before you place them on your bed. Make sure you read the manufacturer's care instructions before you wash them for the first time. You can try adding a half cup of baking soda or a cup of vinegar to further soften the sheets' feel.
Conclusion
Linen fabric is known for its aesthetic and comfort, staying cool and establishing sheets for memory foam mattresses. The more you wash linen sheets, the stronger and softer they get. Good quality linen sheets are hypoallergenic and dirt-resistant, helping you get germ-free sleep. Moreover, linen has anti-static properties, perfect for people with sensitive skin and allergies.
Aside from a better quality of sleep, linen sheets are also environment-friendly since they're made from the flax plant— a renewable source that requires minimal processing energy. Thanks to its natural fibers, linen is biodegradable. Linen sheets last up to 12 years under normal use. Linen sheets are an investment to your health and work performance. With a better quality of sleep, your health and work performance will improve.