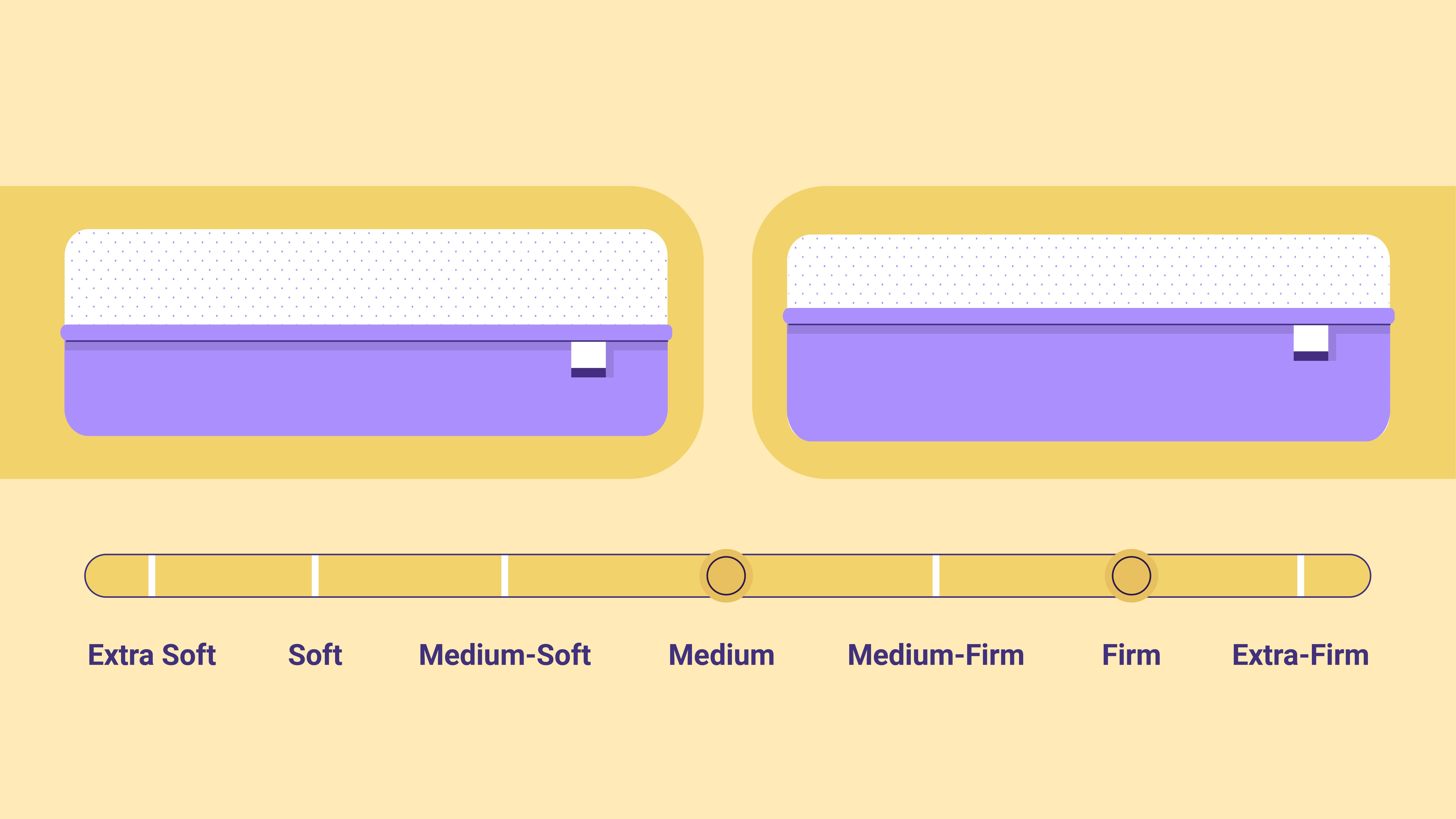 Firm vs. Medium Mattress: All the Pros and Cons
Updated November 22, 2023

Mattress Comparison
Besides providing you a place where you feel comfortable enough to sleep, your mattress has to do a couple of things. First, it has to evenly distribute your weight to prevent one part of your body from bearing the brunt of the pressure.
Second, it needs to provide enough support to keep your spine in a neutral position. Keep in mind, support doesn't equal a firm bed. Support just means the bed cradles the right parts of your body while holding up others, keeping your spine aligned. Different firmness levels can offer ideal support depending on your sleep style.
Your mattress also has to cushion pressure points to protect you from pain. If you lie on a mattress that's too firm for your sleep style, you're going to wake up with pain in the high-pressure areas of your body (for example, the shoulder and hip for side sleepers).
Below, we lay out the pros and cons of firm and medium mattress choices and how to pick the best mattress for your needs. Soft mattresses will be left for a future article focusing on softer mattress choices.
Firm Mattresses
Firm mattresses have little give and a lot of stability. Most people think these beds are uncomfortable, but they might help you rest better if you need extra firmness—like if you're heavier or a stomach sleeper. Firmer beds can help you maintain good posture by keeping you lifted in a neutral position, preventing painful sinkage and misalignment.
Speaking of misalignment, it used to be a common assumption that firm mattresses were comfortable for chronic back pain sufferers. But research now shows the best mattresses for back pain are medium-firm, as they provide more cushioning for pressure points while still offering enough support to keep the lower back from sinking in the bed.
On the flip side, firm mattresses do have some drawbacks. Side sleepers often find firm mattresses uncomfortable because they're too hard to cushion the shoulders and hips. Firm mattresses can also increase pain for people with certain conditions like scoliosis. And since they don't compress very easily, they're not the best for all-over pressure point relief—even traditional memory foam mattresses firmer mattresses only offer slight pressure relief.
The Amerisleep AS2 has a medium-firm feel recommended for back sleepers and those with back pain. While this mattress is firm and supportive to prevent sinking and spinal misalignment, it also has enough softness to reduce pressure points near the hip and shoulder joints.
The Bio-Pur® comfort foam is made with plant-based oils, rather than 100 percent petroleum-based oils. This unique manufacturing process makes Bio-Pur® more breathable and more responsive than traditional mattress foams.
The transition layer in the AS2 features Affinity foam with HIVE® technology, a buoyant foam layer with targeted lumbar support. The slight bounce of this material promotes a neutral spine and deeper sleep.
The base of the AS2 features their Bio-Core® support foam which is resistant to sagging and indentations to ensure you stay in a safe sleep position night after night.
This high-quality all-foam mattress comes with a 100-night sleep trial so you have plenty of time to test out the bed for yourself. They also include a 20-year warranty covering sagging and indentations.
Amerisleep AS2
Medium-firm feel reduces back pain
Bio-Pur® eco-friendly comfort foam
Supportive foam base is resistant to sagging
Medium Mattresses
If you're looking for something with a little more give, medium mattresses might be up your alley. Medium beds compress easier than firm mattresses when you sit down on them, but they still offer more support than soft beds.
These mattresses are suitable for a higher number of sleepers because they offer sufficient pressure relief while still maintaining enough firmness to keep the spine in a neutral position. Both side sleepers and combo sleepers usually find them one of the most comfortable mattresses for this reason.
Mediums are also nice mattresses for couples because they blend comfort and support to accommodate the majority of sleep styles and body types. However, if sleepers' needs are extremely divergent, a split mattress option—like a split king or Cal king—may be the best option.
The versatility of medium mattresses also makes them a good option for guest room beds because they suit a lot of sleepers. As long as you keep a mattress topper around to appease picky sleepers, mediums are usually comfortable for most guests.
Medium firmness tends to be worse for stomach sleepers and heavier sleepers, both of whom typically need more resistance to achieve neutral spinal alignment.
The AS3 Hybrid is Amerisleep's most popular hybrid mattress because it has a universal firmness most couples and combination sleepers find comfortable and supportive.
Like the AS2, the AS3 Hybrid features Amerisleep's breathable, plant-based memory foam Bio-Pur® for a cooler night's sleep. With a lightweight, airy cover, and natural foam comfort layer, this mattress resists heat-trapping so sleepers experience fewer night sweats.
While this hybrid has a balanced feel, it also has a slight bounce thanks to the pocketed spring coil base. Back sleepers often prefer a spring coil mattress because it prevents excess sinking and keeps body weight evenly distributed.
Beneath the spring coil base is a 1-inch layer of Amerisleep firm, stabilizing foam for shock absorption and motion isolation.
Like all Amerisleep mattresses, the AS3 Hybrid comes with a 100-night sleep trial and a generous 20-year warranty.
Amerisleep AS3 Hybrid
Bio-Pur® plant-based comfort foam
HIVE® technology supports the lumbar spine
Pocketed spring coil base
How to Measure Firm and Medium?
Mattresses are usually measured on a firmness scale of 1-10, where 1 is the softest and 10 is the firmest. Almost all mattresses on the market today fall between a 3 and an 8, as mattresses at the softest and firmest extremes are not able to suit many sleepers' needs.
Soft is 3
Medium-soft is 4
Medium is 5
Medium-firm is 6
Firm is 7
Extra-firm is 8
Finding the Best Firmness Level for You
Two main aspects dictate what mattress firmness level you need: your body weight and your sleeping position. Your sleeping position can affect everything from your spinal alignment to your blood pressure to your digestion to your sleep quality. It also significantly impacts your firmness needs because of the different ways the mattress cushions your body.
When you add your body weight into the mix, it can further affect your needs. No matter your size, you're going to want your mattress to have at least a little contouring to alleviate pressure and distribute body weight.
If you're on the lighter side, you might have to go a touch softer than the corresponding firmness to your sleep position so you get a mattress that compresses enough. Conversely, if you're heavier, you might have to go up a firmness level to make sure your mattress doesn't compress too much.
We have also written guides comparing soft mattresses to firm and medium mattresses, so shoppers can better understand their options:
Back Sleepers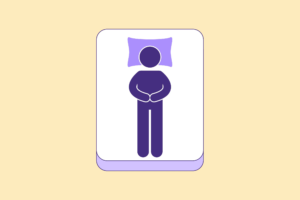 The problem with this position is if your bed is too soft, lying on your back might bend you into a slouching pose. In order to keep your spine in as natural a position as possible, you need additional lumbar support to prevent your lower back from sinking down into the bed. The best mattress for back sleeping keeps your spine in line while you rest flat.
Usually, medium-firm mattresses can maintain even alignment, but we suggest avoiding ultra-firm beds, as these won't compress enough to cushion your lower back.
Side Sleepers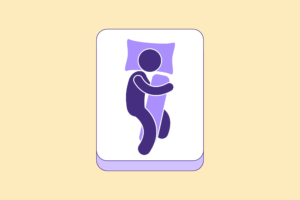 If you're a side sleeper, you're going to need pressure relief for your shoulder and hip joints, but you'll also need some support from your mattress to keep your torso lifted.
Medium mattresses are normally better for side sleepers because this firmness level is cushioning enough to allow the higher-pressure regions like your shoulder and hip to compress while keeping the head, torso, and feet supported, thus aligning your spine.
Read More: Find the Best Mattress for Side Sleepers in our other guide!
Stomach Sleepers
Stomach sleeping is the most likely position to cause spinal misalignment because sleeping on the stomach can cause your upper body to sink down. The sinkage arches your back while you sleep, making you wake up with lower back pain in the morning. In addition, stomach sleeping forces you to turn your head to the side, twisting your neck.
Considering how unhealthy stomach sleeping is, we suggest switching to side or back sleeping, but if you are unable to make the switch, consider a firm mattress for stomach sleeping; these keep your belly straight and your spine in neutral alignment.
Combination Sleepers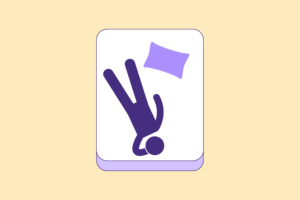 If you frequently find yourself waking up in different positions, you're probably a combo sleeper. Combo sleepers alternate sleeping positions during the night, spending time on their backs, sides, and bellies. We recommend medium mattresses for combination sleepers since they provide an even mix of comfort and support from position to position.
FAQs
Does mattress material matter?
Yes, because each mattress material affects the overall feel and support in different ways. Memory foam and latex are both very contouring, but memory foam sometimes retains heat, and natural latex is expensive. Coils are bouncy and allow airflow, but they don't relieve pain or cushion pressure points. You can enjoy the benefits of multiple mattress materials when you choose a hybrid bed since they combine foam layers and innerspring coils.
What's the best kind of mattress?
It depends on who you ask. Memory foam mattresses usually have the highest customer satisfaction ratings. But because some foam mattresses get hot at night, certain shoppers feel foam is not for them. Latex mattresses are loved by eco-friendly shoppers, and hybrids are a newly-popular mattress type beloved by those who cherish the bounciness of traditional innersprings but want the modern-day benefits of foam layers. Learn about and compare different mattress types to find what's comfy for you.
How do they make a mattress softer or firmer?
Modifying the top or "comfort" layer of the mattress is just one way manufacturers adjust mattress firmness. Comfort layers are made softer in a number of ways: adding pillow tops, stuffing them with materials like cotton or wool, or using a sheet of foam or latex. Subtracting these cushioning materials or using thinner layers will make the mattress firmer. In addition, mattress manufacturers add and subtract layers and modify the ILD of the base foam to give their beds unique feels.
Do they have mattresses with adjustable firmness?
Yes! With recent developments in mattress technology, there's been an explosion of new adjustable mattresses, including beds with adjustable chambers and others with customizable layers. These mattresses usually have a high range of firmness levels.
Adjustable air mattresses work by using internal air chambers and a hose attachment to remove or add air to the support layer based on your preferences. Mattresses with customizable firmness allow you to add and remove layers to change up the bed's feel. You can also adjust any mattress firmness with a mattress topper.
What's a reasonable price for a mattress?
Prices can vary, but a good mattress isn't cheap. You don't want to get ripped off, but you also don't want to skimp on something you're going to use every day for ten years. Around $1,000 to $2,000 is what you should expect to pay for a high-quality queen mattress.
Bottom Line
You can read about firmness levels until you're blue in the face, but the most important thing you should do to find the right mattress is to try them out. New beds have an adjustment period of 1 to 2 months. That's why it's crucial to make sure any mattress you buy comes with a trial period of at least 60 days, though 90+ is usually best. All trial periods should be backed by a money-back guarantee (not credit or a voucher), so you can really get a sense of whether a mattress is going to work for you, and you're assured a full refund if it doesn't.