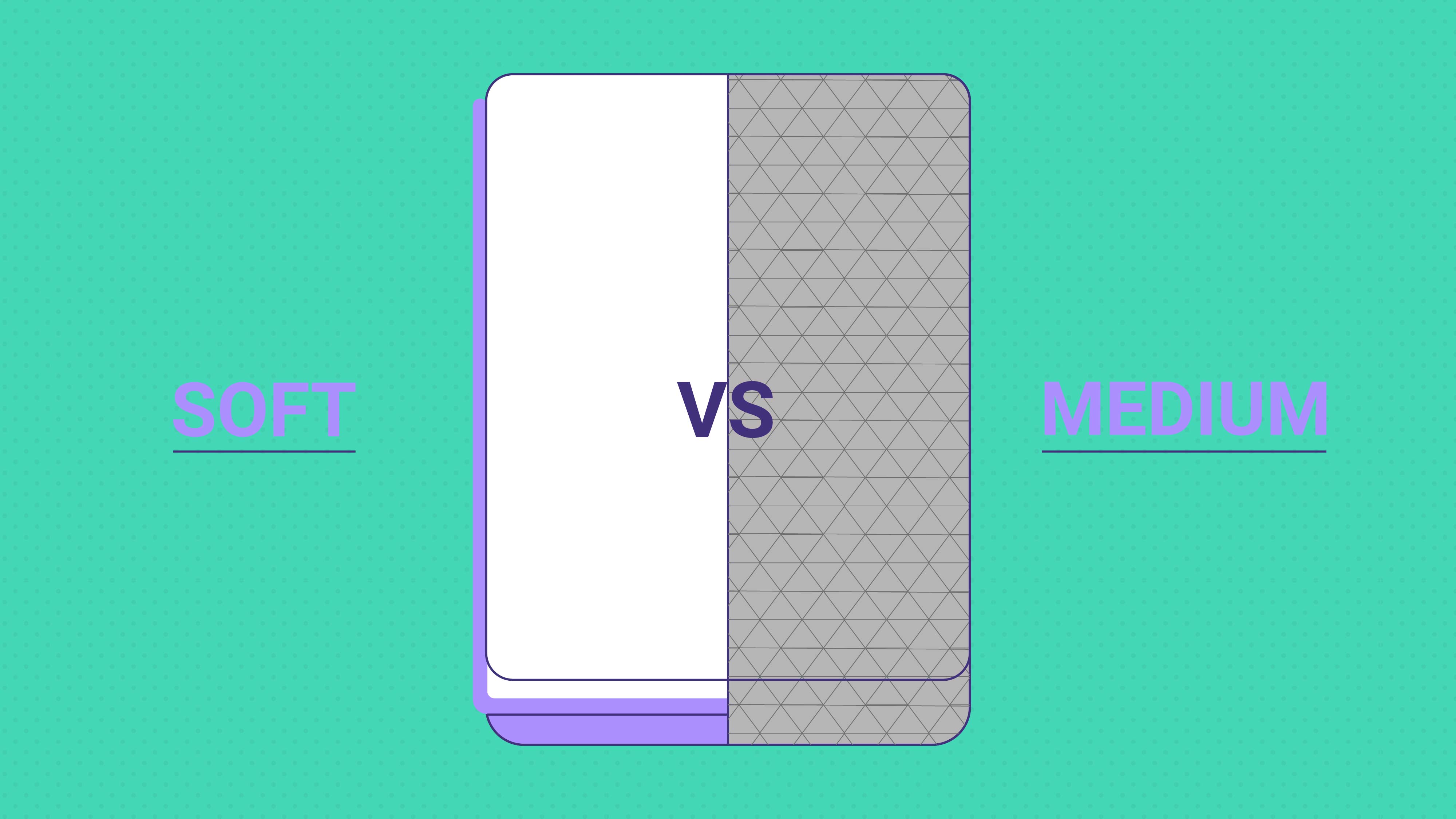 Soft vs. Medium Mattress Types: What's the Difference?
Updated November 22, 2023

Mattress Comparison
For those in the market for a new mattress, you may be wondering how firm your mattress should be. A firm mattress level of your mattress will determine how comfortable your bed feels and sleep position.
Some sleepers need a soft mattress to cushion the sensitive areas of their bodies. Other sleepers may need a firm mattress to support the spine depending on sleep position. Finally, some sleepers choose a medium mattress or medium firm mattress so that they can have a nice balance between both beds.
In this next article, we'll look at the differences with having a soft vs medium mattress, so you can decide which is best for you.
Firmness Scale for a Soft vs. Medium Mattress
The firm mattress level is measured on a scale from 1-10, with 1 being ultra-soft and 10 being extra- firm mattress. A medium firm mattress is about a 5 on the mattress firmness scale.
Soft is 3
Medium-soft is 4
Medium is 5
Medium-firm is 6
Firm mattress is 7
Extra-firm is 8
What's a Soft Mattress?
Soft mattresses rate between 2 and 4 on firmness, and they can be incredibly beneficial for sleepers with joint or muscle pain since they feature a plush comfort layer to cradle your pressure points.
Generally, soft mattresses are about 12 to 14 inches thick, with comfort layers at least 2 inches thick. Most sleepers will experience sinkage on these beds since soft mattresses compress when pressure is applied. If you are considering choosing a soft mattress, we recommend selecting hybrid mattresses, latex or gel memory foam mattress.
Who Are They Best For?
Now, let's take a look at who soft mattresses are best for, as their feel does not suit all sleeping styles.
Side Sleepers
Side sleepers put an immense amount of pressure on their neck and shoulder and need a plush sleeping surface to ease tension in these areas. Softer beds provide extra cushioning for sensitive body parts, reducing muscle tension and joint pain.
When side sleepers lie on firm beds, they may have a hard time getting comfortable. Additionally, their spine may bow upwards and create an unnatural position, causing back pain. A firm Mattresses for side sleepers should feel between soft to medium.
Lighter Sleepers
Lighter individuals are better suited for soft mattresses. These petite sleepers will experience more compression from a plush bed without causing the bed to sink or sag.
This is because softer mattresses for petite sleepers are more responsive and provide better contouring when placed under less pressure. A firm mattress with support may feel too hard for a light sleeper and will not feel comfy.
Individuals With Pre-Existing Conditions
If a firm mattress is causing lower back pain or discomfort, it may be better to choose a softer bed. The sturdiness of a firm mattress can cause pressure to build up in your hips, shoulders, and lower back.
For individuals with pre-existing conditions, like arthritis, this can be a pretty uncomfortable experience. We recommend choosing a bed with plush comfort layers for more restorative rest.
Benefits of a Soft Mattress
It's a great idea to buy a soft mattress if you're a sleeper with arthritis and joint pain seeking one of the most comfortable mattresses. A softer mattress can be an excellent addition to your sleep environment since they feature plush comfort layers.
These layers help reduce tension from innerspring mattresses and on pressure points and offer cushioning for your neck, shoulder, and back. A softer bed also provides a warm sleeping surface. So if you are a colder sleeper, you'll have no trouble staying cozy throughout the night.
Disadvantages of Soft Mattress
The downside of purchasing a softer mattress is they are prone to sagging and sinking. Softer mattresses tend to have a hard time supporting sleepers that are more than 130 pounds. For this reason, we suggest heavier sleepers look at firm mattress to maintain their mattress quality.
Soft mattresses are also not a good choice for back and stomach sleepers because they compress too much. This can cause stomach sleepers to feel like they are sinking too far into their beds.
Another disadvantage of soft mattresses is that they are not as long-lasting as other mattress types. That said, a quality soft mattress can last around 7 to 10 years.
The Amerisleep AS5 is one of our favorite plush mattresses on the market. As the brand's softest model, it provides 3 inches of body-hugging Bio Pur® memory foam, offering individuals a more comfortable sleep experience.
Amerisleep's Bio Pur® foam is an upgrade from traditional memory foam as its open-cell structure allows air to move more freely throughout the mattress, keeping you cool throughout the night.
Below this memory foam layer is 2 inches of Active Flex, a foam designed to bounce back almost immediately when pressure is removed. The bounciness of Active Flex ensures that all areas of the body are adequately supported, so you don't feel like you're sinking into your bed.
Then the transition layer is Affinity foam with HIVE® technology. The hexagonal cutouts that make up HIVE® establish five zones, ensuring support and pressure relief is tailored to each part of the body. The base of the AS5 mattress is made of a 7-inch layer of high-density polyfoam designed to support the layers above.
The Amerisleep AS5 comes with a 100-night sleep trial and a lengthy 20-year mattress warranty to protect your investment.
AMERISLEEP AS5
Plush feel with extra pressure relief in the shoulders and hips
Buoyant Active Flex increases the responsiveness for greater comfort
Industry-leading 20-year warranty
What's a Medium Mattress?
A medium mattress provides a nice balance between firm and soft mattresses. Medium mattresses are about a 5 or 6 on the firmness scale. These beds have soft comfort layers, life softer mattresses, but they also respond quickly to pressure.
Who Are They Best For?
If you don't think a soft mattress is the best choice for you, a medium mattress may be a better fit. In this next section, we'll look at the different kinds of sleepers that will feel comfortable on a medium mattress.
Combination Sleepers
Combination sleepers need a bed to accommodate all their sleeping positions. A mattress with medium firmness provides enough sinkage for side sleepers. The best mattresses for combination sleeping also offer good support for sensitive areas like your hips and back. The soft comfort layer within the bed will also provide more cushioning, which can be great for those who transition to side sleep throughout the night.
Lightweight and Average Sleepers
Lightweight sleepers (less than 130 pounds) and average sleepers (130-230 pounds) will also find a medium mattress comfy. A medium mattress is a better option for average sleepers because it is unresponsive enough to prevent sinking and sagging.
A plus-sized sleeper may still feel a bit of sinking on a medium bed. We recommend that plus-sized sleepers choose a medium-firm to firm mattress for more comfortable sleep.
Couples
Since medium beds accommodate most sleep positions and body types, couples usually gravitate towards these beds. If one person is a side sleeper and the other is a back sleeper, a medium bed will prevent sinking and promote a neutral spine for either position.
Some mattress types have less motion transfer than other beds so that sleeping disruptions will be limited throughout the night, so that's another factor for couples to consider.
Benefits of a Medium Mattress
Medium beds are usually a better option since they can accommodate different types of sleepers. These beds are less likely to sink than plush mattresses and provide better support for all sleeping positions.
When you apply pressure to a medium mattress, it provides the right amount of contouring to hug your body without causing the bed to sink. Along with this, medium beds keep the balance of firmness and softness makes medium mattresses suitable for most body types.
Disadvantages of a Medium Mattress
A medium mattress may not be a good option for heavier people because it might offer too much compression. It's common for a medium bed to sink under a plus-size sleeper's body weight, ruining the mattress.
Sleepers with low back pain may also experience discomfort from sleeping on a medium bed. In some cases, your lower back will sink too far into the bed and aggravate your back pain.
The Zoma Mattress was designed with athletes in mind, but it is the perfect choice for sleepers who want a medium mattress with deep recovery.
The Zoma Mattress features proprietary Triangulex™ technology, a zoned support system with triangular-shaped grooves, in its top memory foam layer. This unique comfort layer not only has the ability to contour to your body but is also infused with gel to offer sleepers a cool sleeping surface.
Its second layer is made with Reactiv™ foam to add a bit of bounce to your bed. When you lie down, the foam adapts quickly to your movements, making it easier to change sleeping positions throughout the night.
Beneath the Reactiv™ foam is a durable base foam called Support+, made of material that promotes even weight distribution and keeps your mattress from sagging.
Zoma includes a 10-year warranty and a risk-free 100-night sleep trial with every mattress.
ZOMA MATTRESS
AirCloth mattress cover boosts airflow through the bed
Gel infusions move heat away from the body, minimizing disruptions
Three zones of targeted support for sensitive areas
Soft Mattresses vs. Medium Mattresses: Which is Better?
Ultimately, your personal preferences and sleeping position will help you choose the best mattress for you. However, we do recommend a medium mattress for side sleepers, combination sleepers, lightweight, and average sleepers. These individuals will get the most out of a medium bed since it combines both plush give and resilient support.
A softer mattress will be beneficial for lighter sleepers and side sleepers. They can also provide great pressure relief for individuals with pre-existing conditions. Sometimes a plush sleeping surface is what you need to relieve tension and stress on the body.
FAQS
Are mattress firmness and support the same thing?
Firmness and support are not the same. Mattress firmness refers to how soft or hard the mattress feels, while support refers to how well the mattress promotes proper spinal alignment.
Firmness is measured on a scale from 1 to 10, with 1 being the softest and 10 being the most firm. However, mattress firmness does not determine the support of your bed. Your bed's comfort system or layers are responsible for firmness, and the mattress core plays a more significant role in support.
How can I make a firmer mattress softer?
Firm mattresses may become softer over time. Your mattress may feel "too firm," but as you break in your bed, it should become softer. If you are looking for a quicker option, you can always consider purchasing a mattress topper with plush materials to add to the overall softness of your bed.
Should back sleepers choose a soft or medium mattress?
Back sleepers are usually better suited by firm to medium-firm mattresses. For this reason, a medium mattress could be a good solution, but it's worth mentioning that depending on the brand of the mattress, it could still be too soft. It's better for back sleepers to sleep on a firm surface. This way, their spines can maintain the proper alignment.
Do medium mattresses have a long lifespan?
Softer mattresses tend to be prone to sagging and sinking, especially when they are slept on by individuals more than 130 pounds. Firmer mattresses are less susceptible to sinking, and their average lifespan is significantly longer.
Since medium mattresses are in-between mattresses, they will last longer than soft mattresses but may also wear down quicker than a firm bed. Usually, a quality medium bed will last up to 7 years.
Should side sleepers choose a medium or soft mattress?
Side sleepers will feel comfortable on medium and soft mattresses. Medium mattresses may offer a bit more support for sleepers who weigh more than 130 pounds. Medium beds are soft enough to cushion your shoulders to prevent pressure from building up. Soft mattresses offer this as well, but they can sometimes cause heavier sleepers to sink into their beds.
Side sleepers can also go with a medium-soft or medium-plush mattress for an in-between feel.
Conclusion
Soft and medium mattresses may not be the choice for all sleepers. If you are a heavier or sleeper, it may be better to choose a mattress with firm and sturdy support for the best support.
Choosing a soft mattress is usually the best choice for lighter sleepers, but these beds are prone to sinking and sagging, so they may not last for long. However, medium mattresses might be a good alternative for sleepers who need a firmer surface but also want a plush bed. A great advantage to these beds is that they are usually suitable for most body types.