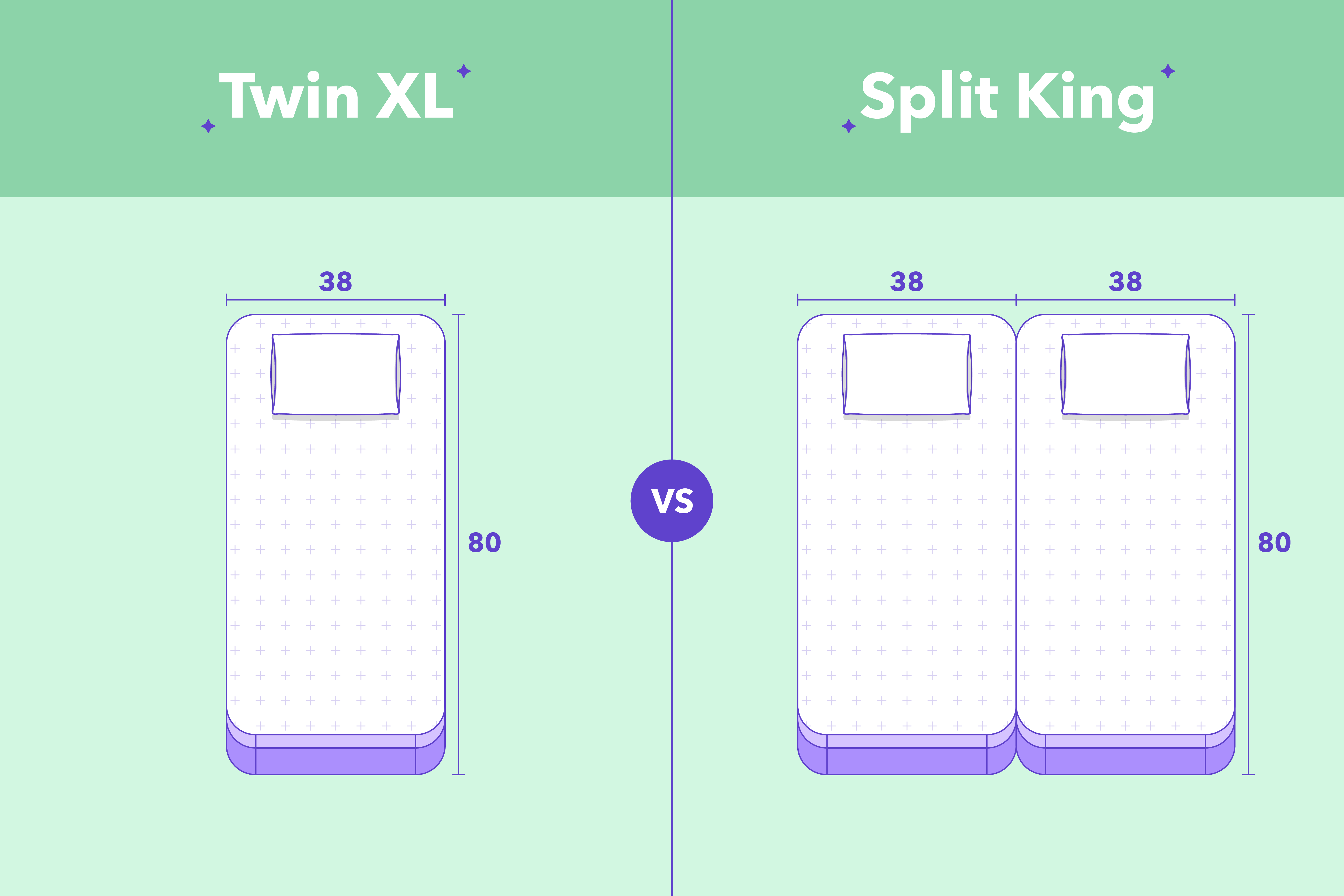 Twin XL vs. Split King
Updated November 22, 2023

Mattress Comparison
FAST FACTS
Split king mattresses provide individual comfort and enhanced sleep experiences for couples, while twin XL mattresses offer increased legroom and an affordable option for single sleepers, college students, and children.
Considerations such as bedroom size, budget, and sleeping preferences are crucial when deciding between a split king and twin XL mattress, with each option having its own unique benefits and drawbacks.
Twin XL mattresses are widely used in college dorms, and their affordability makes them a popular choice for those seeking a cost-effective yet comfortable sleeping solution, whereas split king mattresses are a pricier investment that caters to couples' personalized sleeping needs and preferences.
Split king beds and twin xl are not as popular as other mattress types, but they could be the perfect choice for your bedroom. Both of these beds offer extra sleeping space for sleepers; however, the construction of the beds differs greatly.
If you are looking at these two mattress options, you'll need to consider your bedroom size and the amount of money you'll be shelling out when you make your purchase.
Let's dive into the details of twin XLs and split king beds to get a better idea of what you are looking at before you buy your new mattress.
What's a Split King Mattress?
A split king size mattress is two twin XL mattresses placed side-by-side. Each twin XL mattress measures 38 inches wide by 80 inches, for a total of 76 inches by 80 inches. These are the exact dimensions of a conventional king bed, but their split design offers couples individual comfort.
A split king can be an excellent investment for sleepers with different sleeping preferences. Each person can choose a mattress type and firmness that's best suited for their sleep needs, resulting in better sleep for both individuals.
Split kings are often paired with adjustable bases for enhanced comfort. An adjustable base gives people the option to readjust beds to positions that suit their comfort.
For example, a popular position for sleepers on an adjustable bed is the zero gravity position. In this position, your head is raised, and your feet are elevated slightly above your heart to equalize your body weight and reduce pressure points.
When using a split king adjustable bed, each half of a couple can choose a drastically different setup for their individualized comfort. If one enjoys the zero-gravity position and the other a flat bed, a split king bed makes that perfectly doable.
Benefits of Split King
Provide more personal space
Easier to transport
Eliminates motion transfer
Drawbacks to Split King
Split kings are expensive
Sheets and foundations are pricey
Will not fit in a small room
What's a Twin XL Bed?
Twin XL size mattresses are 38 inches by 80 inches. They are not the smallest mattress, but they are considered an upgraded version of a twin bed. They offer 6-extra inches in length compared to traditional twins.
Twin XLs beds are a popular choice as a mattress for college students since they provide enough space for single sleepers. Some students may even bring their own bed from home instead of using the mattress that is provided by the campus.
Parents may want to keep this in bed while shopping for a mattress for teenagers. However, we recommend checking with a resident director before you do.
Twin beds can also be an excellent choice for adults with limited space, children, and growing teens. They are perfect for children who share a room as they are compatible mattresses for bunk beds and only need 7 feet by 10 feet of bedroom space. Twin beds will not accommodate two sleepers, so you need to look at other options if you're planning to sleep with a partner.
Benefits of a Twin XL
Bunk bed compatible
Offer extra legroom
Same length as queen beds
Affordable
Tall sleeper friendly
Drawbacks to Twin XL
Not available at all mattress retailers
Cannot accommodate couples
Twin XL vs. Split King: Which is Better?
Now that we've looked at the benefits of twin XLs and split kings let's find out which one is better for your sleep needs.
Single Sleepers and Couples
Split king beds are better mattresses for couples because they can accommodate two sleepers. They also provide personal sleeping space, so you'll be able to choose a mattress firmness that differs from your partner's preferences. Plus, if you go the extra mile and pair them with your adjustable bed, you'll be able to reposition the mattress in your preferred position.
Twin XL beds will be better for single sleepers. They offer a lot less room than a split king, but most single sleepers do not need as much space. Plus, you can find them for a budget-friendly price when shopping mattresses under $500, compared to expensive king beds.
Twin XL beds are also popular mattresses for kids, as they can slip into a smaller bedroom or be stacked in bunk beds. Bunk beds are one way to use two twin XL mattresses without making a king bed, if you want to accommodate two sleepers.
Price
Split kings and regular kings are usually about the same prices, but some mainstream brands may charge an extra fee for a split design based on availability. Prices for a split king range between $500-$3000, with many being some of the best mattresses under $2000.
Bedroom accessories like adjustable bases and bedding like sheets can come with a pretty hefty price tag too, when you're shopping for things to match a split king mattress. For example, sheet sets need to have twin XL fitted sheets and king top sheets.
Twin XLs may be a better choice for sleepers with a tighter budget. You can purchase a twin XL bed for around $300, maybe a little more depending on the mattress thickness. You can also find twin foundations for as low as $75.
Other Mattress Options
Twin XL and split king are just a few mattress options you can choose from, but they may not be the best fit for you. Let's take a look at the standard mattress sizes so that you can choose the best mattress.
Twin Size Mattresses
Twin size mattresses measure 38 by 74 inches and are smaller than twin XL beds. They are good options for single sleepers but may not be the best choice for sleepers taller than 6 feet. Twin beds have plenty of room to move around comfortably, but some single sleepers may prefer more sleeping space.
Full Size Mattresses
Full size mattresses measure 54 inches by 75 inches and provide more space for single sleepers than twin beds. Full beds are not made for more than one sleeper, so it will feel pretty crowded if you decide to sleep with a partner.
Queen Size Mattresses
Queen size mattresses are the most popular of the standard sizes. Queen beds measure 60 inches by 80 inches and can accommodate single sleepers and couples. Queen mattresses provide 30 inches by 80 inches of space to each sleeper, an excellent option for couples who have smaller master bedrooms.
King Size Mattresses
King size mattresses are the widest standard size and are the same size as split kings, measuring 76 inches by 80 inches. King beds are great for couples who have the space to accommodate them, as they provide more personal sleeping space. King beds are one of the few beds that can accommodate more than two sleepers, so they can be perfect for families who co-sleep.
California King Mattress
A California king mattress is 72 inches wide by 84 inches long. Though there can be some variations in the dimensions, they are usually this size, depending on the manufacturer.
Cal king beds are relatively scarce since most sleepers do not see a need for them, unless they are a tall person well over 6 feet. Since there is a lack of demand, they typically have a higher price tag than the standard sizes, and their accessories can be harder to find.
What to Consider Before Buying a Bed
While you're off looking for the most comfortable mattress, you'll need to think about more than just the bed size. You'll want to take into account your sleeping preferences and budget in addition to how much space you have for your bed. Now, let's look at what to consider before buying your mattress.
Room Size
You'll also want to make sure your bedroom is big enough for your mattress. If not, it can cause your bedroom to feel cluttered and unorganized. It also doesn't leave much room for additional bedroom items like dressers, mirrors, and headboards.
If you're considering getting a king or split king bed, you will need a larger bedroom, at least 12 feet by 12 feet. Smaller bedrooms will better suit a twin mattress, and you'll only need a bedroom 7 feet by 10 feet.
Steer Clear of Cheap Items
Be wary of budget-friendly prices or too good to be true. You should always choose quality items over cheaper items since they may break or become damaged. It's better to treat your new mattress as an investment.
Sometimes spending more money upfront, then paying for expensive repairs or replacements in the future. Some high-quality mattresses, like latex beds, can last up to 20 years without making a replacement. See our guides on how long mattresses last:
You'll also want to make you get the correct sheets and foundations. Most times, the size of the sheets or foundation will directly correlate with your mattress size, so you won't have trouble finding the correct sizing.
If you have a problem, be sure to ask a retail associate or reach out to the manufacturer's customer service team. It's usually best to steer clear of cheaper foundations. While you're picking a mattress foundation, you want to make sure it supports your mattress and your body weight. Choosing a budget option could cause it to fall apart, leading to injuries.
Sleeping Preferences
Sleeping styles and preferences vary from person to person. Some sleepers prefer a soft and plush bed, while others like a sturdy sleeping surface. Mattress firmness refers to how soft or hard the mattress feels.
Mattresses with extra plush comfort layers can be too soft for some sleepers causing them to feel like they're sinking. More often than not, soft beds are better suited as mattresses for lightweight sleepers, while medium and plus-sized sleepers prefer firmer options.
You'll also want to consider how much room your mattress should provide. Smaller mattresses are typically more affordable mattresses, but you cannot always sprawl out or toss and turn.
Larger mattresses like queen beds can offer more space for single sleepers than twin sizes. King beds can also be a good investment for couples who want more personal space.
FAQS
What's the difference between a king mattress and a split king mattress?
There are only a few differences between a king and a split king bed. A split king provides personal sleeping space for two sleepers. This way, they can pick mattress types that accommodate their sleep needs.
Some even go the extra mile and purchase an adjustable base so couples can adjust their beds to match their preferred sleeping position. King beds do not offer individual comfort, but they are the same size as split kings. Accessories like a king size mattress topper with king sheets can even make a split king look like a uniform mattress.
Who should purchase a twin XL mattress?
Twin XL mattresses are suitable for small children, adults, and tall sleepers. They are incredibly affordable, so you won't have to break your budget to buy one. The only issue you might run into is they don't always provide the best space to sprawl out. So, adults may choose larger options like full and queen beds for a better night's sleep.
Are there adjustable beds for twin sizes?
Yes, twin beds can be placed on adjustable bases. Adjustable beds are an excellent investment for sleepers who want to enhance the comfort of their mattress. Twin-size adjustable beds have dimensions of 38″ x 75″. With these bases, you reposition your bed to accommodate your sleeping preferences.
That said, twin size adjustable beds are relatively uncommon, compared to twin XL size adjustable bed bases.
Do two twin XL mattresses make a split California king?
Two twin XL mattresses do not make a California king bed. Instead, two twin XLs make a traditional king bed. The dimensions of each half California king bed are 36 inches by 80 inches and do not equate to any of the standard mattress sizes. Split California king beds are not in as much demand, so finding one will more than likely be a struggle.
Can I place a twin XL mattress in my college dorm room?
Twin XLs are usually the standard mattress size for college dorm rooms, so you should be able to bring one to your campus. However, you should check with your campus residence hall before you purchase a mattress for college.
Some universities may have different policies for bringing items from home, so you check with a resident director. They are usually the ones who can confirm or deny if you can bring a mattress to campus. Also, they'll be able to give you the proper dimensions for the foundation, so you'll know if you're getting the right size or not.
Conclusion
Purchasing a quality mattress should be your top priority, no matter what type of mattress size you choose. It's usually better to invest in quality materials for the best mattress the first time around.
Most times, you'll end up spending more money, in the long run, replacing your mattresses and bed frames because they are not durable. This can be especially true when you invest in cheaper split king beds.
It's always a great idea to sit down and look at your budget before shopping. If you notice your budget is tight, you should avoid looking at split kings since their prices can be as high as $3,000. Queen beds are usually a better substitute for couples, but a twin XL will be more affordable for single sleepers.