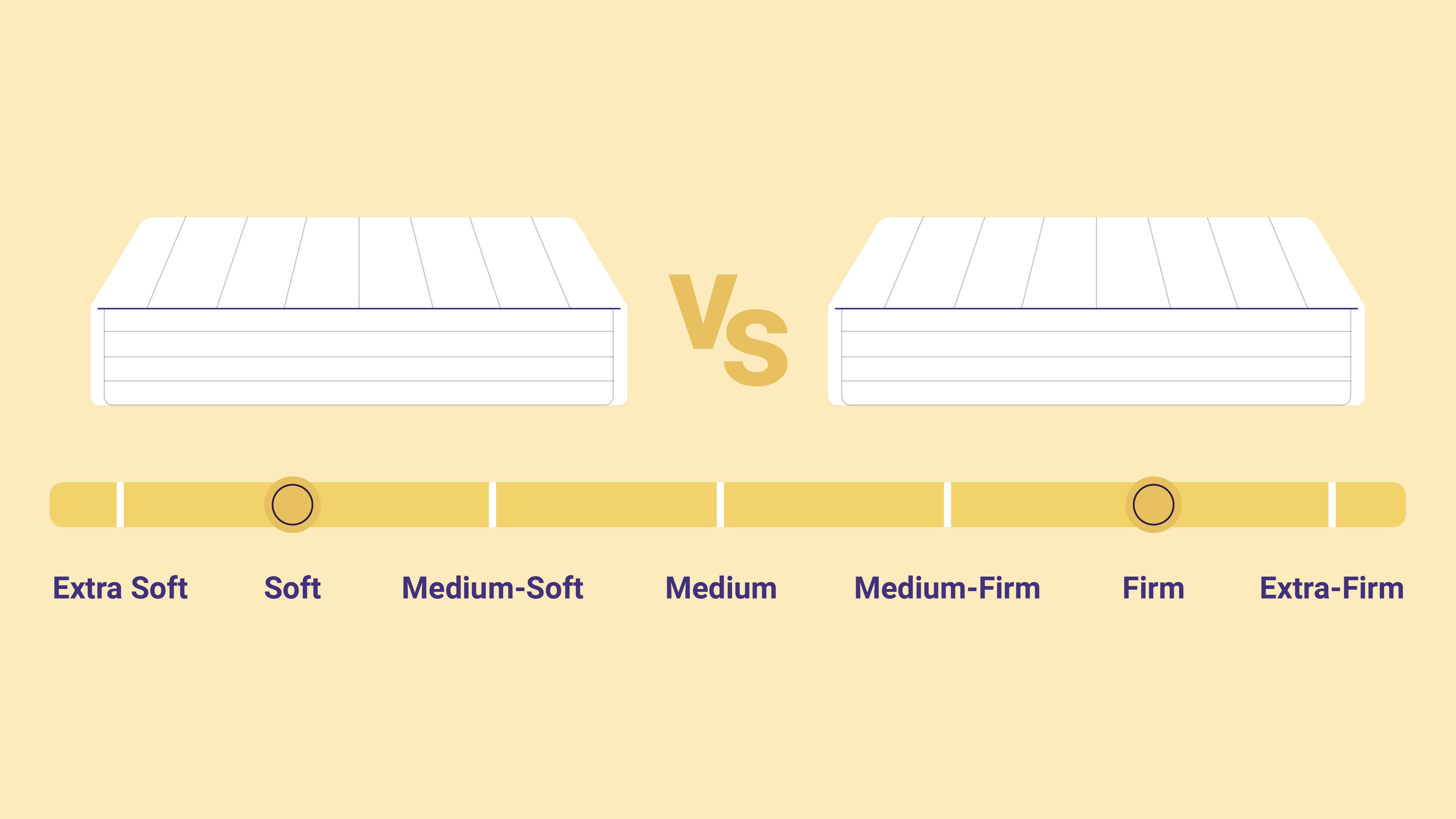 Firm vs. Soft Mattress 
Updated November 22, 2023

Mattress Resources
Mattress firmness is rated on a scale from 1 to 10, with 1 being extra-soft and 10 being extra-firm. Many brands use this scale since it's simple and gives shoppers a good idea as to what a bed will feel like, especially if they're buying online.
Mattress firmness is determined by construction and materials, namely the thickness of the comfort layer, or the top layer of the bed. Firm mattresses have thin comfort layers so users can have an even, sturdy bed, while soft mattresses have thick comfort layers to adequately cushion the body.
Firmness sometimes comes down to personal preference, but regardless of your body weight or sleep position, you can find the right mattress firmness level for you. We compare two common mattress firmnesses, firm and soft, so you can determine which is better for you and get a good night's sleep.
What's a Firm Mattress?
Firm mattresses are between 7 to 9 on the mattress firmness scale. These types of mattresses have more pushback than soft mattresses, meaning they maintain their firm surface and sleepers are less prone to sinking while in bed.
Firm mattresses are usually thinner than soft mattresses, being around 10 to 12 inches thick, while the comfort layers are roughly 1 or 2 inches thick. This way, sleepers can benefit from the beds' sturdy support while receiving light contouring to still keep them comfortable.
Pros of a Firm Mattress
Firm mattresses do a great job of keeping your weight distributed evenly and providing a stable surface. Let's go over some advantages of using a firm bed.
Support for Back and Stomach Sleepers
When lying on your back or stomach, the hips and lower back are vulnerable to sinking, especially if a mattress is too soft. A firm mattress ensures your back and hips stay aligned with the rest of your body and prevents the chance of stomach and side sleepers experiencing pain.
In most cases, medium-firm mattresses are best for back sleepers and firm mattresses are best for stomach sleepers. However, stomach sleeping can exaggerate the natural curative of the spine, putting pressure on the back and neck. Therefore, we suggest avoiding stomach sleeping when possible.
Sturdy for Plus-Sized Sleepers
Since plus-sized sleepers (230 pounds or more) put more pressure on a bed, soft mattresses cause them to sink and can make the beds bottom out, meaning the sleeper sinks past the comfort layer onto the supportive base.
Firmer mattresses are best for heavier individuals because they have enough pushback to prevent excess sinking and the sensation of being stuck in the mattress. A hard mattress also better distributes a person's body weight, ensuring they experience no painful pressure points.
Reduces Muscle Strain and Improves Blood Circulation
The cradling of soft mattresses can restrict movement and blood circulation for some.  On a firm surface, your bones bear the pressure of the bed, reducing the strain on your muscles, veins, and arteries and helping your blood flow better.
Prevents Overheating
When lying on a soft mattress, the thick comfort layer can potentially trap more body heat than a firm mattress, causing sleepers to feel hot and disrupting their sleep. Since firm mattresses have a thinner comfort layer, less air gets trapped in them, thus preventing heat buildup.
Cons of a Firm Mattress
While firm mattresses can be great, they're not for everyone and can cause pressure points and discomfort. Here are some of the drawbacks of sleeping on a firm mattress.
Can Feel Uncomfortable Initially
When first transitioning to a firm mattress, especially if you had a softer mattress before, can be uncomfortable. Even though a firm mattress might be better for your body, it can take roughly 30 days for your body to adjust to a new sleeping surface. However, once you adapt to your firm mattress, you can enjoy its benefits.
Can Worsen Arthritis, Joint, and Scoliosis Pain
Firm mattresses may aggravate arthritis, joint, or scoliosis pain. Individuals with these conditions need a mattress to contour to their curves better and relieve pressure.
Too Firm For Petite Sleepers
Lightweight sleepers (less than 130 pounds) naturally won't sink much on a mattress, so a firm mattress is unlikely to contour to their curves much at all. As a result, petite sleepers may experience more pressure points and discomfort while sleeping on a firm mattress.
The Amerisleep AS2 has a medium-firm feel that back and stomach sleepers often prefer. The plant-based Bio-Pur® foam in the comfort layer conforms to the body with very little sinkage, ensuring the hips and shoulders remain lifted on the mattress.
With the help of its soft, perforated cover, body heat quickly dissipates, leaving behind a cool and inviting sleep surface that won't cause uncomfortable night sweats.
The transition layer of the AS2 features Amerisleep's Affinity foam with HIVE® technology, a zoned support layer designed to cradle the lumbar spine and protect the joints from pressure points. For those with chronic back pain, this mattress ensures the spine remains neutral, so the muscles can fully relax and heal during sleep.
The base of the AS2 features Amerisleep's Bio-Core® support foam, a durable material designed to prevent sagging. This layer also provides further protection against spinal misalignment and over-sinking.
Amerisleep's AS2 mattress comes with their 100-night sleep trial so you can test out the mattress at home and make sure it's right for you. They also include a 20-year warranty which covers structural and manufacturing defects.
Amerisleep AS2
Firm feel perfect for those with back pain
Bio-Pur® comfort foam retains less heat
Stable foam base prevents sagging
What's a Soft Mattress?
On the mattress firmness scale, soft mattresses are roughly between a 2 to 3. A soft bed is highly responsive and easily conforms under a sleeper's body.
What's unique to soft mattresses is their thick comfort layer made from materials such as memory foam or latex. The mattresses are usually about 12 to 14 inches thick, while the comfort layers are at least 2 to 4 inches thick.
Pros of a Soft Mattress
Soft mattresses can be just as great as firm ones, if not better for some people. The extra cushioning fills the space between your body and the mattress, reducing pressure and pain.
Cozy, Luxurious Feel
Soft mattresses are known for their plush, thick cushioning when you first lie on them. Since they're also thicker beds overall, some people associate soft mattresses with being luxurious or hotel-like. With this in mind, firm mattresses can be just as high-quality as soft mattresses.
Suitable for Side Sleepers
The thick cushioning of soft mattresses make them a viable, comfortable option for side sleepers. Side sleepers need the softness to pad their hips and shoulders (which are susceptible to pressure build-up on firmer mattresses) while also promoting healthy spinal alignment.
In most cases, soft to medium-soft mattresses are best for side sleepers.
Works Well for Petite Individuals
Petite individuals (130 pounds or less) who put very little pressure on their beds, need a softer mattress to properly cradle and support their bodies. Soft beds are best for lightweight individuals because they are more responsive and faster to contour when placed under less pressure.
Reduces Pressure Points
Sometimes, the stiffness of firm mattresses can cause pressure to build up along different parts of the body, such as the hips, shoulders, and lower back, causing discomfort and difficulty sleeping. Softer mattresses contour to the body well, distributing weight and easing pressure.
Excellent for Relieving Back Pain
If other mattresses seem to aggravate your back, a soft mattress might be the right choice to ease the pain. The cushioning on soft mattresses cradles the curve of your back, relieving pressure and soothing discomfort.
Cons of a Soft Mattress
While soft mattresses are known for their cradling, for some, the cradling can be too much and get uncomfortable. Let's dive into some drawbacks you may face when using a soft mattress.
Can Be Uncomfortable for Back and Stomach Sleepers
Back and stomach sleepers need a sturdy, even surface to prevent their bodies from sinking. So, if back and stomach sleepers use too soft of mattresses for long periods, they can eventually develop chronic low back pain and make sleeping difficult.
More Vulnerable to Sagging
Some soft mattresses can wear down quicker than firm mattresses because they aren't as sturdy and durable. The soft comfort layers can flatten, grow lumpy, and develop sags. So, the bed will need to be repaired or replaced sooner than if you had a firmer mattress.
However, a high-quality mattress with a durable support core can last up to 10 years, no mattress how soft it is.
Might Not Be Support Enough for Plus-Sized Adults
On some soft mattresses, heavier adults are prone to sinking too much and feeling trapped in their bed. Soft mattresses aren't always supportive enough to bolster a heavier person, potentially causing pain and making it hard for them to shift in bed.
Mattress May Feel Unbalanced for Couples
Some softer mattresses aren't as sufficient at isolating motion as firm mattresses. This won't matter if you sleep alone, but for couples, motion isolation is an important consideration before choosing a mattress.
If one person is heavier than the other, they'll sink further into the mattress, potentially causing the other person's surface to become uneven. The uneven surface can feel awkward and cause pressure points and pain. Typically, medium mattresses are best for couples because they offer a balance of cushioning and support.
See our soft vs. medium mattress guide for an in-depth comparision.
Amerisleep's AS5 is their softest model designed to cushion and cradle the pressure points when side sleeping. This mattress is also perfect for lightweight individuals who tend to experience minimal sinking because the Bio-Pur® foam responds with very little pressure.
Since Amerisleep's Bio-Pur® comfort foam is made with plant-based oils, it is naturally more breathable and has more elasticity than most mattress foams. So, while it provides deep contouring, AS5 won't become over-heated and uncomfortable.
Since soft mattresses tend to create excess sinking, Amerisleep includes two unique foam layers that promote a neutral spine. Their Active Flex foam is buoyant to keep the hips and shoulders lifted and aligned, while their Affinity foam with HIVE® technology provides targeted support to the lumbar spine to reduce lower back pain.
These three layers are supported by Amerisleep's Bio-Core® foam, a sturdy material that helps reduce sagging and indentations.
The AS5 also comes with a generous 20-year warranty and a 100-night sleep trial period.
Amerisleep AS5
Ultra-soft comfort layer to prevent pressure points
Bio-Pur® plant-based foam is non-toxic
Supportive foam base is resistant to sagging
Mattress Firmness vs. Support
Firmness and support are not the same. Support layers are designed to keep your spine neutral, while firmness is the immediate feel of your mattress based on the thickness of the comfort layers.
People mistakenly assume firm mattresses are the best for support because they're so sturdy, but soft mattresses can also be supportive and pain-relieving. Firm mattresses can also be extremely comfortable and luxurious, just like soft mattresses.
So neither one nor the other is necessary to have the most comfortable mattress. It's largely a matter of preference determined by your sleep position and body type.
Regardless, being comfortable is a matter of what mattress firmness is right for you. With the correct bed firmness, you may notice your sleep quality improve and any pain you have may reduce.
FAQs
Do firm mattresses get softer?
There's a brief adjustment period when you get a new mattress of any firmness, but the mattress doesn't necessarily soften.
When your firm mattress ages, it may lose support, but a new firm mattress should not just turn into a soft mattress after a couple of years of use.
Are soft mattresses bad for you?
People mistakenly believe soft mattresses, despite being comfortable, slowly hurt your body. As long as you choose a mattress—even a soft one—suited for your body type and sleeping position, you shouldn't experience negative side effects.
Extra-firm mattresses are rather uncommon because most people don't need such a firm bed to support their body.
Usually, firm mattresses provide more than enough support for most sleepers. However, if you're very large, an extra firm bed may work well because you put more pressure on it and need more support.
How do you know if your mattress is too firm?
Some signs your mattress is too firm for you include:
You frequently wake up with back, neck, or shoulder pain
You wake up feeling tired
You sleep better on other beds
You experience numbness or tingling in your arms or hands
Remember that if your mattress is new, sometimes it just takes a couple of weeks for your mattress to soften up and get comfortable.
How can you make a bed firmer or softer?
You can soften a too-firm mattress by using a soft 2 to 4-inch mattress topper.
If your mattress is too soft, you can use a firm mattress topper to increase the firmness of your bed. Another option is to place a 1 to 2-inch piece of plywood (bunkie board) under the mattress to firm up your bed.
How to Choose Between a Firm Or Soft Mattress
Choosing between mattress firmnesses comes down to your sleeping position and size. Firm mattresses are a good option for large sleepers, back sleepers, and stomach sleepers. Conversely, soft mattresses work well for petite sleepers and side sleepers.
However, soft and firm mattresses aren't the only firmnesses out there. If both of these seem too extreme for you, it's worth looking into more balanced mattresses, such as a medium-soft, medium, or medium-firm mattresses.
If you're unsure what the best mattress firmness for you is, always take advantage of sleep trials. Nearly every reliable mattress brand will offer some sort of sleep trial lasting between 30 to 365 days for you to test your mattress at home. With this trial period, you can truly get a feel for a mattress and decide if you want to keep it long-term.