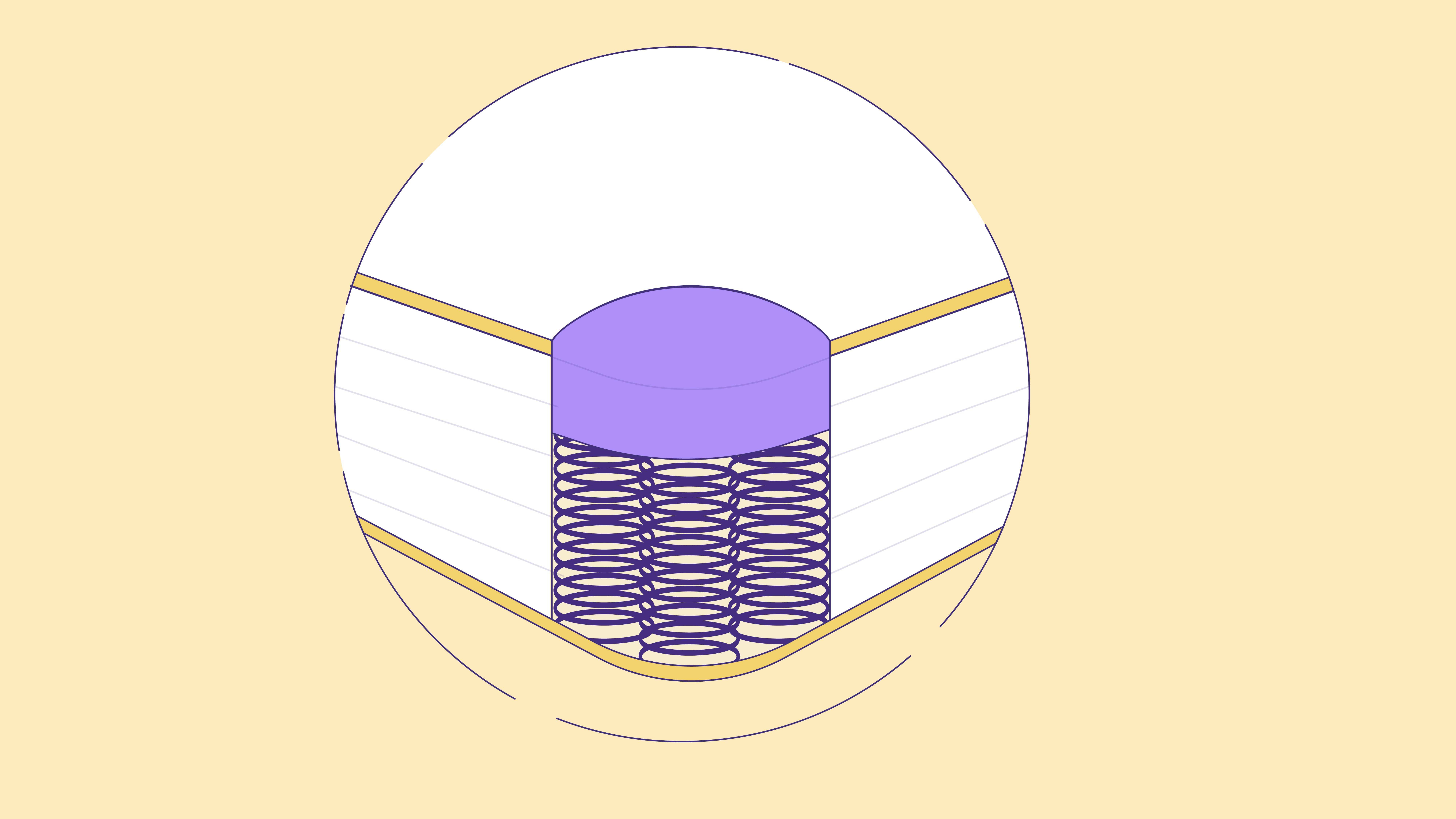 Innerspring Mattress Buying Guide
Updated November 22, 2023

Mattress Guides
Innerspring mattresses are some of the most affordable mattresses on the market. They also help your body rest in a neutral position, meaning your neck, spine, and hips are in alignment. In addition, high-quality innerspring mattresses are supportive, providing you with a deep night's sleep.
Shopping for a new mattress can be a daunting task! This article offers advice about what you should look for before deciding on and purchasing an innerspring mattress. We'll also explore the different kinds of innerspring mattresses along with their pros and cons.
What Is an Innerspring Mattress?
An innerspring mattress contains coils/springs and layers of foam or latex. There are two innerspring mattress types: open coil and pocket springs. The main difference between these styles is how the coils are arranged. So let's take a closer look at the potential support systems.
Open Coil
A traditional innerspring mattress is an open coil style. These mattresses have a network of interconnected hourglass-shaped coils. No material is wrapped around these springs; there is usually one thin layer of foam and fabric on top of the inner coil structure.
Pros
Open coil mattresses are affordable.
The open coil design promotes airflow, helping your body maintain a good sleeping temperature.
These mattresses are easy to move.
Cons
Open coil beds eventually start sagging in the middle.
This mattress has a high level of motion transfer.
Open coils don't distribute weight evenly and have poor pressure relief.
Pocket Springs
Pocket spring mattresses are the modern style of innerspring mattresses. One common type of pocket spring is the hybrid mattress. As the name suggests, a hybrid has layers of latex or memory foam on top of the pocket springs. Well-made hybrids also have a layer of foam or other material beneath and around the coils for edge support.
Pocket spring mattresses have hundreds of springs. Each coil is wrapped in fabric and usually cylindrically shaped. This design establishes a mattress for pressure points and helps the bed better conform to the sleeper's curves. Pocket coils have excellent motion isolation because they distribute the sleeper's weight evenly.
For a deeper comparison of open coil and pocket spring mattresses, see our Open Coil Vs. Pocket Spring Mattresses Guide.
Pros
Pocket spring mattresses are durable and usually last 8-10 years, depending on the quality of the mattress.
They distribute weight evenly, relieving pressure points.
The structure of these mattresses allows one person to move during the night without the other person noticing the shift.
Cons
Because of all the material around each coil, this mattress doesn't have very good airflow.
Pocket spring beds are heavy and hard to move.
This type of mattress tends to be rather expensive.
The Details of an Innerspring Mattress
The layers of an innerspring mattress each play an important role in the composition of this bed. The details—like coils and comfort layers—of a mattress can tell you how the bed will support your body before you even lay down on it. So let's take a closer look at the details:
Coils
Coils (or springs) are the heart and soul of this mattress style. They are the spring-shaped metal units at the center of every innerspring mattress.
Most innerspring mattresses also have extra reinforcement around the outer edge of the mattress. This edge support keeps the bed from sagging as it gets older. A firm foam may form the mattress's perimeter for edge support. Alternatively, manufacturers may use thicker coils.
Their cork-screw design provides enough give to create a comfortable surface for the sleeper and enough support to ensure your body rests in a neutral position. Here are a few helpful facts about coils:
Coil Count
The number of coils inside a mattress determines:
How firm the sleep surface is
How long the mattress can last
The higher the coil count is, the more supportive and durable the mattress.
Coil Gauge
The gauge of a coil tells you how thick the metal is. The lower the gauge number of a coil, the thicker the spring. Coils with a high gauge tend to be softer and more bouncy, while coils with a low gauge are firmer and provide more structured support. Coils with low gauges also tend to last longer.
Many manufacturers use a mix of low and high-gauge coils to establish targeted support.
Comfort Layers
The most common comfort layers on innerspring mattresses are made of latex or foam. These materials are durable, soft, and bouncy, providing reliable comfort and support to the sleeper.
There are many kinds of foam, but perhaps the most popular is memory foam. Memory foam conforms to your body, creating a sleep surface that is customized to your curves.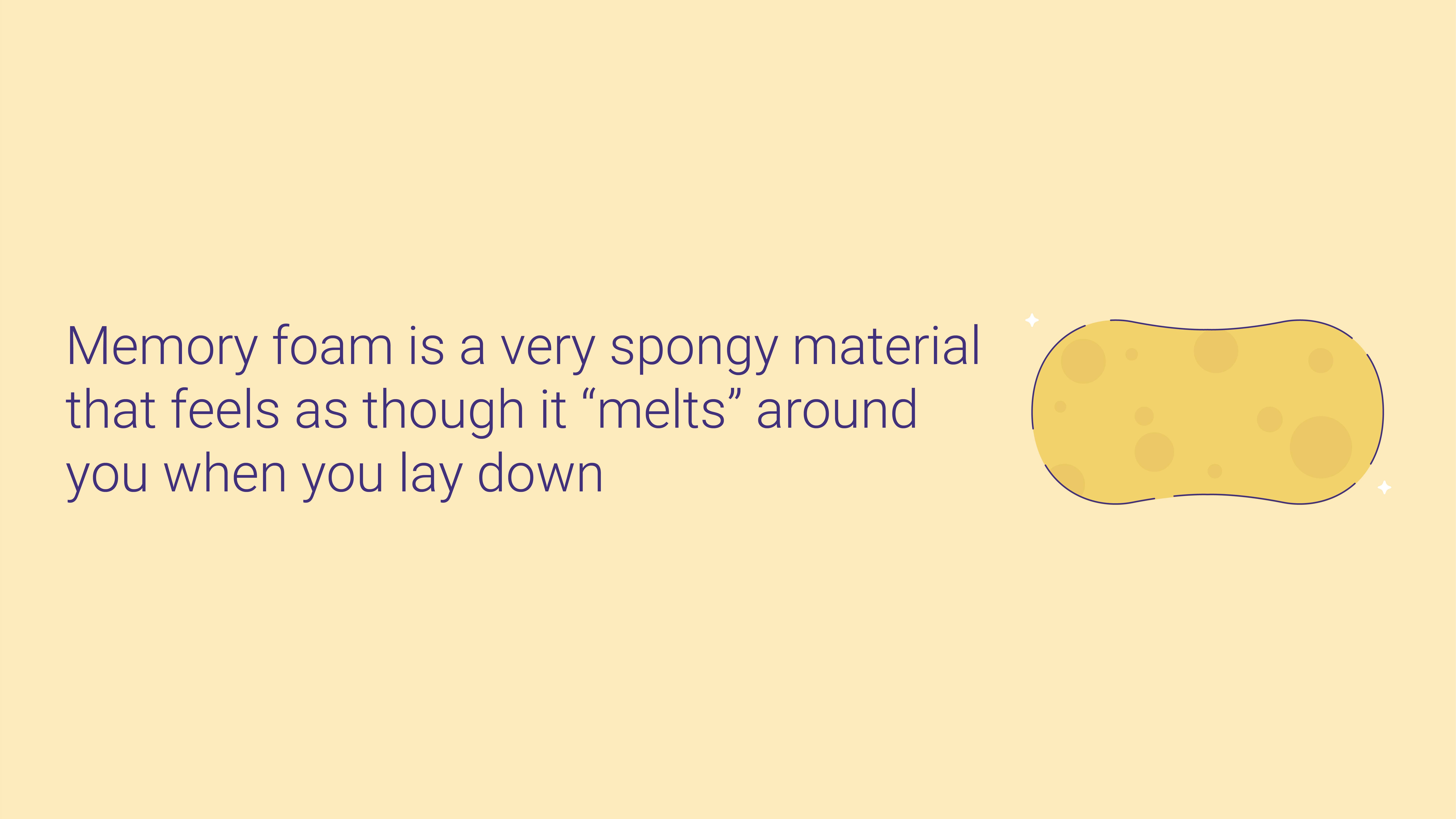 Pillow Tops and Mattress Toppers
Many innerspring mattresses offer an optional pillow top layer. A pillow top increases the amount of cushion on a mattress. There are traditional pillow tops and Euro tops, with the difference being how each one is attached to the mattress.
Similar to pillow tops are mattress toppers, which are essentially a layer of cushioning that you can lay out on a mattress. These toppers are made from materials like polyurethane foam or latex. Toppers can soften a mattress or make a mattress firmer.
A plush mattress topper can turn a firm mattress into a medium-firm or medium mattress, providing more comfort for back and side sleepers, respectively. If you are a stomach sleeper, you'll want to keep your mattress on the firmer side.
Innerspring Mattress Shopping Tips
The best mattress for each person depends on their unique sleep style, preferences, and needs. No single mattress is best for everyone, so creating a list of must-haves is a great place to start when mattress shopping.
Mattress shopping can be exhausting because there are so many brands and styles to consider. Here are some tips about how to choose the right mattress for you.
What Materials Are You Looking For?
The differences between most innerspring mattresses have largely to do with the materials used to make them. Elements to consider while shopping for an innerspring mattress include:
The density of the foam
How the latex was manufactured
The number of coils
Let's take a closer look at some of the materials typically used in this type of mattress.
Memory Foam
Memory foam is a very spongy material that feels as though it "melts" around you when you lay down. This sensation is due to the material's pressure and heat sensitivity.
While memory foam conforms to your body's shape, it bounces back a bit so that you don't feel "stuck" in the mattress. Memory foam also keeps your movements from transferring across the surface, establishing an excellent mattress for couples.
A common complaint about memory foam is it doesn't have good airflow, making the sleeper feel hot throughout the night. Mattress manufacturers may solve this problem by making the foam more open-celled to promote better airflow, creating a cooling mattress for hot sleepers.
Alternatively, they infuse it with cooling gel for better heat dispersion. This material is very good at weight distribution and helps put your body in a neutral sleeping position. Gel memory foam mattresses come in various firmnesses, like traditional memory foam beds.
Our memory foam mattress buying guide details the typical construction and specific considerations for shoppers.
Latex
Latex is a durable material with plenty of bounce, creating a comfortable sleep surface. In addition, latex is usually fairly firm, providing sleepers who suffer from back pain with ample support. However, this material doesn't have as much "give" as memory foam, meaning it doesn't cradle the curves of your body as much.
Cotton
Cotton is a breathable, moisture-wicking material that many mattress manufacturers use in their mattresses. Whether it's in the mattress cover or wrapped around the springs to help minimize motion transfer, cotton is a versatile, comfortable material. It is also hypoallergenic and is the cover fabric of choice for many mattresses for allergies.
Wool
Wool is a natural thermoregulator, meaning it helps keep your body cool in the summer and warm in the winter. It is also fire resistant—manufacturers sometimes use wool instead of chemical retardants to make their beds safer and more eco-friendly. In addition, wool is a comfortable, hypoallergenic material when inside innerspring mattresses.
Coils
The coils are the main support system of the innerspring mattress. There are four general coil shapes: Bonnell, continuous, pocketed, and offset coils.
Bonnell coils are wider at the ends and narrower in the middle, like an hourglass. Open coil mattresses use this coil shape.
Continuous coils are made of one length of wire. They start in a long loose ringlet, then curve to the side and move into the next loose ringlet. The wire goes on until you have an entire network of continuous coils. These are also used in open coil mattresses.
Pocketed (or encased) coils are tighter ringlets that go straight up and down. Each coil is individually wrapped inside a sheath of material—this helps reduce motion transfer. This type of coil is used in pocket springs and hybrid mattresses.
Offset coils are also shaped like an hourglass, thin in the middle and wider at the top and bottom. It's different from the Bonnell coil because the very top and bottom of the spring are flattened and hinged to the rest of the coil. This design helps the coil better conform to the sleeper's body.
What Makes an Innerspring Mattress Eco-friendly?
Finding a truly eco-friendly mattress can be quite challenging. Many manufactures stretch the truth or make vague statements about their product to make them seem greener than they are. This is called "green-washing." The best way to be sure a mattress is eco-friendly is to see what certifications it has and carefully read which elements of the bed qualified for these certifications.
Certifications
Certifications tell a shopper whether a manufacturer is using organic materials and being conscientious about their carbon footprint. Here are a few common eco-friendly mattress certifications.
Global Organic Textile Standard (GOTS)
A GOTS certification tells a customer at least one of the textiles inside the mattress, like wool or cotton, is largely organic. GOTS is currently the leading organic textile standard.
Global Organic Latex Standard (GOLS)
A GOLS certification means the mattress's latex is certified organic. For a product to earn a GOLS certification, the farming and manufacturing processes are examined to determine the organic nature of the latex.
GREENGUARD
If a product is GREENGUARD certified, it has been tested and proven to be low in emissions. Any mattress with this certification was tested for 10,000 different chemicals and had its volatile organic compounds (VOCs) emission levels measured.
Oeko-Tex® Standard 100
The Oeko-Tex® Standard 100 certification tells the shopper the textile product was tested by Oeko-Tex® for harmful substances and found safe to have in your home. This certification applies to the entire product, not just specific elements.
Sleep Trials and Warranties
Most mattress companies offer sleep trials for their beds, ranging anywhere from 100 nights to a year. These trials give the customer a chance to make sure the mattress is a good fit for them.
Most mattresses also come with a warranty. Some may last several years, while others may last a lifetime.
Warranties almost always have limits. A manufacturer won't replace a mattress if the damage happens as a result of extraordinary circumstances. We recommend carefully reading a mattress's warranty before buying one. This way, you fully understand what damage is and isn't covered.
What Will Support An Innerspring Mattress?
While a box spring paired with a traditional bed frame was the standard way to support an innerspring mattress, it's no longer your only option. Innerspring beds can be one of the best mattresses for a platform bed, a modern frame that fits in most bedrooms.
However, we do not recommend pairing an innerspring mattress with an adjustable bed. The movements of an adjustable base can wreck the supportive coils inside a traditional spring mattress, causing sagging.
Buying Guides for Other Mattress Types
If an innerspring mattress doesn't sound right for you, you can consider another mattress type. Along with our general mattress buying guide, we have written three specific guides for the other main mattress types:
FAQs
How many coils should an innerspring mattress have?
Sleepers should look for innerspring mattresses with a coil count of at least 800. When possible, try to find a mattress with a coil count over 800. The higher the coil count, the more supportive the sleep surface. However, if your preferred mattress only has 800 coils, it should provide you with ample support.
Does an innerspring mattress need a box spring?
Whether or not an innerspring needs a box spring depends on what style of innerspring you have. Open coil mattresses benefit from having box springs because it helps them last longer.
You don't need to set pocket spring mattresses, like hybrids, on a box spring. A box spring may even cause premature sagging in a hybrid mattress. This sagging potential is due to the spacing of a box spring's coils and how they are too far apart to establish a consistent surface. Instead, invest in a platform or slatted bed frame and place the mattress directly on the bed base.
What is the best innerspring mattress for back pain?
The best innerspring mattress for relieving back pain largely depends on:
The sleeper's preferences
Their natural sleeping position
Their body type
However, a hybrid is usually a good mattress for back pain. The coils and layers of foam or latex work together to create a supportive sleep surface that conforms to the curves of your neck, spine, and hips.
How often should I flip an innerspring mattress?
Generally speaking, you should flip a new innerspring mattress one to two times per year. Older innerspring mattresses should be flipped two to five times a year.
Flipping isn't all you should do with your bed. We also recommend rotating or turning your mattress. Rotating your mattress helps it wear out more slowly and evenly.
What is the best mattress for a platform bed?
Memory foam and latex mattresses work best with platform beds. A memory foam or latex mattress with a platform frame creates a supportive bed that aligns your neck, spine, and hips while providing a luxurious sleep surface. Hybrid mattresses also pair well with platform beds, if you're a sleeper who prefers some bounce.
Is an Innerspring Mattress Best For You?
What mattress is best for you depends on your preferences and sleep style. Trying to decide if your next mattress should be an innerspring bed? We recommend making the most of offered sleep trials to find the most comfortable mattresses. This gives you time to make sure the mattress is compatible with your sleep needs.
An innerspring mattress is an affordable mattress with healthy support and plenty of comfort. The best way to find the right bed is to pay attention to product details like:
Comfort layer materials
Coil count/gauge
Warranties
Consider making a list of must-haves! Once you know what you want, it is much easier to narrow down your list and ensure you find the best mattress for you.