Best Gel Memory Foam Mattress: Reviews and Buyer's Guide

Mattress Guides
A mattress acts as the foundation of a comfortable night's sleep. Gel memory foam mattresses have the pressure-relieving benefits of memory foam with gel mixed into the memory foam to facilitate cooling. Gel-infused memory foam hybrids combine the elements of a gel memory foam mattress and an innerspring or coil model. These elements create a unique sleep experience designed to relieve pressure and cool the body.
We've picked eight mattresses, four gel memory foam models and four gel memory foam hybrids, that stand out for their comfort and cooling abilities. These models come from a variety of price ranges, which gives you some options based on your budget. We've also included a buying guide that breaks down the basic mattress types and how to choose your best mattress based on your habits and preferences.
Best Gel-Infused Mattresses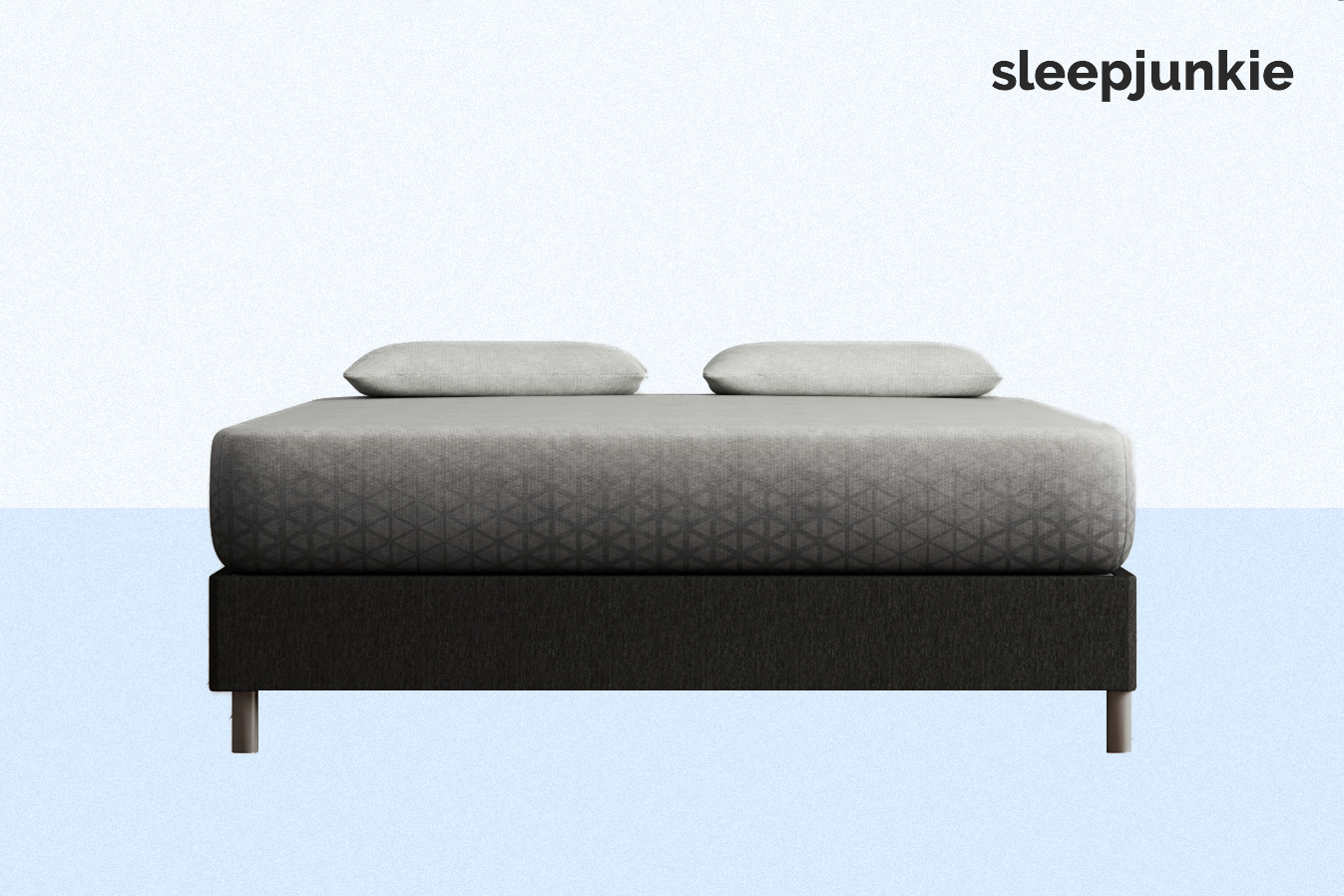 The Zoma's design and construction specifically targets the recovery needs of athletes and those with an active lifestyle. Made of a combination of gel memory foam and two poly-foam layers, this model provides a conforming, snug feel for those who push their bodies to the physical limits.
The Zoma has a mattress cover made of elastane and polyester that promotes airflow to cool sleepers. The Zoma's unique Triangulex™ zoned comfort layer is made of gel memory foam and features triangular cutouts at the head and feet for lighter cushioning in those areas and firmer support through the lower back. The cutouts also enhance air circulation.
The transition layer consists of a Reactiv™ response layer, which brings a latex-like responsiveness and bounce to the mattress. At the bottom, the Zoma has a seven-inch high-density poly-foam support core that brings shape and durability yet still cushion the body. The medium-feel Zoma is CertiPUR-US® certified, so it's low in volatile organic compounds (VOCs) and made without ozone depleters and other harmful chemicals. The medium-feel of the Zoma makes it a good choice for side sleepers and those who like to sink into their mattress.
Zoma provides a 100-night sleep trial. The 10-year warranty includes repair or replacement for defects in materials or workmanship, including coverage for indentations over three-quarters of an inch.
Zoma Sports Mattress Highlights
Zoned support and cushioning
Cooling ability of the gel memory foam and Triangulex™ cutouts
Excellent mix of cushioning and contouring for the athletic body type
Nest Bedding's Alexander Signature Hybrid is a luxury mattress with a 1.5-inch layer of gel-infused memory foam quilted to the cover. Luxury mattresses like the Alexander are known for their high-quality materials, intricate cover stitching, and durable construction.
The Alexander comes in three firmness options—medium, luxury firm (medium-firm), plush—as well as three internal split variations. Internal split models have a different firmness on each side of the mattress. For example, you could order an Alexandar that's medium on one side and luxury firm on the other. It makes this model a great option for couples with different comfort preferences.
The cover has a plush almost pillow top-like feel due to the thick layer of gel-infused memory foam to which it's quilted. Beneath the cool quilted cover, the Alexander has three inches of Energex™ temperature responsive foam to cradle the sleeper while pulling heat away from the body.
After that, one inch of Nest Bedding's SmartFlow Support Foam further cools the sleeper while providing a firmer transition layer over the eight-inch pocketed coils. Pocketed coils flex independently of the surrounding coils, so they target high-pressure areas and reduce motion transfer. A one-inch layer of support foam is the final layer.
Nest Bedding mattresses come with a 100-night sleep trial. The manufacturer requires a 30-day break-in period before a return or exchange will be fulfilled. They also provide a limited lifetime warranty that includes coverage defects, flaws, and indentations over one inch.
Nest Bedding Alexander Signature Hybrid Mattress Highlights
Wide range of firmness options, including internal split models
Lifetime warranty for the original purchaser
Cool, pillowtop-feel of the quilted cover
If you're on a budget, the Zinus Gel-Infused Memory Foam Hybrid cools and conforms to the sleeper and comes at an affordable price. The pocketed coils allow this model to target pain points by flexing and reducing pressure at high-pressure points.
The Zinus starts with two inches of cooling, gel-infused memory foam that helps absorb and pull heat away from the body. A one-inch high-density poly-foam acts as the transition layer. An extra layer of high-density foam around the edge of the mattress prevents sagging when sleepers near the edge or sit on the side of the bed. The support core is made of 7.5-inch pocketed coils. All foams used in the Zinus are CertiPUR-US® certified, which means they're free of harmful substances like ozone depleters and heavy metals.
This mattress comes in a ten or twelve-inch model. Both provide enough pressure relief for the average side sleeper and most back sleepers. However, stomach sleepers may sink too far into either version for all-night comfort.
Mattresses purchased directly from Zinus come with a 100-night sleep trial with no required break-in period. They have a standard 10-year warranty that covers indentations over 1.5 inches.
Zinus Gel-Infused Memory Foam Hybrid Mattress Highlights
Two height options, with greater cushioning in the 12-inch model
Affordable price point
Additional edge support
Bear uses unique materials like Celliant® covers in their mattresses to help keep their models temperature neutral. The Bear Hybrid provides a balance of cooling foams with the pressure relief of pocketed coils.
Bear's Celliant® mattress cover is laced with thermoreactive minerals that absorb body heat and convert it into infrared energy that then reflects back toward the sleeper. The cover is quilted to a gel-infused memory foam that prevents heat retention. The majority of this model's cushioning and contouring come from a premium comfort foam top layer that allows the body to sink ever so slightly into the mattress. It's over a one-inch foam transition layer. All of the foams rest on top of six-inch pocketed coils.
Bear's foams are Certi-PUR-US® certified, so like Zoma and Zinus, they're free of a long list of potentially harmful substances. The Bear Hybrid is also GREENGUARD Gold certified, which means it has passed inspection for harmful emissions and an extended list of potentially harmful chemicals.
Bear mattresses come with a 100-night sleep trial. The manufacturer requests the mattress be kept at least 30 days before starting a return or exchange. Bear covers their mattresses with a 20-year, prorated warranty. After year ten, if a replacement is deemed necessary, the customer pays a percentage of the price of the original mattress for the replacement. The percentage paid increases each year. Bear's warranty also covers indentations over 1.5 inches.
Bear Hybrid Highlights
Restorative Celliant® cover
CertiPUR-US® and GREENGUARD Gold certifications
High-quality foams with excellent cushioning and durability
5. Simply Modern Mattress
The Simply Modern Mattress provides comfort at an affordable price. The entire mattress is CertiPUR-US® certified and made with vegan materials.
This model's medium feel starts with a thin .5 inches of gel-swirled memory foam. It both cools and conforms to the sleeper's body. Further contouring comes from 2.5 inches of soft "comfort" foam. Increased pressure relief comes from the eight-inch pocketed coils. Reinforced edge coils add support and prevent sagging around the perimeter of the mattress.
The Simply Modern Mattress comes with a 365-day sleep trial and 30-day break-in period. The manufacturer recommends trying the mattress for at least 30-days before initiating a return. This model comes with an "infinity" warranty, which is basically a prorated, lifetime warranty. In the first ten years, a defective mattress will be replaced or repaired at no cost to the customer. In years 10+, the manufacturer will repair the mattress at no additional charge, or based on the defect, they may replace it and charge the owner 50 percent of the original mattress price plus the cost of shipping.
Simply Modern Mattress Highlights
An affordable price with good comfort and pressure relief
Taller pocketed coils provide deeper responsiveness
Enhanced coil edge support
The eco-friendly PlushBeds Oceans Mist is a low-profile, nine-inch memory foam mattress. This medium-feel, two-layer model caters to back and side sleepers because of its ability to adapt to changing pressure points.
A comfortable, breathable four-way stretch cover easily allows the sleeper to sink into the Ocean Mist. The three-inch gel memory foam comfort layer absorbs heat to cool the sleeper while stretching to conform to the sleeper's shape. A six-inch, high-density support layer spreads and evenly distributes sleeper weight across the mattress.
The Ocean Mist is both GREENGUARD Gold and CertiPUR-UR® certified. These certifications provide assurance that this model is free of harmful substances like chloroform and wasn't made with ozone depleters or PBDEs. It also means the Ocean Mist is low in harmful emissions.
PlushBeds provides a 100-night sleep trial with all of their mattresses. They also have a 25-year warranty that includes coverage for indentations over 1.5 inches.
PlushBeds Ocean Mist Highlights
Eco-friendly design with GREENGUARD Gold and CertiPUR-UR® certifications
Thick, gel memory foam that both cradles and cools the sleeper
Back and side sleepers get excellent pressure relief
7. Muse Mattress
The Muse memory foam mattress comes in three firmnesses, allowing it to appeal to back and side sleepers with varying preferences. It welcomes sleepers with a cool Diamond Breeze cover that includes phase-change material to absorb and hold heat. Once the sleeper starts to cool or leave the bed, the material releases the heat, helping to regulate body temperature throughout the night.
The Muse then has two inches of a comfort foam made with enhanced open cells to promote airflow. It's followed by a gel memory foam layer that further cools and conforms to the sleeper's every curve. This slow response top layer works particularly well for side sleepers. It's supported by two-inches of poly-foam. In the firm version of the Muse, this transition layer provides the majority of the firmer feel. The support core is made of a high-density poly-foam.
Muse offers a 120-night sleep trial with a required 20-night break-in period. The Muse mattress comes with a 10-year limited warranty that covers indentations over three-quarters of an inch.
The Muse Mattress Highlights
Cooling phase-change cover
Soft cushioning that's ideal for side sleepers and some back sleepers
Excellent motion and noise isolation
The medium-firm Lull's three layers have more responsiveness than your average memory foam mattress, making this a good model for back or combo sleepers. It's also CertiPUR-US® certified, so you can sleep on it knowing there's no heavy metals, harmful chemicals, and low emissions.
The Lull has a lower 10-inch profile with three layers. The top layer brings the cooling power of gel-infused memory foam. It absorbs heat while adapting to the shape of the sleeper. A 1.5-inch transition layer adds to the memory foam layer's natural ability to absorb motion while also redistributing sleeper weight. The overall shape and support of the mattress comes from the seven-inch high-density poly-foam support core. In general, the Lull works well for back sleepers and heavier weight sleepers due to its firmer feel.
Lull mattresses come with a 100-night sleep trial and a 10-year warranty. The warranty covers defects in material or workmanship and includes coverage for indentations over one inch.
Lull Mattress Highlights
Impressive motion isolation
Slightly better responsiveness than your average memory foam mattress
Medium-firm feel coupled with responsiveness allows it to work for heavier weight sleepers
Mattress Types to Consider
The various types of mattresses appeal to people with different sleep positions, as well as those with different comfort preferences. We'll go over the most basic four mattress types along with the type of sleeper to which they generally appeal.
Memory Foam Mattresses
Memory foam mattresses conform to the sleeper's body like no other mattress type. For that reason, many other mattress types, like latex or hybrids, contain a memory foam layer or two. This viscoelastic material stretches and flexes under heat and pressure, allowing it to mold itself to the unique shape of each sleeper. It can be used in almost any mattress layer since it can be made in different firmnesses and densities.
Many memory foams are designed not only for comfort, but cooling, too. Traditional memory foams trapped heat and moisture against the body, overheating sleepers. Today's memory foams often have gel, copper, or graphite swirled, infused, or layered into the foam to add cooling properties. Other manufacturers create channels or cutouts in the foam to create space for air to circulate. Yet, others enhance the size of each foam cell to increase space through which the heat can escape.
Memory foam layers are often mixed with poly-foam layers to achieve the right feel for the targeted sleeper. Dedicated side sleepers benefit the most from memory foam's ability to adapt to the curves of the body. However, memory foam mattresses can be found in all firmnesses, which allows the right model to work for back, combo, or stomach sleepers as well.
Latex Mattresses
Latex foam can be either synthetic, natural, or a blend of both. Synthetic latex is derived from petrochemicals, and while it's less expensive to make, it also breaks down faster than natural latex.
Natural latex starts as the sap of the rubber tree. It then goes through either the Talalay or Dunlop manufacturing process to make a durable foam. Dunlop latex has a dense, firm feel, so it's often used in the support core of the mattress. Talalay latex has a lighter, bouncier feel, making it a popular option for the comfort and transition layers.
Latex foams are often used in place of or in addition to memory foam. It's spongier feel brings extra responsiveness that some sleepers like but with pressure relief that rivals memory foam. Latex mattresses also have good durability and responsiveness to sleeper movement. They're a great option for combo and side sleepers who like the cushioning of memory foam but need a mattress that quickly bounces back after each movement.
Innerspring Mattresses
Innersprings are the old standards of the mattress world. They have quilted tops for padding and an innerspring or coiled support system. Memory or poly-foams are often quilted to the cover for an extra layer of cushioning. Some may have a pillow top or Euro-top for a softer feel and extra pressure relief.
There are four types of coils used in innerspring mattresses: Bonnell, continuous, offset, and pocketed. Each type has its pros and cons. Bonnell coils are inexpensive to make and generally appear in lower-priced mattresses. Bonnell, continuous, and offset coils have good responsiveness but can be noisy or bouncy enough to disrupt sleepers.
Pocketed coils, on the other hand, are used in higher-end mattresses. They're each wrapped in an individual pocket of fabric, adding to their motion isolation. These coils flex independently of the other coils in the mattress, so they target pressure points and reduce motion transfer.
Coils vary in firmness based on their gauge or thickness of the wire. Thin, high gauge coils flex more but wear down sooner. Low gauge coils are thicker, less flexible, and have higher durability. Some innerspring mattresses have a zoned coil support system. In these models, the gauge of the coil varies based on where it's located in the mattress. For example, high gauge coils may be at the shoulders for greater pressure relief and low gauge coils at the lower back for added support.
Innerspring mattresses come in all firmness levels, even when it comes to pillow top mattresses. However, innersprings typically have a firmer feel when compared to a foam or latex mattress of the same firmness. These models are meant for sleepers of any sleep position who prefer a bouncy, responsive mattress. They're also some of the cooler mattresses because heat and air can circulate through the coils.
Hybrid Mattresses
To be considered a hybrid, a mattress must have at least a two-inch comfort layer made of poly-foam, memory foam, or latex foam over a coil support system. These models combine the cushioning and conformability of foam with the quick response and breathability of innersprings.
Designs vary a great deal in this category. Some may only have one layer of foam, while others may have two or three. Coil height varies as well, with six to eight inches being average. You'll also see some coil-on-coil designs, wherein a layer of micro-coils provides extra pressure relief in addition to the coils in the support core.
Hybrid mattresses act as a go-between for foam and innerspring models. If foam mattresses are too conforming and innersprings too firm or bouncy, a hybrid might be a good option for you. They are also a common compromise for couples with different comfort preferences.
Mattress Budget
Mattresses are worth investing in simply because they'll be key to good rest for at least six to eight years, possibly longer. Budget mattress models start around $200 and extend to around $700. Many of these mattresses have a similar feel and comfort as more expensive models, but they may be made with less durable materials, shortening the life of the mattress.
Mattresses that are $700 to $1,200 make up the mid-range mattress category. These models balance comfort and material quality with price. There are even a few luxury models that start around $1,000. Luxury mattresses have intricate stitching and highly durable materials that give these models a longer lifespan than average. The majority of high-end and luxury mattresses fall in the $1,200 to $5,000 range. Many certified all-natural or organic mattresses are at this price point, too.
There are mattresses that sell for over $5,000 and some for over $10,000. These premium models may have hand-stitched covers, organic materials, and layers full of premium foams. However, sometimes you're paying for perks like brass corners, gold thread, and other features that do little if anything for the comfort of the sleeper. In general, an exorbitant price isn't necessary for premium comfort.
Sleeping Position
Each person has a preferred sleep position, even if they switch positions several times throughout the night. Your dominant sleep position greatly affects the kind of mattress that feels comfortable to you.
Side Sleepers
Side sleepers need a mattress that relieves pressure at the hips and shoulders, yet still supports the head, back, neck, and knees. Foam and hybrid mattresses tend to work best because they have thicker comfort layers than innerspring models. The best mattresses for side sleepers are usually soft to medium in firmness, as these beds fully cushion high-pressure points.
Back Sleepers
Back sleepers have a wider range of comfort choices simply because they have an easier time with their spinal alignment. However, they still need support in the lower back and enough cushioning to prevent pressure build-up at the shoulders and hips. When searching for a mattress for back sleepers, you can't go wrong with any mattress type, it's just important you choose the right level of firmness.
If you suffer from back pain, medium-firm mattresses have been shown to provide a balance of support and cushioning.
Stomach Sleepers
We don't recommend stomach sleeping due to the pressure it puts on the lower back. However, some people prefer it, and not everyone can control what position they switch to during the night. To prevent the hips from sinking lower than the shoulders and knees, stomach sleepers need a mattress with a firm feel and support.
A firm mattress prevents the hips from sinking, but should still lightly cushion the shoulders. Innerspring mattresses or firm foam or hybrids mattresses tend to work better for stomach sleepers.
Combination Sleepers
A combination sleeper changes positions as they rest, perhaps waking up in a different position entirely. A mattress for combination sleepers, therefore, needs to adequately support all positions. We would recommend a medium to medium-firm mattress for combo sleepers.
Sleeping Cool and Airflow
Mattresses that let heat and air circulate prevent overheating and allow your body to go through the temperature changes that are a natural part of the sleep cycle. Foams with large, open cells and additions like gel, copper, or graphite keep the heat from staying too close to the sleeper.
Designs with air channels and varied surface structure also open the way for better air circulation. Any model with coils automatically has more space for the heat and air to flow, making innerspring and hybrid models some of the most breathable options available.
Common Questions
Is a hybrid or memory foam mattress better?
Different types of sleepers and personal preferences will decide if a hybrid or memory foam mattress is better. However, there are some key differences that will help you know if one or the other is a better choice for you.
Memory foam mattresses are excellent at conforming to the shape of the sleeper, making them a great choice for side sleepers. However, they can also be a good choice for back or combo sleepers who like to feel the mattress around them rather than sleeping on top of it.
Hybrid models offer some of the cushioning and contouring of memory foam, but with the responsiveness of coils. That means the foams are more likely to bounce back into shape after the sleeper moves. That makes hybrids a good choice for combo sleepers and side sleepers who need more freedom of movement than memory foam offers. They can also be a good choice for back sleepers who like some bounce in their mattress.
What is the difference between memory foam and gel-infused memory foam?
As their names suggest, the biggest difference between memory foam and gel-infused memory foam is the inclusion of cooling gel. Traditional memory foam is pressure-relieving, contouring, and supportive. Gel memory foam is all of those things with the cooling ability of gel. Gels can absorb heat and hold it until the sleeper moves or absorb it and help facilitate the circulation of heat out of the mattress. It all depends on the design and formula of the memory foam and gel.
However, sometimes gel can lose its effectiveness over time. It may not absorb as much heat, which means it won't cool the sleeper as well in the longer run. But, it depends on the make and model of the mattress.
Is gel-infused memory foam better?
Gel-infused memory foam can, in some cases, be cooler than traditional memory foam. The cooling ability of the gel-infused memory foam varies from manufacturer to manufacturer. Some gel memory foams don't cool any better than traditional memory foam, while others make a big difference in sleeper comfort.
It's important to remember that gel-infused foams aren't the only way to stay cool. There are some excellent non-infused, non-gel memory foams with enhanced cell structures, air channels, and cutouts that are incredibly cooling, too. Cooling abilities that are built into the structure of the foam don't lose their cooling, which can happen with some gels.
How long do gel memory foam mattresses last?
The average gel memory foam mattress usually lasts about as long as a standard memory foam mattress would. Memory foam mattresses often provide a comfortable night's rest for around 7 years, although high-quality mattresses may last 10 years or more. You can extend your mattress's use by rotating it every 3 to 6 months—this prevents wear and tear from concentrating in one part of the mattress.
Is gel memory foam good for your back?
It can be. Memory foam can relieve pressure points and support your spine, while the added gels provide a cooling surface. If you're a back sleeper who wants to prevent or reduce back pain, we recommend shopping for a medium-firm gel foam mattress.
Best Gel-Infused Mattresses: The Bottom Line
Gel infusions, swirls, and beads can help cool the sleeper. However, some gels lose their cooling abilities over time.
Gel memory foams have the same contouring and conforming properties of traditional memory foam.
Gel memory foam and gel memory foam hybrids come in all mattress firmnesses, which means sleepers of all sleep positions can find a model with gel memory foam.
A gel-infused mattress could be in your future if it meets all of your sleep needs.mat However, bear in mind, there's no one mattress type meant for everyone. Take into account your preferred sleep position, that of your partner if you have one, and how cool or warm you sleep. As you examine your needs, you'll narrow down your choices until you find the mattress that keeps you cool and comfortable all night long.