Best Mattress for a Platform Bed (2023): Reviews and Buyer's Guide

Mattress Guides
Platform beds provide stable support to most mattresses without the use of a box spring, but finding the right bed is key to a good night's sleep. If a mattress is compatible with a platform bed, you can enjoy better sleep and wake up feeling refreshed. Otherwise, you may experience allergic reactions from allergens if the mattress is placed directly on the floor.
In our article, we share some of the best mattresses for a platform bed and discuss how to choose the right foundation for your mattress.
Best Mattresses for a Platform Bed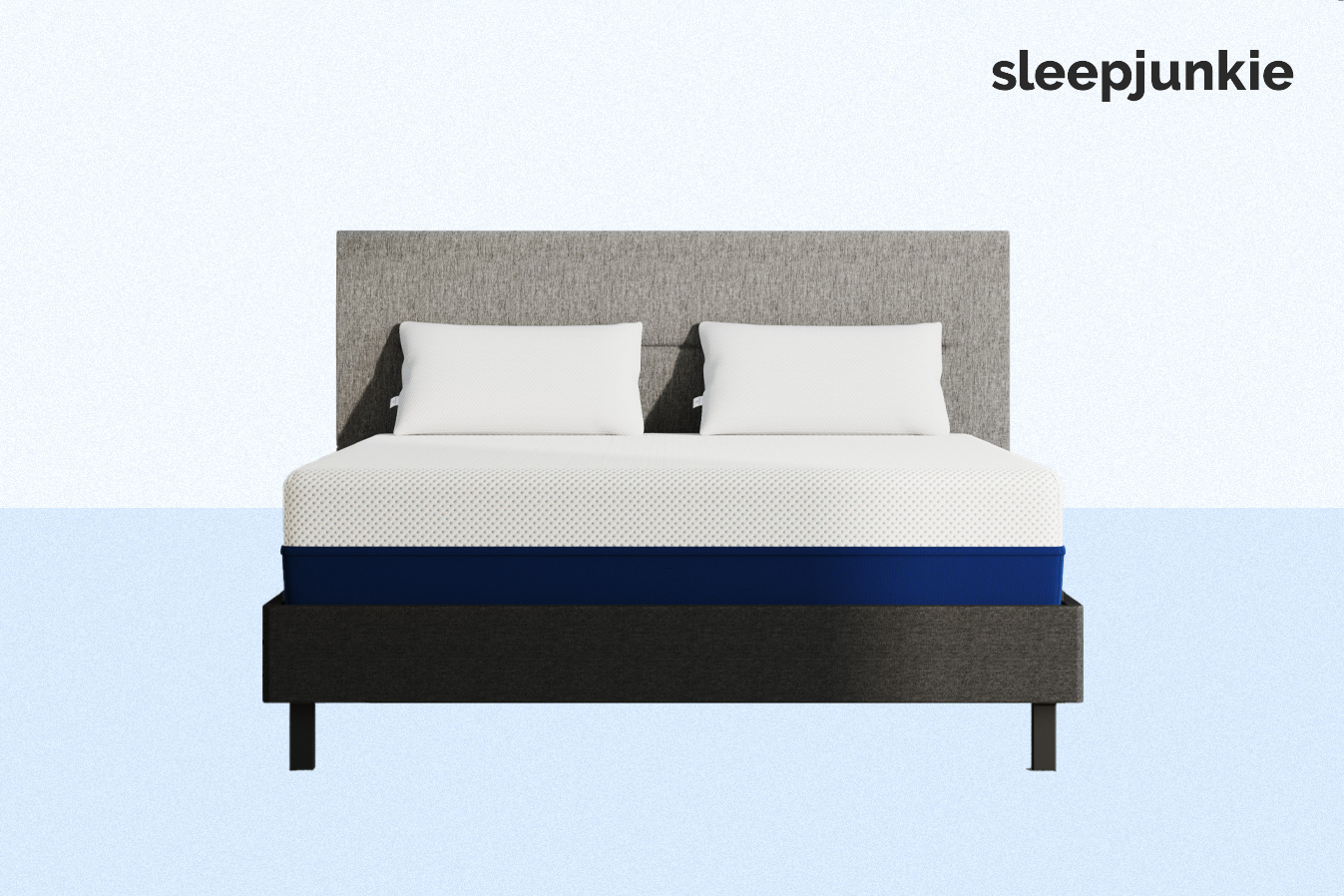 The Amerisleep AS3 mattress is one of the best mattresses for a platform bed. Platform beds give the Amerisleep AS3 the right support so you can fully enjoy the mattress for years to come.
The medium feel is perfect for most sleepers. The surface relieves pressure points, without feeling too soft or too firm. Combination sleepers will love the consistent support no matter the sleeping position.
Bio-Pur® is plant-based memory foam and is found in the top layer of the AS3. You'll love the responsive memory foam as it cushions your shoulders and hips, without trapping heat. Also, because plant oils partially replace petroleum during the manufacturing process, there's less chemical odor so that you can breathe easier.
The Affinity transition foam incorporates a special technology called HIVE®—hundreds of hexagon-shaped segments grouped in five zones of support. You'll experience softness under the shoulders and hips, and firmness under the head, back, and legs. HIVE® technology enhances pressure relief, so you can wake up feeling less sore.
Bio-Core® is the base layer. This durable foam evenly distributes weight across the surface and supports your body without developing soft spots. You can sleep better when your body is consistently supported.
Amerisleep gives you 100 nights to try out the AS3. If you don't like the mattress after breaking it in, Amerisleep will issue a full refund. The AS3 is backed by a 20-year warranty—one of the best in the mattress industry.
Amerisleep AS3 Highlights:
Responsive, plant-based memory foam
Five-zone support system encourages spinal alignment
20-year warranty, one of the best in the mattress industry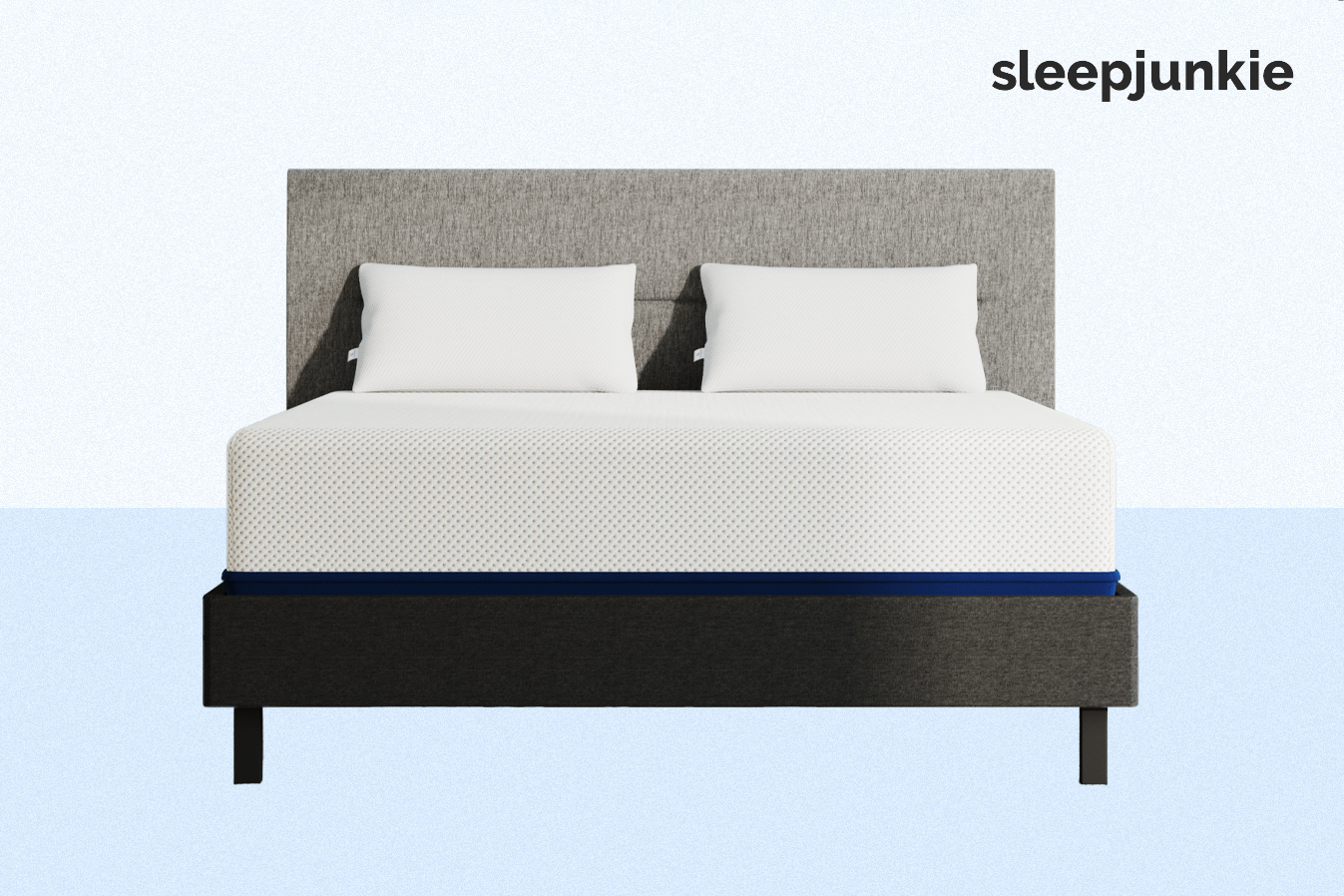 For those looking for a softer mattress, the Amerisleep AS5 Hybrid is an excellent choice. The AS5 is Amerisleep's softest hybrid model that provides a plush surface without sacrificing support. The cushioning surface cradles your body without causing you to feel stuck inside the bed.
The AS5 Hybrid's comfort layer is called Bio-Pur®. Bio-Pur® conforms to the body's curves while still bouncing back to its original shape quickly. As a result, you won't sink down too far and feel stuck. Plus, Bio-Pur® is more breathable than traditional memory foam, so you can sleep cooler at night.
Next comes a layer known as Active Flex, a super-soft, highly responsive transition foam. This unique layer of foam automatically adjusts to shifting weight and prevents your body from sinking into the support layer. Active Flex also enhances the pressure relief of the softer Bio-Pur® above it, delivering maximum comfort.
Instead of Bio-Core®, a three-zone pocketed coil support system bolsters your body. The top and bottom sections provide more give under your head, shoulders, and legs, while the middle section boosts support to your back and hips.
You can test out the AS5 Hybrid with Amerisleep's 100-night sleep trial. A 20-year warranty also covers the mattress against sagging greater than 0.75 inches and any manufacturing defects.
Amerisleep AS5 Hybrid Highlights:
Breathable memory foam prevents overheating
Soft, plush surface cushions the shoulders and hips
Highly-responsive transition foam adjusts to any sleep position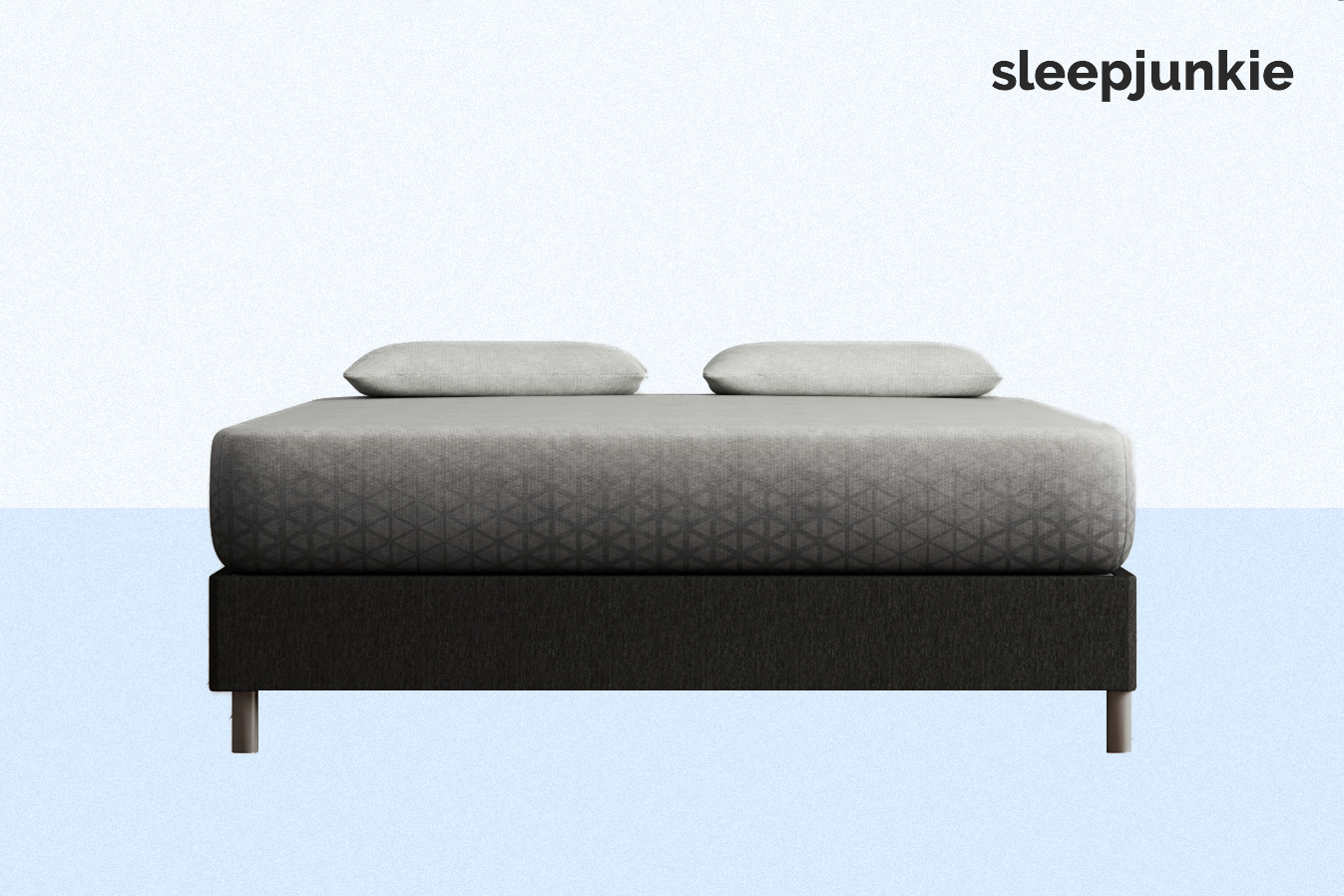 The Zoma Mattress is a great choice for active individuals and hot sleepers. The cooling foam layers relieve pressure points without trapping heat. Plus, the medium-firm surface makes you feel like you're sleeping on top of the mattress instead of inside it. Sinking too deeply can trap body heat and cause night sweats.
The comfort layer is made of gel memory foam. This layer absorbs and dissipates body heat, giving you a cooler night's sleep. It also has Triangulex™, triangle-shaped segments forming three zones of comfort. Areas under the head, shoulders, and legs feel softer, and areas under the back and hips feel firmer.
The durable Reactiv™ transition foam prevents you from sinking. This layer also encourages spinal alignment and makes it easier to climb in and out of bed.
Support+ is the base foam. This support layer is built to withstand constant wear and tear, lasting for years. You can enjoy stable support without the risk of sagging.
The Zoma Mattress comes with a 100-night sleep trial. You can return the bed for a full refund after the adjustment period. Zoma also gives customers a 10-year warranty that covers sags deeper than 0.75 inches.
Zoma Mattress Highlights:
Gel memory foam absorbs and disperses body heat
Responsive Reactiv™ encourages proper spinal alignment
Ideal for athletes and those with an active lifestyle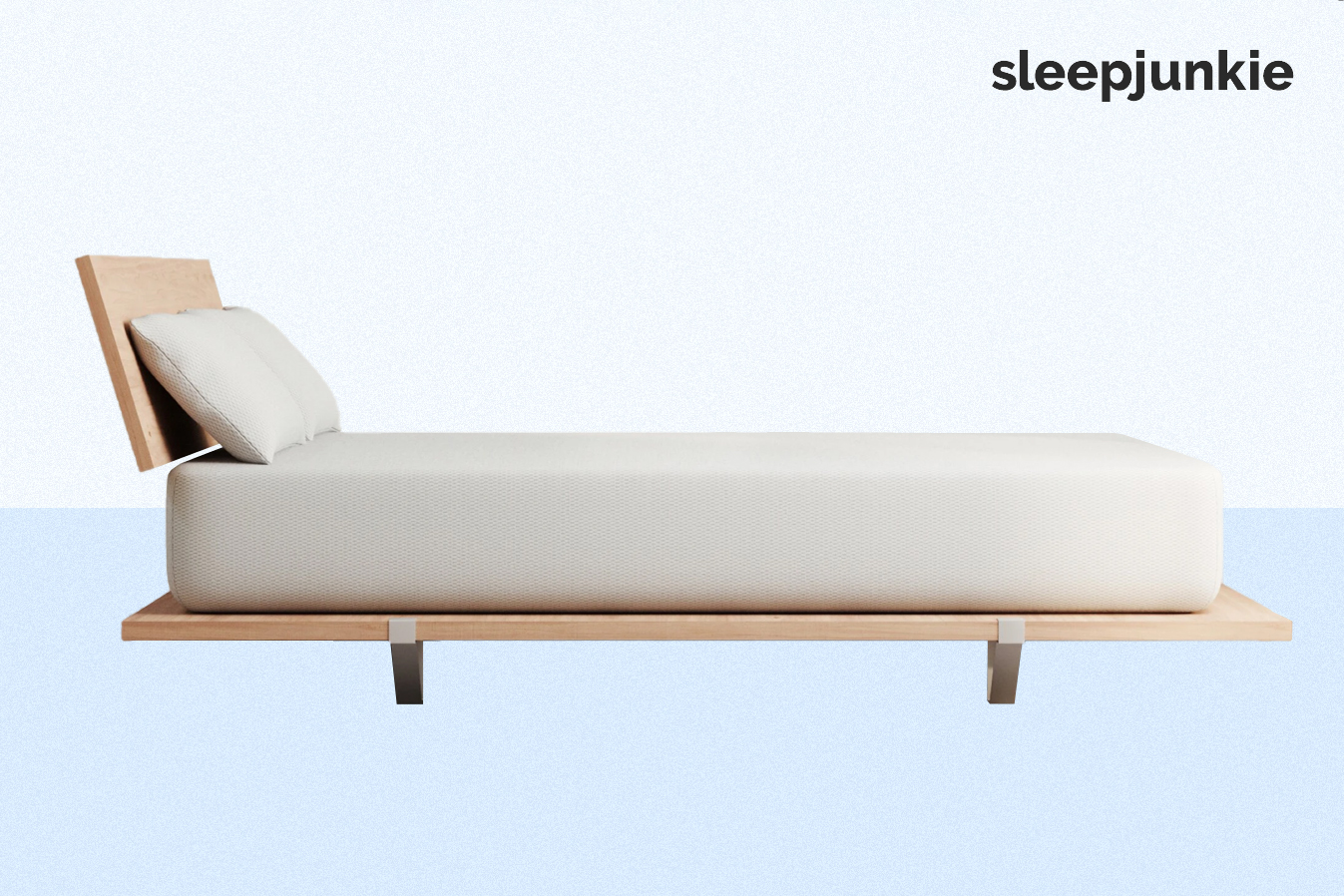 If you're on a budget, then the Vaya Mattress is the one for you. Many high-quality queen size mattresses can cost at least $1,000—not so with the Vaya Mattress. You can get the Vaya Mattress for $599, a more affordable price for the same quality.
Vaya Comfort Foam tops the bed. The 3-inch comfort layer contours to your body without causing you to feel hot. Vaya Comfort Foam features an open-cell design that encourages airflow, so you can sleep comfortably without disruptions.
The Vaya Support Foam supports your body without prematurely sagging. You can enjoy steady support without fear of soft spots. Plus, the Vaya Support Foam reinforces the bed's shape and encourages spinal alignment.
You can enjoy the Vaya Mattress for 100 nights. If you don't love the bed after a couple of months, Vaya will issue a refund. Vaya also backs their mattress with a 10-year warranty, protecting against sagging greater than 0.75 inches.
Vaya Mattress Highlights:
Low-cost mattress for those on a tight budget
Open-cell design regulates body temperature, preventing night sweats
High-quality foam layers support and cushion the body
The Nest Bedding Alexander Signature Hybrid mattress is a good option for any sleeper. The bed is available in plush, medium, and luxury firm. If the mattress feels too soft or too firm during the 100-night sleep trial, you can contact Nest Bedding, and they'll send you a different comfort layer. You simply need to unzip the mattress and swap the comfort layers.
Nest Bedding even offers comfort layers for purchase, in case your sleeping preferences change in the future.
The Nest Bedding Alexander Signature Hybrid is topped with a special Energex™ foam. The foam is temperature responsive and designed to stay cool at night. Hot sleepers may love this feature.
The SmartFlow transition foam has ventilation holes to encourage more air circulation inside the mattress.
The Quantum Edge pocketed coils provide targeted support and pressure relief. You'll experience less pressure buildup and enjoy enhanced lumbar support. The individually-wrapped coils also reduce noise potential from pressure placed on the steel coils.
Nest Bedding allows you to sleep on the Alexander Signature Hybrid for 100-nights. The mattress also comes with a lifetime warranty that lasts as long as the original purchaser owns the bed.
Nest Bedding Alexander Signature Hybrid Highlights:
Gel memory foam and titanium particles ensure a cooler sleep
Ventilation holes boost airflow inside the mattress
Pocketed coils improve lumbar support
Why Choose a Platform Bed?
Platform beds are a great addition to most mattresses. Their flat, even surface adequately supports mattresses without a box spring. Platform beds also give your mattress more height, so it's not as exposed to dust mites and other allergens.
Plus, platform beds may create more under-bed storage for personal belongings. Some platform beds come with built-in storage, including shelves and drawers.
Support
Most mattresses need a flat, even surface to rest on to provide the best support. Some platform beds have solid panels, while others have metal or wooden slats, depending on the brand. The slats should be no more than 2.75 inches apart. Otherwise, the mattress could sag in some areas and develop soft spots.
Bed Height
An underappreciated part of nighttime comfort is your bed height. Keeping the mattress off the floor means you're less exposed to dust mites and bacteria. If you're prone to allergies, you may sleep better without the disruption from allergic reactions, like sneezing.
Raising the bed is not only hypoallergenic, but it can make it easier to climb in and out of bed. Tall people may feel more comfortable with a sturdy bed frame that's higher than 16 inches. The high profile makes it easier to get up in the morning.
Low-profile frames can more difficult to roll out of, especially for tall sleepers with joint pain. Plus, a higher frame may give you extra storage space under the bed. This is a nice feature if space is limited.
Storage
Many bed frame manufacturers are making standard platform beds with built-in storage. Extra drawers or shelves give you more storage space and may give you more walking space. If you live in a studio or one-bedroom apartment, this platform model could be the perfect solution for saving space.
A classic example is the captain's bed. This platform bed has a solid surface with several built-in drawers along the sides. You can easily store clothing, stationary, and bedding accessories without the need for a desk or chest of drawers.
How to Find the Best Mattress
You want to make sure you find the best mattress for your platform bed. While any mattress type will do, you want a comfortable mattress that'll give you the best support.
If you rush through a decision, whether from the pressure to buy or getting caught in the hype of a sale, you may end up with buyer's remorse. Taking your time to think things through will ensure you end up with the most comfortable mattress for your needs.
Mattress Type
Any type of mattress pairs well with a platform bed, including memory foam, latex, hybrid, and innerspring. The slats promote airflow and support for all four options.
However, depending on the bed, you may need additional support from a mattress foundation or a bunkie board.
Memory Foam
Memory foam is a dense material that softens under heat and pressure to mold to your body. Memory foam mattresses are a popular choice because they provide excellent pressure relief and motion isolation.
A platform bed with a solid surface or slats evenly spaced 2.75 inches apart is perfect for a memory foam mattress. The dense material is evenly supported without the risk of sagging. You may prefer a slatted platform bed to enable more airflow around the mattress.
Latex
Latex mattresses share similar properties as memory foam—both conform to the body and reduce motion transfer. However, latex is a little more firm than memory foam. Despite the extra firmness, most people enjoy latex because it's naturally breathable and hypoallergenic.
The support from a platform bed ensures the sleeper's weight is evenly distributed, preventing sags or soft spots.
Hybrid
A hybrid mattress combines memory foam or latex with innerspring coils. You'll love the fusion of conforming, pressure relief with bouncy support. You may want to try a hybrid if you're torn between choosing a memory foam or innerspring mattress. Keep in mind that a true hybrid must have a comfort layer at least 2 inches thick.
Hybrids also perform well when placed on a platform bed. Hybrid mattresses can be heavy—over 100 pounds, but luckily, platform beds are designed to handle at least 450 pounds.
Innerspring
Innerspring mattresses are common, and still popular in hotel rooms, dorms, and most households. Innersprings have a bouncy surface with an open structure, allowing for more airflow. The coils offer edge support, making it easier to get in and out of bed.
Innerspring mattresses pair well with a platform bed, but you may need to purchase a box spring. The box spring gives more solid support to an innerspring and ensures an even sleep surface.
Firmness
Choosing the right mattress with a suitable firmness level depends on two factors—your sleeping position and body weight. Taking these factors into consideration before making a decision will help you find the perfect balance of comfort and support.
Sleeping Position
Each sleeping position needs a certain amount of cushioning to properly align the spine. Side sleepers need a soft to medium mattress to relieve painful pressure points in the shoulders. Side sleepers place most of their weight in the shoulder area, which is why many of the best mattresses for side sleepers are soft and cushioning.
Stomach sleepers are the opposite. They need a medium-firm to firm surface to keep their spines aligned. A softer surface could actually misalign their spine and cause back pain.
Back sleepers feel the least pressure because back sleeping positions the body in a neutral position. A medium to firm mattress is best to cradle the hips and prevent the shoulders from sinking too deep.
Combination sleepers sleep best on a medium to medium-firm surface. The medium feel maintains spinal alignment, no matter the sleeping position.
Body Weight
Body weight can also influence the mattress firmness you need. Body weight is divided into three categories—lightweight, average weight, and plus-size.
Lightweight sleepers (less than 130 pounds) don't weigh enough to press down very far into their mattress, so a softer bed will provide comfort without sinking down.
Those of average weight (around 130 pounds) sleep better on a medium surface, which gives a nice balance between comfort and support.
Plus-size sleepers (weighing more than 230 pounds) find better support from a firmer mattress. The surface provides comfort and support without the risk of sagging.
Sleep Trial and Warranty
Sleep trials and warranties protect the customer from having to pay for replacements or repairs caused by manufacturing defects.
Sleep trials allow you to try out a new mattress in the comfort of your home. Most sleep trials last between 90 to 120 nights, though some can extend as long as a year. If you don't like the bed, most companies will refund it. You also might be able to exchange the mattress for a different model.
Most mattress warranties cover sagging greater than 1 inch. This measurement depends on the brand. Most new mattresses come with a standard 10-year warranty and only applies to the original purchaser.
FAQs
Do I need a box spring with a platform bed?
Platform beds are designed to work with or without a box spring. Whether you need the extra support from a box spring depends on the type of mattress you have. Innerspring beds will need a box spring, but other mattress types, including memory foam, latex, and hybrids, perform better without a box spring.
How do you keep a mattress from sliding on a platform bed?
There are a couple of ways to prevent your mattress from sliding off a platform bed. One method is to place some form of rubber matting between the mattress and bed frame, like an exercise mat or shelf liner. Rubber has a natural grip to hold the bed in place. A second way is adhering Velcro straps under the mattress to latch onto the frame or foundation. Apply one to two strips of Velcro at each corner of the mattress to secure it to the platform bed.
How much bigger should a bed frame be than the mattress?
Bed frames are built to fit standard size mattresses, ranging from twin to California king. When measuring for a new platform bed, measure your mattress, then add two to five extra inches on each side. The extra space is for the frame's structure, including upholstery, shelves, and drawers.
Can you use a piece of plywood instead of a box spring?
If you're buying a new mattress and your current bed frame doesn't have the right support (i.e., slats wider than 2.75 inches), adding a piece of moisture-resistant plywood can help. Plywood creates a flat, even surface, perfect for memory foam, latex, and hybrid mattresses. Make sure the plywood is at least ¾-inch thick and place it between the mattress and bed frame.
Can you put a mattress directly on slats?
You can place a memory foam, latex, or hybrid mattress directly on slats as long as the slats are 2.75 inches or less apart. Otherwise, you may need to add a piece of plywood to prevent sagging. Innerspring mattresses, on the other hand, need a box spring. The thick coils act as shock absorbers and better support an innerspring bed.
Conclusion
Platform beds pair perfectly with most mattresses. Their lightweight structure makes it easy to transport, but at the same time, platform beds can support a large amount of weight. The best mattress for a platform bed supports your body weight and aligns your spine without the need for a box spring.