Best Places to Buy a Mattress
Updated November 22, 2023

Mattress Guides
A mattress has a big impact on your health. Recently, technology and online shopping have revolutionized the mattress market. You can now have a mattress-in-a-box delivered to your doorstep. But where do you go to get the best mattress?
We've picked the top five places to buy a mattress. We'll give you some tips on mattress types, sleep positions, and other features that make a difference in comfort.
Best Place to Buy a Mattress: 30 Second Summary
Amerisleep — When looking for a great place to buy a mattress, we recommend Amerisleep. They offer eight different mattresses, all tailored to different sleep needs, and they price their mattresses affordably. We also appreciate the industry-leading 20-year warranty they offer with every mattress.
Zoma – We also like the Zoma brand because they offer one mattress designed to suit back, side, and combination sleepers. Plus, it contains cooling technologies to promote more comfortable sleep. Most importantly, though, their top-rated bed costs less than $1,000.
Amerisleep jumped into the online mattress market with impressive success. The Amerisleep website is a one-stop-shop for luxury mattress in a boxes and accessories. You can get everything you need for a serene sleep experience while staying in the comfort of your own home.
They offer mattresses ranging from soft to firm. Plus, they recently added three hybrid models to their lineup. Premium materials like Bio-Pur®, Bio-Core®, and HIVE® technology relieve pressure and cool the mattress. They also offer bases, bedding, pillows, and an adjustable bed package.
Amerisleep brings its designs directly to customers with its sleek showrooms. A showroom is a perfect place for those who need to feel a mattress before committing. You can try all eight models: the AS1, AS2, AS3, AS4, and AS5, plus the AS2 Hybrid, AS3 Hybrid, and AS5 Hybrid. Once you've decided which one is the most comfortable mattress for you, the mattress can be delivered directly to your door.
Amerisleep provides a 100-day sleep trial for all their mattresses. Their models are also covered by a prorated, 20-year warranty. It includes coverage for indentations over three-quarters of an inch.
Amerisleep Highlights
Eight mattresses, each with a different firmness level
Online and in-store purchases, both providing front door delivery
Impressive 20-year warranty on all mattresses
Zoma is another online company to shop with, as they offer their state-of-the-art Zoma mattress for less than $1000. Even better? They regularly offer discounts on their already-affordable bed.
Zoma offers one mattress, the Zoma, but they also offer an adjustable bed frame and mattress foundation, too. Their Zoma mattress is designed with medium firmness and recommended for side, back, and combination sleepers. Another cool thing we love about this brand is that they engineered their mattress for recovery. If you're an athlete or you lead an active lifestyle, you can definitely benefit from Zoma's sleep-enhancing materials.
Like most other online mattress brands, Zoma offers a 100-night sleep trial with their bed, so customers can buy online and have time to decide whether or not they want to keep the bed. They also offer a standard 10-year warranty with their mattress, too.
Zoma Highlights
One mattress to accommodate the majority of sleepers
Cooling gels appeal to hot sleepers and athletes
Offers foundations and adjustable bed frames, too
Vaya Sleep is another great online mattress brand, and we love Vaya for their affordable prices. Vaya offers just one mattress at the moment, but it receives rave reviews and is designed to accommodate most sleeping styles and body types. Vaya's "one-size-fits-all" mattress costs around $500 for a queen, too!
Vaya Sleep is a relatively new name in the game, so we're excited to see their other offerings as time passes. But in the meantime, we highly recommend giving their namesake model a chance.
Vaya sells their beds online-only, they can be bought on Vaya's website or Amazon (just make sure to purchase from Vaya Sleep when shopping on Amazon). Every bed comes with a 100-night sleep trial and a 10-year warranty.
Vaya Highlights
One mattress designed to feel comfortable for most sleepers
Budget-friendly
Available on Amazon
Nest Bedding carries three luxury models and three organic models. These include hybrid, foam, and latex. They sell both online and in their own Nest Bedding stores. The comparison feature on their website makes buying a mattress easy.
all their mattresses come in at least two firmness levels. They also sell furniture and bedding, including crib mattresses, sheets, and pet beds.
Nest Bedding covers all their mattresses with a limited lifetime warranty. It includes coverage for indentations over one inch. Their mattresses are also covered by a 100-night sleep trial and a Lifetime Comfort Guarantee. The Lifetime Comfort Guarantee lets customers buy their next Nest Bedding mattress for 30 percent off.
Nest Bedding Highlights
Online and in-store shopping options
Several mattress types for sleepers who aren't sure which type they want
Limited lifetime warranty and Lifetime Comfort Guarantee give customers lengthy coverage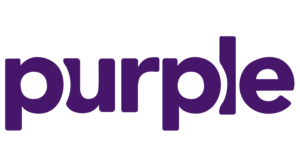 Purple® revolutionized what it means to sleep cool by developing a hyperelastic polymer to make their Purple® Comfort Grid. The grid provides a close, customized fit and breathability.
Purple® offers a complete sleep experience with pillows, bedding, bed frames, and a weighted blanket. They also carry sleep accessories like sleep masks, seat cushions, and pet beds.
The Purple® website makes it easy to compare their four models side-by-side, as does our Purple® mattress review. Purple® runs its own brick-and-mortar stores. They sell the majority of their mattresses online and through other retailers.
Purple® offers a 100-night sleep trial with a 10-year warranty on all their mattresses. The warranty covers indentations over one inch.
Purple® Highlights
Online and in-store shopping along with many affiliate retailer locations
Easy online comparison of all four mattress models
The cooling effect of the hyperelastic polymer works well for hot sleepers
MattressFIRM makes our list because of its wide selection of mattresses. They may not have the latest or many luxury models, but you'll get an astounding array of mattress brands, types, and firmnesses. Their website gives you plenty of ways to narrow your choices, too. You can search by price, mattress size, firmness level, brand, or mattress type. You can even use a combination of filters. They also carry bedding, pillows, and bed frames.
MattressFIRM stores may not have the same selection as their online inventory, but you can try a wide variety of mattress types, makes, and models. If you need to see and feel before buying, a MattressFIRM store gives you a chance to try a little of everything in one place.
Their impressive fast delivery makes MattressFIRM a top contender. They offer their own 120-night sleep trial and a 120-night low price guarantee. This ensures if the mattress you buy goes on sale at MattressFIRM or elsewhere, MattressFIRM will cover the difference.
MattressFIRM Highlights
Expansive online inventory
In-store shopping lets you try several manufacturers and mattress types in one visit
120-day price matching
Most major and many minor mattress manufacturers sell through Amazon. If you buy through Amazon, make sure that it is through an authorized retailer, so the warranty will still apply to the mattress.
If you're looking for the widest selection, including highly affordable models, Amazon is the place to start. You can find mattresses of all sizes, firmness levels, and types. You also get the benefits of many online reviews to give you the lowdown on everything from how the mattress feels to the speed of delivery. But since Amazon is online-only, you can't try any of these mattresses before buying.
Many of the mattresses on Amazon are under the manufacturer's warranty. But if they are sold through an unauthorized dealer, the warranty may be invalid. Sleep trials also vary by manufacturer.
Amazon.com Highlights
Wide range of mattress selection, including most major manufacturers
Access to thousands of online reviews
Provides both inexpensive and luxury options, so you can find a mattress for almost any budget
Mattress Types to Consider
Mattress Types are divided into four broad types. Each type suits a different kind of sleeper and may be more comfortable for different sleep positions.
Memory Foam Mattresses
Memory foam's unique ability to adapt to the body makes it an excellent material for mattresses. It stretches and conforms under heat and pressure, filling and supporting the curves of each sleeper. Once heat and pressure are removed, memory foam returns to its original shape. It's like getting a custom fit from your mattress every night.
Memory foam mattresses relieve pressure build-up at the shoulders and hips. It fills the curves of the back to support the spine and maintain a healthy, neutral spinal alignment, too.
Memory foam has some weaknesses. It's known for trapping heat and overheating the sleeper. Manufacturers create large open cells within the foam,  promoting better air and heat circulation. Others add gel, copper, graphite, or charcoal to absorb heat and pull it away from the sleeper.
Memory foam is slow to respond. That can leave some sleepers feeling "trapped" in their body impression. Manufacturers vary memory foam layers with latex or poly-foam.
Side sleepers generally reap the most benefits from memory foam because it keeps their spines in a straight, neutral position. Combo and back sleepers may also appreciate the conformability and pressure relief of memory foam. Stomach sleepers should buy a firm memory foam mattress to prevent their hips from sinking and putting extra pressure on their back.
Latex Mattresses
Latex mattresses are made of natural, synthetic, or blended latex. Natural latex is derived from the sap of the rubber tree and is made into either Dunlop or Talalay latex. Dunlop latex is the firmer, denser of the two. It's often the support layer but can also be found in transition and comfort layers.
Talalay latex has a lighter, spongier feel, making it a common comfort or transition layer. Both types of natural latex have incredible durability. Dunlop's higher density means it usually lasts longer.
Synthetic latex is made from petrochemicals. It feels like natural latex and is less expensive to make, but it's not as durable.
Latex contours to the body, relieving pressure. It doesn't necessarily fill every curve like memory foam but has a quick response to movement. Latex layers are often placed underneath a memory foam comfort layer to improve responsiveness.
Side sleepers who feel stuck in memory foam often sleep well on latex. Back and combo sleepers get the pressure relief they need as well. Stomach sleepers will need to make sure to get a firm latex mattress to prevent lower back pain.
Innerspring Mattresses
Innerspring mattresses have been around for decades. They have a coil support system with a quilted cover for cushioning. The types of coils used in the mattress determine its support, durability, and feel.
Bonnell, offset, continuous, and pocketed are the four most common coil types. Bonnell coils have a distinct hourglass shape. They're inexpensive but bouncy. Offset coils have a similar shape, except the head is rectangular. The head shape allows offset coils to conform to the body better.
Continuous coils are made from a single piece of wire that interconnects each coil. They create a strong support core but transfer motion across the surface of the mattress, making them bouncy and noisy.
Pocketed coils are the latest addition to the mattress market. They're the same width from top to bottom, and each is surrounded by its own pocket of fabric.
Back and stomach sleepers are the most likely to find innerspring mattresses comfortable. Combo sleepers will get plenty of support, but if they spend a lot of time on their side, they may feel pain in the shoulders and hips.
Hybrid Mattresses
Hybrids have the cushioning and conformability of memory foam, poly-foam, and/or latex combined with a coil support core. Their comfort layer must be at least two inches thick to be a true hybrid mattress. Many hybrids have two or three comfort or transition layers.
Typically, pocketed coils make up the support core. Coil height varies, with taller coils providing extra pressure relief. Some hybrids have a coil-on-coil system, in which a layer of micro coils adds to the pressure relief of the support core.
Hybrids can be expensive and heavy. Couples who have different comfort preferences often choose hybrids. Side and back sleepers who prefer the support and springy feel of coils may also like a hybrid.
Mattress Budget
Mattresses can cost anywhere from $100 to over $10,000, though most people will want to steer clear of that price range. Budget-friendly mattresses, somewhere between $200 and $700, may feel like more expensive models. You see the difference between the two is in their durability. Models with a lower price tag are made with low-quality materials that last less the average six to seven-year mattress lifespan.
In the mid-range, between $700 and $1,200, are models that balance quality with price. High-density foams and pocketed coils are more common. You'll even find a few luxury mattresses around the $1,000 mark. These models have higher density foams, pocketed coils, and durable fabrics in their covers.
Luxury mattresses usually fall in the $1,200 to $3,000 category. These models have high-quality, high-density foams, pocketed coils, and luxury fabrics. A few also have all-natural or organic materials in their designs.
Premium mattresses cost over $3,000. These models may have extra layers and organic materials. But some are filled with extras like brass corners and hand stuffed layers that add little to the comfort of the mattress. Be careful what you pay for and make sure that any extras add to the durability and comfort.
Numerous sales happen throughout the year and are some of the best times to buy a mattress.
Sleeping Position
Your sleep position influences the mattress type that feels good to you. Your spine should be straight from the top of your head to your tailbone. Any mattress that does that and reduces pressure at pain points can help you get a better night's rest.
Side Sleepers
Side sleepers put the full curves of their body into the mattress. They need pressure relief at the shoulders and hips and support at the head, waist, lower back, and knees. Their unique pain points make memory foam and latex mattresses some of the best mattresses for side sleepers. Side sleepers should choose plush, medium-soft to medium mattress to avoid pressure build-up.
Back Sleepers
Back sleepers generally maintain a neutral spinal position. They still need support in the lower back and pressure relief at the shoulders. If you're looking for a mattress for back sleeping, you can find comfort on an innerspring, memory foam, latex, or hybrid bed.
Stomach Sleepers
We don't recommend sleeping on your stomach because it puts extra pressure on the lower back. You may find yourself on your stomach even if you start in another sleep position. Stomach sleepers need a firm mattress to prevent their hips from sinking.
Sleeping Cool and Airflow
Overheating can wake you up in the middle of the night. Memory foams with large open cells, aeration channels, and infusions can help keep you cool. Latex has aeration channels so heat and air can circulate. Both memory foam and latex may have grooves in the surface of a layer to create air pockets that improve airflow.
Coils create space through which heat can move, so hybrids and innerspring models are often cooler than memory foam and latex. Look for a mattress with a combination of cooling technologies to keep you comfortable.
Common Questions
Is it better to buy a mattress online or in a store?
Online and in-store shopping has pros and cons. You can often find a better deal going through a manufacturer's website and buying online. The mattress will be delivered directly to your front door, and many offer a sleep trial, during which you can return the mattress for a full refund. And, you have far more selection online than you ever will in a mattress store.
In-store is a different shopping experience and maybe a better idea if you're unsure what type of mattress you want. You may need to try several mattresses before knowing what you like. Keep in mind that it can take up to 30 days for your body to adjust to a new mattress. Testing a mattress for 15 minutes will only give you a small idea of how it will feel after eight hours of sleep.
How much should you spend on a mattress?
You'll use your mattress for the next five to ten years. It will be a key component of your sleep health during that time. Get the best quality mattress you can afford. That doesn't always mean the most expensive. Look for high-quality, memory foams or certified natural latex. The mattress's warranty can also be a good indicator of its durability.
Can I try a mattress for a few days and get a refund if I don't like it?
Many manufacturers offer sleep trials lasting from 30 to 365 days after the initial purchase. Online retailers may have their own sleep trial periods that give you a chance to try the mattress before you're fully committed to the full price.
Do mattresses come with warranties?
Most mattresses come with some kind of warranty. If you're considering a model without one, then keep looking. Most warranties cover indentations 1 inch or deeper. Other warranties are prorated, which means for the first half the company pays for repairs and replacements. After that, the customer has to pay a percentage of replacement and repair costs.
How do I get the best price on a mattress?
The best way to score a deal on a bed is by doing your research and finding the ideal time to buy. Many online brands offer deals year-round, but brick and mortar stores only offer discounts every so often. Keep your eyes peeled for mattress sales and you can normally save a couple of hundred dollars. With that, it's also good to stick with making a purchase online. Brick and mortar retailers are convenient if you want to browse a variety of beds at once, but these stores usually have to inflate prices to cover overhead costs. Online retailers cut costs by selling direct-to-consumer. If you find a bed you love in-store, you're probably able to find it online at a lower price.
Best Places to Buy a Mattress: The Bottom Line
Know your budget before you start shopping. Look for the highest quality mattress you can afford.
Warranties and sleep trials matter. The average mattress warranty lasts ten years. Models with longer warranties are usually of higher quality.
In general, you'll get a better deal by buying online because you're not paying for overhead costs.
The mattress market continues to grow. You now have hundreds of options from which to choose. You also have more ways than ever to research and buy a mattress. Take a good look at your needs and what you want and expect before you start mattress shopping. From there, rely on sleep trials to make sure you've found the perfect fit.