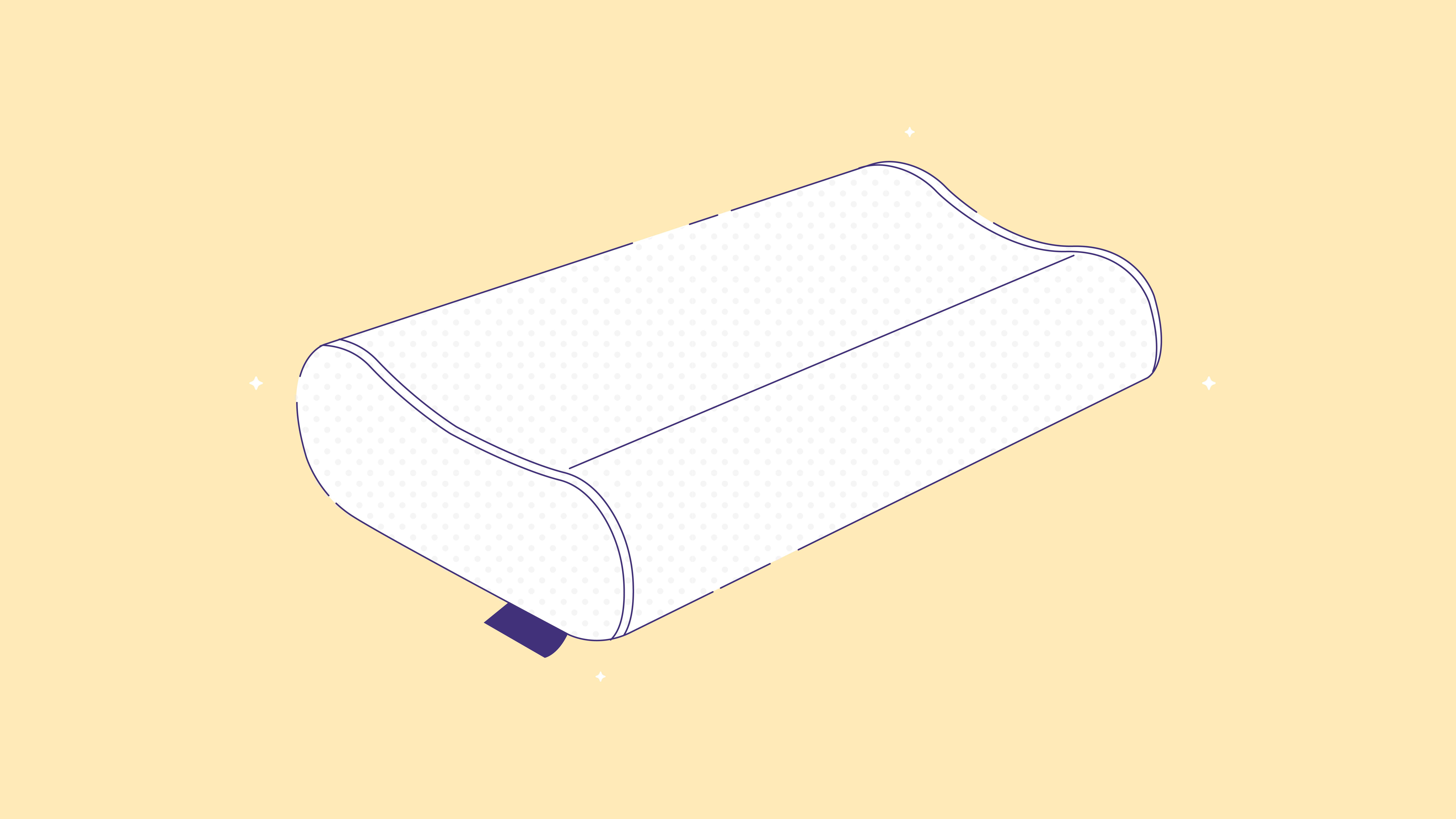 Best Contour Pillows

Bedding Guides
Unlike your standard pillow, contour pillows have unique shapes designed to maximize neck and head support so you can finally get a good night's sleep. Contour pillows generally feature arches and indents to prop your head and neck up to minimize pain, help you breathe better, and improve your sleep quality.
In our article, we go over some of the best contour pillows. We also chat about the various reasons why you may be interested in a contour pillow, and who should use them.

Best Contour Pillows of 2023: 30 Second Summary
Amerisleep's Flex Pillow — With moldable MicroCushions™, you can adjust the Amerisleep Flex Pillow into any shape you want. This way, you can get extra neck support one night, and extra cushioning the next. The MicroCushions™ snap back into shape quickly as well, so you don't have to worry about your contour pillow going flat.
Zoma's Pillow — Hot sleepers, don't look any further! The Zoma Pillow is specially designed to relieve pain and pressure from your neck while also promoting cool, undisturbed sleep. Its stretchy mesh cover further dissipates heat and draws moisture away from your body.
Best Contour Pillows of 2023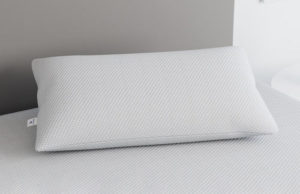 The Amerisleep Flex Pillow stands out for its customizable feel. You can mold this pillow into any shape you need, whether you want to hollow out the center for your head or extra cushioning for your neck.
The pillow is filled with hundreds of eco-friendly MicroFlex cushions. They're durable, soft, and rapidly adapt to the shape of your head and neck. Air can escape between the many cushions, keeping the pillow cool and preventing moisture from getting trapped.
The pillow's cover is soft and meant to draw heat and moisture away from you.
Amerisleep makes all of their products in the USA. They also offer free shipping and a 10-year warranty for the Amerisleep Flex Pillow.
Amerisleep Flex Pillow
Soft, ventilated cover prevents overheating
Filled with flexible MicroFlex Cushions that mold to the head and neck
10-year warranty
Best Cooling Contour Pillow: Zoma Pillow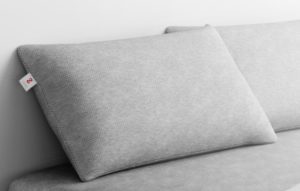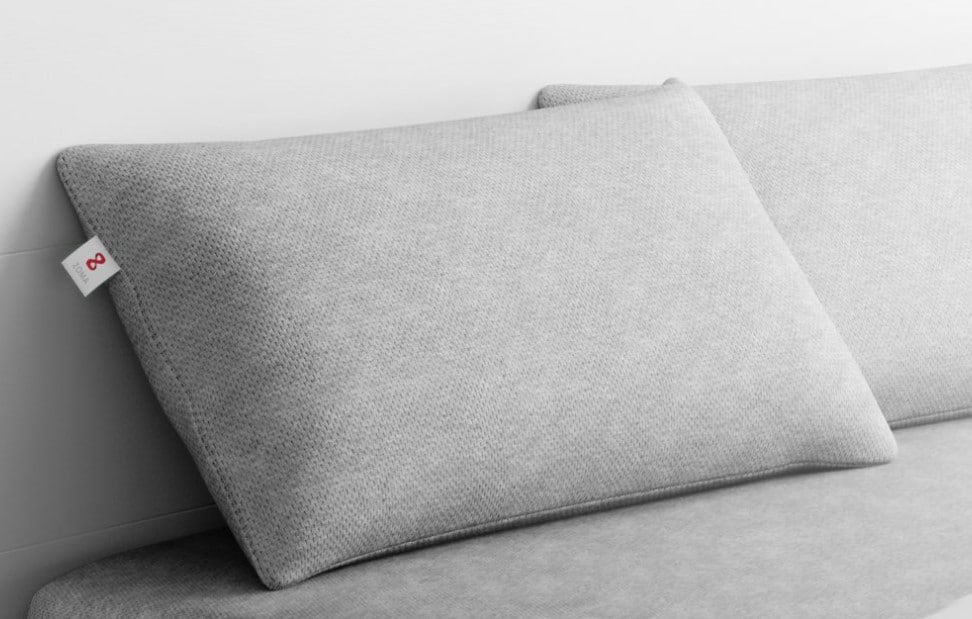 The Zoma Pillow is flexible and cool to match any person's sleep style. And with adaptive MicroCushions™ and a stretchy mesh cover, you're sure to stay cool while sleeping on the Zoma Pillow.
MicroCushions™ are shredded pieces of foam built to mold to your head and neck. Although the pillow is naturally a rectangle, you can shape the MicroCushions™ to contour better under you for added support and comfort. Unlike cheaper foams or down alternative, the pillow won't go flat nor does it need regular fluffing.
With the Zoma Pillow, you receive a 10-year warranty and free shipping.
Zoma Pillow
Stretch mesh cover increase airflow
MicroCushions™ provide deep contouring and pressure relief
1-year warranty
Most Affordable Contour Pillow: Vaya Pillow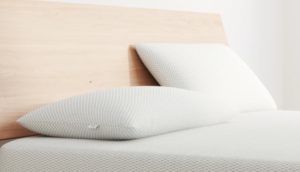 For a more affordable contour pillow, check out the Vaya Pillow. With plush foam, you can adjust the pillow's fill to closely support your head and neck for ultimate comfort.
The Vaya Comfort Pillow is filled with shredded Vaya Foam Blend, a breathable material designed to soothe tension and pain. Plus, the foam is CertiPUR-US® certified, meaning it's free from harmful chemicals and won't off-gas—that factory-like "new car" smell.
So you don't have to worry about overheating at night, the Vaya Pillow has a lightweight cover that doesn't trap heat or moisture.
The Vaya Pillow comes with free shipping and returns and a 10-year warranty.
Vaya Pillow
High-quality materials and affordable price
Filled with Vaya's naturally responsive comfort foam
10-year warranty
As its name suggests, the Eli & Elm Side Sleeper Pillow was made for side sleepers so they sleep pain-free and their spines stay aligned. It has a unique U-shaped curve where the shoulders rest and a spot where you can place your hands.
The pillow contains a shredded latex and polyester blend fill. The filling is antimicrobial, mildew-proof, and dust mite-resistant, so it's a good choice for people with allergies.
There's a small zipper on the side of the pillow so you can add or remove the filling as needed to adjust the height and firmness of the pillow. Since the Eli & Elm Side-Sleeper Pillow is made for side sleepers, we suggest keeping the pillow on the thicker side so your neck doesn't curve improperly.
The pillow's cotton cover is stretchy, durable, and soft.
Eli & Elm provides free shipping and a 45-day money-back guarantee for the Side-Sleeper Pillow.
Eli & Elm Side Sleeper Pillow
Filled with hypoallergenic shredded latex foam
Removable filling allows sleepers to adjust loft
45-day money-back guarantee
The EPABO Contour Memory Foam is another pillow with a unique, ergonomic design suitable for back and side sleepers. The bottom of the pillow concaves to support the natural shape of your neck and head.
This contour pillow contains sturdy memory foam and a bamboo-polyester blend cover. The pillow comes with removable foam inserts so you can adjust the pillow height as needed, while the cover is machine washable and dryer safe.
You receive a 30-day trial when you purchase the EPABO Contour Memory Foam Pillow.
EPABO Contour Memory Foam Pillow
Memory foam filling contours without losing support
Bamboo-polyester blend cover promotes breathability
30-day sleep trial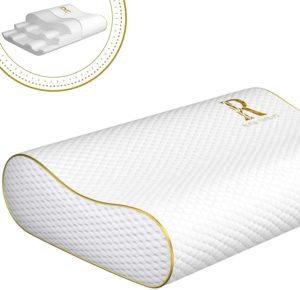 The Royal Therapy Memory Foam Pillow provides high-end support for different sleepers, all at an affordable cost. Since the Royal Therapy Memory Foam Pillow features a removable layer, even some stomach sleepers may enjoy the support of this pillow.
The pillow contains 3 layers of memory foam with slightly different lofts, designed to conform to the shape of your head and neck and relieve pain. Each layer of memory foam is CertiPUR-US® certified to prevent off-gassing.
The pillow has a lightweight liner to protect the foam layers. Over that is the pillow's bamboo rayon cover which keeps you cool and dry all night long. Both the liner and cover are machine washable.
Royal Therapy offers a 100-night trial and a 10-year warranty for their Memory Foam Pillow.
Royal Therapy Memory Foam Pillow
3 layers of memory foam with different levels of support
Bamboo and rayon cover is removable and washable
100-night sleep trial and 10-year warranty
Unlike the other pillows on our list, the Contour Legacy Leg & Knee Memory Foam Support Pillow isn't meant for your head. Instead, it's meant to rest between your knees or legs when side sleeping.
When you sleep on your side, it's common for your legs to chafe or your knees to rub together, which can worsen joint pain. This orthopedic pillow cushions your legs and better aligns your spine and lower back to minimize pain.
The memory foam in the Contour Legacy Leg & Knee Memory Foam Support Pillow is soft, almost doughy, but still supportive and durable. It retains its shape well, ensuring it won't go flat while you sleep.
Contour Living offers a 1-year warranty for the Legacy Leg & Knee Memory Foam Support Pillow.
Contour Legacy Leg & Knee Memory Foam Support Pillow
Orthopedic pillow designed to alleviate hip and knee pain
Memory foam filling contours to the curves of the body
1-year warranty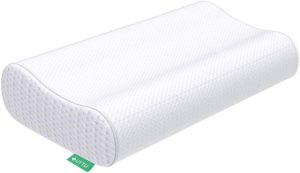 The UTTU Sandwich Pillow is an excellent, eco-friendly pillow choice for side and back sleepers. It contains memory foam and a cooling polyester-bamboo blend pillow cover. You can easily remove the cover and toss it in the washing machine for easy care.
The pillow's fill is made from three layers of UTTU Dynamic Foam, a breathable memory foam designed to conform under your head and neck. When you first receive the pillow, the pillow is about 4.7 inches thick at its highest point. However, it has an adjustable loft. You can remove the middle layer of memory foam to make the pillow 3.5 inches at its highest point.
The UTTU Sandwich Pillow comes with a 96-night guarantee and a 5-year warranty.
UTTU Sandwich Pillow
Polyester-bamboo cover prevents heat-trapping
Removable layer allow sleepers to adjust loft
96-night guarantee and 5-year warranty
What is a Contour Pillow?
Also called orthopedic or cervical pillows, contour pillows are curved pillows specifically designed to closely support your head and neck. Other types of pillows are flat and adapt to your head. Conversely, contour pillows already feature curves to match your head and neck's shape.
Contour pillows aren't all the same shape. Some contour pillows feature two arches and a dip, while others have a hollow in the center for your head. Different contour pillows provide their features and benefits.
Benefits of Using a Contour Pillow
Contour pillows can be a bit uncomfortable when you first start sleeping on them, but for many people, their immense benefits outweigh the initial discomfort. Sleeping on a contour pillow can improve your spinal alignment, alleviate muscle and joint pain, and reduce snoring and sleep apnea symptoms. Plus, they work for many different sleep styles.
Supports Spinal Alignment
Contour pillows provide support for your neck and head, keeping them aligned with the rest of your spine. Proper spinal alignment is crucial for helping you sleep comfortably and ensuring you won't wake up stiff, achy, or in pain.
Relieves Pain
Soothing joint and muscular pain is one of the biggest reasons people use contour pillows. Frankly, healthy spinal alignment and pain relief so hand-in-hand. By keeping your spine neutral, there's less stress on any part of your body, helping you relax and wake up without pain.
Contour pillows cushion the joints around your head and neck, making it easier to relax at night. If you use a body contour pillow—such as a knee pillow—you protect your legs from rubbing against each other and leading to pain.
Alleviates Snoring and Sleep Apnea Symptoms
Using a contour pillow is helpful if you struggle with chronic snoring or obstructive sleep apnea. Contour pillows raise your head and neck slightly, opening your airways and making it easier to sleep.
Of course, a pillow won't guarantee that your snoring and sleep apnea will go away entirely. Instead, contour pillows help minimize these symptoms, making it easier to sleep undisturbed.
Suitable for Multiple Sleeping Positions
You don't have to sleep a certain way to enjoy the benefits of a contour pillow. Most contour pillows provide adequate support for both back and side sleepers, ensuring they maintain good posture, experience pain relief, and breathe properly.
Still, contour pillows are generally not an option for stomach sleepers. Most contour pillows feature an arch for your neck to rest on, but when laying on your front, your throat will press into this arch, causing pain and potentially obstructing your breathing.
Common Pillow Fills for Contour Pillows
Not all contour pillows are equally effective. Your contour pillow's fill affects its durability, supportiveness, and breathability. The most popular pillow fills are made from foam or fibers, but you can also find unique fills such as buckwheat.
Memory Foam
Memory foam is a popular fill for contour pillows since it does a great job of soothing pain and pressure points. Some memory foam pillows can get hot, so we recommend looking for plant-based, gel-infused, or graphite-infused memory foam.
Memory foam pillows come in both shredded and solid variations for contour pillows.
Shredded memory foam contour pillows contain small pieces of memory foam for a soft and malleable pillow, while solid memory foam pillows contain a single block of memory foam for a firmer and more supportive pillow. Solid memory foam is more common for contour pillows, but you can find either.
Latex
Latex foam is a naturally breathable, supportive, and durable pillow fill. It's not quite as pressure-relieving as memory foam, but latex's responsiveness and cooling properties make up for this. Not only that, but latex is eco-friendly and biodegradable.
Although latex is hypoallergenic, it's not an option for people with latex allergies. Synthetic and blended latex options are out there, but they simply aren't as high-quality as natural latex, which is why we recommend avoiding these types of pillows. Some latex foam is harvested organically, making latex pillows one of the most popular organic pillows on the market. If you like the concept of latex pillows but have a latex allergy, look into memory foam pillows instead.
Down
Down is a natural pillow fill made from the feathers around goose and duck bellies. Down pillows are fluffy, soft, and don't have the spiky quills regular feather pillows have.
Although some contour pillows are made fully or partially from down, down isn't the most supportive pillow fill out there. It's luxurious and lightweight, no doubt, but it won't provide the same level of pressure relief as foam pillows will.
More supportive down pillows have a fill power—the amount of down per cubic inch—of 600 or more, but this comes with a high price tag.
Down Alternative
Down alternative pillows are a good choice for people with allergies or those with a tight budget. This hypoallergenic pillow emulates the feel and fluffiness of down without the high cost or the animal products.
However, down alternative pillows aren't as plush or durable as true down.  Even with regular fluffing, down alternative pillows will go flat or lumpy much sooner than down. Similarly, down alternative traps heat and moisture, further breaking down the pillow.
Buckwheat
Buckwheat—also called Sobakawa—pillows were first popularized in Japan for their natural firmness and support and nowadays, they're popular internationally. The pillows are filled with the hulls of buckwheat seeds and are responsive, breathable, and durable. Buckwheat is biodegradable, hypoallergenic, and resistant to dust mites and other bacteria, as well.
The primary issue with buckwheat pillows is that they are noisy and not always as comfortable as other pillows. The buckwheat hulls can crunch together and they can feel stiff under your head, which is unappealing.
FAQs
Are contour pillows worth it?
Contour pillows are a great option for sleepers looking for extra neck support or pain relief. They can be a bit pricey, but the payoff in terms of pain relief and comfort makes up for it.
At the same time, contour pillows aren't necessary for everyone. Stomach sleepers may find the thickness of contour pillows to be too much, and the arches can dig into their necks. Similarly, standard rectangle pillows can be just as great as contour pillows, especially if you aren't experiencing pain or any health conditions affecting your sleep.
What is the best contour pillow for neck pain?
Some of the best pillows for neck pain include the Amerisleep Flex Pillow, the Zoma Pillow, the Eli & Elm Side-Sleeper Pillow, and the Royal Therapy Memory Foam Pillow.
Look for a pillow with an arch that goes under your neck. This ensures your neck is properly supported, minimizing neck pain and the symptoms associated with it, such as headaches, migraines, shoulder pain, and difficulty sleeping. Pillows for neck pain often have a concave shape that fits beneath the neck.
What is the best ergonomic pillow?
A good ergonomic pillow should keep your head and neck neutral with your spine regardless of what position you sleep in. Many contour pillows are also called ergonomic pillows because they're designed to optimize your comfort and support. This ensures your body is in a healthy position and you wake up pain-free.
Should the shoulders be on a pillow when sleeping?
No, nearly all pillows are designed to support your head and neck only, not your shoulders. Placing your shoulders onto your pillow nullifies the purpose of a pillow since they leave your head and neck unsupported.
Unless a pillow clearly states your shoulders are meant to rest on the pillow—such as with a body pillow or wedge pillow—avoid resting your shoulders on it.
What is the correct way to use a contour pillow?
The correct way of using a contour pillow depends on the pillow itself since not all contour pillows have the same shape.
Some contour pillows have a "wave" shape, meaning it has two arches of different heights and a dip in the middle. Sleep with your neck resting on the taller arch and your head on the dip if you sleep on your side. If you sleep on your back, sleep with your neck on the lower arch and your head on the dip.
For contour pillows with a hollow in the center, rest your head on the hollow spot and your neck on the cushioned arches, regardless of whether you sleep on your side or back.
Conclusion
Whether you're struggling with neck pain at night or are looking for ways to stop your snoring, contour pillows have plenty to offer.
Not all contour pillows have the same shapes or features, so consider your personal preferences when weighing different options. Side sleepers might consider loftier contour pillows or models made specifically for them, while back sleepers may prefer adjustable contour pillows.