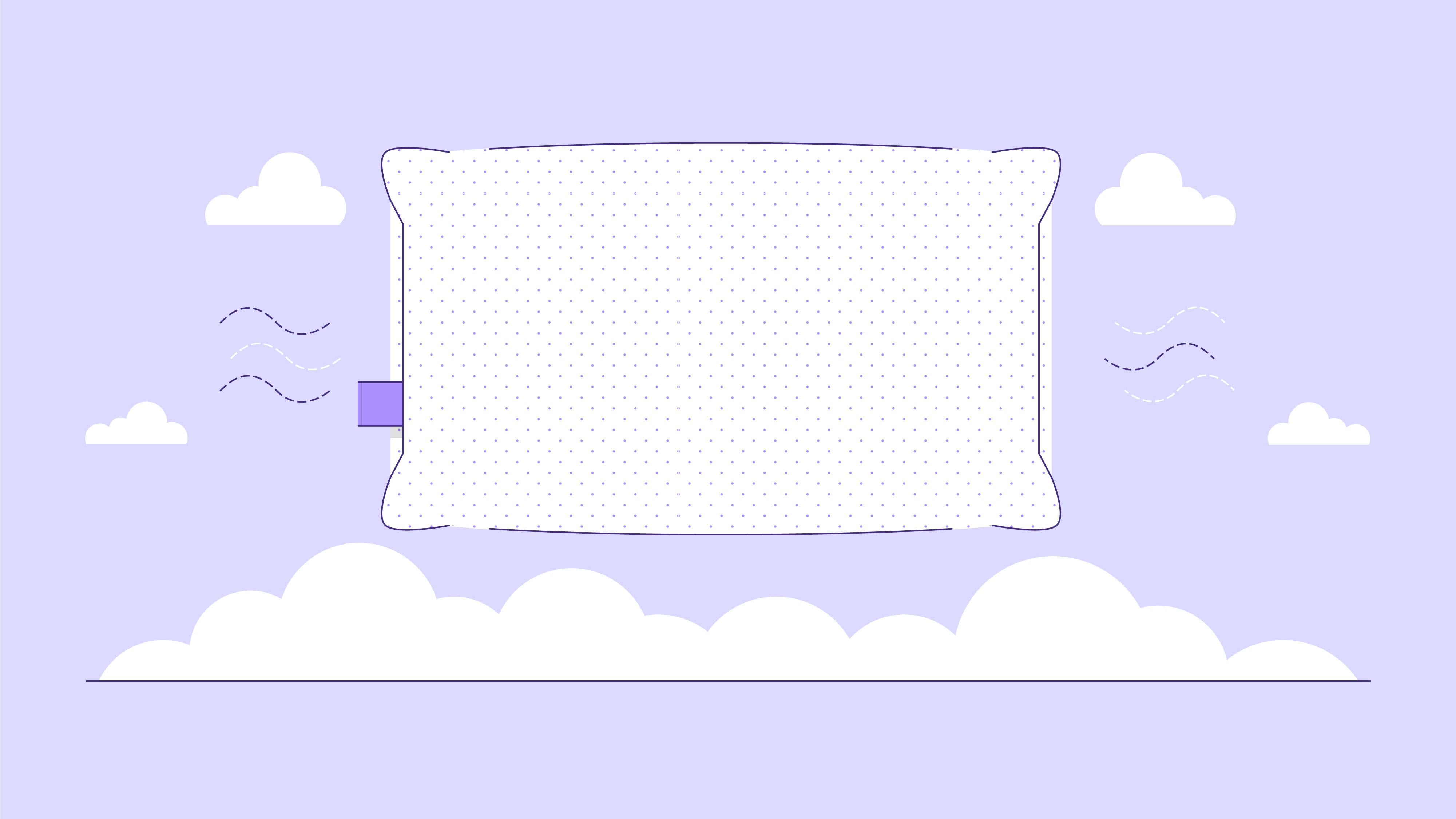 Best Memory Foam Pillow in 2021
Updated on: June 11, 2021

Bedding Guides
Memory foam is all the rage right now, and for good reason! It's pressure-relieving, conforming, and feels soft without being too springy or rigid. If you've previously enjoyed sleeping on a memory foam mattress, a memory foam pillow may be the perfect way to upgrade your night's sleep.
In this guide, we'll touch on our recommended memory foam pillows on the market today.
30 Second Summary: Best Memory Foam Pillow
Our Recommendation: Amerisleep Comfort Classic — This comfy pillow has a 6" loft and uses responsive, conforming Bio-Pur® foam to be the perfect option for a variety of sleeping styles. Its open cell structure and ventilated airways promote a cool sleeping surface. Plus, it comes with a removable, machine-washable cover— making maintenance a breeze.
Research & Resources
In writing this article, we…
Researched over 20 leading brands.
Read dozens of pillow reviews.
Spent 20 hours writing and revising to deliver the highest quality content possible.
Best Memory Foam Pillows
Pillow
Highlights
Price
Amerisleep Comfort Classic Pillow
Bio-Pur® contours to the shape of your head, providing pressure relief and support.
Removable washable cover
Amerisleep Flex Pillow
MicroFlex cushions allow you to quickly change the shape of pillow
Amerisleep Dual Comfort Pillow
Dual-sides pillow with a soft and firm side for more versatility
Zoma Pillow
Breathable, adjustable MicroCushion™ fill
Coop Home Goods
Medium-firm, adjustable fill
Dust-mite resistant
Breathable, machine-washable

Xtreme Comforts Shredded Memory Foam Pillow
Shredded memory foam fill, adjustable fill suits all sleeping styles
Weekender Ventilated Gel Memory Foam Pillow
Infused with temperature-regulating gel
5-inch loft, firmer than traditional down pillows

Dough by Z (Malouf)
Soft, conforming support
Stable, uniform comfort experience

Elite Rest Ultra Slim Sleeper Pillow
2.5" thick, great for stomach or back sleepers
Hypoallergenic, antimicrobial and bed-bug resistant

Sleep Innovations Cool Memory Foam Contour Pillow
Especially good for neck and shoulder pain
Cooling memory foam adapts to your head and neck

Nest Bedding Easy Breather
Adjustable fill made with shredded foam
Tencel blended fabric cover

Classic Brands Conforma Ventilated Memory Foam
Responsive memory foam provides ergonomic support
Medium-plush feel

Snuggle-Pedic
Adjustable bamboo combo memory foam
Soft and fluffy, lighter than average memory foam

The
best
memory foam pillow is hard to define because everybody has different needs, budget constraints, and personal preferences. Some people even like sleeping with more than one type of pillow. Taking all that into consideration, we did use certain criteria when putting together this list of foam pillows:
Construction: A cotton pillow will be comfortable at first, but after a few months or even weeks, it will start to flatten and become harder to sleep on. A longer-lasting pillow should have a hefty support system built into the filling, whether it's the foam they use or gussets sewn into the sides. A quality pillow will also be easy to maintain—the cover should be removable and washable.
Price: The average cost for a Queen-size memory foam pillow is between $50-$60, with some variation when the pillow has special features such as cooling gels or an adjustable loft.
Return Policy and Warranty: Return policies for pillows are not the same as those for mattresses, but a lot of foam pillows today come with a sleep trial. If you return the pillow within that time frame, your return is free and you'll be refunded. Additionally, the average warranty for foam pillows is 3-5 years.

Our Editors recommend the Amerisleep Comfort Classic Pillow as the best memory foam pillow. In every pillow, they include Bio-Pur®— a pressure-relieving, open-cell memory foam. Plus, the foam is ventilated with air channels for increased breathability.
Their Bio-Pur® is CertiPUR-US® certified. Meaning, it's manufactured without formaldehyde, PBDEs, or other harsh chemicals. You shouldn't experience any off-gassing, or a chemical-like smell, with these pillows.
The Comfort Classic is 6 inches thick, so it has the perfect loft for side sleepers and combo sleepers to get comfortable without misaligning their neck or shoulders. It's available in a queen or king size.
Every Comfort Classic is backed by a lengthy 10-year warranty, protecting you from defects.
Amerisleep Comfort Classic Highlights
The 6-inch loft makes it moldable and contouring, perfect for side and combo sleepers
Bio-Pur® is lighter than other memory foams so it shouldn't retain heat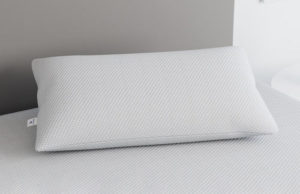 Amerisleep's Flex Pillow gives sleepers the ability to customize the shape of the pillow. Hundreds of eco-friendly MicroFlex cushions inside the pillow can be molded to fit your preferred loft. This feature also helps the pillow form to the unique curves for your head and neck for maximum comfort and support.
The cover of the Flex Pillow is made with a soft, breathable material that is ventilated for better air circulation. This cover is perfect for those that sleep hot or those who frequently wake up due to night sweats. This cover is also removable and machine washable, making it easy to keep your pillow clean and germ-free.
The MicroFlex Cushions in this pillow are backed by a CertiPUR-US® certification, so you can rest assured it is free of harmful chemicals and will have minimal off-gassing when brought indoors. 
Amerisleep's Flex Pillow comes with a 10-year warranty that covers manufacturing defects. It is also available in either a queen or king size.
Amerisleep Flex Pillow Highlights
Customizable MicroFlex cushions let you change the shape of the pillow
Ventilated cover for better air circulation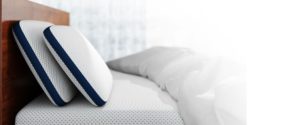 The Amerisleep Dual Comfort Pillow offers sleepers two different firmness options—perfect for those who may want to change the feel of their pillow each night. One side of the Dual Comfort Pillow offers a firm, yet gentle support the works to keep your head and neck in alignment with your shoulders, preventing tension build-up.
The firm side tends to work best when side sleeping because it prevents your head from sagging and causing alignment issues. The other side of the pillow has a softer feel that works best for back sleepers. The soft side allows for more compression and cradles the head and neck to support a neutral spinal position. 
Both sides of the pillow feature Amerisleep's Bio-Pur® plant-based foam, which is more breathable than more memory foam varieties. This material is also eco-friendly and non-toxic. To make the Dual Comfort Pillow even more breathable Amerisleep includes cooling air channels in this pillow to help body heat quickly dissipate, leaving behind a cool and comfortable pillow. 
The Dual Comfort Pillow is available in two different lofts—a 5-inch loft and a 6-inch loft. It also comes with a 10-year warranty. It is available in two different sizes—queen or king. 
Amerisleep Dual Comfort Pillow Highlights
Available in a 5-inch loft and a 6-inch loft
Dual-sided comfort

—firm and soft side
The Zoma Pillow's versatile nature lets it support a broad range of sleepers. It's 6 inches thick and available in queen and king sizes.
The pillow is filled with hundreds of MicroCushions™, a custom material that blends polyester with shredded memory foam. The MicroCushions™ are a breathable fill and are malleable enough to mold to your head and neck, regardless of your sleeping position.
A Zoma Pillow is easy to care for. Simply wash the pillow core on a delicate cycle with mild detergent every six months. Make sure you dry it on low heat.
The Zoma Pillow includes free shipping and an extensive 10-year warranty.
Zoma Pillow Highlights
Adjustable MicroCushions™ keep the pillow cool
10-year warranty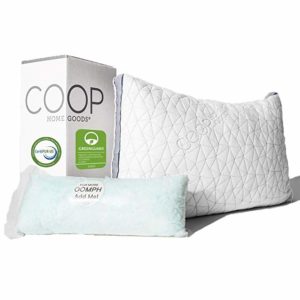 The Coop Home Goods pillow is "the most reviewed pillow on the internet." While we didn't completely fact-check this claim, the 11,000+ reviews on their website for this one product speak to the pillow's popularity. The foam filling is CertiPUR-US® certified, so it's made without those pesky heavy metals, ozone depleters, and formaldehyde. Plus, you can adjust the filling, so no matter your sleep style, this pillow gives you options. The bamboo cover ensures breathability, so you should stay cool on the pillow all night.
Coop Home Goods Highlights
Breathable bamboo-derived viscose cover
Viscoelastic polyurethane and polyester fill
Xtreme Comforts makes some of the top-selling pillows on the web. heir shredded memory foam pillow is one of the most versatile because of its close-conforming construction, making it great for all sleeping styles. The loft is adjustable, too, so you can pull out some stuffing if it seems too thick for your taste.
Xtreme Highlights
Kool-Flow Micro vented bamboo shredded memory foam is removable, so you can adjust the loft
Conforms to your head and neck, moldable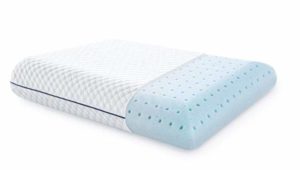 The Weekender Gel Memory Foam Pillow comes with a soft, removable cover made to withstand multiple washings and keep you sleeping germ-free.. The foam's ventilated design allows air to move through freely, so it shouldn't trap heat. The 5-inch medium loft is not too low or high, making it comfortable for side or back sleepers.
Weekender Highlights
Infused with temperature-regulating gel
5-inch loft makes it comfortable for most sleeping styles

The Malouf Dough® foam pillow features a unique foam designed to offer a softer, springier feel. The Tencel cover wicks away moisture and keeps you cool. On top of that, it's removable and machine-washable! The foam has smaller holes on the outside and larger holds towards the middle, giving you support where you need it and softness where you want it.
Malouf Dough® Highlights
Dough® foam creates a stable, uniform comfort experience
Multiple loft and comfort options available
The Elite Rest Slim Sleeper pillow is great for stomach or back sleepers because it's only 2.5 inches thick. It's flat on one side and lofty on the other, so you won't need to fluff it constantly to maintain its shape. The memory foam inside is hypoallergenic, anti-microbial, anti-bacterial, and bed-bug resistant— helping you get healthy, clean sleep.
Elite Rest Highlights
Machine-washable cover
The latex-foam fill gives you enough support to rest comfortably
This pillow is different from the rest— after one look you'll see it has quite an interesting shape. Contour pillows are characterized by two slopes, one higher than the other. These allow you to try each side and choose which loft is most comfortable for your sleep needs.
Because the foam inside is quite dense, this pillow holds its shape pretty well, unlike down or feather pillows that usually flatten over time. It's also integrated with cooling technologies, so it's wonderful for those who typically sleep hot.
Sleep Innovations Highlights
Specifically engineered to help with neck and back pain
Cradling, cool design helps you fall asleep fast and stay cool

The Nest Easy Breather is another fan-favorite on our list. It has a higher price point than most ($119 for a Queen-size), but the fact that it's adjustable makes it suitable for most sleeping styles. You can pull out as much filling as you want to adjust the loft; however, if you want even more filling, you can simply request it from Nest Bedding.
Nest Highlights
Tencel-blended fabric cover
8" shredded memory foam loft is adjustable

As far as firmness goes, this foam pillow falls right in the middle.. The memory foam fill is made with cool sleep technology and the cover is removable and washable, making maintenance easy. Because the foam is naturally antimicrobial, it should not trap bacteria or allergens— keeping your headspace clean and free of germs.
Classic Brands Highlights
Ventilated memory foam regulates body temperature
Ideal for side and back sleepers

Another shredded memory foam pillow on our list, the Snuggle-Pedic, comes with an extra breathable micro-vented cover to keep you cool all night. Close-conforming foam is easy on the neck and shoulders, and you can adjust the loft to your ideal comfort level.
Snuggle-Pedic Highlights
Shredded style combination pillow never goes flat
Kool-Flow Micro-Vented cover keeps you cool
Types of Memory Foam Pillows
Memory foam pillows come in all kinds of shapes and sizes. The foam inside can differ as well and what one user likes may be uncomfortable for another. Let's go over all the different types below.
Shredded Memory Foam
Lots of companies use shredded-foam to stuff their pillows. It's an easy way to recycle unused foam from mattress manufacturing, however, some companies prefer to manufacture new, high-quality foams specifically for their pillows.. Another nice thing about shredded foam pillows is their adjustability— so you can remove some of the filling in these pillows to adjust the loft.
Polyfoam Blends
Polyfoam blend pillows are not as common because they're typically lower quality. Skip poly-foam pillows and look for viscoelastic polyurethane memory foam or latex foam blends. as These materials hold up better and feel nicer.
Solid Core
A solid core foam pillow has one solid piece of foam acting as the filling. These pieces are usually ventilated with holes to keep them from being too heavy or dense.
Contoured
Contoured pillows have a different shape than the rest and are designed specifically for chronic pain-sufferers, or those who experience head or ear aches upon waking. They have dips or contours in the pillow for ample neck support.
Wedge
Wedge pillows are unlike any on our list—they are quite large and shaped like a wedge to give the user more of an incline when they sleep. This type of pillow is popular among those with acid reflux, heartburn, or other digestive ailments that worsen when lying flat. Pregnant women can also benefit from using wedge pillows because they often deal with gastrointestinal troubles.
Body
A body pillow is quite long, so it's not necessarily for traditional use, but it's great for pregnant women needing more support on their abdomen or stomach. Body pillows are also a good option for side or stomach sleepers who need a bit more support to keep their spine and pelvis aligned.
Pros and Cons of Foam Pillows
Yes, memory foam is a popular option these days for those who want a soft, supportive surface to rest on. It's also pressure-relieving, giving your neck a break from a long day of turning and twisting.. However, this material does come with potential drawbacks, and you'll want to take them into consideration before buying.
Pros
Pressure Relief: Foam is excellent for sensitive sleepers who suffer from neck, head, or ear pain. It's soft and contours nicely, ensuring you don't wake up with more pain.
Consistent Shape Over Time: Most solid-core foam pillows will not lose their shape over time . This is great for any sleeper who plans on keeping their pillow for a while and doesn't want to replace it every few years.
Moldable: Memory foam conforms to your head and neck shape, customizing your sleep experience perfectly! Its versatility makes it a great option for side, back, and stomach sleepers, as well as those who suffer from chronic pain.
Cons
Heat: One of the most common complaints about memory foam is its innate ability to trap heat, making the user wake up sweaty and uncomfortable. A lot of mattress brands have started to infuse other materials into their foam to combat this issue, such as gel, graphite, charcoal, or copper. Another way foam pillows can avoid trapping heat is with open-cell technology or ventilation holes, which you saw in most of the pillows on our list.
Smell: After it's been taken out of its package, some foam has a faint chemical odor, known as "off-gassing." If you air out the pillow for a few hours after opening, this smell should go away. If it lingers, it may be a sign your pillow is of lower-quality.
Cost: Yes, foam pillows are traditionally a bit more costly than your average cotton-stuffed pillow, but they last much longer and contour to your head shape better. You spend 8 hours of every day on your pillow, so investing in a comfortable one is a no-brainer!
Pillow Sizes
In our table at the beginning of the article, we showed you the prices for Queen-size pillows because that's the standard size most people buy. However, there are lots of other size options to fit all kinds of sleepers! Take note, these are the standard size dimensions for each pillow, but actual dimensions can vary depending on the brand.

Pillow Size
Dimensions
Standard
20W" x 26L"

Queen
20W" x 30L"

King
20W" x 36L"

Body
54W" x 20L"
48W" x 20L"
Who Should Use a Foam Pillow?
While we'd love to say that anyone and everyone can be comfortable on a memory foam pillow, they might not be for everyone. Memory foam pillows are best for:
Back sleepers
People who prefer a high loft
People who prefer a medium or medium-firm pillow
People who need extra support for their head, shoulders, or neck
Memory foam pillows may not work for the following:
Stomach sleepers (unless they choose a foam pillow with a low loft)
People who tend to sleep hot (unless they choose a cooling pillow made with materials such as gel or copper)
Pillow Care and Maintenance
Taking care of your pillow properly will ensure it lasts a long time. Most foam pillows come with a removable, washable case; however, you should always air-dry the cover to expedite the drying-process.
To clean the actual pillow, you'll need to spot clean it, because putting foam pillows in a washing machine can result in shrinkage or lumps and leave you with a waterlogged pillow.
Best Foam Pillows for Your Sleeping Position
We all have a favorite sleeping position, and knowing your preferred position will help you choose the best pillow.

| Sleep Position | Recommended Pillow Loft | Recommended Pillow Firmness | Recommended Pillow Types |
| --- | --- | --- | --- |
| Side Sleeper | Medium or High Loft (3-5"+) | Medium, Medium-Firm | Memory foam, latex |
| Stomach Sleeper | Low to Medium Loft(>3-5") | Soft, Medium | Down, down alternative, feather |
| Back Sleeper | Medium Loft (3-5") | Medium-Firm, Firm | Memory foam, buckwheat, latex |
| Combination Sleeper | Medium to High Loft (3-5") | Medium | Memory foam, down alternative, latex |
Frequently Asked Questions
How long does a memory foam pillow last?
It depends on whether the pillow is designed with a shredded fill or a solid memory foam core. Shredded memory foam pillows tend to last longer because you can machine wash them and fluff them up to resist flattening. A good memory foam pillow should last at least three to four years.
Can dust mites live in memory foam pillows?
The density of memory foam can typically keep out dust mites. But it is possible for the pests to infiltrate and settle inside a memory foam pillow (or mattress, for that matter). That's one advantage a shredded memory foam pillow has over one with a solid core—you can usually wash and dry a shredded foam pillow, eliminating any dust mites that have taken up residence.
Is sleeping without a pillow better for your neck?
If you're a back or stomach sleeper, you should always sleep with a pillow. Sleeping without a pillow leaves your head and neck without any support, causing your cervical spine to slip out of alignment. Stomach sleepers may benefit from sleeping without a head pillow.
What type of pillow is best for a side sleeper?
Thick memory foam pillows are an excellent choice for a side sleeper. A side sleeper's pillow should be between 4 to 6 inches tall to provide the neck support a side sleeper needs. Since memory foam is a conforming material, it can yield to your head while maintaining neck support.
How should I sleep to avoid neck pain?
Try to sleep with your neck at a natural angle, so it's not twisted to the side for hours. You should also avoid sleeping with your shoulders on the pillow. By placing your shoulders on the pillow you create distance between your pillow and neck, leaving your neck unsupported.
Did You Find Your Next Pillow?
We hope our guide has steered you towards the perfect foam pillow for your sleeping position, budget, and your mattress. After all, to get a good night's sleep, comfortable bedding is the key! Though it may seem a little daunting when you research the variety of different pillows sold today, finding your perfect pillow isn't an impossible task!