Zoma Mattress Review 2023

Mattress Reviews
If you're looking for a bed to support your active lifestyle, then look no further— the Zoma Mattress may be perfect for you! Engineered for athletes, Zoma facilitates deeper sleep and faster muscle recovery so you can wake up feeling refreshed.
It's hard to overestimate the impact of your night's sleep on your day-to-day performance. According to the CDC, 30% of adults aren't getting the recommended 7 hours of shut-eye. Zoma's goal is to leverage your time spent snoozing to boost your game.
Zoma's dynamic support system also works well for side sleepers, back sleepers, or if you suffer from chronic aches or discomfort.
In this guide, we discuss the ins and outs of the Zoma Mattress so you can decide if it's the best mattress for you.
30 Second Summary: Zoma Mattress Review
Zoma Mattress — Zoma's memory foam mattress is tailored towards athletes. It's designed to aid in deeper sleep, faster recovery, and better performance. Equipped with sleep-enhancing technologies, Zoma is one of the best mattresses to improve your night's rest. Plus, it comes with a 100-night sleep trial and a 10-year warranty.
Zoma Hybrid — The hybrid version features the same focus on recovery. Its breathable design limits sleep disturbances, and its bouncy lift keeps you feeling "on top" of the mattress.
What is Zoma?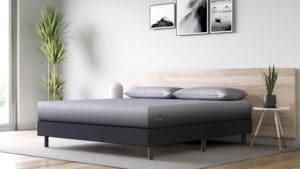 Launched in 2019, Zoma is a new online mattress brand. Shopping with them is pretty easy, as they only make and sell two mattresses. Their original bed is the Zoma Mattress.
The Zoma Mattress is a memory foam mattress made for athletes. Designed to help you sleep better and achieve peak performance, Zoma is an excellent bed to support your busy, active life.
Because so many of us are sleep deprived, it's hard to achieve everything we want in a day. Poor sleep limits your performance in all areas of life, whether it's training at the gym or reaching a new stepping stone in your career.
There's also the Zoma Hybrid, a hybrid mattress that borrows many features from the classic Zoma Mattress with some added bounce. A Zoma Hybrid has the same recovery-focused foams with a coil support layer lifting you for a good night's rest.
Zoma also makes a customizable pillow and mattress foundation, but this review will only go over the mattresses, breaking them down layer by layer and dissecting their materials.
Interested in the benefits of memory foam? Read our other guide on finding the
best memory foam mattress
for your sleep needs.
What Mattress Materials are Used by Zoma?
Their Zoma Mattress contains three layers of foam and includes pain-relieving Triangulex™ technology. A Zoma Hybrid contains four layers, with its top layers the same as what you would find in the original Zoma Mattress. However, a Zoma Hybrid has a different support core.
In this section, we review Zoma's most comfortable mattresses from cover-to-core.
Gel-Infused Memory Foam
The top layer of Zoma is 2 inches of gel-infused memory foam. When you lay down on the Zoma, this pressure-relieving memory foam contours to your body to offer instant cushioning comfort and alleviate pain points. The gel within the top layer of foam combats body heat and keeps you at a cool, comfortable temperature all night.
The memory foam found in this layer has a relatively low ILD and medium-density, so it should feel soft and conforming. We recommend this mattress for back and side sleepers, but it's likely too soft to properly support stomach sleeping.
Triangulex™ Technology
Triangulex™ technology is found within the top layer of foam to offer enhanced spinal support.
Around your midsection, Triangulex™ feels firmer to provide extra lumbar support and prevent uncomfortable sinkage.  Meanwhile, this technology contains triangle-shaped cutouts under your shoulders and hips to allow for deeper compression and better pressure relief on those major joints.
The design of Triangulex™ holds your spine in line with the rest of your body while still offering enough cushion to alleviate pressure points and prevent new ones from forming. Plus, the triangle-shaped cutouts promote airflow and prevent heat retention.
Because side sleepers are prone to aches and pains in their shoulders and hips, this technology is ideal for supporting side sleeping; and because it's pain-relieving, it's a fit for those with chronic discomfort.
While a good mattress can help alleviate pressure points, they offer only a fraction of the benefits
best adjustable beds
can provide. Read our guide to learn more.
Reactiv™
The second layer of Zoma is 2 inches of proprietary Reactiv™, a latex-like poly-foam. Reactiv™ primarily functions as a transition layer between the cushioning memory foam above and the durable core below, but it also impacts the overall feel of the bed.
Designed to be more responsive than memory foam, Reactiv™ gives Zoma a bit of bounce. Reactiv™'s responsiveness stops you from sinking uncomfortably far, preventing you from feeling "stuck" in the bed. Because it's so bouncy, it makes it easier to change sleeping positions and climb in or out of bed, too.
Support+
The third and final layer of a Zoma Mattress is 7 inches of durable Support+, a poly-foam. Support+ reinforces the two layers above and extends the longevity of the bed.
Pocketed Coils
Instead of Support+ foam, a Zoma Hybrid relies on 7 inches of pocketed coils for its support. What are pocketed coils? It's a design feature where a manufacturer wraps every coil to reduce motion transfer and muffle the squeaks and groans coils may make when they retract. The fabric wrappings around the Zoma's Hybrid's coils promote a night of undisturbed rest.
The pocketed coils rest on a foam base, which gives the coils a sturdy surface to push off from and limits sagging.
How Much Does a Zoma Cost?
Zoma sells its beds in most standard mattress sizes, including Twin, Twin XL, Full, Queen, King, California King, and Split-King. Below, we break down the pricing by size.
Twin – $399 for a Zoma Mattress, $699 for a hybrid
Twin XL – $499 for a Zoma Mattress, $799 for a hybrid
Full – $599 for a Zoma Mattress, $899 for a hybrid
Queen – $699 for a Zoma Mattress, $999 for a hybrid
King – $799 for a Zoma Mattress, $1099 for a hybrid
California King – $799 for a Zoma Mattress, $1099 for a hybrid
Split-King – $998 for a Zoma Mattress, $1598 for a hybrid
While the Zoma Mattress is affordably priced year-round, you can still keep an eye out for the best times to buy a mattress.
Yearly Sales on Zoma's Mattresses
Like many popular online mattress brands, Zoma tends to offer even greater savings on their mattresses during the big mattress sales events that regularly occur in a year. In the past, they've offered free bedding bundles with a new mattress that could save shoppers hundreds of dollars in accessories.
Some of the best mattress sales include:
Where Can I Buy Zoma?
Because Zoma is an online-only mattress brand, you can buy their beds directly from their website. As of now, Zoma does not have any showrooms; their beds are not carried at third-party retailers, so you're unable to try it before you buy it.
Zoma offers a risk-free sleep trial with each of their beds, allowing you to shop confidently online and try it in the comfort of your own home.
Sleep Trial and Warranty
Every Zoma mattress comes with a 100-night sleep trial and a 10-year warranty.
After the Zoma is delivered to your doorstep, you have around three months to sleep on it and decide if it's right for you. If you end up deciding against it after a month, contact Zoma's customer service team, and they'll arrange for a full refund.
Zoma's warranty protects you from sags greater than .75 inches. If your bed is showing visible sags or indentations at least .75 inches deep, Zoma will replace or repair your defective mattress for you free of charge.
Do Athletes Need More Sleep?
Just like athletes need to increase their caloric intake when in training, they need to get more sleep, too. Getting poor sleep not only makes you tired, but it also impacts your internal systems. When you're sleeping, your body is at work, repairing itself from the stresses of the day. If you don't allow yourself to rest as long as you need, you won't perform as well.
According to the National Sleep Foundation, adults require 7 to 9 hours of sleep each night. Athletes, however, can benefit from an extra hour or two of shuteye. It may be hard to get 10 or 11 hours of sleep at once, so athletes are encouraged to take afternoon naps.
If your mattress is not compatible with your sleep style, it can hinder your night's sleep, too. That's why it's important to find the best mattress for athletes, so you can make the most of your time spent sleeping.
A recent study tracked the athletic performance of eleven players on the Stanford University Basketball Team for two seasons. Half of the season, these eleven players would conduct their lives as normal, getting an average amount of sleep each night. During the second half of the season, the eleven participants were instructed to abstain from drinking caffeine and to tack on two more hours of sleep each night. If they were unable to get the extra two hours at night, they were asked to take daytime naps.
At the end of the study, researchers found those eleven participants showed increased athletic performance. They ran 5% faster than usual, and their shots were 9% more accurate. These athletes reported feeling better during games and practices and significantly less fatigued in their day-to-day functioning.
We would be remiss not to mention the inspiration for the Stanford Basketball study— a 2002 study on sleep extension and cognitive function on Stanford undergrad students. Many participants of this study were, by chance, student-athletes.  Researchers found student-athletes were reporting beating their own training personal records outside of the classroom, prompting them to take a closer look at the relationship between sleep and physical fitness.
The Relationship Between Exercise and Sleep
Everybody knows exercise contributes to a happy, healthy life. But in recent years, researchers have been exploring the ways your daily workout impacts your night's sleep.
When done strategically, you can use exercise to improve your sleeping habits. It's all about choosing the best exercises and finding the right schedule.
It's critical not to exercise too close to bedtime, especially if you're planning a more vigorous workout. When you exercise, your body temperature climbs. However, in the process of falling asleep, your internal temperature naturally drops. Elevated body temperature is not conducive to sleep. To prevent a restless night, reserve high-intensity training for the morning or early afternoon.
That said, exercising in the evening doesn't have to ruin your night's sleep. Recent studies have found doing light stretches before bed can activate your parasympathetic nervous system and help you wind down for sleep. Pilates before bed is another great way to decompress. Pilates focuses on relaxing tense muscles and increasing flexibility, so it's ideal for preparing your body to rest.
If you're a fan of cardio, we've got good news for you— researchers have found a 30-minute morning run can lead to falling asleep faster. Recent studies have also found those who get some cardio in the mornings spend more time in deeper, more reparative sleep cycles than those who are sedentary. Plus, morning cardio has been proven to effectively lower your blood pressure.
If you do it right, you can get better sleep by leading a more active lifestyle.  Even if you're worried about timing your workout right, sleep specialists and doctors agree squeezing in 30 minutes of physical activity a day is always better than skipping it altogether.
Frequently Asked Questions
Are mattress in a boxes like the Zoma Mattress any good?
This is a difficult question to give a clear-cut answer to because there's a wide variety of mattresses in a box available, made with all sorts of different materials. With so many brands and mattress types to choose from, the quality of a mattress in a box can vary. However, high-quality mattresses in a box do exist and can last you a decade or more.
Some customers are particularly shy about ordering a mattress online because they can't feel it or even see what it looks like in real life before buying it. But it's perfectly possible to pick out an excellent mattress in a box without ever seeing it for yourself. Most mattress in a boxes include an extensive sleep trial that lets you test out a mattress at home for a few months. If you don't like your chosen mattress after giving yourself time to adjust, you can return it for full refund.
You can also skim through customer reviews to see what other people thought of the mattress. Don't just read through the four and five-star reviews, but try to spare a moment to see why one-star reviewers rated their mattress as low as they did.
Does the Zoma Mattress require a box spring?
Like other memory foam mattresses, you shouldn't pair the Zoma Mattress with a box spring. The coils inside a box spring are spaced too far apart to provide uniform support, so parts of a memory foam mattress may sink between the coils and stretch the bed out of shape. Instead of a box spring, make sure your mattress is kept on a flat surface that's either solid or has slats no more than 3 inches apart.
What is the best month to buy a mattress?
May is often recommended as the best month to find great mattress deals. New mattress models are often released in June, so retailers try to clear out their older stock to make room. Memorial Day weekend in particular is a good time to buy a new mattress.
Of course, May isn't the only month when you can find great mattress deals. Other big sales days include Presidents Day, the Fourth of July, Labor Day, and Black Friday.
How much should I spend on a mattress?
The answer to this question often depends on what kind of mattress you're searching for. Are you shopping for a twin size mattress with no added features for a guest room or a child's room? You can probably find a good mattress for around a few hundred dollars, then. But if you're looking for a luxury mattress made with only organic materials, you might have to spend a couple thousand dollars to get what you want.
If you're looking for a quality queen size mattress, a good budget range might be $600 to $1,500. As a reminder, the Zoma Mattress is affordably priced, with a queen size mattress costing $750.
What do online mattress companies do with returned mattresses?
Companies can't sell mattresses that have been slept on, but they don't just throw their returned mattresses in the trash. Most online mattress companies like Zoma work to help customers donate their returned mattresses to charity. That way, your gently used mattress doesn't go to waste and can provide someone else with a comfortable night's rest.
Is Zoma Right For You?
We hope our guide has helped you decide if the Zoma Mattress is right for you. If you need a mattress to complement your active lifestyle, the Zoma is perfect. But even if you just need to get a better night's sleep, Zoma fits the bill.