Best Futon Mattress Toppers of 2023: Reviews and Buyer's Guide

Mattress Accessories
There's a lot to love about futons: their dual purpose as a couch and a bed, their funky style, and their easy foldability. However, one thing a lot of people don't love is futons' often lumpy and unsupportive mattresses.
While you could replace the mattress that came with your futon, a much easier and cheaper solution is a quality mattress topper. Far from those flimsy, egg-carton mattress pads from the 90s, today's mattress toppers are supportive, cushioning, and cooling. Let's take a look at some of the best ones to put on your futon.
Best Futon Mattress Toppers of 2023
If you want a serious upgrade to your mattress's feel and support, the Lift By Amerisleep™ Mattress Topper is the one for you. It takes some of the most comfortable features from Amerisleep's amazing mattresses and puts them right in a mattress topper, including their pressure-relieving HIVE® sleep technology and an ultra-breathable, cooling cover.
The Lift comes in two different firmness options. The Comfort Lift uses Amerisleep's Bio-Pur® material to offer extra cushion while the Support Lift sports their Affinity material with HIVE® to offer firmness and support. Both options come with a non-slip grip pad on the bottom to keep the topper firmly in place.
If you're looking to add some additional cradling to an overly firm futon mattress, go for the Comfort Lift, and if your futon mattress is too soft, the Support Lift could be just the thing you need to get that extra support.
Lift By Amerisleep™ Mattress Topper
Available in two firmness levels
Made with plant-based memory foam
Offers zoned support to the lumbar spine
The Zoma Balance Pad is designed to promote a safe, neutral spine so the muscles can fully relax and recover during sleep. With the perfect balance of cushioning and support, this mattress topper has become a favorite of athletes and those who live an active lifestyle.
Made with Zoma's unique Reactiv™ foam, a highly responsive material, the hips and shoulders are not at risk of sinking too far into the mattress on the Balance Pad. This ensures the spine doesn't curve unnaturally and put pressure on the back muscles. With the spine neutral and the joints cushioned, sleepers wake up with less pain and stiffness. 
The soft, ventilated cover of the Balance Pad is made with a microfiber and Spandex blend. This combination creates a smooth, flexible surface that moves with you during the night and won't trap heat and moisture. If your futon mattress is too soft or too firm, the Zoma Balance Pad can help you create a more comfortable sleep space.
The Zoma Balance Pad also comes with free shipping and a generous 5-year warranty.
ZOMA BALANCE PAD
Microfiber and Spandex cover
Latex-like bounce promotes a neutral spine
CertiPUR-US® certified foam
If you want a topper that makes your futon more comfortable, then you also want durability to make sure that comfort lasts and provides high-value return on your investment. The Viscosoft Select High Density Mattress Topper relies on dense, sturdy that is sag-resilient and resists permanent impressions.
The memory foam inside the topper is infused with gels and the conforming medium-firm feel relieves pressure points and minimizes motion transfer. The topper is available in 3 or 4 inches, with the 4-inch topper meant to provide comfort for larger individuals while the 3-inch topper suits average sleepers.
The topper fabric can be easily removed and tossed in a machine washer, keeping the surface clean. The bottom of the topper cover has a mesh fabric that keeps it from sliding out of place, supplanted by the elastic straps that tie down the topper and secure it to the mattress's corners.
Your purchase of a Viscosoft Select High Density Mattress Topper comes with a 90-day trial period and a 5-year warranty, along with free shipping.
VISCOSOFT SELECT HIGH DENSITY MATTRESS TOPPER
Adds 3 or 4 inches to a futon for durable comfort
Cooling foam with a breathable, removable cover
Medium-firm feel supports and cushions bodies
The problem with a lot of traditional futon mattresses is they have little air circulation. For average sleepers, this might be just annoying, but for hot sleepers, it can be downright nightmare-inducing. Enter the POLAR SLEEP mattress topper.
This ventilated gel memory foam mattress topper is infused with cooling gel beads to dissipate body heat. The CertiPUR-US® topper comes in two thickness options (2-inch and 3-inch), so you have the choice to get the thinner one and slide it right under your futon mattress cover.
For those who love fun colors, it comes in swirly marbled blue to give your futon a funky look if you decide to lay it on top of the mattress cover.
SEE ALSO: Best Memory Foam Mattress Topper
Polar Sleep Gel Memory Foam Mattress Topper
Gel-infused memory foam
Available in either 2 or 3 inches
CertiPUR-US®memory foam
If you're looking to avoid spending too much money on a mattress topper, the Alwyn Home Green Tea Cooling Gel Memory Foam topper is a great option. At just over $30, this is one of the most budget-friendly toppers you can get.
Despite its price, this is still a high-quality topper engineered with thermoregulating gel to help keep you cool throughout the night, CertiPUR-US® certified memory foam to offer pressure relief to your joints, and an odor-eliminating layer to keep the topper from absorbing foul smells.
The medium firmness level will soften up too-hard futon mattresses without sacrificing support, and the compressible material is highly foldable.
Alwyn Home Green Tea Cooling Memory Foam Mattress Topper
Affordable price
CertiPUR-US® certified memory foam
medium firmness level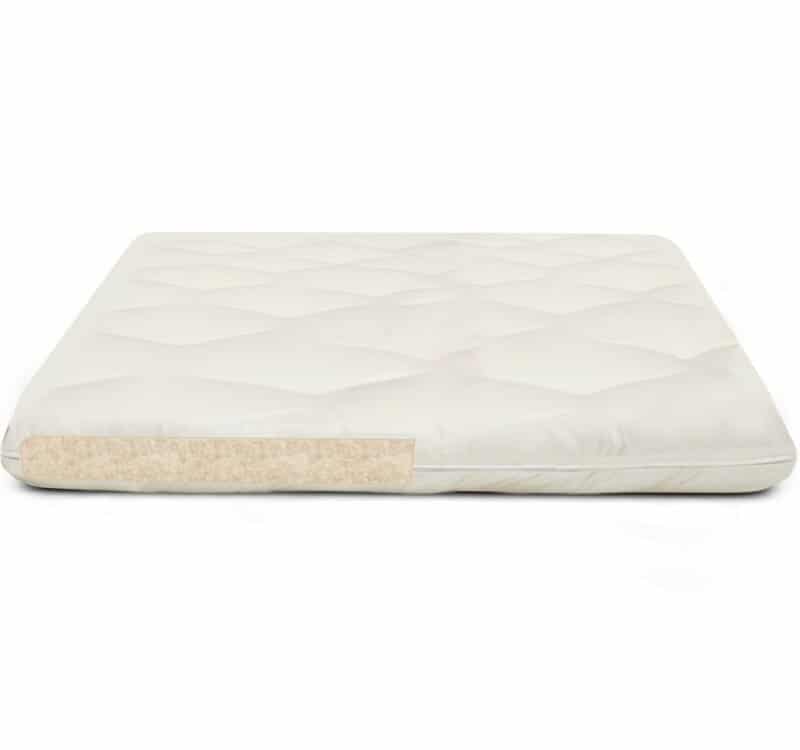 If you get cold at night, a wool mattress topper might be for you, and the Futon Shop's non-toxic, hypoallergenic wool topper is right at the top of our list. Made of chemical-free virgin wool, this temperature-regulating topper comes with a breathable cotton cover to wick away moisture, keeping you from sweating no matter how warm you get.
This extra-thick topper won't just keep you comfortable, it'll also cushion your pressure points and elevate the comfort level of even the lumpiest futon mattress. One thing to keep in mind is this topper weighs 14 to 21 pounds (depending on whether it's a full or queen) and is several inches thick, so you might have to stow the topper when the futon is folded.
The Futon Shop Chemical Free 2-Inch Wool Mattress Topper
Extra-thick topper
100 percent wool fabric
Hypoallergenic and non-toxic
Latex is a great material for a bed or a couch—it's cool, cushioning, and bouncy—making it perfect for a futon topper. When it comes to latex toppers, they don't get much better than Comfort Pure's latex offering. This topper comes with a full 2.5 inches of premium, ventilated latex foam and a soft, removable bamboo cover for easy washing.
Comfort Pure's latex is naturally durable, hypoallergenic, and antimicrobial. It's also conducive to proper spinal alignment, making it perfect if your futon is going to get a lot of use. Best of all, Comfort Pure offers a full 3-year manufacturer warranty on this product.
Comfort Pure 2.5 Inch Latex Mattress Topper
Non-toxic latex foam topper
2.5 inch thickness
3-year warranty
FAQs
Do futons fold in different ways?
There are a few different configurations for a futon, and the three most common frame types are bifold, loveseat, and trifold. Bifold futons are the most popular frames. These frames simply fold in half longways to make a sofa and stretch out flat to make a queen or full size bed.
Trifold futons fold the mattress into thirds rather than in half, giving the couch a nice footrest when it's in the folded position. Loveseat futons can fold like a bifold or a trifold, but they use a two-piece mattress and make a loveseat or armchair when folded and a twin size bed when unfolded.
One thing to keep in mind with trifold futons is you'll need to use a thinner mattress with them to accommodate the way they fold.
Are futon mattresses the same dimensions as bed mattresses?
Typically, yes. Futon mattress sizes are the same as standard mattress sizes. Whether you buy a queen, full, or twin futon, the mattresses that come with these futons should be the same size as a traditional mattress.
The most common futon size is full size mattress because this size is the easiest to convert to a sofa, but it's also easy to find futons in twin and queen sizes. It is possible to get a king futon, but it's much more difficult, and they almost never come in California king size.
If you're worried your futon mattress size may be custom or you don't know what size your futon is, you can always break out the measuring tape before you buy a mattress topper for your futon. The standard mattress dimensions are:
Twin: 38 by 75 inches
Twin XL: 38 by 80 inches
Full/Double: 54 by 75 inches
Queen: 60 by 80 inches
King: 76 by 80 inches
California King: 72 by 84 inches
What's so different about a Japanese futon?
Japanese futons aren't really what Westerners would think of as a futon. Instead, Japanese futon mattresses are rollable, quilted versions meant to be laid on the floor or a foam, wooden, or tatami mat. Traditional Japanese futons are often stuffed with cotton, fiberfill, or other soft-yet-flexible materials that are cushioning enough to sleep on but can still be rolled up for storage.
What's the best mattress type for a futon?
Most futons come with their own mattress, but if you're looking to customize, just remember foldability is key. That means you really shouldn't put any type of mattress with coils on a futon (so innerspring mattresses and hybrid beds are not recommended).
If you want a more bed-like feel than what's provided by a traditional futon mattress, both natural latex beds and memory foam mattresses feel more like a true sleeping surface but can fold to serve as a sofa. However, latex has more bounce than memory foam, so it may feel a little more like a couch when you're sitting on your folded futon.
Are there alternatives to a futon?
If you're in the market for a stowable bed, you have a few options. Sofa beds (also often called a hide-a-bed or sleeper sofa) allow you to fold your mattress and stow it inside your couch. Murphy beds let you tilt your bed sideways or longways and flip it up into a cabinet in the wall. And trundle beds let you slide an extra bed under your existing bed.
Bottom Line
If you're looking to make your futon mattress more comfortable without buying a new mattress, a high-quality topper can make sleeping on your futon mattress a lot easier. Just don't forget stowability is key because whether you fold the topper and sit on it or roll it up and stuff it in the closet, it needs to be flexible enough to fold at least in half.