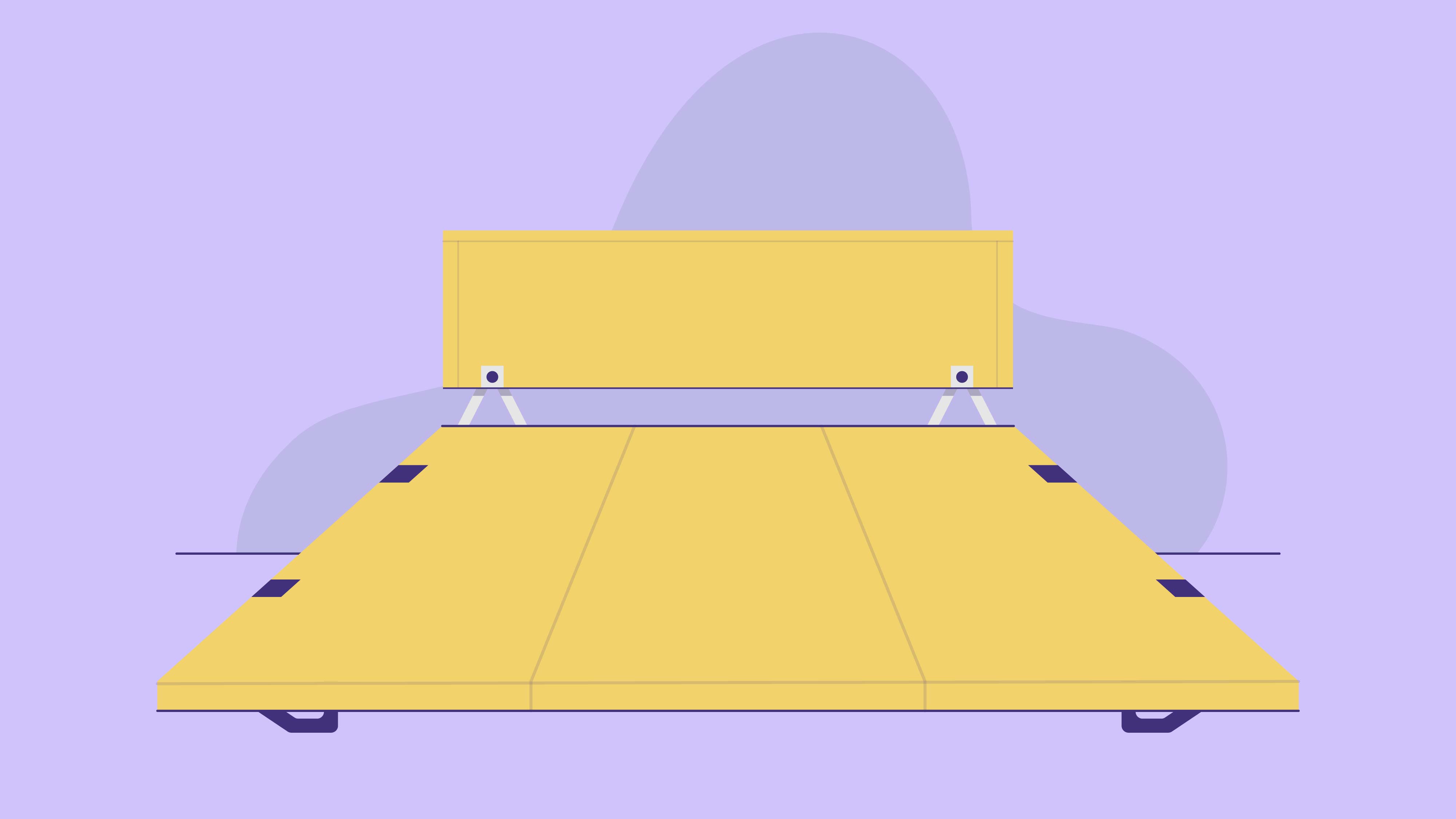 Best Floating Beds: Reviews and Buyer's Guide

Mattress Accessories
When it comes to supporting your mattress, you need a bed frame with a flat, even surface to prevent sagging and indentations. However, you also want a frame with a unique, interesting design that fits your bedroom's decor.
Platform beds have become popular in recent years for their sleek, low-profile, and minimalistic design. Similar to a platform bed, floating beds provide a stable, firm base for your mattress to rest on. However, thanks to the positioning of the legs, floating beds create the illusion that your mattress is hovering above the ground, hence the name "floating."
If you are interested in upgrading your bed frame or changing the look of your bedroom, a floating bed is a great option. To help you select the perfect new addition to your space, we outline some of the best floating beds on the market. Plus, we review the pros and cons of a floating bed and why it might be right for you.
Best Floating Beds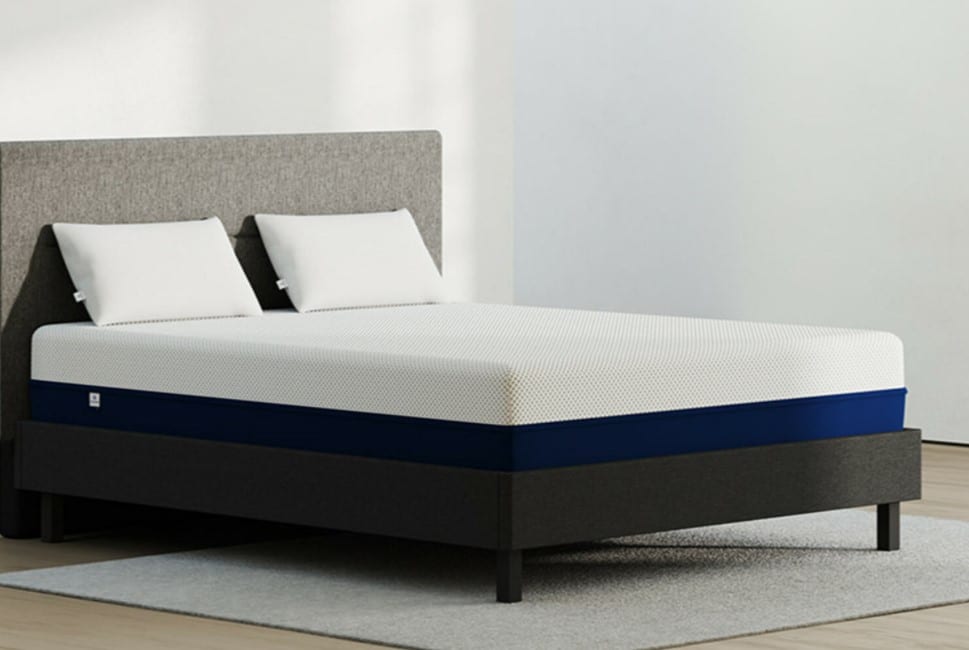 Amerisleep Platform Bed has a sleek, modern design that complements any bedroom decor. This bed frame provides a classic yet minimalistic look and a stable, solid base for your mattress to rest on.
The solid wood slats of the Amerisleep Platform Bed will keep your body weight evenly distributed, ensuring that the mattress doesn't develop sagging or indentations. Each slat is also oversized and surrounded by side rails to keep your mattress firmly in place throughout the night.
The entire Amerisleep Platform Bed can be assembled within minutes and requires no tools. The bed frame is 13.5 inches tall.  The Amerisleep foundation is available in six different sizes—twin, twin XL, full, queen, king, and California king.
Each Amerisleep Platform Bed comes with a 1-year warranty, covering manufacturing defects, such as rips in the fabric or breaks and dents in the wood.
Amerisleep Platform Bed
Wide slats promote a balance between airflow and support
Neutral gray upholstery complements most bedrooms
Square, sturdy legs create underbed storage
The Zoma Mattress Foundation consists of a 100 percent solid pine frame covered in black dry knit upholstery for maximum support and breathability. The smart slat pack rests on top of the wood frame to prevent sagging and promote a healthy spinal position.
The slat pack is covered in a 100 percent polyester knit fabric for added durability and airflow. This material also ensures your slats remain securely on the bed with no slipping.
Both the frame and the slat pack are easily assembled and require no tools. By adding the included legs, the foundation can be placed directly on the floor and used independently. If you prefer a bed frame with a headboard or footboard, you can place the Zoma Foundation on most modern frames.
Without the legs, the Zoma Foundation is 8.5 inches thick. By adding the legs, the frame has an overall height of 14.5 inches. You can purchase the Zoma Foundation in six mattress dimensions, including twin, twin XL, full, queen, king, and California king mattresses.
Zoma also includes a 1-year warranty with each of their foundations. This coverage ensures Zoma will fully repair or replace the foundation if any manufacturing defects are found during the first year of use.
Zoma Mattress Foundation
Non-slip fabric covers slat pack
Detachable legs for adjustable height
No tools required to put together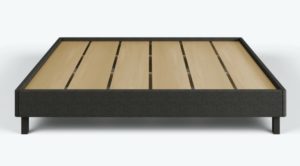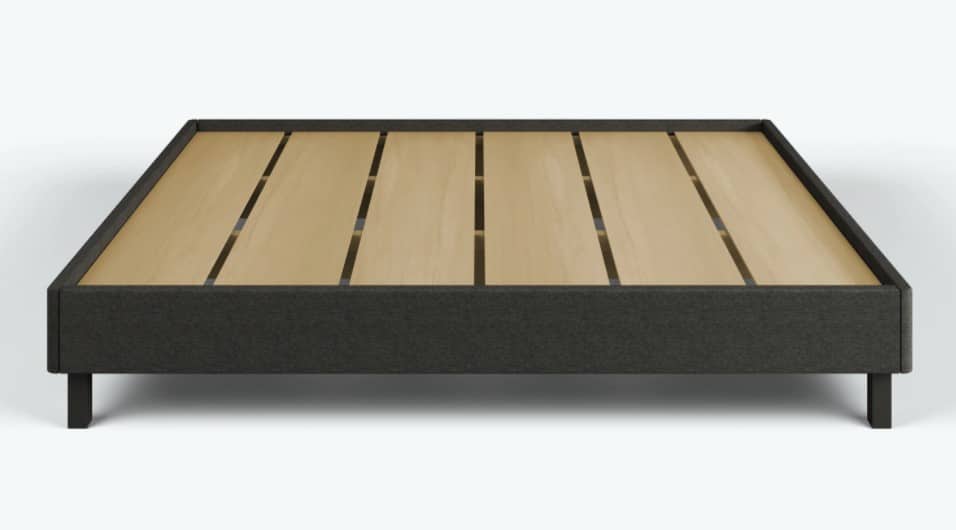 Hardwood sides, center support, and slats make up the Vaya Platform Bed. The floating bed's sides are also covered in light grey polyester knit fabric, giving the bed a sleek, modern look that fits well with almost any room style.
The slats that form the bed's platform are oversized, or wider than the average bed's slats. This added width ensures that a mattress won't sag due to lack of support, but the spaces between slats promote the airflow needed to keep body heat and moisture from building up.
While the Vaya Platform Bed is intended for uses with Vaya's mattresses, you can keep almost any mattress on the platform bed. The bed frame keeps memory foam, latex, innerspring, and hybrid mattresses in great shape.
The Vaya Platform Bed stands 13 inches tall and is designed to replace the traditional panel bed. You can't use the platform bed with another frame, but the frame is designed to look good and feel supportive on its own.
The Vaya Platform Bed is available in six standard sizes—twin, twin XL, full, queen, king, and California king size frames. Vaya includes a 1-year warranty with its platform bed to ensure the customer receives a quality product.
Vaya Platform Bed
Choice of six standard sizes
Platform bed frame supports most mattress types
Gray fabric cover gives a minimalistic, neutral look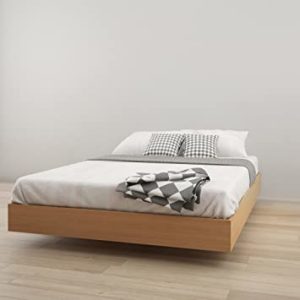 The Nordik Platform Bed by Nexera has a unique design that makes it look as if the bed is suspended above the ground. This design is achieved thanks to the position of the legs, placed beneath and inside the slats and wood frame.
The frame material of the Nordik Bed is CARB II, and FSC (Forest Stewardship Council) Certified particleboard and MDF (medium density fiberboard) materials. These certifications guarantee the frame is eco-friendly and safe to bring into your home.
The exterior of the Nordik frame has a smooth, natural maple laminate finish. Although the overall product weight is about 100 pounds, the frame is designed to support up to 500 pounds. The ends of the beam are also secured to the wooden frame to prevent slipping and damage to your mattress.
Once assembled, the Nordik Bed has a total height of 7.5 inches, giving it a clean, low-profile look. It is available in a queen and king size.
The Nordik Platform Bed is manufactured in Canada but comes with free shipping when shopping on Amazon. Sleepers can even opt for expert assembly for an additional cost. Nexera also offers a matching headboard and nightstands that can be purchased separately. With the included pocket holes, the headboard can be easily attached using screws.
Nordik Platform Bed
Unique support gives the impression it floats
Eco-friendly materials for a sustainable frame
Low-profile with potential for a headboard
5. Floyd Platform Bed
The Floyd Platform Bed has a unique panel design allowing sleepers to add or remove panels to fit most standard mattress sizes. By adding a panel, you can extend the bed frame from a twin to a queen; a second panel extends the bed to a king. These adjustments make the Floyd Platform Bed versatile and functional.
Made from birch and walnut veneer, the Floyd Bed has a warm, timeless look. Their proprietary honeycomb core makes the bed lightweight and easy to move without sacrificing support and comfort. The wood used in the Floyd Bed comes with a CARB II (California Air Resource Board) certification, ensuring it will have minimal formaldehyde emissions when brought indoors. Floyd's wood is also manufactured using eco-friendly processes.
The standard model comes with your chosen number of panels and legs you can secure to the bed with no tools. Once attached, the legs are hidden from view, creating the illusion that the bed is floating. When purchasing a Floyd Bed, you can also add a headboard or an under bed storage space on each side of the bed.
The Floyd Platform Bed is available in four colors—birch/black, birch/white, walnut/black, and walnut/white. You can choose from three different sizes—twin, full/queen, and king. Floyd also offers a 10-year warranty and a 30-day return policy.
Floyd Platform Bed
Optional headboard for an extra fee
Choice of colors to suit different bedroom styles
Add or subtract panels as needed
What is a Floating Bed?
As its name suggests, a floating platform bed appears to "float" just above the ground. This is done by placing the legs in a discreet location that is not plainly visible on the exterior.
Most floating beds have a slatted base made of wood or metal to keep body weight evenly distributed and protect the mattress from sagging and indentations. Slats are either wrapped in a non-slip fabric to prevent movement or attached to the frame's side panels.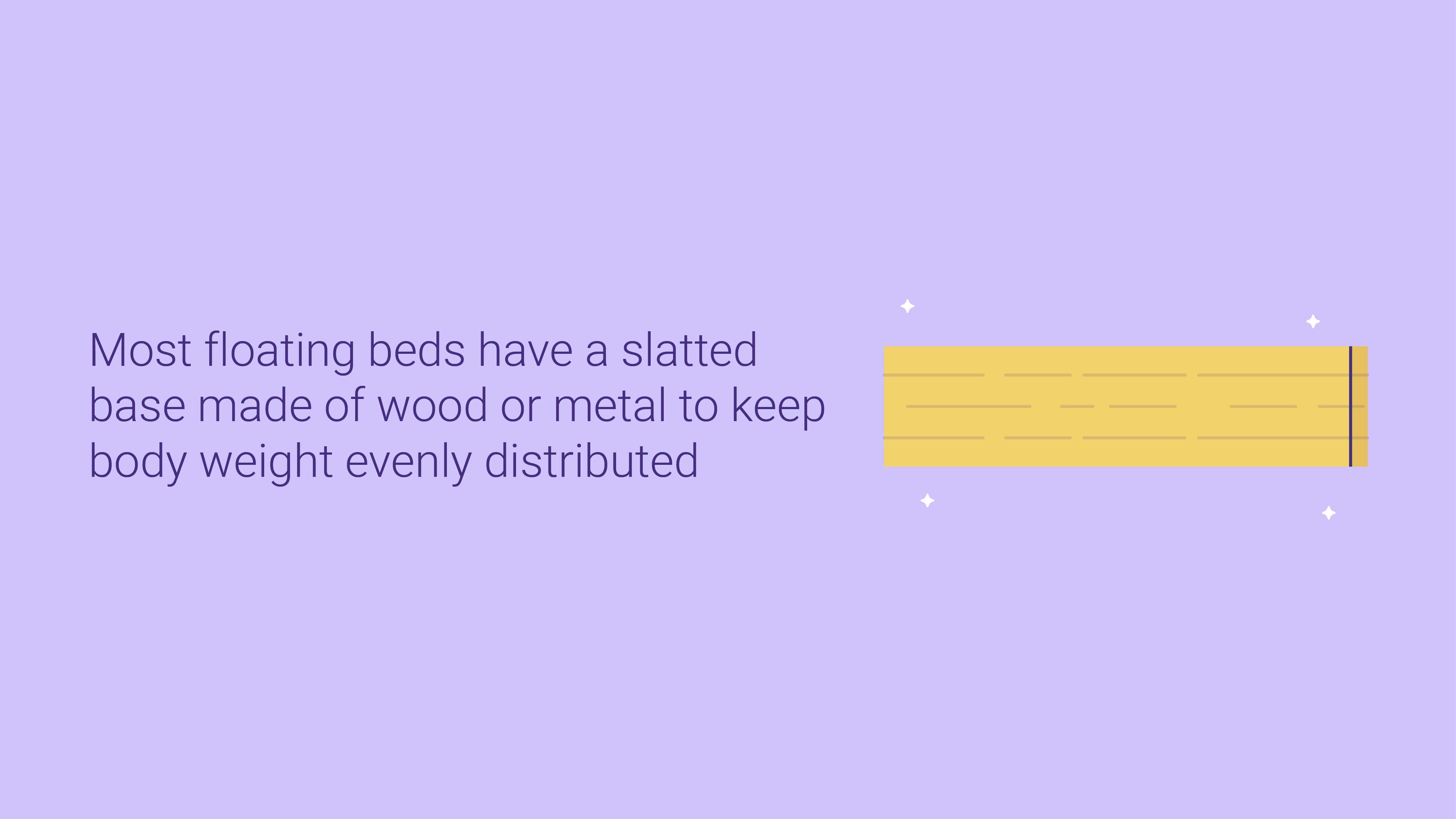 Most floating beds are made of solid wood. However, some may have upholstery or metal accents. These bed frames come in most standard sizes and do not require a box spring. Floating beds are designed to support the sleeper and the mattress with no additional mattress foundation.
Floating beds often have a low-profile design and typically sit no more than 14 to 15 inches high. This design gives them a clean, modern look. Some floating beds also come with an optional headboard, matching nightstands, under-bed lighting, or storage drawers.
While the price of a floating bed will vary based on size and manufacturer, most cost between $300 and $1000. Additional components, such as customizable sizing, headboards, LED lights, and storage spaces, can increase the price of the bed.
Pros and Cons of Floating Beds
Floating beds create a unique and interesting focal point for any bedroom. However, they may not be right for everyone. Below, we outline the pros and cons of a floating bed.
Pros of a Floating Bed
Floating beds are less bulky and create space for other bedroom furniture, such as a nightstand or bookshelf.
The underside of the bed is easy to clean and access.
No additional mattress foundation or box spring is needed to support your mattress.
The low-profile design is suitable for a bedroom with a modern look.
Floating beds sit comfortably on rugs and plush carpets.
Cons of a Floating Bed
Inexpensive floating beds may have a low weight capacity.
Some suppliers offer limited sizing options.
Floating beds are low to the ground, making it harder for some to comfortably get in and out of bed.
Limited storage area underneath the bed.
Modern design may not pair well with all bedroom furnishings.
Frequently Asked Questions
Are floating beds safe?
Yes. Floating beds are safe because they are not actually floating. The position of the legs makes the bed look as if it is hovering above the ground. However, floating beds sit firmly on the ground and support the sleeper the same way a regular bed would.
Do you need a box spring with a platform bed?
Platform beds and floating beds do not require a box spring. These bed frames come equipped with support slats designed to bear the weight of the mattress and sleepers while preventing sags and indents from forming. See our comparison of box spring vs platform beds for more information.
Are floating beds sturdy?
Yes. Floating beds have either a stable slatted foundation or a solid base to support the mattress and prevent slipping. As you shop for a floating bed, be sure to select one with durable wooden slats or those that are wrapped in a protective, non-slip material.
Will a full mattress fit on a queen platform bed?
While a full mattress will likely fit on a queen size platform bed, we do not recommend it. Queen size bed frames are designed to accommodate queen size mattresses, which measure 60 inches wide by 80 inches long.
Full mattresses only measure 54 inches wide by 75 inches long. Therefore, placing a full mattress on a queen platform bed will leave too much extra space along the sides and bottom of the bed frame.
Can you put plywood under your mattress?
The right foundation for you will depend on your mattress type. Memory foam and hybrid mattresses need a stable and supportive foundation to prevent sagging. Therefore, it is best to place these beds on a solid or slatted mattress foundation with slats no more than 3 inches apart.
If your bed frame doesn't have a solid foundation or the beams are too far apart, a 1-inch piece of moisture-resistant plywood can be placed under the mattress. This barrier will keep your body weight evenly distributed and ensure a healthy sleep position.
Do floating beds come with a warranty and sleep trial?
Most companies include at least a 1-year warranty with their floating beds. This coverage begins on the date of purchase and ensures a full replacement if the frame has any manufacturing defects.
While some manufacturers offer a sleep trial with their mattresses, most do not offer one with their bed frames. Therefore, be sure to verify the return policy and determine how much time you have to test out the frame and make sure it is right for you.
Conclusion
If you prefer a bed frame with simplicity and a sleek modern look, a floating bed is an excellent choice. These foundations are affordable, versatile, and are made to support most mattress types. As you shop, be sure to review the warranty and return policy. This coverage will ensure that you are protected if there are any manufacturing defects on your new floating bed.