Best Foundation for Memory Foam Mattresses
Updated November 22, 2023

Mattress Accessories
Whether you have just purchased a memory foam mattress or are planning to, you'll need a stable base for your new bed.
Unlike innerspring mattresses, memory foam beds are prone to damage if used on the wrong foundation. Innerspring mattresses only need a supportive flat structure to rest on. Foam mattresses need a supportive, flat surface with a solid structure. For example, if pairing your foam mattress with a platform bed, the slats should be 2.75 inches apart or fewer to sustain the mattress' durability and protect your warranty.
In our article, we discuss our top options for memory foam mattresses and explain the difference between box springs and other popular foundations. We'll also discuss which bases are most compatible with memory foam mattresses.
30 Second Summary: Best Mattress Foundation for Memory Foam Mattresses
Our Recommendation: Amerisleep Platform Bed — Amerisleep's classic foundation has a modern, style with supportive slats that enhance the performance of a memory foam mattress. This sturdy base also has a very easy assembly.
Runner-Up: The Zoma Mattress Foundation is another versatile foundation option that can take the place of a box spring or serve as a stand-alone bed frame. Plus, it comes with a lengthy 1-year warranty.
Best Mattress Foundations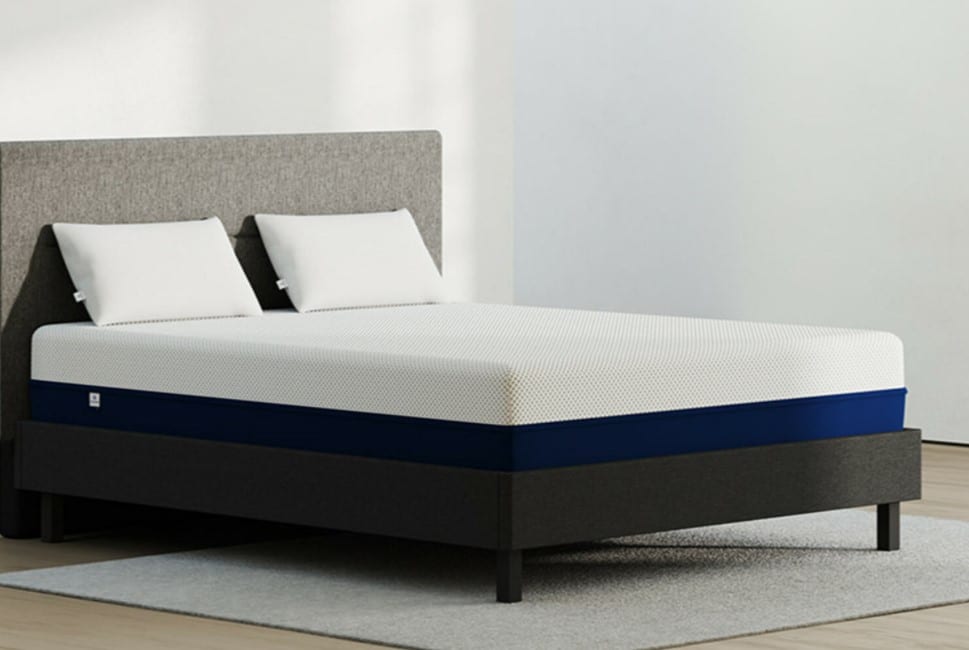 The Amerisleep Platform Bed Frame has a modern, clean-lined style. The slats are no more than 2.75 inches apart, providing strong, proper support to enhance the performance of a memory foam mattress.
The oversized slats distribute weight evenly and leave minimal parts of the bed unsupported, which is crucial to the mattress' durability. The frame's design helps a memory foam mattress breathe.
FUN FACT: Air circulation is essential to a foam mattress, it enhances the longevity and comfort of the mattress in several different ways. It also helps you keep cool at night.
The bed base was designed to be set up without tools. The joints just click into place.
The Amerisleep Platform Bed Frame ships free and comes with a 1-year warranty.
Amerisleep Platform Bed
Solid hardwood side rails
Easy, tool-free assembly
Supports air circulation

Next on our list is the Zoma Foundation by the Zoma Sports Mattress brand. It's built to complement their memory foam mattress, so it should work just fine with any other memory foam bed on the market. It has a sleek, modern appearance, and comes with adjustable legs, allowing you to modify its height to fit your needs.
Zoma's foundation is easy to assemble, the frame itself has smart corner clips that snap together, and it's optional legs twist right on. You can use the Zoma Foundation in place of a box spring, or you can set it on the floor to function as a bed base.
The Zoma Foundation has a 100% solid pine frame, so it should be rather sturdy. The slats included in the slat pack are solid pine, as well. They upholster the frame in a dark polyester knit fabric to blend in with most decor. Plus, they back their foundation with a 1-year warranty, guaranteeing its durability.
The Zoma Foundation stands 14.5 inches tall with its attached legs. The frame itself is 8.5 inches tall, while the legs tack on an additional 6 inches.
Zoma Foundation
Easy to assemble frame and slat pack
Slatted design improves airflow
Sleek, modern look suitable for almost any bedroom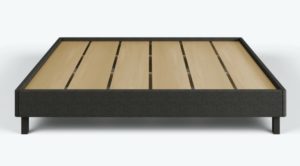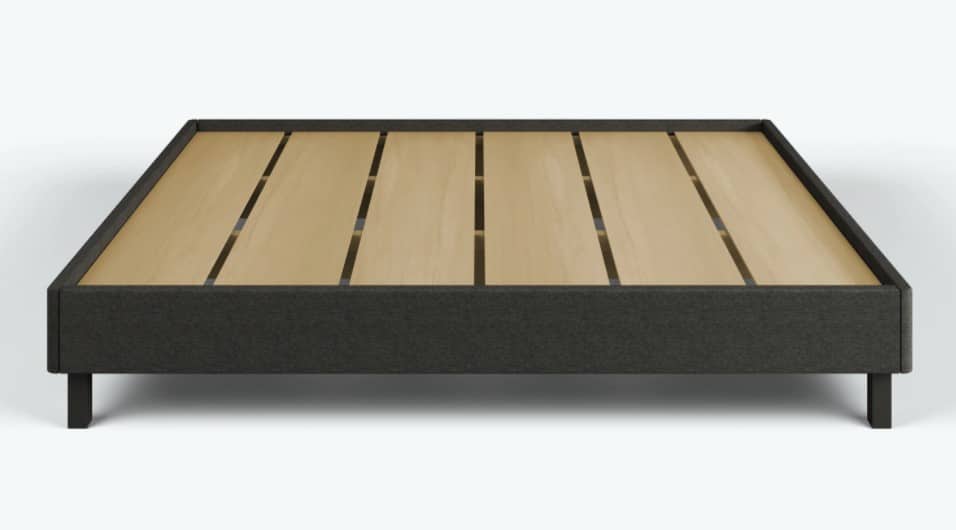 The Vaya Platform Bed is, like the Vaya Mattress, a simple design that relies on quality materials to deliver pure comfort and support. The bed has side rails covered in a polyester knit fabric that creates a modern look, with a light grey color to complement most bedrooms.
Most people can assemble the frame within minutes, thanks to the bed's construction. First you slide the side rails into place, then you add the center support beams. Lastly, you spread out the five or six slats that came with the frame.
Vaya's Platform Bed contains a smaller number of slats than many similar beds. This is because the bed's slats are wider than normal to create a more evenly supportive surface. Why not just have a solid platform sleep surface? Because that would limit the airflow needed to keep body heat and moisture from building up. This way, the Vaya Platform Bed balances breathability with uniform support.
The Vaya Platform Bed is 13 inches tall and can be used in place of the traditional bed frame. Vaya guarantees its frame's quality with a 1-year warranty.
Vaya Platform Bed
Assembles in minutes without any tools
Oversized slats promote support while allowing airflow
Available in six sizes

The Zinus is a box spring alternative. It's a free-standing, box-like structure that sits on the floor or rails of a bed frame. It does not come with a head or footboard. You can choose between a 4-inch, 7.5-inch, or 9-inch profile.
Unlike most box springs, this foundation has a sturdy steel construction, giving the structure long-lasting durability. Foam-padded tape cushions the steel joints for noise-free use. Its slats are spaced 2.5 inches apart and have a non-slip grip applied evenly to stop the mattress from shifting around.
The metal construction promotes easy assembly, and all the necessary tools are included with the metal bed frame. Altogether, the frame weighs around 50 pounds, making the heavy-duty base easy to move.
The Zinus Walter's smart base comes in a twin, twin XL, full, queen, king, and California king sizes. It also comes with a 5-year warranty to guard against defects and material flaws.
Zinus Walter 9-inch High Profile Metal Smart Box Spring
Lightweight
Non-slip slats
Can be used with existing bed furniture
Colby's Upholstery Platform bed comprises of wood, steel, polyester blend fabric, and foam. While the frame and slats consist of wood and steel, creating a durable foundation, the polyester and foam make up a fade and stain-resistant foot and headboard with channel-tufted accents. All materials used to produce this mattress have been CertiPUR-US® certified.
This bed has a standard 6.3-inch floor clearance, giving the user decent storage space underneath the bed. The wooden frame queen and king models can hold up to 700 lbs.
The Colby bed comes in twin, full, queen, and king sizes and is made in China. It does require assembly, but all tools are included. It does not need a box spring. You can place a memory foam mattress directly on the foundation without fear of losing support because the slats are three inches apart.
This bed comes with a 30-day return policy and an optional three or five-year protection plan.
Colby Upholstered Platform
CertiPUR-US® materials
Soft upholstery
Supports up to 500 lbs
The Rhoton Platform Bed is a complete matte black steel frame with wooden slats. It doesn't need a box spring as the wood slats are three inches apart and provide high-quality support for a memory foam mattress. The three center leg supports provide even more stability to the metal frame.
The Rhoton bed has a low profile of five inches, making it unsuitable for under the bed storage. It comes with a headboard, but no footboard, giving the foundation a sleek modern look.
This bed isn't recommended for plus-sized couples as it has a weight capacity of 500 lbs. Customer reviews state the foundation is easy to assemble and comes with all the necessary tools.
The Rhoton bed comes with a 5-year warranty, protecting the user from a defective product. Reviewers have stated the foundation will squeak if the bolts aren't tightened enough.
Rhoton Platform Bed
Solid steel frame
Optional assembly service
Low profile
Why Do the Slats Need to Be Less Than 3 Inches Apart?
The Editors of Sleep Junkie highly suggest getting a foundation with slats no more than 2.75 inches apart and at least 0.5 inches tall. Adhering to these conditions will provide a setup promoting a solid surface supportive of the sleeper and bed, and prolongs the memory foam's life.
Mattress bases not meeting these recommendations may cause premature material disintegration. The wider the slats are spaced, the more material is allowed to dip below the slats. If sagging between slats occurs, the mattress's weight will press more generously on the slats, which quickens material decay and increases the risk of sagging and indentations.
Types of Foundations
It's good to know your options. A large part of shopping for the best mattress foundation is learning which bases will work for your mattress.
Box Spring Alternatives
Bunkie boards are one of the many cost-effective alternatives to box springs for foam mattresses. They're flat objects constructed from plywood or particleboard. Usually, they are placed on top of a box spring or the rails of an existing bed to ensure good support.
Steel Grid Platforms
This type of bed functions very much like a platform foundation, but instead of being made of wood, the grid platform is made entirely of metal. The mattress surface is designed as a grid of wide-spaced rectangles.
Even though there are many bloggers stating this base stands as a good option for memory foam mattresses, we would have to disagree. Steel platform beds do not meet the 2.75 inches apart or less rule. The grid design doesn't have many points of contact, potentially leading to mattress indentation and eventual sagging.
Adjustable Foundations
Similar to platform beds, adjustable bases provide a flat, solid surface for your foam mattress. What makes this foundation unique is that you can raise and lower the head and foot of the bed for comfortable reading and watching TV. This bed is used for medical purposes because it allows you to angle your head slightly above the hip, decreasing the risk of acid reflux or obstructive sleep apnea.
Platform Beds
Platform beds offer an affordable modern design without the use of a headboard and comes in varying profiles. Depending on the bed's height from the floor, this foundation offers good under-the-bed storage. Some platform beds come with adjustable legs; although, there are others that don't. Look into the platform bed's legs if you want under-bed storage.
Because platform beds use a solid board for support instead of slats, they may not offer sufficient ventilation, which may result in heat retention. If you're worried about heat build-up, consider a cooling memory foam mattress.
Panel Beds
Sometimes called wood slat foundations, panel beds are made of wood to create a solid structure supportive of the mattress's weight. The closely spaced slats allow the foam to breathe.
The Floor
Placing a memory foam mattress on the floor is both a viable temporary and permanent option. The floor is a solid, flat surface to give uniform support. In other words, it meets all the requirements needed for a supportive surface, although the lack of air circulation through the bottom of the mattress can lead to heat retention.
Frequently Asked Questions
What do you put under a memory foam mattress?
For proper support, many people place a mattress foundation between their memory foam mattress and their bed frame. That said, memory foam mattresses don't need any extra foundations or box springs when paired with platform beds or adjustable bed frames.
Please note, box springs by themselves should not be paired with memory foam mattresses because they offer uneven support which can damage foam layers.
If you have a box spring you'd like to put under your memory foam mattress to give the bed extra support or height, make sure to place a bunkie board or 3/4-inch piece of moisture-resistant plywood between the box spring and the mattress. Doing so creates a solid, flat surface for the memory foam mattress.
Can you put a memory foam mattress on top of another memory foam mattress?
You technically can place a memory foam mattress on top of another memory foam mattress, but it's not recommended, and doing so will probably void your mattress warranty. Memory foam mattresses need solid, sturdy support, and since memory foam mattresses are contouring and cushioning, they don't necessarily provide solid support, meaning it's not a great idea to place a foam bed on top of another foam bed.
Should you use a box spring with a memory foam mattress?
Box springs should not be paired with foam mattresses because they can damage the foam layers. That said, if you have a box spring currently and would like to use it with your new memory foam bed, you still can. Just place a bunkie board or piece of moisture-resistant plywood between the mattress and the box spring to create a solid, flat surface for the foam layers.
Do you need a special bed frame for a memory foam mattress?
You don't need a "special" bed frame, so to speak, but memory foam mattresses do require a certain level of support. Most memory foam mattress warranties will specify that the mattress should be kept on a solid or slatted surface with slats no more than 3 inches apart. Most mattress foundations and platform beds meet this requirement, so it's not terribly difficult to find a compatible bed frame for your foam mattress.
Can you put a memory foam mattress on the floor?
You can place a memory foam mattress directly on the floor, but we don't recommend it. Placing your mattress right on the floor makes it more susceptible to dirt, germs, and moisture build-up, and moisture within your mattress can damage its foam layers and cause premature deterioration. While placing your mattress on the floor works as a short-term solution while you find a bed frame, it's not the best long-term set-up.
Did You Find The Best Foundation?
You're now armed with some solid knowledge regarding the best memory foam foundations and you've seen a few affordable options on the market today. All you have to do is make a decision and wait for the package's arrival, unbox, and roll out your new foam mattress on your new foundation.