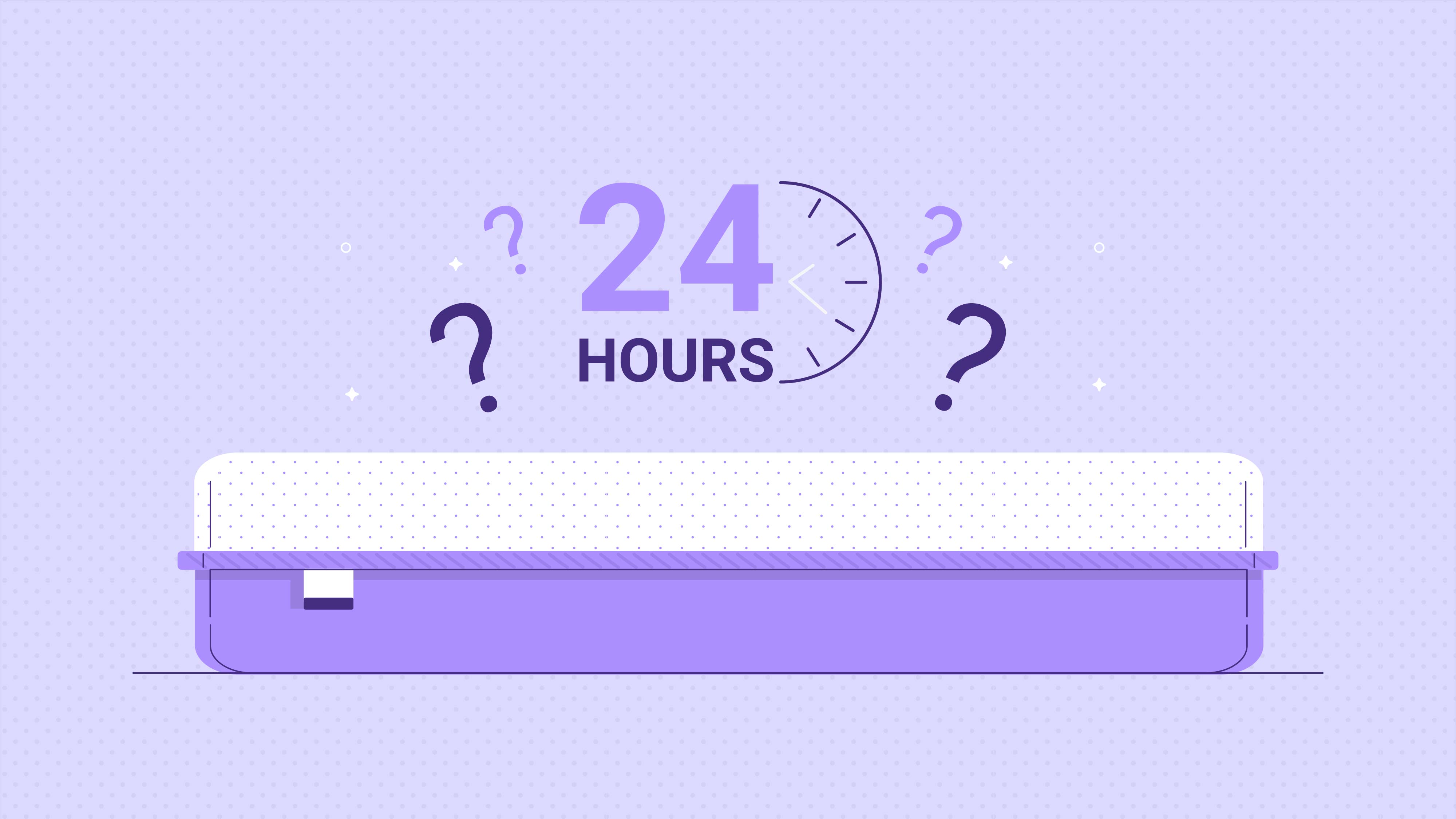 Can You Sleep On A Memory Foam Mattress Before 24 Hours?

Mattress Resources
First, we'd like to congratulate you on your first mattress in a box. Whether your new memory foam mattress is a memory foam mattress, latex, or a hybrid, it takes time to expand after unpackaging. You've probably heard the myth cautioning you to avoid sleeping on your bed while it expands, but in this article, we explain why that's not absolutely necessary.
Most companies ask you not to sleep on your memory foam mattress before 24 hours after you've unboxed the bed to ensure the quality of their product is at its fullest potential when you sleep on it for the first night. But when nighttime rolls around and its time to go to sleep, waiting to use your new bed can be inconvenient.
So, what happens when you sleep on a memory foam bed before those 24 hours are up? In our article, we'll discuss how long you should really wait before using your foam mattress and what you can do to minimize the wait.
Can I Go To Sleep Right After the New Memory Foam Mattress Has Expanded?
Truth is, you can sleep, roll around, and step on your new memory foam mattress as much as you want while it expands. Regular mattress use will only decrease the material's expansion time.
If you want to sleep on it before the 24-hour mark, just remember the mattress won't feel its very best until it expands to its full size. If the first night on your new bed isn't all you'd dreamed it'd be, give it more time before calling for a return. If a mattress has a ten-inch profile, then you need to wait until it's expanded to 10 inches tall and the corners have grown to their full shape. If your bed is still uncomfortable after full expansion, then it's time to call.
A few bloggers suggest waiting to put your new memory foam mattress protector and sheets on your new bed only after the corners have fully extended. However, in our experience, we've found you don't have to wait for the corners to take shape to go to bed, as you're typically not sleeping on the corners of the mattress; this lets those corners continue to expand throughout the night. Mattress protectors and sheets are not tight enough to prevent the corners from expanding and should not have an impact on your bed's expansion time.
There are a few reasons why manufacturers don't want the bed used within 24 hours of unrolling. The 24-hour rule exists mainly as a precaution to ensure the mattress has fully extended and there's no damage to the bed's foam.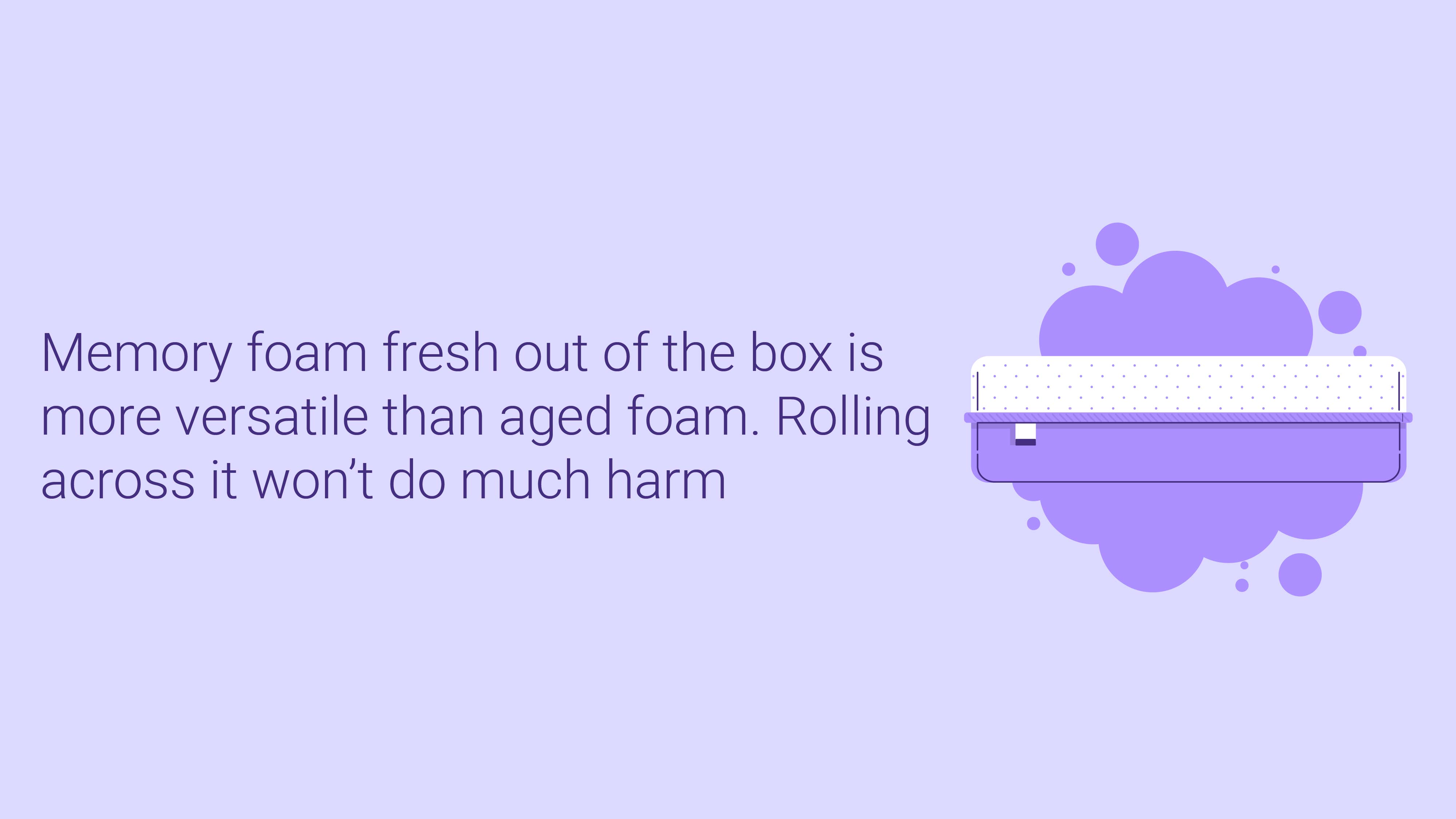 However, a memory foam mattress fresh out of the box is more versatile than aged foam. Rolling across it won't do much harm. If the mattress doesn't assume its original shape after the allotted expansion period, then the foam layers may be defective. Contact the company for exchange or return information.
The second reason why brands want you to wait to sleep on their beds is the risk of off-gassing. Nobody wants to fall asleep on a chemical-smelling bed, and jumping to sleep on a freshly unpackaged mattress may be unpleasant. While most foam mattresses are CertiPUR-US® certified, there still are slight off-gas smells. Letting your bed air out for the allotted time prevents you from dealing with any unpleasant scents.
How Do I Speed Up the Expansion Process?
Constant movement, bodyweight, and heat activate the foam, loosening the material. Laying down on the mattress and rolling around for a few minutes as well as standing on the end of the mattress and walking around the edges should make it expand faster.
What if My Foam Bed Isn't Expanding?
While some memory foam mattresses expand quickly, there are others that have a harder time expanding. If you run into this problem, try activating the memory foam mattress with body heat.
Roll around and walk on the memory foam mattress— almost as if you're giving the bed a massage— and sleep on it for a few days. Afterward, it should expand to its correct size.
The Mattress Hasn't Expanded After a Week!
If a foam mattress doesn't expand after five or seven days, then you most likely have a defective bed.
A mattress not expanding is very rare; but if you've given your mattress a whole week to expand and it hasn't, call customer service to inform them of the defect and initiate the return policy.
Why Choose a Memory Foam Mattress?
With so many mattress types available, why might a memory foam mattress be the bed for you? There are a few factors that contribute to memory foam's popularity, such as its affordability and comfortable feel.
Plus, the wait for its full expansion aside, a memory foam mattress is often a highly convenient mattress to order and set up. You can purchase an online mattress that's shipped right to your front door, never once needing to leave your home.
Memory foam is also consistently recommended as one of the top materials for pain relief. Lastly, a memory foam mattress can serve as an affordable hypoallergenic mattress for allergies. The dense foam layers of a memory foam mattress prevent allergens from settling inside the bed.
Taking Care of Your Foam Mattress
Whether you have a hybrid or a gel memory foam mattress, you'll need to care for it properly to maintain its longevity. Innerspring and hybrid mattresses only need a box spring, whereas memory foam mattresses require a more sturdy foundation. All mattresses, though, need periodic cleaning.
Choosing a Foundation
Foam beds need a solid, flat mattress foundation.
Flexible box springs work well with an innerspring and hybrid mattress; however, a memory foam mattress paired with this type of base will cause the middle to sag, resulting in discomfort.
Memory foam needs a bed frame with either a solid flat surface or a slatted base. Platform beds are a good option, as long as the slats are less than 2.75 inches apart to prevent the foam material from dipping; this could cause the mattress to deteriorate quickly and product indentations in the material.
Cleaning Tips
Some foam mattresses have removable, machine-washable covers. If you have a mattress without a removable mattress cover, you'll have to spot clean it with room temperature water mixed with mild detergent.
It's a good idea to vacuum the mattress at least once a month to remove loose foreign debris and any hair. These same cleaning tricks work on a mattress topper.
Conclusion
You now understand the rules behind allowing a foam mattress to expand and you have a few cleaning tips up your sleeve, dispelling one of the common mattress myths. You even know what to look for in foundations and bed frames that are best for foam mattresses. To learn more about maintaining your new mattress, read our other guides.