Best Memory Foam Mattress Protectors: Reviews and Buyer's Guide
Updated February 02, 2023

Bedding Guides
If you like sleeping on a clean mattress, you'll want a mattress protector.
Protectors don't just protect your warranty from becoming void. They promote a hygienic environment, keeping body dandruff and fluids, allergens, dust mites, and bed bugs from making your new mattress their forever home.
In this article, we will be discussing our top mattress protector. We'll also talk about the different types of protectors and what qualities to expect from each.
30 Second Summary: Best Memory Foam Mattress Protector
Amerisleep Waterproof Mattress Protector and Cover — Amerisleep's mattress protector consolidates industry-leading Oeko-Tex Standard 100 soft cotton jersey blend and polyester into a gold standard product. It protects your bed from spills, stains, dust mites, and bacteria without changing the feel of your mattress.
Zoma Recover+ Protector — Zoma's Recover+ Protector features a strong waterproof barrier and sleep-enhancing textile technology to keep your mattress fresh and clean and promote more restful sleep.
Best Memory Foam Mattress Protectors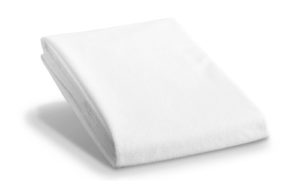 Amerisleep's Waterproof Mattress Protector and Cover incorporates industry-leading Oeko-Tex Standard 100 soft cotton jersey blend and polyester. The non-toxic poly laminate film offers 100% waterproof protection to protect your bed from spills, stains, dust mites, and bacteria.
The jersey blended top gives this protector just enough comfort without drastically changing the feel of the mattress.
This protector is styled to look like and be used as a fitted sheet. This means there is no protection for the bed's underside. Unless you have a dual-sided mattress you plan on flipping regularly, the unprotected underside of the bed won't matter.
The breathable cover allows body heat to escape, wicking away moisture for comfortable sleep.
This high-quality protector can fit any mattress ranging in thickness from 8 to 18 inches and is made in twin, twin XL, full, queen, king, California king, and split king sizes.
While Amerisleep's mattress protector works great on memory foam beds, it's a fit for hybrid, innerspring, and latex beds, too. We recently featured it as our recommended protector of the year. Check out our comprehensive mattress protector guide to learn more.
Interested in the benefits of memory foam? Read our other guide on finding the best memory foam mattress for your sleep needs.
Zoma's Recover+ Protector doesn't just protect memory foam from spills and stains, it also regulates temperature and promotes deeper, sounder sleep. If you're a hot sleeper looking to avoid night sweats on memory foam, you'll like this protector.
Zoma's protector features both a waterproof barrier and Recover+ technology to shield your bed and improve sleep. This protector's waterproof barrier is made with thin, breathable polyester fabric with TPU lamination and printing; it is porous enough for air to flow through but blocks any liquids from penetrating the bed's surface.
Recover+ technology works by recycling body heat to infrared energy—infrared energy is absorbed by the body, resulting in increased local circulation and deeper sleep. Plus, this process stops body heat from building up in the bed and keeps you sleeping cooler.
Zoma designed their waterproof mattress protector to pair with their gel memory foam mattress and hybrid bed; with that, it's safe to say this protector can work with any memory foam mattress. It fits beds up to 14 inches thick and comes in all standard mattress sizes.
Zoma's Recover+ Protector is easy to maintain and fits like a fitted sheet—it even has head and foot labels so you can easily see how the protector fits. It can be bought on the Zoma website and it comes with free shipping and a 1-year warranty.
SafeRest's Renewal Bamboo Derived Waterproof Mattress Protector is designed like a fitted sheet, making it easily removable. The breathable bamboo fabric has moisture-wicking abilities equal to its luxurious comfort.
Bamboo rayon is an antimicrobial and hypoallergenic material, meaning the material wards off allergens and kills bacteria upon contact. The properties of the bamboo ensure the user sleeps in a sanitary sleep environment.
The polyester lining under the bamboo top makes the mattress protector waterproof and noiseless. Children, pets, or unexpected spills shouldn't be able to damage your memory foam bed as long as you're using this protector.
SafeRest's protector can be cleaned in the washing machine with a bleach-free detergent and tumble dried on low heat. This product comes in several sizes: twin, twin XL, full, queen, king, and California king. It can also fit a mattress up to 18 inches thick.
Luna's USA manufactured and designed mattress protector is completely vinyl, PVC, and phthalate-free. The protector has a fitted sheet design, allowing for easy removal and protection from dust mites, bacteria, and spills.
The product's surface consists of hypoallergenic cotton terry material. Cotton terry has thousands of loops, allowing air to pass through the mattress protector easily. This feature will keep the sleeper in neutral sleeping temperatures throughout the year.
Luna's mattress protector offers complete waterproof protection. The cotton terry is absorbent as well as breathable. Bodily fluids and accidental spills stains are repelled, protecting your warranty.
This protector is machine-washable, but should only be cleaned in cold water with mild detergent and tumble dried on low heat. It's also covered by a 15-year warranty should the product arrive in bad condition or suffer due to faulty materials.
Time to upgrade your entire bed set? Read our guide of the best mattress to find your next bed.
Sleep Tite's hypoallergenic mattress protector provides an allergen resistant sleep environment for those with asthma, eczema, and allergies. It has a fitted sheet style design with a waterproof layer of polyurethane.
Sleep Tite's protector uses cotton terry to provide the sleeper with a noiseless surface, ensuring the sleeper doesn't have to deal with the noise of crackling plastic.
Found on Amazon, Sleep Tite's bed protector is covered by a 15-year warranty and comes in many different sizes: twin, twin XL, full XL, queen, split queen, California queen, Olympic queen, king, split king, California king, split California king, RV/ short queen size, cot, and crib. It also has deep pockets to fit any mattress up to 22 inches thick.
The protector is made using NASA technology and Outlast performance fabric. Outlast® temperature regulating technology brings the comfort of constant neutral temperatures, perfect for sleep.
This protector maintains an even temperature by absorbing your body heat through thousands of Thermocules™, or beads, which release the heat back to the body when the user's skin temperature gets too cold.
In addition, it offers waterproof protection and stain resistance.
The soft polyester and lycra blended fabric lets the user sink into the bed without the protector interfering.
You can try the Dryline protector for 60 nights completely risk-free. It comes in twin, twin XL, full, queen, king, California king sizes.
The Hospitology Products' Sleep Defense System mattress encasement protects your mattress from spills, bed bugs, and allergens on all six sides.
It provides deep pockets for mattresses with a profile of 12 to 18 inches. A zipper allows you to take the product off the bed for washing.
The polyester knit fabric creates a breathable, waterproof layer capable of absorbing fluids and resisting heat retention. The encasement is vinyl-free so it's safe for children.
Hospitology Products' mattress protectors are made in twin, twin XL, full, full XL, queen, king, California king sizes and can be found on Amazon.
Protect-a-bed has developed one of the coolest waterproof protectors available by using thermoregulating fabric. While this cover is waterproof and breathable, the combination of high-quality materials make the product a success.
This luxury mattress cover's polyurethane backing repels liquid stains.
The breathable Tencel® fabric on top is naturally hypoallergenic and stops bacteria growth.  Tencel® is cool to the touch and regulates body temperature by encouraging airflow and moisture-wicking.
The Protect-a-bed Luxury Waterproof Mattress Protector is backed by a 10-year warranty. It's certified by the FDA as an allergy protector.
It can fit a bed with an 18-inch profile and comes in a twin, full, queen, and king size.
While a good mattress can help alleviate pressure points, they offer only a fraction of the benefits best adjustable beds can provide. Read our guide to learn more.
Why Get a Mattress Protector?
Mattress protectors protect against dust mites and bacteria, which can cause asthma, eczema, and rhinitis.
When you sleep, you often sweat and shed dead skin cells. If you don't have a mattress protector, moisture and dirt can accumulate on your bed.
Dust mites are another leading threat to your bed. They're too small to see, but they love aggravating allergies.
Mattresses already act like a sponge for allergies. They soak up all the moisture, attracting dust, body oils, and dandruff, which then attract dust mites that eat dead skin cells. Dust and dust mites cause severe allergies, causing temporary asthma or hay fever. Even a mattress for allergies can benefit from a separate protective covering.
Now let's move on to the next reason you should use a mattress protector— bed bugs.
One of their favorite places to bed down is in a comfy bed. Human blood is their food source, and they feed on us while we're asleep. Their bites are very itchy and leave red welts like mosquito bites.
Once bed bugs infiltrate your sleeping space, it's usually recommended you get rid of your mattress and do a thorough cleaning of your home before you're rid of the problem.
A protector can prevent these issues from happening. They may seem like an unnecessary expense, but they are the cheaper solution in the long run.
To get the most comfortable sleep and wake up every morning pain-free, read our guide on finding the best mattress for back pain.
Types of Mattress Protectors
There are many types of protectors. They come in different sizes, styles, and offer different levels of protection. Some protect against foreign particles, and others are waterproof or cooling.
Encasement Protectors
This type of protector surrounds the mattress— completely encasing it. A zipper on one end seals the inside of the cover. For those who want complete protection, this protector does the job best. It's also good for those who turn or flip their beds often.
However, this protector is more difficult to remove from the mattress than a fitted sheet style.
Fitted Style
This style covers the bed like a fitted sheet. Its edges have elastic sewn into them to help the fabric hug your mattress for security.
This style is generally more affordable; although, it doesn't offer the complete protection an encasement provides.
Strap
The strap mattress protector lays over the top of your bed, secured in place with elastic straps on the corners. This protector does not give any protection to the sides and or bottom of the bed.
Mattress Pad
This combination of a mattress topper and protector offers more comfort for the sleeper as well as protection. Even though this product has comfort and protection, it doesn't protect the bed half as well as a protector should.
It doesn't have as much cushion as a topper and isn't as expensive either. This is a good option for people looking to protect their mattress and add comfort to their bed.
If you are happy with your mattress' comfort level, we don't recommend this product. An unpadded protector will be the better option because it doesn't make much difference to the feel of the mattress.
Mattress Topper
A mattress topper is not a protector. Toppers add an additional layer of comfort. Typically toppers are made of foam, wool, latex, or down.
While a memory foam mattress topper creates distance between the bed and sleeper and may keep out some foreign materials, it does not offer the same protection and, therefore, cannot substitute for a good protector or encasement.
Buying Considerations
The mattress protector type shouldn't be your only consideration. You'll want to know what dimensions and materials will best fit your needs. You'll also need to consider your priorities; perhaps you need a topper with waterproof or cooling features.
Protective Material
We'll tell you right off the bat, you want to avoid vinyl bed protectors. They can cause an array of health problems in pregnant women and children due to the level of phthalates in plastic.
Even if they are effective as a protector, they aren't breathable, moisture-wicking, and they're noisy. Overall, the material can cause you to sleep hot and wake up repeatedly from the sound of plastic shifting.
We suggest skipping over this option as you have much better options at the same cost.
Eco-Friendly Materials
Tencel® and bamboo mattress pads are breathable and moisture-wicking. The fabric is cold to touch, fostering a cool sleeping environment. Both Tencel® and Bamboo are eco-friendly and naturally hypoallergenic, making them great options for those with skin or respiratory sensitivities.
Polyester
As a waterproof man-made fabric, polyester is durable and comes in many different textures. It's easy to wash and doesn't come with the expenses of other fabrics.
Polyester has the tendency to trap heat and doesn't have moisture-wicking abilities, which means the fabric fosters heat retention.
Cotton
Protectors with cotton are naturally hypoallergenic and breathable because of their natural organic composition. For those with sensitive skin, a cotton protector free of pesticides and chemicals is gentler.
Size and Pocket Depth
If you have a queen bed, then you need to purchase a queen protector. However, have you considered the depth you'll need?
While beds come in standard measurement for their length and width, their profiles or heights can be anywhere between 8 inches and 22 inches. It all depends on the manufacturer and the materials used to create the mattress.
Beds with an 8 to 12-inch profile are a common depth for mattress protectors. Anything with a height over 15-inches will require a more thorough search for a compatible protector.
Liquid Protection
Waterproof protectors are life-saving— especially for those with small children or pets.
Stains would void the warranty.
A waterproof mattress protector should stop liquid spills from permanently ruining the bed's surface.
Cooling
Cooling is a specialty feature developed from growing customer demand. Performance fabrics use thermoregulation technologies to keep the body at a neutral temperature.
The idea of cooling features was to prevent overheating. While cooling technologies help bring down the surface temperature of the skin, some health issues raise the body's core temperature rapidly. Unfortunately, cooling infusions or technology are unable to resolve this issue completely and you should seek help from a health professional for more guidance.
Frequently Asked Questions
Do memory foam mattresses need mattress protectors?
You should buy a mattress protector for your bed regardless of the type of mattress you own, but mattress protectors are especially useful for memory foam mattresses. Memory foam mattresses are pretty much one giant sponge, so if you spill a glass of water or your little one has an accident on the bed, it'll soak right into the foam, making clean-up nearly impossible. A waterproof mattress protector can prevent one wrong move from ruining your new investment.
How do you protect a foam mattress?
Mattress protectors are the go-to for protecting foam beds, but some shoppers take protection one step further and pair a mattress topper or mattress pad with their bed, as well. While mattress toppers and pads aren't designed for protection and are more so used to modify the feel of a bed, they can serve as a barrier between you and the mattress and shield your mattress from accidents.
Do you put a fitted sheet over a mattress protector?
Even if your mattress protector fits like a fitted sheet and feels soft to the touch, most people find sleeping directly on a mattress protector uncomfortable. You should always use a fitted sheet on your mattress to serve as a soft barrier between your body and the protector. This is not only more comfortable but sleeping on a fitted sheet also keeps your protector cleaner for longer.
Should I use a waterproof mattress protector?
Waterproof mattress protectors are inherently better than those that can't protect your bed from liquid spills because liquid spills are the most damaging to mattresses. Non-waterproof mattress protectors can really only shield your bed from sweat, dead skin cells, and dust mites. While all three of these things aren't great for your mattress, they won't necessarily ruin your bed like spilling a glass of juice or having an accident will. For the best coverage, choose a waterproof mattress protector.
Do mattress protectors make you hot?
Vinyl mattress protectors can make you hot because vinyl is a non-breathable material, but as long as your mattress protector is free of vinyl, it shouldn't cause night sweats. Most mattress protectors are vapor porous, so they shield against liquids without hindering airflow.
Did You Find Your Next Mattress Protector?
While there are many different mattress protectors, the important thing is that you have one on your bed. Those who are on a budget don't need to spend $200 on a product. With enough research, you can find an adequate protector in the $50 range.
If you're looking for a protector for your new memory foam mattress, you probably need to look into your foundation. Read up on the appropriate support a memory foam mattress needs to see if you need to make adjustments to your bed base.