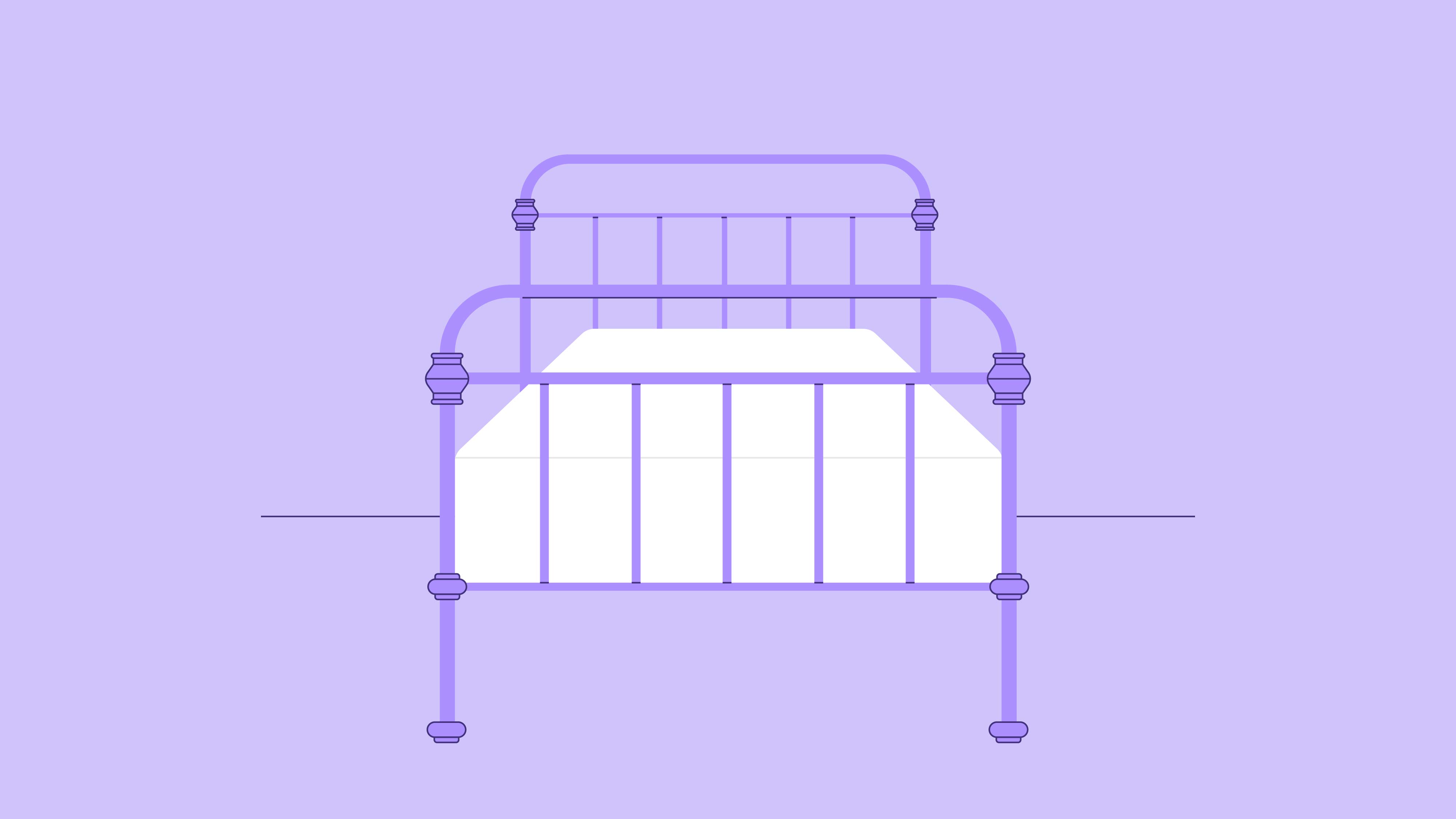 What Type of Mattress Works With an Antique Bed?
Updated November 22, 2023

Bedding Guides
FAST FACTS
Customizing the mattress for antique beds might involve ordering a custom-sized mattress or converting the bed to accommodate standard sizes.
Due to potential weight limitations, it is essential to select a mattress that aligns with the antique bed frame's capacity, considering sturdier frames for heavier mattresses and lighter frames for lighter ones.
The choice of mattress type should be based on the construction and material of the antique bed frame, with sturdier frames supporting heavier mattresses like hybrids or latex and lighter frames requiring innerspring or low-density memory foam options.
Antique beds can be an excellent addition to your home. From adding authenticity to a rustic cabin to bringing a touch of classic to a modern urban apartment, antique beds offer a unique style that many new beds can't match.
However, there are a few things you have to worry about when purchasing a mattress for an antique bed. For one thing, antique beds can't always accommodate standard mattress sizes. For another, you may have to be careful about your bed frame's weight capacity. So let's talk about how to deal with these issues.
Custom Sizes
Current standard bed sizes are a fairly new invention. That means, if your bed is old enough, you may need a custom mattress. The good news is there are lots of custom mattress makers out there. The bad news is getting a customizable mattress is often a lot more of a hassle than getting a standard mattress.
Aside from ordering a custom mattress, you can also convert your antique bed to accept standard size mattresses. Doing this is easier than you might think. It might turn out to be easier and cheaper than building a custom size mattress.
Measuring for a Custom Mattress
If you decide to order a custom size mattress, you'll need to measure your antique bed frame's dimensions. Don't measure the whole antique frame. Instead, measure the area of the frame where the mattress will lay.
Most antique bed frames will have rails and at least a couple of bed slats. Measure the distance from the headboard to the footboard and the width of the slats. You'll also need to decide what depth or mattress thickness you want, what firmness you need, and the material and construction you want before contacting dealers.
The problem with custom size mattresses is that you have to get everything else custom made. That means custom box springs, a custom bunkie board, and maybe even a custom bedspread.
Converting Your Bed to a Standard Size
Getting a customized antique bed mattress can often be easier said than done. So you may want to convert your bed frame instead. Converting your vintage bed to hold a full size mattress or even queen size mattress isn't as hard as you think.
You can get bed conversion kits either online or at a local mattress store. They're usually inexpensive. But you'll need to be aware of your vintage frame's components so you can know what kind of kit to get. Different antique beds can have separate brackets for their side rails and other headboard or footboard attachments.
Antique retailers can be great resources for information on how to convert an antique bed to a common size. So try heading down to your local antique shop if you're not sure what you need.
Mattress Weight
Older bed frames also might have lower weight capacity, depending on their age and material. This is because many older bed frames were made with innerspring mattresses in mind. Innerspring mattresses are lighter than most of today's mattresses, like hybrids or all-foam mattresses. That means you may need to be careful with your mattress' weight.
What's more, you might not always be able to learn your bed frame's capacity, especially if it's a family heirloom. If you buy your bed at an antique store, the seller may have an estimate on the frame's capacity. But if you don't know your bed's max capacity, it's best to stick with a lighter mattress like an innerspring or low-density memory foam mattress.
FAQs
Which mattress type is best for a vintage bed?
There are many factors that can impact which mattress is best for your bed frame. If you have a sturdy wooden frame, you probably have more options. You can lay a heavier mattress like a hybrid or a latex mattress on antique wooden frames.
Antique metal frames are a little different. Sturdy wrought iron frames, for example, can take more weight. So you can put heavier mattresses on them. On the other hand, antique brass or other light metal frames may not be able to handle heavier mattresses. So it's probably best to stick with lighter innerspring mattresses or some types of memory foam beds.
Will RV sizes work for my antique bed frame?
Maybe, but most likely even the best RV mattress won't quite fit. One of the most common antique bed frame sizes is the ¾ bed, which is 48 by 75 inches long. They do make ¾ mattresses for an RV, but these can be either 75 or 80 inches long. RV fulls and RV short queens may or may not be the right dimensions for your bed either. No matter what size your antique bed says it is, the best thing to do is know its measurements before you purchase a mattress.
Can I put box springs on my antique bed?
You can put standard box springs or low-profile box springs on vintage bed frames, depending on their construction. Vintage beds with side rails can take box springs or a mattress foundation. Antique platform beds, however, were not designed to accommodate a bed base. You're just supposed to lay a mattress directly on them.
The general rule is if your bed has slats every few inches and no side rails, it's not designed for box springs. If it has few to no slats and side rails, you'll need a box spring set or mattress foundation.
Will a hybrid mattress work on an antique bed?
That depends on the bed frame. Hybrids are heavy, and older beds can have a hard time handling the weight. A king size hybrid can weigh up to 140 pounds. For a vintage frame made of sturdy hardwood, a heavy mattress is not much of an issue.
However, for a lighter-weight metal bed frame, a hybrid may be too heavy. Check your bed frame's maximum weight capacity before you go for heavy mattresses like hybrids.
Is a wood or metal antique bed frame best?
There are advantages and drawbacks to each antique bed type. Wooden bed frames tend to be sturdier and stronger than metal bed frames. That means they can take more weight and rougher use while maintaining stability. However, wood is also heavy and tough to move, making it an inconvenient option for those who relocate a lot.
Wood is also less durable than metal. It's more subject to humidity, temperature swings, and decay. That means it won't last as long as metal. Metal is more durable than wood and can stand up better to the elements. It's lighter weight and easier to move.
Metal bed frame sizes are also easier to adjust than wooden ones. On the flip side, metal is not as sturdy or stable as wood, and it cannot take as much weight. That means you'll have to put a lighter mattress on a metal frame, and it might not accommodate couples.
Bottom Line
Antique beds can be a great addition to your home if you're willing to put up with a little hassle to find the most comfortable mattress for them. With the right box spring set and mattress, antique beds can offer great support and amazing style.