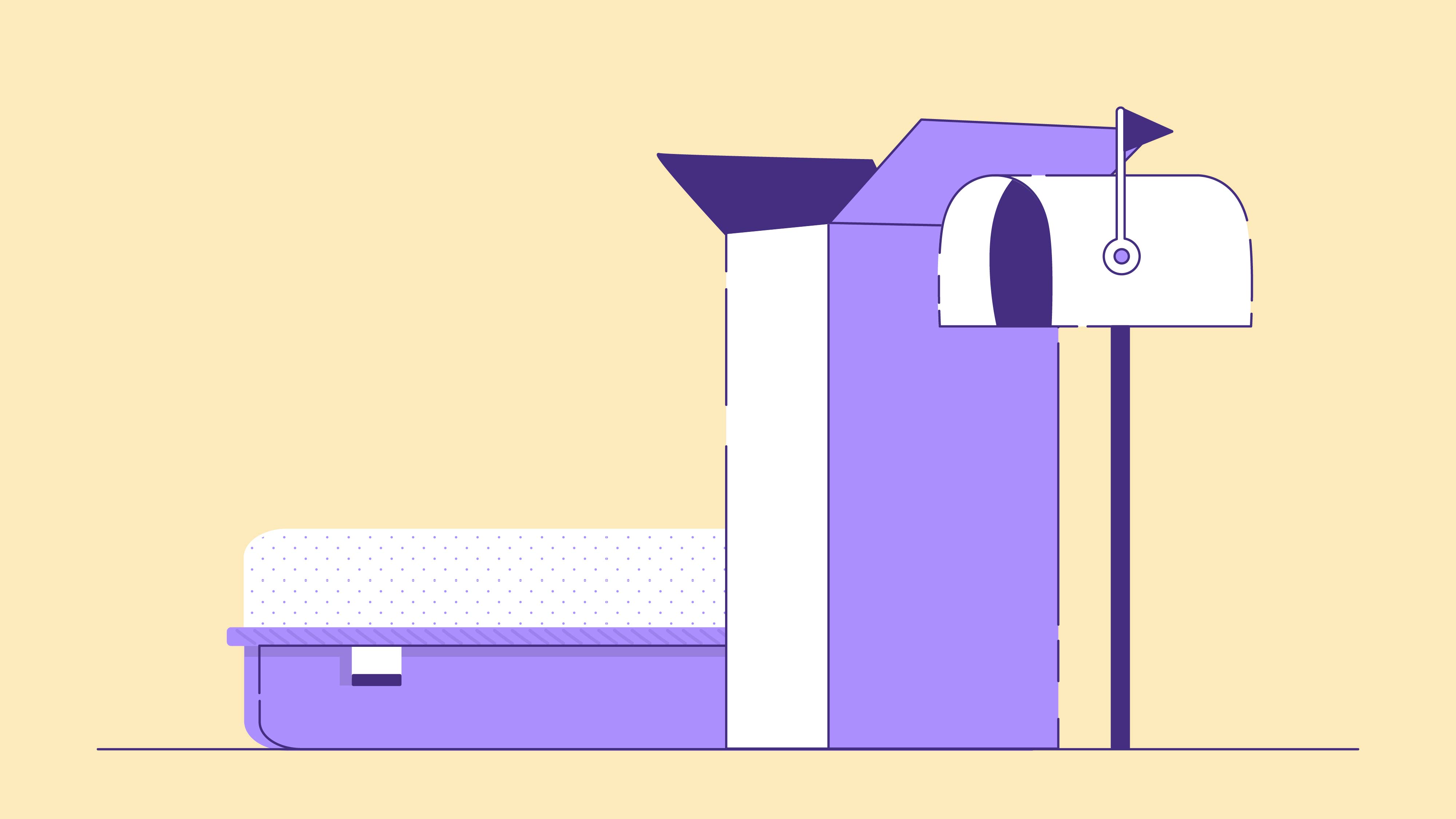 Best Mail Order Mattresses of 2023: Reviews and Buyer's Guide

Mattress Guides
Shopping online for your necessities is becoming more and more common, so much so that you can find all sorts of mattresses online at all kinds of prices. Mail order mattresses—also called mattress in a boxes—are mattresses that are sold online and shipped right to your door.
It's normal to be a bit skeptical about buying a mattress online if you've never done so before. However, most online mattress brands are aware of this and are sure to offer generous sleep trials and return policies so you feel comfortable shopping online.
Here at Sleep Junkie, we've come up with a list of the best mail order mattresses you can buy today. With that, we share our tips for how to find the best mattress online.
Best Mail Order Mattress Overview
Best Mail Order Mattresses
Best Memory Foam Mail Order Mattress: Amerisleep AS3 — The Amerisleep AS3 is our editors' pick for the best memory foam mattress of 2023. It features pressure-relieving, plant-based memory foam, and sleep-enhancing support technologies. Plus, it's designed to be comfortable for the majority of sleepers and promotes healthy sleep positions.
Best Cooling Mail Order Mattress: Zoma Mattress – Our second favorite memory foam mattress is the Zoma Sports Mattress— designed to help athletes sleep better and recover faster. Featuring gel-infused foams and zoned support technologies, Zoma uses top-notch materials to help you get the best night's sleep.
The Amerisleep AS3 is Amerisleep's best-seller, which is why it made the top of our list. It's 12 inches tall and has a medium feel, which makes it a great option for side sleepers, combo sleepers, and petite sleepers.
Some couples may love the AS3 because it works with most body types and sleeping positions. Not only that, but the AS3's cushiony foam causes little to no motion transfer.
The AS3 contains 3 inches of Bio-Pur® foam, 2 inches of Affinity foam, and 7 inches of Bio-Core® foam. The mattress is wrapped in a soft and lightweight cover so sleepers don't overheat.
Bio-Pur® is Amerisleep's proprietary plant-based memory foam. During the manufacturing process, Amerisleep replaces some of the petroleum-based oils with castor oil. This construction creates a more durable and cool memory foam, while still being pressure-relieving. It releases practically no off-gassing, so the foam won't irritate you at night.
The AS3's Affinity layer contains something known as HIVE® technology, a 5-zoned support system. The technology provides extra support to the head, back, and legs while being softer around the shoulders and hips. This construction promotes healthy spinal alignment and evenly distributes your weight.
The Bio-Core® base reinforces the upper foam layers but also supports your spine to prevent pain.
The AS3 is made in America and CertiPUR-US® certified, meaning the mattress is free of harmful chemicals and won't off-gas. With the Amerisleep AS3, you receive a 100-night sleep trial and a 20-year warranty. The purchase of the AS3 includes free shipping and returns.
AMERISLEEP AS3
Bio-Pur® foam has no motion transfer and is plant-based
HIVE® technology ensures body weight is evenly distributed
CertiPUR-US® certification ensures mattress won't off-gas
The Zoma Mattress is next up on our list for its cooling features. The bed is catered towards active adults, but it's a good option for anyone looking to sleep deeper and wake up every morning feeling rested and refreshed. The bed is also great for hot sleepers who are sick of sleepless nights.
The mattress is 11 inches tall and contains 2 inches of gel memory foam with Triangulex™, 2 inches of Reactiv™, and 7 inches of Support+ foam. The mattress cover is called AirCloth and is a stretchy polyester blend.
The gel memory foam comfort layer helps keep you cool while alleviating pressure so you get a good night's sleep. The comfort layer incorporates Triangulex™ technology, a zoned support system. It cushions the hips and shoulders and supports the back, which is why the Zoma Mattress is one of the best for back pain sufferers.
Between the top and bottom layers of the mattress is Reactiv™ foam. This latex-like foam adds extra bounce to the mattress for ease of movement, which prevents sleepers from sinking and feeling trapped in the Zoma Mattress.
The Support+ base reduces potential sagging and improves the mattress's overall durability.
The Zoma Mattress comes with a 100-night sleep trial and a 10-year warranty. It's both CertiPUR-US® certified and made in the USA.
ZOMA MATTRESS
Gel memory foam comfort layer promotes cool, uninterrupted sleep
Triangulex™ technology adds extra cushioning and support where needed
Suitable for any sleeper, but an especially good option for active people
With Vaya, you can get all the luxuries of a hybrid mattress at an affordable price. Most hybrid mattresses cost over $1000, but the Vaya Hybrid is only $699! For such a steal, we couldn't pass up talking about this bed.
The bed is 12 inches thick and contains 3 inches of Vaya Comfort Foam, 8 inches of pocketed coils, and 1-inch base foam. Over the mattress is Vaya's plush, ventilated mattress cover to keep sleepers cool and dry.
Vaya Comfort Foam is a durable and bouncy foam built to align your body and prevent painful sinkage. With proper spinal alignment, your body can properly relax and you can wake up pain-free.
The supportive pocketed coils are independent of each other, which reduces motion transfer and helps the coils contour closer to your body. The base foam beneath the coils reinforces the top two layers and helps extend the bed's lifespan.
The Vaya Mattress includes a 100-night sleep trial and a 10-year warranty.
VAYA HYBRID
Affordable foam mattress with high-quality materials
Vaya Comfort Foam is springy, so you sleep on your bed rather than in it
Pocketed coils prevent motion transfer and noise
For shoppers looking for something a bit more high-end, consider the AS5 Hybrid. It has a luxuriously soft feel and is a great choice for side sleepers, petite sleepers, and plus-sized sleepers.
A common concern with soft mattresses is that they'll be unsupportive and break down quicker than firm mattresses. So long as you're buying a high-quality soft mattress—like the AS5 Hybrid—you shouldn't run into any of these problems.
We always suggest getting a mattress with a support system that makes up at least half of the bed. The AS5 Hybrid is 14 inches tall and its support layers make up 9 inches of the bed. The bed contains 3 inches of Bio-Pur®, 2 inches of Active Flex, 8 inches of pocketed coils, and 1-inch base foam.
The Active Flex layer is a buoyant material that prevents you from feeling stuck in the mattress, without minimizing the bed's overall softness.
The mattress's support layer contains pocketed coils and durable base foam. The coils are individually wrapped in a lightweight fabric to increase the bed's durability and motion isolation, but also prevent noise.
The coils around the sides of the bed are firmer to improve the bed's edge support, which makes the bed easier to access and saves you from falling out.
Like other Amerisleep mattresses, the AS5 Hybrid is CertiPUR-US® certified and includes a 100-night sleep trial, a 20-year warranty, and free shipping and returns.
AMERISLEEP AS5 HYBRID
Active Flex layer prevents sleepers from feeling trapped or unable to move
Sides of pocketed coils are firm to enhance edge support
A soft mattress that works for both heavy and petite sleepers
The Puffy Mattress is the most affordable and well-rounded mattress Puffy offers. With its medium feel and all-foam design, the bed works well for side sleepers, combo sleepers, and petite people.
It's 10 inches tall and contains three foam layers: 2 inches of Cooling Cloud™ memory foam, 2 inches of Cloud Climate transition foam, and a 6-inch Firm Support Core.
The Cooling Cloud™ memory foam is infused with gel to minimize the heat retention in the memory foam and help you stay cool throughout the night. Puffy reinforced the perimeter of the memory foam, so you won't roll off the edges of the bed. Proper edge support makes getting in and out of bed easier.
Beneath the comfort layer is the Cloud Climate layer. It adds extra support to the bed while preventing sleepers from feeling stuck in their mattress.
The Puffy Mattress's Firm Support Core is sturdy enough to support all types of sleepers.
The Puffy Mattress is made in the USA and you receive contactless delivery with every purchase. The bed comes with a 101-night sleep trial and a lifetime warranty.
PUFFYMATTRESS
Cooling Cloud™ memory foam is gel-infused to prevent sleepers from overheating
Cloud Climate transition layer minimizes uncomfortable sinkage
Works well for side sleepers, combination sleepers, and people who weigh less than 130 pounds
The Layla Mattress is the only mattress on our list that is dual-sided, meaning you can sleep on both sides of the mattress. It has a soft side and a firm side, so you have options when it comes to getting a good night's rest.
Having two firmnesses in your bed is good if you're trying to switch sleeping positions. It works well if your life changes and you need a different type of bed, such as when you're pregnant, losing weight, or recovering from an injury. Dual-sided beds work well for guests as you can offer two firmnesses for your visitors.
The base version of the Layla Mattress contains 3 inches of copper-gel memory foam, 2 inches max airflow support foam, 4 inches of support core foam, and then another 1-inch of copper-gel memory foam. The mattress's cover contains thermo-gel to dissipate heat and help sleepers stay cool.
With the Layla Mattress, you receive a 120-night sleep trial, plus free shipping and returns.
LAYLA MATTRESS
Dual-sided mattresses give sleepers options in terms of support and cushioning
Works well for guest bedrooms and sleepers with specific health needs
Copper gel memory foam helps sleepers stay cool
The Nest Bedding Sparrow, formerly known as the Alexander Signature Hybrid, is a hybrid mattress that has three firmness options: plush, medium, and firm.
Even better, the king and California king size mattresses come with the option to have different firmnesses for both sides of the bed. This is a good option for couples with different firmness preferences, or even if you switch positions occasionally and need different levels of support.
The mattress contains 1 inch of gel memory foam, 3 inches of Energex™ Temperature Responsive Foam, 1 inch of SmartFlow Support Foam, a 6-inch pocketed coil layer, and 1-inch base foam. The mattress cover contains a phase-changing cover designed to keep the bed cool throughout the night.
The sturdy coils and support foams in the Sparrow allow for excellent edge support, which is important for people with limited mobility. Not only that, but edge support protects you from rolling out of bed accidentally.
The Sparrow is handmade in the USA and CertiPUR-US® certified. It comes with a 365-night risk-free trial and a lifetime warranty for sags and defects.
NEST SPARROW
Phase-changing cover regulates temperature
Comes in three firmness options: plush, medium, and firm
King and Cal king mattresses have split firmness options
If you have a tight budget but need a good bed, consider the Tuft & Needle Original mattress. It's simple but comfortable and supportive for a variety of sleepers. The mattress is 10 inches tall and contains two foam layers.
The top layer of the mattress is 3 inches of T&N Adaptive foam. The foam is infused with gel and graphite to prevent sleepers from getting hot in the all-foam bed. Still, it's springy and responsive, making it easy to get in and out of bed.
The base layer is 7 inches of firm poly-foam. It supports the upper layer and your spine, so your back won't curve improperly and cause pain.
The T&N Original comes with a 100-night trial and a 10-year limited warranty. You receive free shipping and returns. For an additional fee, you can add HeiQ NPJ03 technology to your T&N bed to protect it from bacteria and extend the bed's lifespan.
TUFT & NEEDLE ORIGINAL
Adaptive® foam is infused with gel and graphite for cool nights
Poly-foam base protects against premature wear
HeiQ NPJ03 upgrade protects the bed against bacteria and germs
Popular Types of Mail Order Mattresses
You can find several mattress types online. However, some of the most popular mail order mattresses include memory foam, latex, innerspring, and hybrid beds.
Memory Foam Mattresses
Memory foam mattresses contain a memory foam comfort layer—as it's cushiony and pressure-relieving—and a sturdy base made from poly-foam. So, memory foam mattresses aren't made entirely of memory foam, but they are made entirely of foam in general.
Some of the benefits of memory foam beds are excellent pressure and pain relief, along with superb motion isolation and no noise.
Certain types of memory foam beds retain heat, but lots of new memory foam mattresses contain cooling properties—such as gel, copper, or graphite infusions—to prevent the bed from getting hot.
Latex Mattresses
Latex is a natural type of foam derived from the sap of rubber trees. It's an eco-friendly option that is naturally bouncy and durable.
Latex in mattresses comes in two forms: Talalay and Dunlop. Oftentimes, Talalay latex makes up the comfort layer of mattresses as it's cushiony, while Dunlop makes up the support layers since it's so durable and sturdy.
Compared to other types of mattresses, latex beds have a longer-than-average lifespan, with some latex beds lasting 12 to 15 years.
Innerspring Mattresses
Innerspring mattresses are a very popular mattress choice since they're well-known and affordable. They feature coil support systems and pillow top or Euro-style comfort layers made from fibrous fills, such as cotton or polyester.
Innerspring beds provide lots of bounce and support. The beds provide excellent edge support and air circulation to keep you cool.
On the other hand, innerspring mattresses only last about 5 to 7 years at most and provide little in terms of pressure relief or comfort. For this reason, most innerspring mattresses have a low satisfaction rating from users.
Hybrid Mattresses
Hybrid mattresses contain features from both innerspring and foam mattresses, only better. Instead of open coils, hybrid beds have pocketed coils, which prevents the coils from breaking or being noisy.
The comfort layers on hybrid beds also provide better pressure-relief than innerspring comfort layers do. Hybrid comfort layers are generally made from memory foam, latex, or poly-foam, which all contour to your curves well.
Considerations When Buying a Mail Order Mattress
When looking to buy a mattress online, it's good to have the right information before investing, especially since you can't see the item before you buy it. We recommend knowing your mattress firmness needs and a company's policies when choosing a mattress.
Mattress Firmness
Since you won't be able to feel a mattress before buying it online, knowing the type of mattress firmness that works best for you makes shopping for the most comfortable mattress easier. This way, you won't have to buy and return multiple mattresses or get stuck with a mattress that's wrong for you.
The mattress firmness scale ranges from 1 to 10, with 1 being the softest option and 10 being the firmest option. Most mattresses fall in the middle of this scale, rather than being on either extreme.
The two main components of finding the right mattress firmness are your sleeping position and your body type. Now, everyone is different, so these recommendations are approximations, but they're still a useful starting point to finding the right firmness.
Sleeping Position
Your sleeping position makes a big impact on what mattress firmness works best for you. It affects the amount of cushioning your body needs to prevent pressure build-up and keep your spine aligned.
Based on your sleeping position, consider using these mattress firmnesses:
Body Type
Mattress firmness recommendations are based on the average adult who weighs between 130 to 230 pounds.
For people who don't fall within this weight range, you'll need to make some adjustments to find the right firmness:
For sleepers who weigh less than 130 pounds, choose a mattress firmness slighter softer than what's recommended for your sleeping position
For sleepers who weigh more than 230 pounds, choose a mattress firmness slighter firmer than what's recommended for your sleeping position
Sleep Trials, Warranties, and Return Policies
Especially when you're shopping online, it's important to shop from a brand that offers good sleep trials, warranties, and return policies.
These policies cover you in case that something goes wrong with your mattress, or it just turns out you don't like it.  With a good return policy and warranty, you can return your mattress or have it repaired or replaced as needed.
Here are some examples of standard sleep trials, warranties, and return policies:
Sleep trials: 30 to 365 days
Warranties: 10 years or longer
Return policies: Free (most companies either pick up the mattress for you or arrange for you to donate or recycle the mattress)
Benefits of Buying a Mail Order Mattress
Mail order mattresses have a multitude of benefits over mattresses at brick and mortar stores, making online shops one of the best places to buy a mattress. The mattresses online are cheaper and there's a wide variety of beds. Also, you can avoid conversing with salespeople and receive long sleep trials.
No Pressure When Shopping
Most mattress stores have salespeople who get paid on commission, so they can get a bit pushy when it comes to meeting their sales goals. While some salespeople are helpful and informative, it can be hard to shop by yourself or without somebody pressuring you to make a purchase as quickly as possible.
It's a bit awkward having somebody push you to lay on a mattress in the middle of a busy showroom, so you won't get the chance to properly relax on the bed.
Great Prices
One of the best parts about buying mail order mattresses is the amazing prices. You only have to pay a fraction of the cost or the same quality of mattresses sold in stores.
Not only that but so many of the best online mattress brands offer deals and discounts. Not just around long weekends or Black Friday, but year-round!
The excellent prices for online mattresses are thanks to the lack of overhead costs mattress companies pay.
Brick and mortar mattress stores have to pay bills, rent, and employees. There's also the cost of being a middleman versus buying directly from a brand since mattress stores often mark up their prices (thus why negotiating at mattress stores is so common).
Online stores don't have these same costs, which is why they can offer you the best prices possible without negotiating.
Excellent Sleep Trials
Online mattress brands practically invented sleep trials, which are trial periods where you can take your mattress home and use it for an extended period (usually between 30 to 365 days).
Sleep trials take the stress out of shopping online because you can test your mail order mattress out and, if you decide it's not right for you, you get a full refund. In a way, sleep trials are your safety cushion when investing in a new mattress online.
While some brick-and-mortar stores also have sleep trials, they aren't always as well-rounded or long as the trials online brands offer.
Wide Selection
The world is at your fingertips online. When browsing for mattresses online, you have access to countless different brands, mattress types, and more, and you don't even have to drive.
You can easily compare brands, read reviews, and learn more about different products. Compared to when you're in a physical store, there's a limited number of brands and it's not easy to compare different mattresses.
Drawbacks of Buying a Mail Order Mattress
While buying a mail order mattress can seem great, a common issue people run into with online mattresses is that you can't always feel them before making a purchase. This problem is what turns some people away from buying mail order mattresses.
You Can't Feel The Mattress Before Buying
One of the biggest things that scare shoppers away from buying mail order mattresses is the inability to feel or lay on the bed before making a purchase.
It can be scary making such a large purchase without seeing the item in-person. However, lying on a mattress for ten minutes in a mattress showroom isn't enough time to adjust to a mattress and know if it's right for you. While feeling a mattress in brick and mortar stores may relieve some worries, it isn't necessary.
The most important part of getting the right mattress is adjusting to it properly and then deciding if it works for you, which is why sleep trials exist.
Most online retailers are sold solely online, but some brands have physical showrooms if you want to feel a bed beforehand.
FAQs
Are mail order mattresses worth it?
Completely! Mail order mattresses have a lot to offer in terms of quality, great prices, and convenience.
Although you can't always feel an online mattress before buying, we'd argue that lots of online mattresses are even better than the ones in stores, especially thanks to their affordable prices.
How much should I pay for a good mail order mattress online?
The exact price of a mattress depends on the size and the materials in it, but usually good mattresses online cost between $500 to $1500 for a queen.
You can find more luxurious options for more than this, but luxury doesn't always equal comfort. Similarly, there are beds cheaper than $500, but they're likely going to be uncomfortable and won't last very long.
Can I sleep on my mattress in a box right away?
Technically yes, but we recommend waiting for at least 24 to 48 hours before using your mattress so it can properly expand. If you use your mattress while it's still expanding, it'll most likely feel uncomfortable and still.
While lying on your expanding mattress won't necessarily damage it, it'll take longer for the bed to fully expand.
How long can I leave my mattress in the box?
Although we recommend taking your mattress out of its box as soon as possible, you can technically leave your mattress in the box for up to two months. Any longer can permanently damage the mattress.
Still, double-check the brand's policies for the mattress you purchase, because they may have a specific guideline for you to follow when it comes to leaving your bed in its box. Not following these guidelines might void your warranty.
How long do mail order mattresses last?
Most mattresses last between 7 to 10 years, which isn't different from your standard mattress. Mail order mattresses can be of the same quality—if not better—than standard mattresses from the store, so their lifespans will be similar.
The main factor for a mattress's lifespan is the type of bed you have and how well you maintain it.
Conclusion
If you've never bought a bed online, it's okay to be a bit skeptical. But with our guide, you can buy mail order mattresses with confidence. After all, mail order mattresses have countless advantages over traditional mattresses from showrooms. This includes better prices and deals, convenience, and a larger selection.