Best Hybrid Mattress Made in the USA (2023): Reviews and Buyer's Guide

Mattress Guides
If you're looking to buy a new mattress made in the USA, why not try a hybrid? Hybrid mattresses take the pressure relief of memory foam and the breathability of innerspring coils and combine them into one bed.
In our article, we share some of the best hybrids made in the USA and offer a guide on how to find the right mattress. We'll also discuss the benefits of buying a bed made in the United States.
Best Hybrid Mattresses Made in the USA
| | Mattress | Highlights | Price |
| --- | --- | --- | --- |
| | Amerisleep AS3 Hybrid | Features plant-based memory foam and targeted innerspring coils for a good balance of comfort and support. | |
| | Zoma Hybrid | Gel memory foam absorbs body heat while zoned technology evenly relieves pressure points. | |
| | Vaya Hybrid | Hypoallergenic comfort layer and a pocketed spring coil base for maximum support. | |
| | Avocado Green | Natural latex conforms for pressure relief with a zoned coil support system. | |
| | Purple® Hybrid | Unique elastic layer adjusts to body type without losing support. | |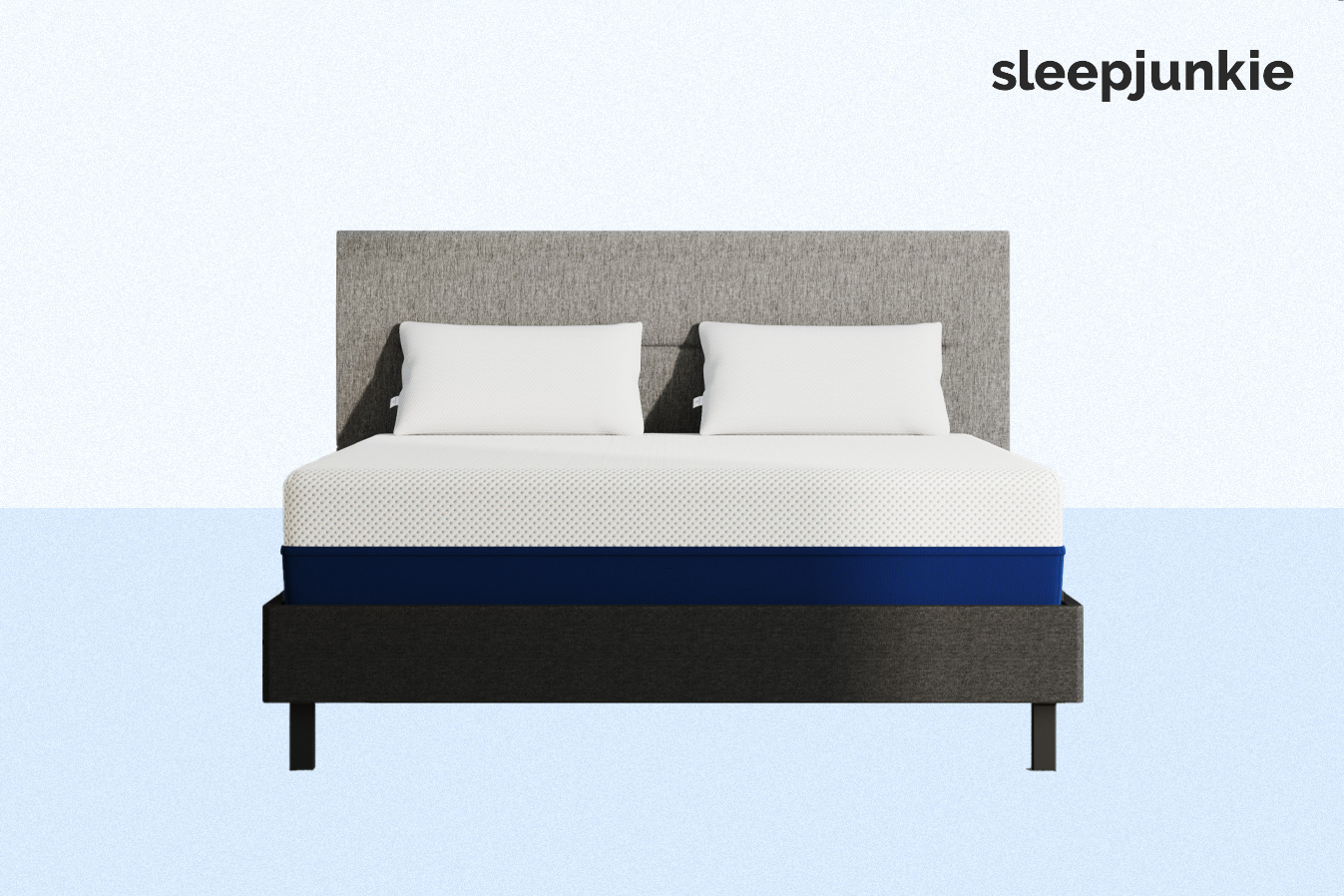 The Amerisleep AS3 Hybrid is one of the best hybrid mattresses made in the USA. The responsive foam comfort layer relieves pressure points without trapping heat. The zoned support layer distributes body weight for even support.
Bio-Pur® is a plant-based memory foam layer that tops the AS3 Hybrid. Manufacturers partially replace petroleum with castor oil during the production process, creating a breathable, more responsive memory foam. You'll love how the material forms to your body without sinking too far. You can enjoy a good night's sleep without feeling stuck inside the mattress.
The supportive base contains hundreds of pocket coils formed into a 3-zone support system. Areas under the head, shoulders, and legs feel softer, while areas under the back and hips feel firmer. The zoned coils provide targeted support where you need it the most and encourage spinal alignment.
Amerisleep's 100-night sleep trial and 20-year warranty is another reason to love the AS3 Hybrid. After breaking the bed in, you can return the mattress if you don't like it for a full refund. The warranty covers manufacturing defects and sagging greater than 0.75 inches.
AMERISLEEP AS3
Medium feel perfect for side and combination sleepers
Plant-based Bio-Pur® relieves pressure points without trapping heat
Zoned support coils evenly distribute body weight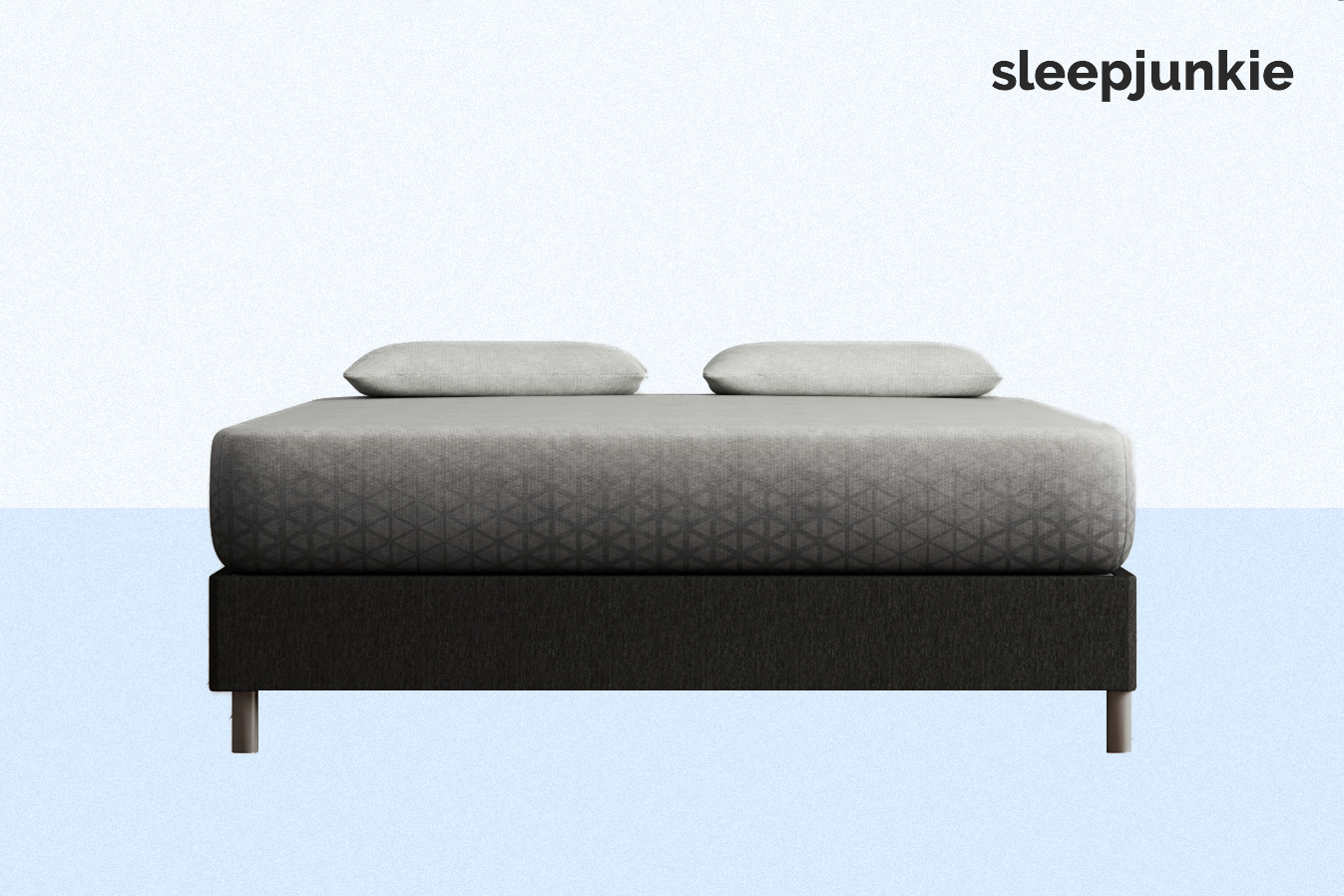 The Zoma Hybrid is an excellent choice for athletes and those who lead an active lifestyle. Breathable cooling foams absorb body heat and keep your body resting on the surface, enabling a faster recovery. Pocketed innerspring coils provide whole-body contouring and consistent support for long-lasting comfort. You can wake up feeling refreshed and ready for the day without aches and pains.
The comfort layer contains gel memory foam with zoned support. The gel memory foam absorbs and dissipates body heat, while foam cutouts provide a 3-zone support system. Hundreds of triangle-shaped segments form three zones. You'll feel softness under your head, shoulders, and legs, and firmness under the back and hips.
The transition foam is called Reactiv™. This highly-responsive layer adjusts to shifting weight and prevents the body from sinking too deeply. Plus, the elasticity encourages spinal alignment, so you're less likely to experience back pain.
The pocketed coils provide a more durable base compared to some foam foundations. The pocketed coils give the Zoma Hybrid Mattress more bounce, making it easier to change sleeping positions. They also provide better edge support, a nice feature if you prefer to sleep on the edge of your bed.
Zoma gives customers 100 nights to try out the Zoma Hybrid. If you don't like the mattress after thoroughly testing it out, Zoma will issue a full refund. The Zoma Hybrid also comes with a 10-year warranty, covering sagging greater than 0.75 inches.
ZOMA HYBRID
Gel memory foam absorbs and disperses body heat for cooler sleep
Elastic Reactiv™ encourages spinal alignment
Innerspring coils provide targeted support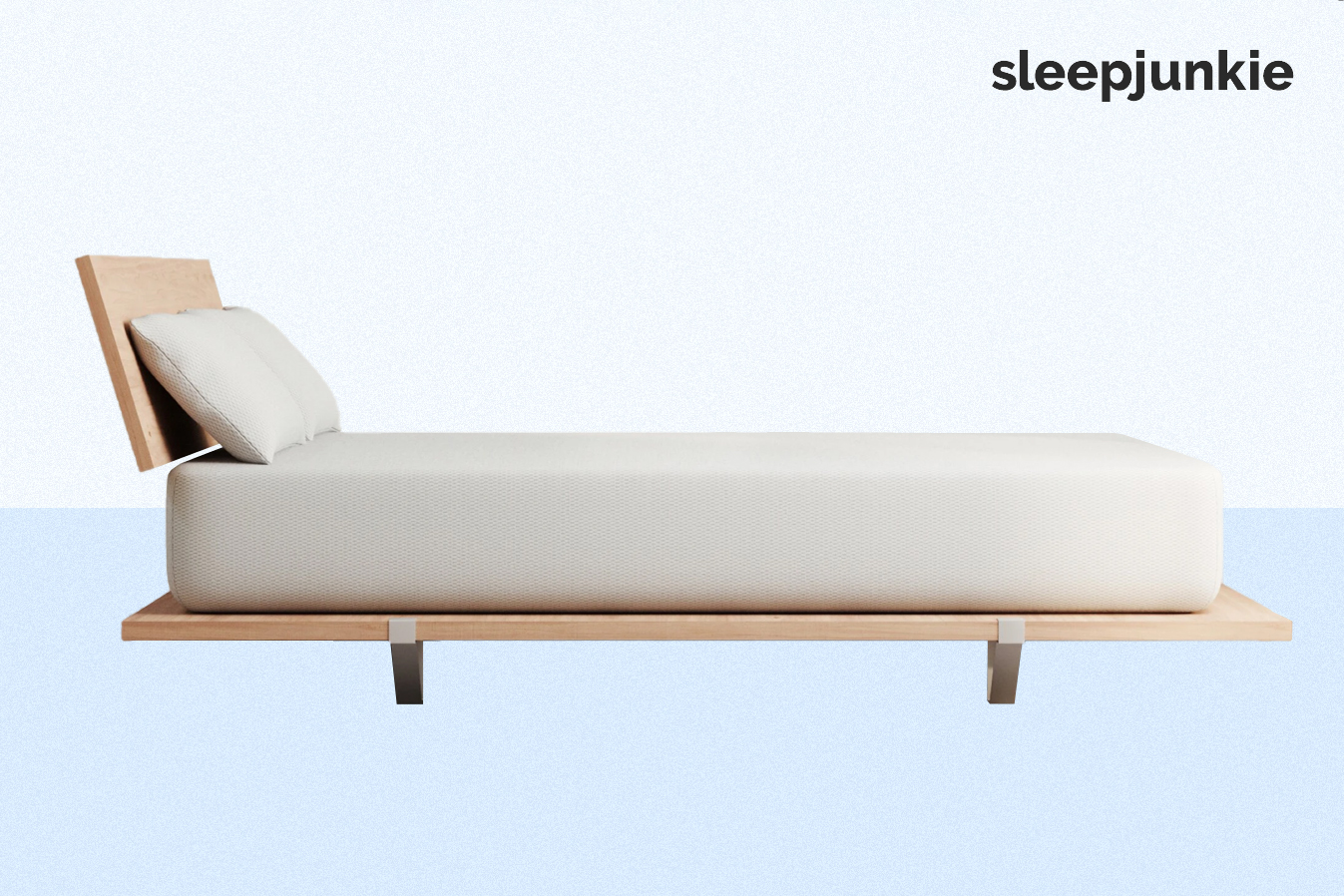 Vaya is a new online mattress brand offering two affordable models both made in the U.S. We like the Vaya Hybrid because it has a hypoallergenic comfort layer with a natural elasticity to prevent excess sinking during sleep. This unique foam ensures sleepers are never forced into uncomfortable positions that cause muscle tension and spinal misalignment.
The spring coil support system in the Vaya Hybrid features 8-inch pocketed coils; each coil is triple wrapped for added durability and pressure relief. The coils in the Vaya also move independently of one another, rather than as a unit. This coil system creates less motion transfer, which is perfect for couples with different sleep schedules.  A 1-inch layer of support foam also sits beneath these springs to absorb shock and maintain the stable structure of the mattress.
The Vaya Hybrid comes with a 100-night sleep trial, giving you plenty of time to test out the bed and make sure it's right for you. They also include a 10-year warranty covering structural defects such as sagging and intentions greater than .75 inches.
VAYA HYBRID
Proprietary comfort foam has a latex-like quality to reduce uncomfortable sinkage
Reinforced edge support reduces motion transfer
Pocketed spring coils offer contouring and pressure relief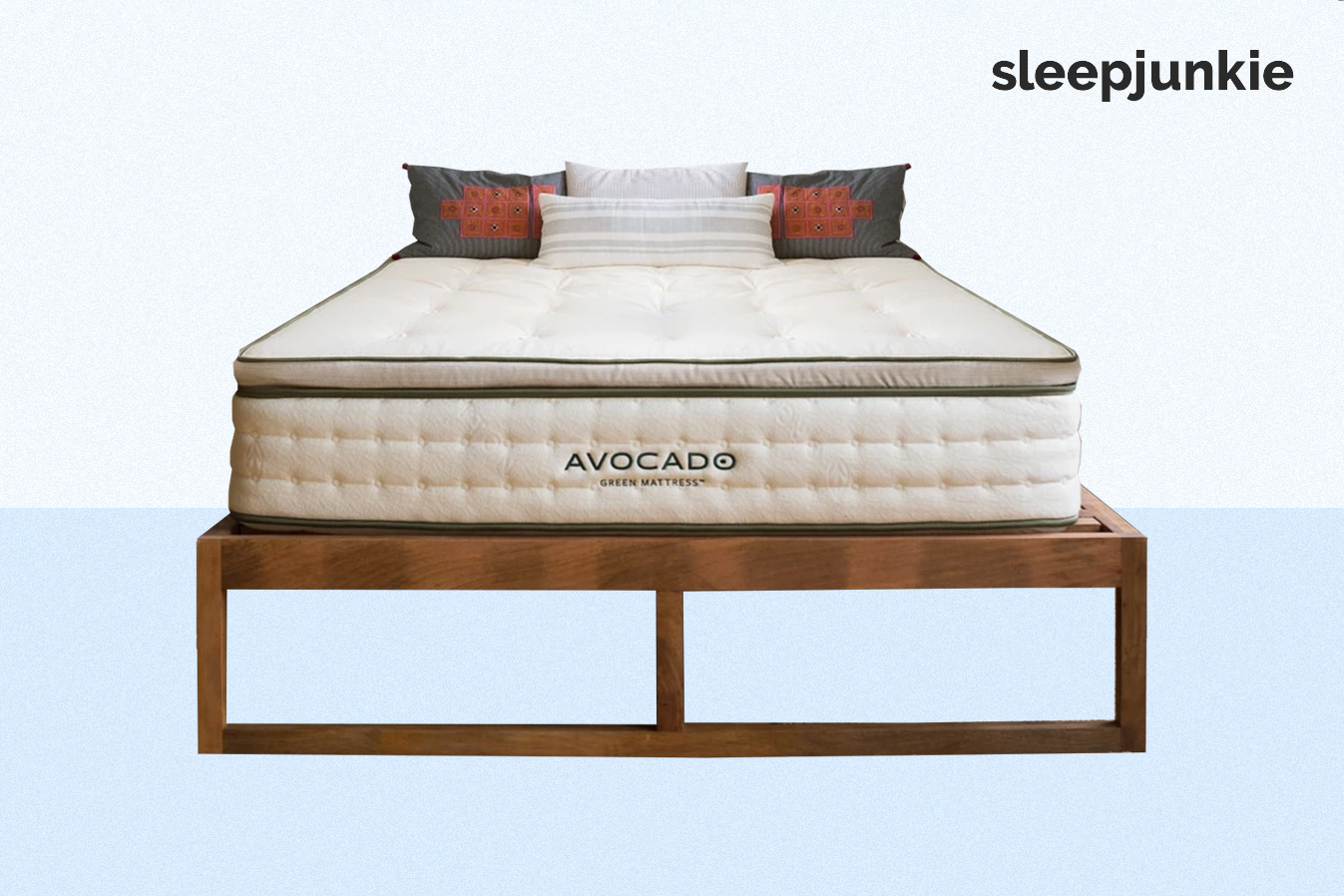 For those looking for an eco-friendly mattress, the Avocado Green could be the right choice. Avocado uses natural latex and recycled steel coils inside their mattress, complete with an organic cotton and wool mattress cover. You can enjoy a long-lasting bed with good bounce and pressure relief and sleep better, knowing the Avocado Green Mattress has a low environmental impact.
The top layer of Dunlop latex forms around your body, cushioning your shoulders and hips and relieving pressure points. Dunlop latex feels firmer than memory foam, so you're less likely to sink deeply, and you'll find it easier to climb in and out of bed. Dunlop latex also lasts longer than traditional memory foam—the durable material can last up to 15 years.
The pocketed coil support layer has five zones of support. You'll love the enhanced support to your head, back, and legs with more cushioning in the shoulders and hips. Also, the pocketed coils give better edge support, unlike memory foam mattresses. You can rest easy without the fear of rolling off the bed.
You have up to a year to try out the Avocado Green Mattress. Avocado does ask that you hold onto the bed for at least 30 days to allow your body to adjust to a new sleep surface. The Avocado Green Mattress includes a 25-year warranty, protecting against sagging greater than 1 inch.
AVOCADO GREEN
Eco-conscious mattress for environmentally-minded consumers
Natural latex relieves pressure points without feeling trapped
5-zoned pocket coils give a deeper cushion to shoulders and hips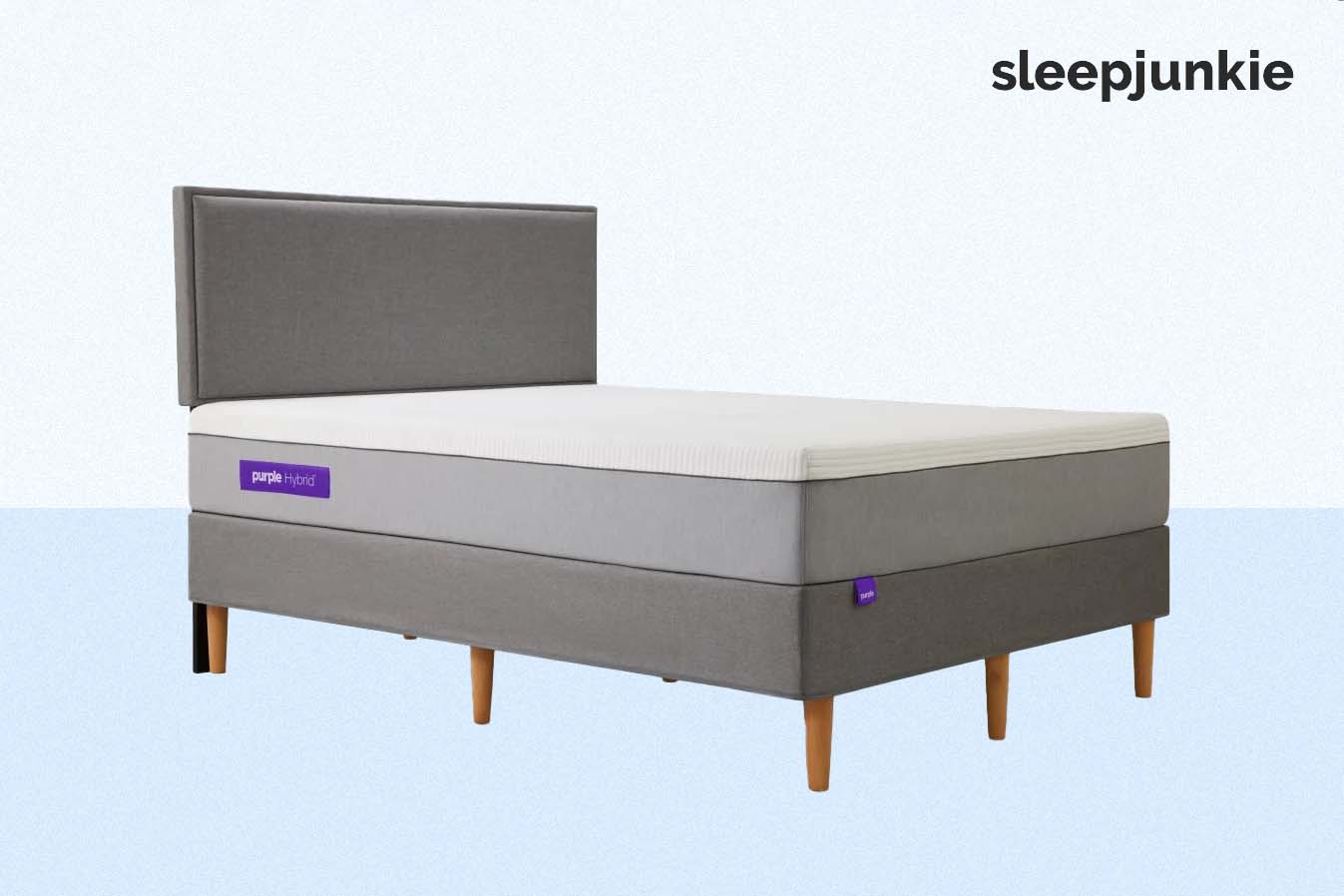 The Purple® Hybrid is a great choice for combination sleepers. The layers of foam instantly adapt to your sleeping style without sacrificing support. You can easily switch between sleeping positions without feeling stuck.
The Purple® Hybrid Mattress has a unique elastic comfort layer different from memory foam and latex. This material is formed in a special grid system called the Purple Grid™ that automatically adjusts to each sleeping position. You'll love the consistent comfort and support night after night.
The polyurethane foam transition layer enhances the cushion of the Purple Grid™ and protects your body from the pocketed steel coil base. This layer also helps align your spine and prevents deep sinkage.
The pocket coil support core provides targeted support. Each coil responds to specific areas of the body for better support. Heavier sections of the body, like the shoulders and hips, won't sink too deep.
Purple®'s mattresses includes a 100-night risk-free trial period, so you can try out the Purple Hybrid Mattress without pressure to buy. In case of a manufacturing defect or sagging greater than 1 inch, Purple® will repair or replace the mattress.
PURPLE® HYBRID
Elastic Purple Grid™ adjusts to shifting weight
Polyurethane foam enhances cushioning
Coils react individually for better support
Benefits of a USA-Made Hybrid Mattress
Choosing a mattress made in the USA is not just about supporting local businesses. It's also about owning a quality product made with high standards and low environmental impact.
Creating American Jobs
When you support local businesses, you're supporting American jobs. It's not just the people who create the mattress, it's more—customer support and sales associates, to name a few. When you buy American, you're supporting a business that creates jobs.
Higher Safety Standards
Mattress companies in the United States are more transparent about their manufacturing process and working environment compared to other countries, where regulations may not be as strict. This is because consumers are concerned that their money could profit organizations that don't uphold suitable working conditions or could pose a danger to the environment. American made mattresses are held to a higher standard, so you can feel better about purchasing an American-made bed over an imported mattress.
Low Environmental Impact
USA-made mattresses have a low environmental impact, as reflected in common mattress certifications like CertiPUR®-US and OEKO-Tex®. These certifications let you know that the mattress materials were produced without the use of toxic chemicals, like formaldehyde. You don't have to worry about potential health risks with an American-made mattress.
High-Quality Materials
Mattress brands that have their own factory have better quality control. The materials are used with little to no waste, so a mattress brand can consistently produce high-quality mattresses. Plus, if a mattress company wants to upgrade their original design, they can do so quickly and efficiently. Something mattress companies with factories outside the U.S. may struggle with because of the distance.
Why Choose a Hybrid Mattress?
A hybrid mattress allows you to experience the conforming feel of memory foam or latex and the bouncy support of innerspring coils. Hybrid beds are an excellent option if you're torn between a memory foam bed and an innerspring mattress. You can enjoy the best each mattress type has to offer in a hybrid.
How to Find the Best Hybrid Made in the USA
To find the best USA hybrid mattress, consider a few factors first, including your body type and sleeping position, price, and available sleep trials and warranties. Doing extra research can help narrow down potential options and pinpoint the top choices. Otherwise, you could end up with a cheap, lumpy mattress that you may need to replace within a couple of years.
Body Type
Each body type needs a specific level of comfort and support to encourage spinal alignment and provide a good night's sleep. If you don't consider your body type, the mattress may feel too hard or too soft. You could also experience more pressure, which can lead to aches and pains.
Plus size sleepers need more support. If the mattress isn't firm enough, their bodies may sink into the bed and sag. Hybrids may feel firmer than other mattress types, like memory foam mattresses, making them a great choice for plus-size sleepers.
On the other hand, lightweight sleepers need a softer surface. Softer beds provide more cushioning and give under the shoulders and hips. They also enable contouring for lightweight sleepers who weigh less than 130 pounds.
Average weight sleepers find the best comfort in a medium mattress. The medium feel is the perfect balance between comfort and support. Average weight sleepers can enjoy cushioning in the shoulders and hips, with even support to the body.
Sleeping Position
Hybrids are perfect for any sleeping position—side, back, stomach, or combination. The firmness levels depend on which sleeping position you prefer. For example, side sleepers place most of their weight in their shoulders, so a soft to medium surface will be best for optimal cushioning.
Stomach sleepers are the opposite. They'll enjoy a medium-firm to firm mattress that will keep their bodies resting on the surface without deep sinkage.
Back sleepers sleep better on a medium to firm bed, which cradles the hips and prevents their bodies from sinking too deep.
Combination sleepers toss and turn between two to three sleeping positions a night, so a medium to medium-firm surface is best. The medium feel keeps their spine aligned.
Price
Hybrid mattresses are more expensive than other mattress types. This is largely due to the number of materials they contain, making them heavier than other beds too.
The average price for a high-quality hybrid mattress is about $1,500 to $2,000 (for a queen size). Of course, cost also depends on mattress size—the larger the mattress, the higher the cost. A twin XL mattress will cost less than a king size.
Sleep Trial and Warranty
Sleep trials and warranties are a way to gauge the quality of a potential mattress. A sleep trial gives you time to try out a new bed within the comfort of your own home.
Most online mattress companies give you 90 to 120 nights, though some brands may give up to a year. Should you not like the mattress, most companies will pick it up and give you a full refund.
In case a new mattress doesn't come with a sleep trial, the next best thing is to look at the return policy. Return policies are not as extensive as sleep trials, but they're still a good substitute. For a return policy, you have only 30 days to decide if a potential mattress is right for you.
A warranty covers any manufacturing defects and sagging greater than 1 inch, though this measurement depends on the brand. Most mattresses come with a standard 10-year warranty. Keep in mind that the mattress warranty only applies to you, the original purchaser. If you sell the bed, the warranty doesn't transfer.
FAQs
Is a hybrid mattress better than an innerspring?
Hybrids may be better than innersprings. While innersprings provide plenty of bounce and support, they lack a comfort layer to relieve painful pressure points. Plus, innersprings are one of the least durable mattress types on the market.
Can you flip a hybrid mattress?
A hybrid mattress should never be flipped unless instructed by the mattress manufacturer. Hybrids have a single layer construction, meaning they are designed to rest on one side only. Flipping a hybrid bed could damage the comfort layer and lead to sagging.
Instead of flipping the hybrid mattress, rotate the bed 180 degrees instead. This evens wear and tear and helps the mattress last longer.
How long do hybrid mattresses last?
Hybrid mattresses can last up to ten years if properly taken care of, which includes cleaning and rotating. Hybrids contain many high-quality materials, making them more durable than other mattress types, like innersprings.
Do hybrid mattresses need a box spring?
You do not need a box spring for a hybrid mattress. Choose a solid or slatted mattress foundation instead, like a platform bed. This type of foundation is better able to support the mattress without the risk of sagging. Box springs are better for innerspring mattresses, acting as shock absorbers, and even supporting the steel coils.
Are hybrid mattresses good for side sleepers?
There are plenty of comfortable hybrid mattresses for side sleepers. The thick comfort layers conform to the body, providing extra cushioning in the shoulders and hips. The pocketed coils give targeted support and pressure relief for even support without sagging.
Conclusion
Hybrids are constructed to offer the body-hugging sensation of memory foam with the strong support of an innerspring. An American-made hybrid mattress provides more benefits, including creating American jobs, higher safety standards, low environmental impact, and high-quality materials. You'll enjoy a good night's sleep, knowing you're resting on a high-quality hybrid bed that will last you for years.