Best Organic Bed Sheets (2023): Reviews and Buyer's Guide
Updated November 22, 2023

Bedding Guides
Chemicals make their way into your home every day. They hide in common household products, including your sheets. Organic bed sheets are free from many harmful chemicals and let you sleep with peace of mind.
Independent organizations test the raw materials and ensure the sheets are made organically. Organic bed sheets come with a higher price tag than your average bed sheet. But to many, that higher price tag is worth it.
We've picked five of the best organic bed sheets on the market. Independent organizations have certified each pick.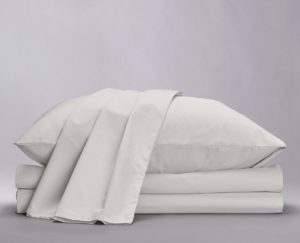 The SOL Organics Percale Cotton Sheet Set puts a checkmark in every box. The Global Organic Textile Standard (GOTS) certification takes extra effort to achieve. To receive the certification, cotton is tested from planting until final manufacturing. Sheets with this certification are free of harmful pesticides, chemicals, and treatments.
SOL Organics sheets are Fair Trade Certified. That means there's no child labor in the facilities where the sheets are produced.
These sheets have a luxurious texture that only gets better with time. The percale weave and long-staple cotton make these a great choice for hot sleepers. They allow heat to circulate, while the sheet's light drape makes it feel like you're staying in a five-star hotel.
SOL Organics provides a 30-day return period for all textile products.
SOL Organics Organic Percale Cotton Sheets Highlights
GOTS and Fair Trade certified
Lightweight, breathable long-staple cotton that keeps the sleeper cool
The soft, luxurious texture gets better with each washing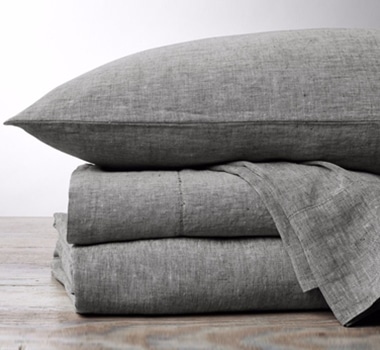 The GOTS certified Coyuchi Organic Linen Chambray Sheet Set is luxurious. Coyuchi's sheets have received the MADE SAFE® seal. They're free of carcinogens, neurotoxins, and other harmful substances.
Linen's deceptively casual look hides its natural durability, breathability, and comfort. These sheets have a heavy feel, yet the large size of the linen threads leaves space for air to circulate. They're prewashed, so they're incredibly soft at the first use.
And, like other linen products, they continue to grow softer with age. Linen's breathability and drape make these sheets usable year-round. They keep you cool in the summer and comfortably cozy in the winter.
The Coyuchi Organic Linen Chambray Sheet Set comes with a 30-day trial period. They also come with a 365-day guarantee. If within the first year you decide you don't like the sheets, they can be returned for in-store credit.
Coyuchi Organic Linen Chambray Sheet Set Highlights
GOTS certification and MADE SAFE® seal mean all parts of production are safe and organic
Heavyweight linen has a luxurious drape, yet retains breathability
Unique chambray coloring made with eco-friendly dyes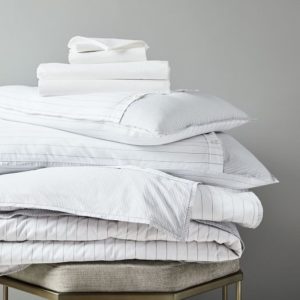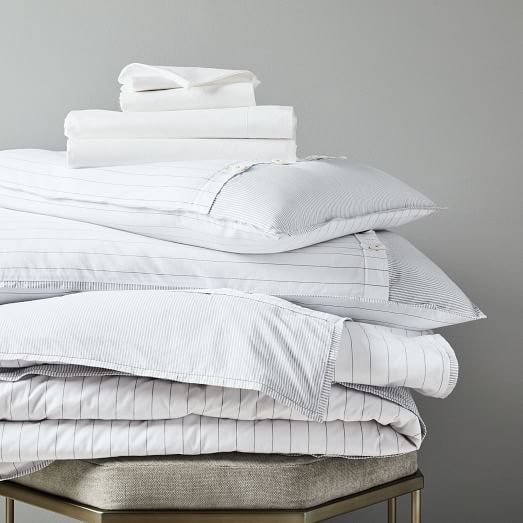 West Elm's Organic Washed Cotton Percale Sheet Set is sustainable and GOTS certified organic. The production of the sheets is safe for both humans and the environment.
Let's put aside the organic certifications for a moment. The percale weave lets heat and air circulate around the body. The combination makes them a perfect choice for hot sleepers and warm summer nights. Their light drape allows the sheets to flow over the body.
West Elm allows the sheets to be returned within 30-days, as long as you have a receipt.
Wests Elm Organic Washed Cotton Percale Sheet Set Highlights
GOTS and Fair Trade certifications
Lightweight percale weave gives the sheets a soft drape that won't trap body heat
The crisp feel of the cotton feels like newly washed sheets every time you get in bed
4. Alterra Pure Organic Cotton Sheets
Alterra Pure Organic Cotton Sheets are GOTS certified. They are made in a LEED-certified factory. LEED-certified factories reduce carbon dioxide emissions, improve water efficiency, and save energy.
After the eco-friendly manufacturing process, you're left with crisp percale sheets. Percale weaves are lightweight, improving the sheet's natural breathability. Warm sleepers will sleep cool no matter the season. Long-staple cotton fibers give durability to these 310 thread count sheets. Like other high-quality cottons, they're super soft and grow softer with age and use.
Each customer is allowed one free return within the first 90 days, whether the sheets have been used or not. But they're only eligible for return if they have the original packaging and a receipt.
Alterra Pure Organic Cotton Sheets Highlights
GOTS certified cotton, LEED-certified factory
Crisp percale sheets maintain a light, airy feel even after washing
Soft texture increases with each washing
We love Under the Canopy for their affordable organic products. That includes their Organic Sheet Set. The sheets are GOTS and OEKO-TEX® Standard 100 certified. Under the Canopy's basic sheet set is one of the most affordable certified organic sets on the market.
This organic cotton sheet set comes in seven colors. All are made using dyes that are OEKO-TEX® Standard 100 certified. Of course, the sheets have the natural breathability and texture of high-quality sateen. Sateen has more threads per square inch, giving these sheets extra weight and a buttery drape. While they have the breathability of cotton, they will be warmer than a percale sheet. They're perfect for the winter months or for cool sleepers.
Under the Canopy provides a 30-day return period. During that period, you can return the sheets for a full refund minus the cost of shipping and handling.
Organic Bed Sheet Features to Consider
Bed sheets may all look similar, but we all know that they don't feel or breathe the same. Here are a few tips to help you find the right organic bedding.
Fabric
Cotton
It's hard to beat organic cotton bedding. Not all cotton has the same feel, strength, and durability. The softest cotton will have long staples or extra-long staples (ELS). The staple is the length of the cotton fiber used to make the thread. Longer staples add strength to the sheet while giving them a softer feel.
Different varieties of cotton produce cotton of different staple lengths. The most common include:
Egyptian Cotton: Egyptian Cotton sheets have long or extra-long staples. A longer staple makes the thread stronger, yet soft.
American upland cotton: Short staples make these sheets less durable than Egyptian cotton.
Pima: Pima cotton sheets are a rival to Egyptian cotton, and some ELS Pima does feel similar. Don't go off of the name Pima alone, since some can have a lower-quality, medium length staple. Depending on the staple length, the sheets can be incredibly soft and comfortable.
Others: Combed cotton and cotton jersey knit is less likely to be used in organic sheets. Combed cotton has a smooth, soft feel since all the short fibers are removed. Cotton jersey is a knit fabric that feels like a T-shirt. Both combed cotton and jersey knit can be made using organic practices; they're just not as common.
Linen
After cotton, linen is the next most readily available organic fabric. Made from flax, linen has a rougher texture and thicker thread. It can take time to get used to a linen sheet due to the bumpy, almost coarse feel. With time, the linen softens and drapes beautifully. Linen sheets cost more than cotton, especially when they're organically produced.
Tencel®
Tencel® is actually a brand name of a fabric made from the eucalyptus tree. Eucalyptus has similar properties to cotton in that it's naturally breathable and soft. Tencel® sheets also tend to be smoother than the average cotton sheet.
Bamboo
Organic bamboo sheets are harder to come by. The manufacturing process often requires the use of chemicals and some manufacturers mix in synthetic fibers. You will find some organic bamboo sheets on the market. Bamboo has natural breathability, though not as much as cotton or linen.
Fabric Weave
The weave of fabric affects how it feels, breathes, and drapes over the body. The most common are:
Percale: The threads in a percale weave have a one under one over pattern. It creates a lightweight sheet with enough space between the threads for breathability. Percale sheets often have a crisp, cool feeling.
Sateen: Sateen's weave is heavier and less breathable than percale sheets.
Flannel: There are different types of flannel weaves. Some weaves have a nap on one side of the sheet, while others have a nap on both sides. They're a good choice for the winter months or people who sleep cold.
Thread Count
Thread count isn't as important as many manufacturers make it out to be. The number denotes the number of threads per square inch of fabric. Most high-quality sheets have a thread count between 200 to 500.
Thread count can be deceiving, as some sheets may have thread counts over 1,000. Fabrics can also have two or three plies or layers of threads. Some manufacturers count the threads of each layer. This doubles or triples their thread count when it doesn't affect the quality of the sheet.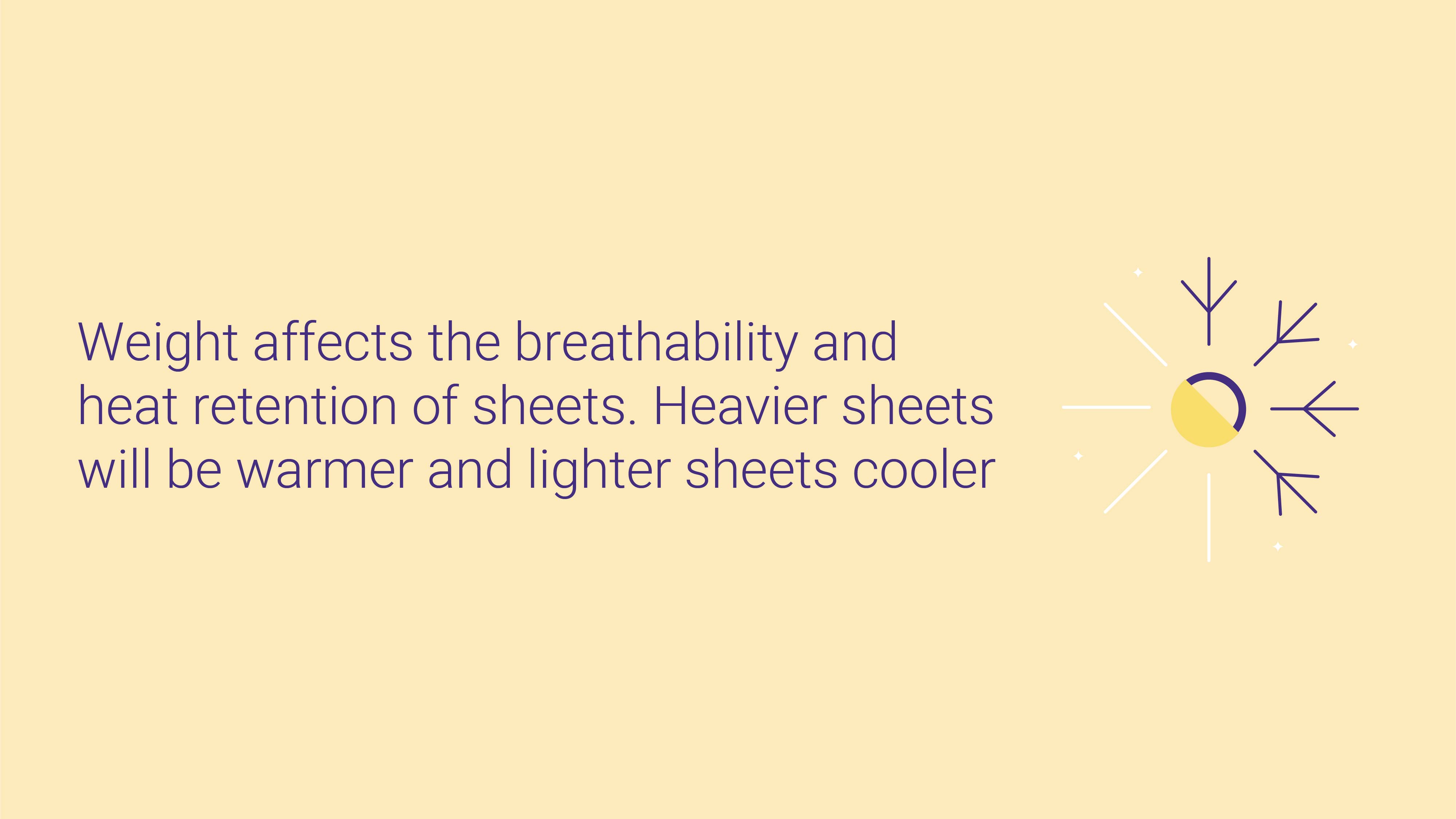 Thread count can also be deceiving because it doesn't apply to all fabrics in the same way. Linen has thicker threads, which means it will have a lower thread count. Linen sheets are better described and compared by weight or grams per square meter (gsm). Weight will also affect the breathability and heat retention of the sheet. Heavier sheets will be warmer and lighter sheets cooler. Linen's natural breathability makes them one of the coolest fabrics available even if they are heavy.
Certifications
Anyone can claim that their product is organic, which means you have to look for ways to confirm organic practices. Many independent organizations test and check farming practices to be sure harmful chemicals and toxins are not used.
A few certifications to watch for include:
Global Organic Textile Standard (GOTS): If a product is GOTS certified, the end product must be made from at least 70 percent organic fibers. All facilities used to produce the product must also be GOTS certified.
OEKO-TEX Standard 100: To receive this certification, the product has to be free of harmful chemicals, heavy metals, and emit low VOCs. Both the raw materials and final product have to pass these strict standards to receive the certification.
Others: There are other certifications you may want to watch for, such as the MADE SAFE® seal and Fair Trade certification. Any product with the MADE SAFE® seal is free of anything harmful to humans or the environment. The Fair Trade certification has to do with human rights, such as no child labor and fair wages for people of all genders. So again, not strictly organic, but it might make a difference in where you spend your dollars.
Bed Sheet Budget
When you're looking for organic sets, your budget has to be a major consideration. Inexpensive organic cotton or bamboo sheets start around $50 to $75. These sheets may have a thread count of 200 or lower. They should still have at least one independent certification that guarantees they are truly organic.
The sheets that balance quality with price fall in the $75 to $175 range. Here you'll find organic cotton, bamboo, and Tencel®. There may be a few organic linen sheets sets at this price point, too. Higher thread counts, long-staple, and ELS cotton are more common, which means these sheets are more likely to be softer and more durable. Sheets in this price range should have one or more certifications that guarantee their quality and production.
High gsm organic linen and some ELS Egyptian cotton sheets cost over $175, with some reaching well over $500. These sheets will have several organic certifications, as well as the highest-quality fibers.
While organic bedding can be quite pricy, you can typically find some of the best items on sale along with other sleep accessories during the year's best mattress sales:
Sleeping Cool and Breathability
Sheets have many purposes. They protect your mattress and comforter from body fluids and oils as well as make your bed softer and more comfortable. Your sheets can also make a big difference in maintaining a neutral temperature while you sleep. Overheating can prematurely trigger the start of the wake-up cycle. Not to mention the fact that it can be incredibly uncomfortable.
Natural fibers like cotton and bamboo are more breathable than synthetic fibers. Natural fibers usually have uneven surfaces, which leave pockets through which heat and air can circulate. Many are also either moisture-absorbing or moisture-wicking to further cool the body.
Organic sheets have to be made of natural fibers, but that doesn't necessarily mean they'll be highly breathable. Their weave makes a big difference. Organic flannel traps air close to the body, which acts as a natural insulator, while cotton percale sheets allow heat to easily escape. You'll have to pay attention to both the fabric and the weave to make sure you get the breathability that works best for you.
Common Questions
Are organic bed sheets better?
Organic sheets feel and function the same as non-organic sheets. In that sense, they are no better than a non-organic sheet of equal quality. They reduce exposure to harmful chemicals and toxins. Since they must be made without harmful pesticides and chemicals, their production tends to be more eco-friendly, too.
What are the healthiest sheets to sleep on?
Sheets that don't expose your body to harmful substances and help you get a good night's rest will be the healthiest for you. The healthiest sheets will be different for each person. Someone who sleeps cold may sleep best on organic cotton sateen sheets. Someone who sleeps hot may do better on midweight organic linen sheets.
Unfortunately, we live in a day where manufacturers make false claims about their products. Trust the sheets with independent certifications.
What sheets are best for the environment?
Organic sheets are not always eco-friendly. If the raw materials are grown and harvested using organic methods, their environmental impact is minimized. That's because they don't use pesticides and chemicals. If environmental impact is important to you. The most common are OEKO-TEX Standard 100 and MADE SAFE® certifications.
Organic Bed Sheets: The Bottom Line
Organic sheets should have certifications that verify organic growth and production of sheets.
Organic sheets may feel like their non-organic counterparts. But they're made without harmful chemicals and toxins, which can be safer for you and the environment.
You should expect to pay more for organic bed sheets. Organic farming methods have lower crop yields, which means there's less to go around. The manufacturing process may be more costly as well. But it's usually worth it to sleep with peace of mind.
Organic sheets are better for you and the environment. Pay attention to fabric, weave, and quality. You're sure to find sheets that let you sleep well knowing you're aren't being exposed to harmful chemicals.