Best Bed Frames of 2023

Mattress Accessories
Bed frames lift your bed off of the floor and act as a decorative centerpiece for any bedroom. Some (but not all!) bed frames include supportive features for your mattress, meaning you won't have to worry about buying a foundation with the frame.
Most of us buy bed frames solely based on how they look, but a lot more goes into finding the right bed frame. While appearance still matters, also consider how tall of a frame you want, what it's made from, if it needs a foundation or not, and how much weight it can carry.
We've made a list of some of the best frames you can buy right now, including a breakdown of all the most popular bed frame types out there and how to choose which one is right for you.

Best Bed Frames Summary
Amerisleep Platform Bed — Here at Sleep Junkie, our favorite bed frame is the Amerisleep Platform Bed. It features extra-wide slats and a sturdy railing made from solid wood. The extra-wide slats eliminate the need for a mattress foundation, saving you money on extra purchases.
Best Bed Frames
| | Bed | Highlight |
| --- | --- | --- |
| | Amerisleep Platform Bed | Durable platform bed you can assemble in five minutes, if not less |
| | Zoma Mattress Foundation | Platform bed with wide slats eliminates the need for an additional mattress foundation |
| | Vaya Platform Bed | Wooden slats optimize air circulation throughout your mattress without causing sags |
| | The Bed Frame by Floyd Home | Customization options include wood type, hardware color, an optional headboard, and optional storage |
| | The Bed by Thuma | PillowBoard headboard makes sitting upright in bed comfortable |
Amerisleep's Platform Bed is a simple and high-quality platform bed frame. What makes the Amerisleep Platform Bed stand out is its extra-wide slats to maximize the foundation's support without minimizing air circulation throughout your mattress. Not only that, but the extra-wide slats are placed very close together, which prevents your mattress from sinking and sagging.
The bed frame is 12 inches tall and made from solid wood. The railing is wrapped in dark upholstery, while the frame's wooden legs are painted black, to match any bedroom.
One of the great things about the Amerisleep Platform Bed is how easy it is to assemble. Amerisleep claims it takes 5 minutes or less to put together the frame, and we don't doubt it. You simply slide the rails and center supports together before laying the slats over them. After that, just place your mattress onto the frame and get to sleep.
With the Amerisleep Platform Bed, you receive a 1-year warranty and free shipping. The bed frame is compatible with memory foam, hybrid, latex, and innerspring mattresses.
Amerisleep Platform Bed Frame
Easy assembly
Charcoal gray upholstery
12 inches tall and made of solid wood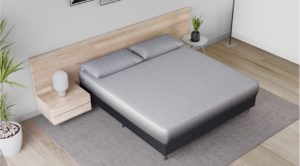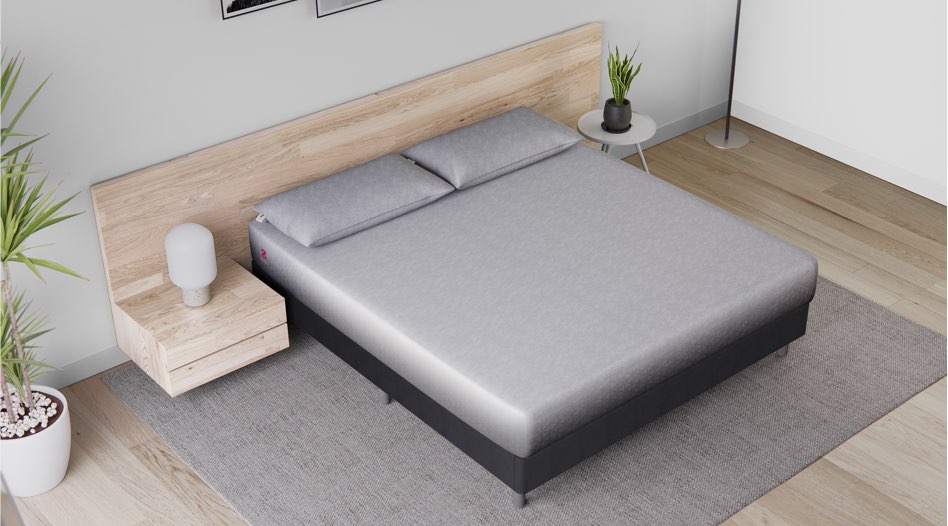 For a durable, yet affordable bed frame, consider the Zoma Foundation. As a platform bed, it doubles as both a bed frame and a foundation, saving you money since you won't need to purchase an additional foundation.
The bed frame is made from natural hardwood and has sturdy legs to lift your bed higher off the ground. The space between the frame and the floor makes great storage space, too.
The bed frame has wide slats built to support your mattress and prevent your mattress from sagging or going soft too quickly.
Unlike some other bed frames on the market, the Zoma Foundation only takes a couple of minutes to set up, ensuring you don't spend your entire evening frustrated that your frame won't come together.
The Zoma Platform Bed includes free shipping and returns within the contiguous US. It also includes a 1-year warranty in case of workmanship defects.
Zoma Foundation
Wide slats prevent sagging and indentations
Affordable price point
Under-bed storage space
The Vaya Platform Bed matches with any bedroom and provides incomparable support for your mattress despite being a budget-friendly option. Built with solid hardwood and oversized slats, the Vaya Platform Bed will last for years alongside your mattress.
Solid platform beds can trap heat, but the Vaya Platform features wide wooden rails with space between them to optimize airflow without sacrificing support.
The bed frame is 13.5 inches tall and has a gray upholstery for a minimalist look. Thanks to the simple construction of the bed frame, it should take roughly 5 minutes to assemble.
The Vaya Platform Bed includes a 1-year warranty and free shipping.
Vaya Platform Bed
13.5 inches tall
Sleep, minimalistic look
Made of solid wood
For a more luxury option, The Bed Frame by Floyd Home is a customizable platform bed frame. There are two natural wood options, two hardware options, optional under-bed storage drawers, and an optional headboard. The customizations do affect the overall price of The Bed Frame.
The platform bed has three wooden planks attached by hardware to support your mattress and lift it off of the ground. The planks are wide enough to fit both queen or full beds on the same size bed frame.
Floyd Home designed The Bed Frame for easy assembly, but depending on the customizations you add to the frame, it can take more or less time to build.
The Bed Frame by Floyd Home comes with a 30-day return policy and a 10-year warranty.
The Bed Frame by Floyd Home
Adjustable sizing
Optional headboard
Optional under-bed storage containers
The Bed by Thuma is a unique platform bed frame. It features wooden rails and slats, but the headboard has an upholstered fabric. While you cannot change the wooden railing's color, you have the option to choose between light or dark gray for the headboard's upholstery.
The headboard—coined as the PillowBoard—is soft and makes for a great cushion to lean against when sitting in bed, unlike traditional wood or metal headboards.
The Bed by Thuma features double-strength slats wrapped in non-slip, a cushiony fabric at the ends. Wrapping the slats prevent the wood from scraping—helping it last longer—and prevents potential noise.
The Bed by Thuma includes free shipping and 100-day returns. Thuma also offers a lifetime warranty for their platform beds.
The Bed by Thuma
Upholstered headboard
Slats are wrapped in a cushioned, non-slip fabric
Available in light or dark gray upholstery
Types of Bed Frames
Bed frames come in all shapes and forms. While the type of bed frame you choose makes a big impact on the frame's appearance, it also affects if the frame functions with or without an extra foundation, if it can hold multiple mattresses, and its space-saving capabilities.
Platform
Platform beds are a very practical type of bed frame because they eliminate the need for an additional mattress foundation. Most bed frames cannot support a bed on their own, but platform beds have slats strong enough to support a bed without the need for a foundation.
Be sure the slats on the platform frame are no further than 3 inches apart from each other. If the slats are more than 3 inches apart, you risk your mattress sagging between the cracks and rapidly wearing down. Also, most brands void their mattress warranties if you place your bed on an improper or unsupportive foundation.
The benefit of a platform bed is you don't have to spend extra money on a foundation and, if you prefer a low profile bed, the extra foundation won't make your bed too tall.
Adjustable
Adjustable bed frames are a luxury, but unlike some other bed frames, adjustable frames have plenty of benefits in terms of your sleep quality and overall health. Also, they're another type of bed frame where you won't need an additional mattress foundation since you have a solid platform for your mattress.
Adjustable beds are motorized hinge bed foundations. With a remote, you can adjust the angles of the top and bottom of the frame, in turn adjusting the angles of your mattress and yourself while you sleep.
The benefits of sleeping with an adjustable bed frame include:
Reduces muscle and joint pain
Minimizes obstructive sleep apnea symptoms, asthma, and snoring
Prevents acid reflux and heartburn
Helps with swelling and edema
Boosts digestion
Improves blood circulation
Enhances overall sleep quality
Some adjustable beds are very basic and only have the up and down options for their remotes, but others include customizable presets, zero gravity features, USB charging ports, LED lights under the bed, and even massage features.
Most adjustable bases usually have a very basic look, but some have decorative headboards and rails so the motorized bits aren't visible. If the frame has brackets, you can add a headboard to an adjustable bed.
Storage
Storage bed frames are bed frames with drawer or shelving compartments. The storage sections are typically on the headboard or beneath the frame.
Having a storage bed frame is a great option if you need to maximize your living space or simply have a lot of items you don't use regularly and need to tuck away.
Some storage beds are platform bed frames—meaning they won't need a box spring or other mattress foundation—but not all. If you're not sure whether a storage bed frame requires a mattress foundation or not, check to see how many slats the frame features and how far apart they are. If the slats are less than 3 inches apart, the frame is usable on its own.
Sleigh
Sleigh beds are large bed frames with curved headboards and footboards, similar to a traditional sleigh for the snow. A sleigh bed is an excellent statement piece for any bedroom.
Most sleigh beds are wooden or upholstered, but you can find metal sleigh beds with a more modern and simple design if you prefer.
Four-Poster
Four-poster beds are another decorative bed frame, which is why they are generally quite costly. They have four poles on the corners of the bed that are usually several feet tall and nearly reach the ceiling.
Four-poster beds have a very regal and luxurious look, which makes for a great decorative piece in a bedroom. Many who enjoy an antique bed look can appreciate a four-poster bed frame.
Canopy
Canopy beds are very similar to four-poster beds, only the four posters are connected with a rail. Some canopy beds feature curtains or linens around the bed for a luxurious look, but others are curtain-free for a clean, minimalistic appearance. Either way, canopy bed frames make for an excellent centerpiece to any bedroom.
Trundle
Trundle bed frames may look like any other bed frame, but they actually have a compartment beneath the frame. The compartment fits a second mattress, so for the space of one bed, you can sleep two people.
The mattress beneath the bed frame may either sit on a drawer or a pop-up bed frame so the sleeper isn't so close to the ground. Regardless, the lower mattresses on trundle beds are usually thin—6 inches or thinner—to fit the storage compartment, so the bottom beds may not always be the most comfortable.
Stil, trundle beds are a good option for smaller homes, children who share a room or have sleepovers, or house guests.
Bunk Bed
Bunk beds are two or three bed frames stacked one over the other. They're a great space-saving option for those living in a smaller home, or for siblings who share a bedroom.
The average bunk bed fits twin beds, but they also pair with twin XL mattresses and the occasional full size mattress.
Some bunk beds also have a trundle under the bottom bed to fit even more sleepers.
What to Look For in a Bed Frame
When shopping for a bed frame, considering certain criteria makes it easier to narrow down on what bed you want. We suggest looking into a bed's materials, size, and weight capacity.
Materials
Your bed frame's materials directly affect its appearance and durability. Higher-quality materials can cost more, but they generally last longer, which makes up for the higher price tag.
Most bed frames are either wood, metal, or upholstered, all of which come in both affordable and expensive forms. Choosing between the materials usually comes down to what material fits best with your bedroom's style.
Metal bed frames are usually made from iron or steel and have a minimalistic, modern look
Wooden bed frames are a classic frame style and are usually either made from 100 percent wood, medium-density particleboard, or particleboard
Upholstered bed frames are a fabric cover usually over a wooden frame. Some types of upholstered fabrics include cotton, satin, or even faux leather
Size
Bed frame sizes correspond to mattress sizes to ensure your mattress fits perfectly. Standard bed frames range from twin to California king, just like mattresses.
If your bed frame is too big for your mattress, there will be a gap between your mattress and the frame. While this isn't the biggest issue, extra space causes your mattress to slide in place, which is just a nuisance.
Avoid mattress sliding by getting the right mattress size, but if you already have too big of a bed frame, you can add cushioning between your mattress and the frame to keep your bed in place.
Bed frames also come in a variety of heights: low, standard, and high profile. Low bed frames are less than 13 inches tall, standard bed frames are between 13 to 15 inches, and high bed frames are over 15 inches tall.
With your mattress, foundation, and frame combined, you should be able to easily access your bed, especially if you have limited mobility for any reason. For reference, when you sit at the edge of your bed, your feet are ideally flat on the floor and your hips are in line with your hips.
Weight Capacity
Before you purchase a bed frame, figure out how much weight it can carry. Keep in mind that weight capacities include both you, anyone you share your bed with, the foundation, and the mattress itself—and mattresses can weigh over a hundred pounds.
The average bed frame can hold roughly 500 pounds. If you're a larger sleeper, heavy-duty bed frames can carry between 1000 to 4000 pounds of weight.
FAQs
Is a metal or wood bed frame better?
Both wood and metal bed frames have their pros and cons, but most people choose their frame's material for aesthetic reasons. Metal and wood are supportive, but both have pros and cons.
Metal is affordable, fire-resistant, and customizable, but can also bend, squeak, and possibly rust.
Wood frames are quiet, affordable, and timeless. However, wood can also snap and rot. They're also heavy and aren't fire-resistant.
Can I put a mattress directly on a bed frame?
Most of the time, you can't place a mattress straight onto a bed frame.
Bed frames aren't the same as mattress foundations, meaning they won't support a mattress properly. Placing your mattress on an improper foundation causes it to wear down rapidly and voids most warranties. To determine the type of bed base you need, it is important to consider the type of mattress you have. If a bed frame has slats no more than 3 inches apart or is completely solid, then it works as a foundation and you can use it on its own. Memory foam, latex, and hybrid mattresses should be placed on a solid, flat surface or slats spaced no more than 3 inches apart.
How much should I spend on a bed frame?
Bed frames have a very wide price range since they come in so many different styles. They can cost as little as $100, but some cost thousands of dollars.
A sturdy queen size bed frame can cost you somewhere between $200 to $500, and the prices increase with the number of luxury materials used.
Do I need a bed frame if I have a foundation?
Technically, no.
Most of the time, bed frames are merely decorative or space-saving. So if you have a suitable foundation and don't want a bed frame, you can skip on the frame.
Some mattress foundations are specially designed to work on their own and have simple designs to match most bedrooms. If you just want a foundation and not a bed frame, these sorts of foundations typically work best for decoration.
Can you attach a headboard to a bed frame?
Whether or not you can attach a headboard to a bed frame depends on the exact bed frame you purchase.
Some bed frames have optional attachments where you can place a headboard. Most of the time, if a bed frame doesn't already have a headboard attached, chances are you won't be able to attach one to it unless a brand clearly states it's an option.
Conclusion
Although it's tempting to just choose the prettiest bed frame out there, we implore you to find a pretty and high-quality bed frame. It's useful to go for bed frames with support systems—also called platform beds—since you won't need an extra foundation. Still, do your research and compare different brands before making a decision on which frame to purchase.