Best Platform Bed Frames of 2023: Reviews and Buyer's Guide

Mattress Accessories
There's a lot to love about platform beds. They don't require additional box springs or mattress foundations, they're compatible with any type of mattress, and they come in all kinds of fun styles that include everything from headboards to footboards to storage spaces and even canopies.
With that said, there are so many foundations on the market today they're tough to sift through. There are a few basic things to look for, like sturdy legs, rigid support, and quality construction. Let's take a look at some of the platform beds on the market right now that have those features and more.

Best Platform Bed Summary
Amerisleep Upholstered Bed Frame — The Amerisleep Upholstered Bed Frame is our favorite model because it has solid pine wood slats to support your mattress, easy assembly, a 13-inch height, and a sleek yet classic design.
Best Platform Beds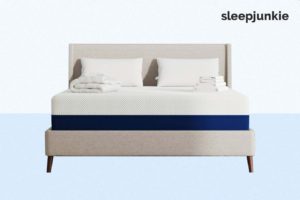 If you're looking for a platform that will support your mattress without drawing focus away from your bedding, look no further. The Amerisleep Upholstered Bed Frame has espresso-tinted legs, 13-inch profile, and light gray fabric upholstery. It will give your bed that modern "floating" look you crave.
This wood platform bed is also great for people interested in a simple setup and easy relocation on top of the minimalist look. It assembles and disassembles in minutes with no tools required. And its slats offer your bed all-over support without impacting air circulation.
The Amerisleep Platform is compatible with all mattress types, can be bundled with your choice of Amerisleep mattress, and comes with a 1-year warranty.
Amerisleep Upholstered Bed Frame
13-inch profile
Neutral gray fabric upholstery
Wide, solid wood slats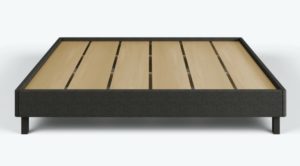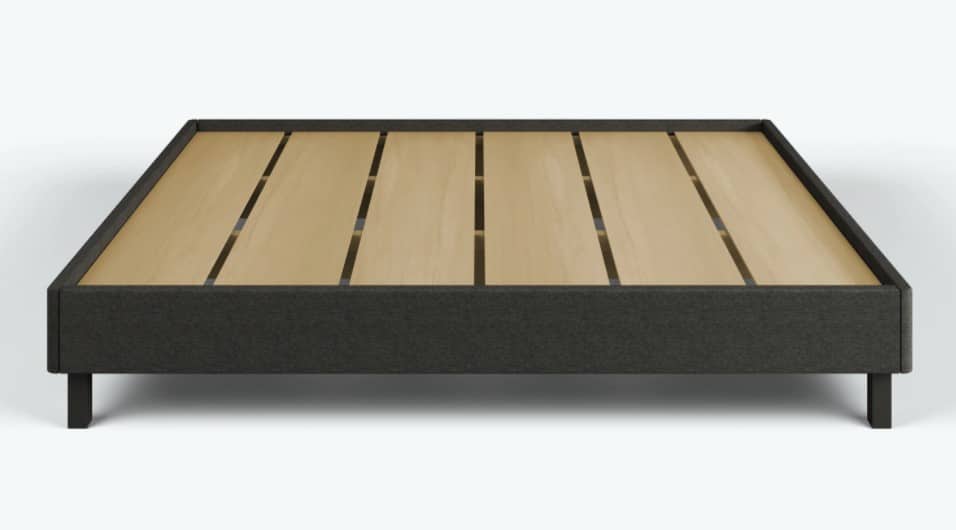 Just like the Amerisleep Platform, the Vaya Platform Bed assembles in minutes with zero tools, comes with extra-wide slats for optimal support and comfort, and its low-profile, monochromatic look is great for those looking for sleek, modern style.
Also, like the Amerisleep, the Vaya Platform comes with a 1-year full replacement warranty covering manufacturing defects and faulty workmanship. It's made of 100 percent solid hardwood covered in polyester knit fabric.
The Vaya Platform Bed comes in sizes twin through California king, and it's sturdy enough to be compatible with even the heaviest hybrid or memory foam mattresses.
Vaya Platform Bed
No tools required for assembly
Low-profile design
100 percent solid wood slats
If you want an upholstered platform bed that can double as a mattress foundation, giving you the option to stand it on its own or set it in a bed frame, the Zoma Mattress Foundation is a great choice. This versatile foundation has 6 removable legs that allow you to easily convert it from a platform to a foundation and back again in seconds.
Even better, it comes with a smart slat pack of perfectly spaced wooden slats to make setup a breeze. Just unroll the slat pack on top of the assembled frame, and you're good to go.
The 100 percent pine wood frame is designed with smart corner clips for fast assembly, and both the frame and slats are covered in polyester knit upholstery to maintain breathability while protecting your mattress.
The Zoma Foundation comes in all standard bed sizes and offers a 1-year manufacturer warranty against structural defects or faulty workmanship.
Zoma Mattress Foundation
Solid pine wood slats
Smart corner clips for easy assembly
6 removable legs
For those who want a platform with visible wood not covered in upholstery, the KD Frames Nomad Plus is a good option. This minimalist Swedish design puts an emphasis on the clean, natural look of unfinished tulip poplar hardwood combined with the modernity of a 15-inch profile.
The sturdy construction and 2.8-inch slat spacing allow this frame to support up to 600 pounds—more than enough for most mattresses. And the slats are flush with the top of the platform frame, allowing the mattress to sit on top of the platform rather than inside the rails.
The Nomad Plus also comes with additional options like longer or shorter leg lengths, rolling storage drawers, and even a matching trundle bed. It's available in twin, twin XL, full, queen, and king sizes.
KD Frames do not apply chemicals of any kind to their wood products, and they offer a full 5-year warranty against manufacturer errors or defects.
KD Frames Nomad Plus Platform Bed
15-inch profile
Tulip popular wood slats
Minimalistic Swedish design
Anyone wanting a vintage or industrial look should consider a metal platform bed, and this offering from Mellow Home is one of the best. The Allston Bifold Platform Bed offers a modern take on the vintage iron bed, with a focus on clean lines and minimalist style.
Not only does this 100 percent steel platform set up easily, but it's also designed to fold in half. The patented bifold assembly will allow you to move the bed without much hassle—perfect for sleepers who need a lot of portability. The bifold mechanism also makes this a great stowable bed for multipurpose guestrooms.
The Allston platform comes in sizes twin through queen, it's Steel Mill Test certified, and it comes with a 5-year manufacturer's warranty.
Mellow Allston Bifold Platform Bed
100 percent steel frame
10-inch under bed clearance
No box spring required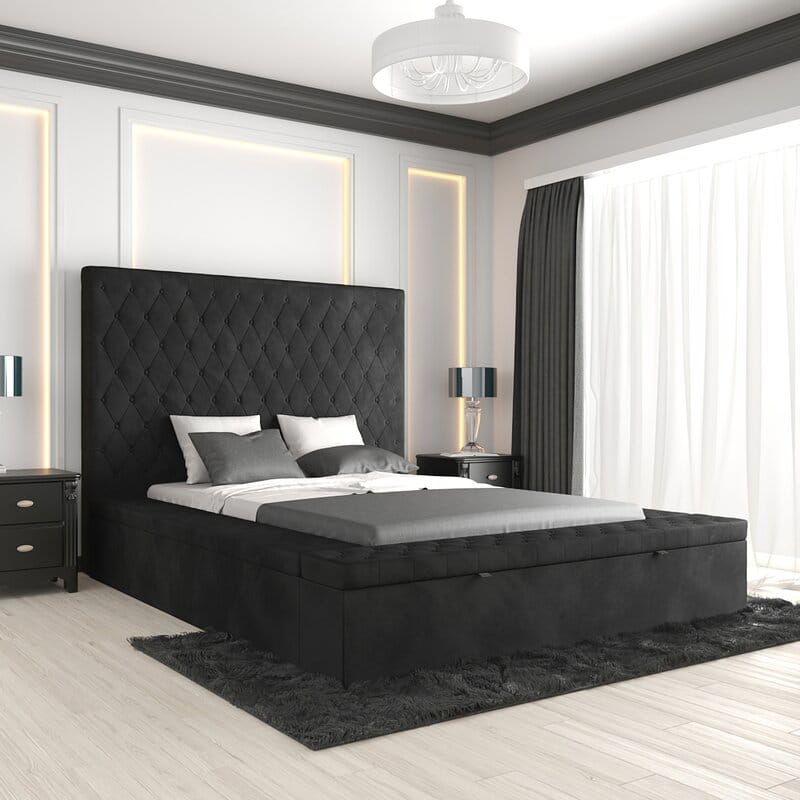 If you're shopping for a platform with a funky look and tons of bed storage space, the Cyntrell by Latitude Run could be a perfect choice.
The storage rises up from the floor around the platform, so it looks like your mattress is floating in the middle of an upholstered case. The storage space in the side rails also has the added benefit of serving as a built-in nightstand.
The button-upholstered headboard is included with the platform, as are all the storage compartments in the sideboards and footboard/bench.
The frame is made out of manufactured wood and the upholstery is foam-filled velvet. It includes 13 slats and 2 center support legs, giving it a maximum capacity of 600 to 1,000 pounds, depending on whether you get a full, queen, or king size platform. The slats curve upwards for additional support in the middle of the mattress.
Latitude Run Cyntrell Tufted Upholstered Low Profile Storage Platform Bed
Those who really want a modern look should check out Floyd Home's boldly titled "The Bed Frame." This extremely low-profile platform bed offers a solid plank look for your bed, with a headboard that rises just above the pillows and a mattress platform that extends an inch or two out from under your mattress, making your mattress look like it's sitting atop a floating base.
The Bed Frame comes with the option of birch or walnut plywood planks, powder-coated steel supports, and nylon ratchet straps to secure the frame, allowing for tool-free assembly. You can also pick between dark and light-colored wood. There's the option of underbed storage on one or both sides as well.
This frame is engineered to be strong yet lightweight, and it's TSCA Title VI certified, meaning it has extremely low adhesive emissions (toxic emissions from industrial glue). It also boasts a full 10-year limited warranty. This is a modular bed frame, so you can make it a twin all the way up to a king, depending on how many panels you purchase.
Floyd Platform Bed
Comes with or without a headboard
Solid birch or walnut plywood planks
Available in light and dark wood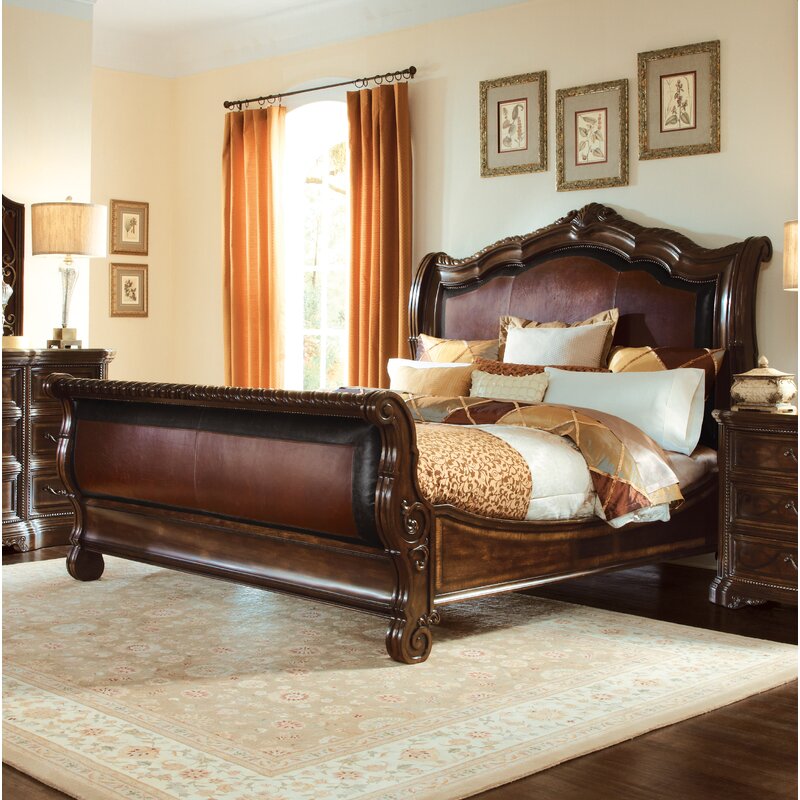 If it's classic luxury you're after, the A.R.T Dark Oak Valencia Upholstered Sleigh Bed is where it's at. This fancy sleigh bed includes wrought iron decor, cast metal accents, top-grain leather upholstery, and solid wood frame assembly.
The decor, leather headboard and footboard, and carved wood frame all work together to create a Mediterranean Baroque look that will fit well in luxe master bedrooms.
Don't let the luxurious look fool you. This is still a versatile platform bed that not only can take a mattress on its own (no additional base required), but it's also compatible with adjustable bases and can take a foundation or box springs if you want to raise the profile.
A.R.T. Valencia Upholstered Sleigh Bed
Wrought iron decor
Top-grain leather upholstery
Compatible with adjustable bases and box springs
If you're in the market for a rustic platform bed that will look great in a log cabin, beach house, or country home, you should give the CB2 Drommen Acacia Wood Bed a shot.
Designed with simple construction and inclining lines, this acacia wood platform bed boasts both a modern and rustic style. The platform opening is smaller than the mattress to keep the slats out of view, making the slatted platform look solid.
Another great thing about this bed is it's sustainable. Acacia wood is fast-growing, doesn't need fertilizer or much water, can grow in almost any soil variety, and often doesn't need pesticides. That means it's one of the most eco-friendly hardwoods available for furniture construction.
The Drommen Acacia Wood Bed comes in full through California king sizes, and assembly instructions can be found on their website.
CB2 Drommen Acacia Wood Bed
Solid acacia wood frame and slats
Available in full, queen, king, and California king sizes
Eco-friendly manufacturing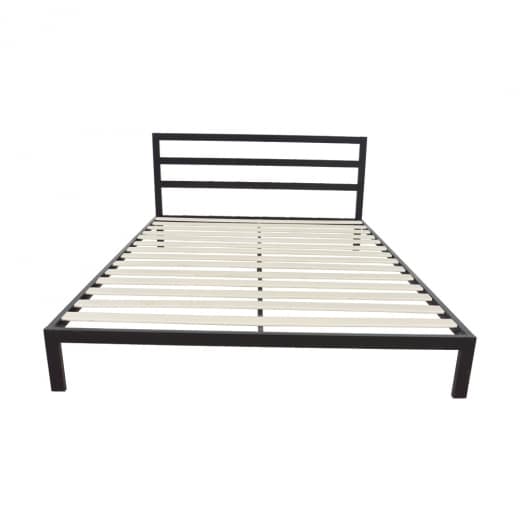 If you're looking for a way to get your bed off the floor without breaking the bank, the Zimtown Sturdy Platform Bed is a quality and affordable option. It features a black iron rail frame for durability and stability with center legs for additional support. The frame also stands only 10 inches off the floor for those wanting a low-profile, industrial style.
The Zimtown platform comes with 13 wooden slats featuring adhesive velcro to keep the mattress in place. The slats are spaced just shy of 3 inches apart for optimal support, and the center and side support rails ensure the platform won't squeak or rock once it's assembled.
The easy assembly kit comes with all the tools and hardware necessary for you to put your new platform bed together in a few minutes. The package also includes anti-skid pads to keep the platform bed from sliding around—not a bad deal for $125.
Zimtown Sturdy Platform Bed
13 wooden slats
Includes anti-skid pads and assembly hardwear
10-inch height
Platform Bed vs Mattress Foundation
Platform beds are metal or wooden frames with slats laid across the top in regular intervals. These slats can be flat or curve slightly upwards to offer additional support in the middle. Intervals between slats can range from 1 to 5 inches, but the ideal gap between slats is 2 to 3 inches to allow for airflow and still offer optimal support.
You may have noticed that platform beds are similar to mattress foundations, and it's true the two are very similar. The main difference between them is mattress foundations are intended to go inside a bed frame, while platforms stand on their own, and their low profile gives them a modern look.
However, that modern, low-profile look can have unintended consequences for some. If you're young and able-bodied, a bed that's close to the floor likely won't be an issue.
But if you have mobility problems or you're a senior citizen, getting in and out of a bed lower than knee-level may be tough for you. You might need the standard bed frame and mattress foundation.
Benefits of a Platform Bed
Probably the biggest upside of a platform bed is its rigid support. The slats in platform beds offer a lift to your mattress, helping it maintain its shape and prevent sagging.
The sturdy support also means platform beds are compatible with most mattresses. In most cases, the best mattresses for a platform bed are memory foam beds, latex mattresses, and hybrid beds.
Platform beds also offer extra airflow underneath your mattress, which can help avert moisture buildup and prevent mold and mildew growth. Air circulation under your mattress also helps you sleep cooler through the night.
Lots of people enjoy platforms because they don't need a base under the mattress. This makes them more cost-effective and lower-maintenance than the bed frame/foundation combo. It also means they have a minimalist style that can be great for urban/industrial apartments and rustic log cabins alike.
Some sleepers enjoy also how many platform beds do away with headboards and footboards. However, if you decide you do need a headboard for comfort or style reasons, many platform beds let you attach one. If it does not, there are still alternatives such as wall-mounted and free-standing headboards.
FAQs
Why are platform beds better than box springs?
Platform beds and box springs are very different. There are several issues with box springs that can be solved by platform beds and mattress foundations.
For one thing, box springs can't take a lot of weight because their coil support systems are weak and can over-compress or even break under too much weight. Platform beds, meanwhile, offer rigid support, making them compatible with heavy beds like foam and hybrid mattresses.
Box springs also squeak and amplify motion as their spring network compresses and moves around under your weight. However, platform beds' slats don't compress, so they're much less noisy and can help isolate motion.
Finally, box springs are less durable than platform beds. Not only will box springs break down faster, but they'll also lead to sagging in your mattress, reducing the mattress's life expectancy as well. By contrast, platform beds and mattress foundations actually extend the life of your mattress by preventing sagging in the middle.
Can I put box springs on a platform bed?
In a word: no. Platform beds are made to take a mattress with nothing between the platform and the mattress itself. If you put it on a box spring or a mattress foundation on top of a platform bed, the box springs may slide around.
An additional bed base might also damage the slats of the platform itself unless it's designed to serve as both a platform bed and traditional bed frame. The best thing to do with a platform bed is to lay your mattress directly on it.
Which is better, a metal or wooden platform bed?
Both wood and metal platform beds have their advantages and drawbacks, but one isn't necessarily "better" than the other. As a general rule, wooden platform beds are more stable than metal ones because they're bulkier and heavier. That means they won't do as much sliding around or shaking as a metal platform bed.
On the flip side, wooden platform beds' extra weight and bulk make them a lot harder to relocate than a metal frame, which isn't ideal if you move a lot. Some metal platform beds even fold or have the ability to disassemble compactly for easy relocation.
Wooden platform beds are also typically a lot more expensive than metal ones, so if you're shopping on a budget, a metal platform bed is probably going to be more accessible to you.
Another thing to consider is durability. As a rule, metal platform beds are less vulnerable to humidity and wide temperature swings than wooden ones. However, some metals are susceptible to rust, making them less durable. Metal also is a lot noisier than wood, so if you don't want a bed that might end up squeaking, wood is a better option.
Do they make adjustable platform beds?
Adjustable bases have two basic components—the sleeping surface and the joints. With many adjustable bases, the sleeping surface is just a flat platform where you lay your mattress, and the joints are hidden underneath, making the adjustable base look like a platform bed.
However, though it may look similar to a platform bed, adjustable beds are usually referred to as adjustable bases rather than adjustable platforms. Adjustable beds also have a solid base for the mattress rather than slats, meaning they can't be classified as platform beds.
Should I put a bunkie board on my platform bed?
Typically, you don't need a bunkie board on your platform bed. There are only two situations where you might need to consider it. One is if you have an excessively heavy mattress. If your mattress is bumping up against your platform bed's maximum weight, you might need to consider a bunkie board to shore up support.
Another situation where you might need a bunkie board is if your platform bed's slats are more than 3 inches apart. If your slats are too far apart, your mattress could sag between them. If you don't want to add extra bed slats to your platform, a bunkie board is pretty much your only other option.
Bottom Line
As we've seen in this post, there are a ton of great platform beds out there, and we hope we've helped you narrow down your search.
If you're in the market for a sturdy, durable platform that will feel like a bed frame, go for a wooden platform with a headboard and footboard. If you want an affordable platform bed that can be moved in a jiffy, a metal platform may be your speed. If you want to make the most of the space in your bedroom, storage platforms are probably for you.