Best Firm Pillows

Bedding Guides
So many of us spend countless hours researching the perfect mattress, so why not put that same effort into finding the perfect pillow? Pillows play an equally important role as mattresses in terms of comfort, so there's no reason not to get a good one.
Whether you're looking for extra support or are sick of soft pillows going flat, firm pillows might be the answer. Using a firm pillow can better align the neck with the spine, minimizing the risk of headaches, difficulty sleeping, and pain overall.
Below, we go over some of the best firm pillows on the market today. We also talk about our favorite pillow fills and who should use a firm pillow.

Best Firm Pillows of 2023: 30 Second Summary
Amerisleep's Dual Comfort Pillow — Dual-sided pillows can get pricey, but the Amerisleep Dual Comfort Pillow reigns supreme for its premium Bio-Pur® build and breathable cover. Either side of the pillow features a slight contour to support the neck and promote optimal alignment.
Zoma's Pillow — Filled with hundreds of MicroCushions™, the Zoma Pillow is one of our favorites thanks to how adjustable it is. You can make it flat or lofty, soft or firm, or fold it in half. Whatever you do, the Zoma Pillow will snap back into shape in the mornings.
Best Firm Pillows of 2023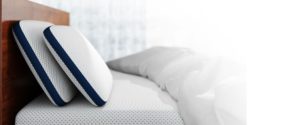 Making the top of our list, the Amerisleep Dual Comfort Pillow has a unique flippable design. One side of the pillow is soft, while the other is firm, to provide support for all types of sleepers. The pillow also comes in two loft heights you can choose between depending on your sleeping position: low-loft (5 inches) or mid-loft (6 inches).
Amerisleep recommends the firm half of the pillow to side sleepers so their necks stay aligned with their spine at night. The softer side is best suited for back or combo sleepers.
Either side of the Dual Comfort Pillow is made from Amerisleep's proprietary Bio-Pur® memory foam. Unlike traditional memory foam, Bio-Pur® is breathable and responsive so you won't feel stuck and your pillow won't flatten out during the night. Bio-Pur® is more durable than traditional memory foam as well.
The Bio-Pur® foam is CertiPUR-US® certified, which means the pillow is free from heavy metals, flame retardants, and is low in VOCs.
The Amerisleep Dual Comfort Pillow comes with free shipping and a 10-year warranty.
Amerisleep Dual Comfort Pillow
Plant-based memory foam is eco-friendly, breathable, and won't loss its shape
Soft and firm comfort levels
10-year warranty
Best Customizable Firm Pillow: Zoma Pillow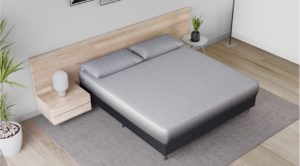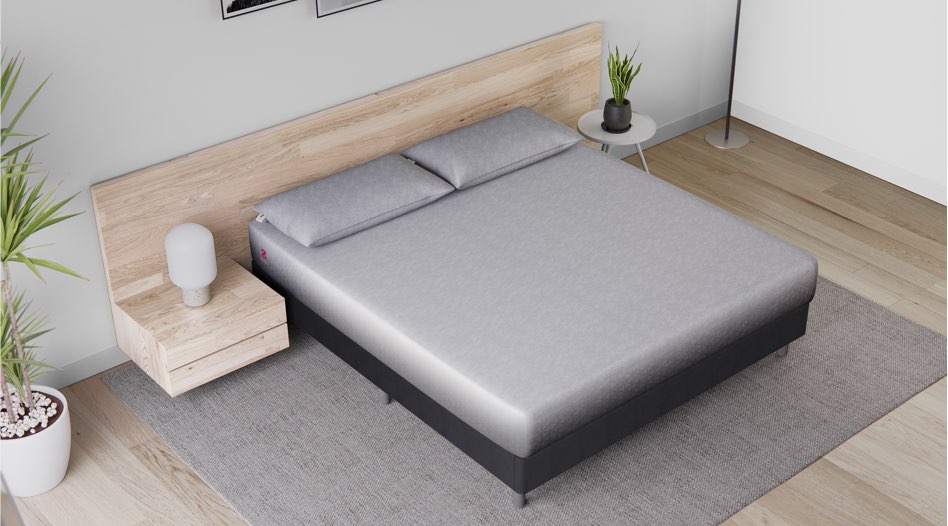 The Zoma Pillow is a cooling pillow option with customizable support. It's suitable for many different sleepers, and based on how you adjust the pillow, it can be firm or soft and thin or thick. In its natural state, the pillow is 6 inches thick.
The pillow contains shredded MicroCushions™, small pieces of foam designed to adapt to the head and neck. You can fluff up the pillow to make it fluffy and soft, or compress the MicroCushions™ for a firm feel. The options are endless with the Zoma Pillow.
The Zoma Pillow features a ventilated mesh cover designed to keep both sleepers and the pillow cool and dry throughout the night.
The Zoma Pillow is both made in the USA and CertiPUR-US® certified.
With the Zoma Pillow, buyers receive free shipping and a 10-year warranty covering defects.
Zoma Pillow
Shredded MicroFlex Cushions™
Microfiber cover wicks away heat and moisture
10-year warranty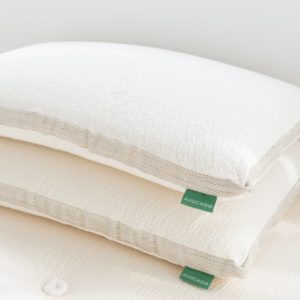 A great natural and eco-friendly firm pillow is the Avocado Green Pillow. Handmade in Los Angeles, the Avocado Green Pillow is GOLS and GOTS organic, GREENGUARD Gold, Standard 100 by OEKO-TEX®, Vegan Action, and MADE SAFE® certified.
The pillow's cover is made from 100 percent cotton for breathable and dry sleep. Cotton is typically more durable than most other synthetic fabrics.
The pillow's fill is made from a combination of upcycled latex pieces and kapok fibers—a silky and fluffy material similar to down, only it's derived from kapok trees. This firm pillow is adjustable and comes with an extra bag of latex and kapok filling that you can add or remove as needed.
The Avocado Green Pillow comes with a 100-night sleep trial, a 1-year warranty, and free shipping.
Avocado Green Pillow
Filled with shredded latex foam and kapok fibers
GOTS certified organic cotton cover
100-night sleep trial and 1-year warranty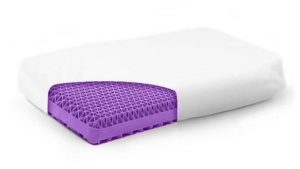 Much like other Purple products, The Purple Harmony Pillow has a unique construction, especially for a pillow. The pillow features Purple Grid™ Hex cushions on the surface of the pillow combined with a Talalay latex center. This construction allows for incomparable support, comfort, and airflow.
Purple Grid™ Hex is the technology Purple designed specifically for their pillows. It's the same Hyper-Elastic Polymer® Purple uses in all of their other products, only this time it has a hexagonal shape to better suit a pillow.
Purple Grid™ Hex is a durable foam built to rapidly adapt to the head and neck and bounce back into shape just as fast. In the Purple Harmony Pillow, the Purple Grid™ Hex features over 1500 air channels to keep air flowing so you sleep cool.
The pillow's cover is a stretchy mesh material designed to draw moisture away from the body.
Purple offers a 100-night trial, a 1-year warranty, and free shipping and returns with the Harmony Pillow.
Purple Harmony Pillow
Hyper-Elastic Polymer® Purple Grid™ provides pressure relief
Stretchy mech pillow cover
100-night trial and a 1-year warranty
As Nest Bedding's top seller, the Easy Breather Pillow adjusts to any person's unique preferences. You can scrunch the pillow into any shape or firmness you need to relieve pain and support the head and neck.
The Easy Breather Pillow is made from a blend of cooling polyester and shredded CertiPUR-US® certified foam. You can also order extra fill for ultimate customization and comfort.
The pillow's cover is made from an eco-friendly Tencel™ blend. The cover is plush and soft but still cool and resistant to moisture.
The Easy Breather Pillow ships for free.
Nest Bedding Easy Breather Pillow
Filled with cooling foam and shredded polyester
Eco-friendly Tencel™ Cover
CertiPUR-US® certified foam is safe and non-toxic
The Coop Home Goods The Original Pillow technically has a medium-firm feel, but with its extra half-pound bag of fill and its excellent adjustability, it's easy to firm it up.
The pillow's fill is made from a blend of shredded memory foam and microfiber for the perfect balance of support, adaptability, and fluff. The Original pillow's memory foam is both CertiPUR-US® and GREENGUARD Gold certified. Similarly, it's hypoallergenic and dust-mite resistant.
The pillow liner is thin and stretchy so sleepers stay cool, but it also contains a zipper so you can easily add or remove the fill. Over that, the pillow's cover is made from Coop Home Goods' Lulltra™ fabric, a sustainable bamboo derivative. It's smooth, safe for the environment, and machine washable.
The Original pillow comes with a 5-year warranty.
Coop Home Goods The Original Pillow
Shredded memory foam and microfiber filling
Zipper closure allows sleepers to add or remove filling
5-year warranty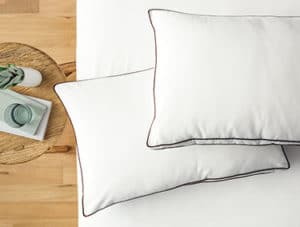 The Saatva Memory Foam Pillow is designed to keep you cool while also alleviating pressure and pain.
The pillow features two layers: a graphite-infused memory foam outer layer, and a gel-infused memory foam core. Both foams are CertiPUR-US® certified to prevent off-gassing. The pillow's cover is organic cotton built to stay cool and soft.
The graphite infusions in the outer layer of the pillow draw heat away from the body, while the gel infusions in the memory foam core support the head while keeping the pillow cool.
Saatva offers a 1-year limited warranty, free shipping, and free returns for their Memory Foam Pillow.
Saatva Memory Foam Pillow
Gel memory foam filling promotes breathability
Organic cotton cover is non-toxic and ultra-soft
1-year limited warranty
The Buffy Cloud Pillow is an Earth-friendly and cruelty-free pillow available in three firmness options: soft, medium, and firm. Regardless of the firmness, each pillow contains between 24 to 30 upcycled plastic bottles.
The pillow is filled with upcycled, airblown PET (polyethylene terephthalate) fiber for its "cloud-like" feel. Buffy designed the fiberfill to be softer and more eco-friendly than cotton, especially as it contains recycled materials. The fiberfill is also BPA-free.
The pillow's shell is made of 100 percent eucalyptus, a cool-to-the-touch, and hypoallergenic fabric. The cover is soft and bound together by recycled threads.
Buffy offers a 7-day trial period for the Cloud Pillow, meaning you can take the pillow home without making a purchase and truly test it out. All Buffy asks for is your payment information. If you decide you like it, they'll process the purchase, but otherwise, returns are simple and they'll release the hold on the payment method.
Buffy Cloud Pillow
Made with upcycled plastic bottles
100% eucalyptus pillow shell
7-day sleep trial
With its plush, luxurious feel, the Parachute Down Pillow is the only goose-down pillow that made it onto our list today. Most down pillows can feel fluffy, but unsupportive, but the Parachute Down Pillow's 750 fill power gives it the support and firmness sleepers need.
The Parachute Down Pillow comes in three firmnesses affecting its fill density: soft, medium, and firm. The firm variation also has a high loft, making it a great option for side sleepers so they maintain proper spinal alignment.
The pillow's case is made of sateen cotton and double stitched to reinforce the pillow.
Parachute provides a 3-year warranty and free shipping and returns for the Down Pillow.
Parachute Down Pillow
Available in soft, medium, and firm
Sateen cotton and double stitched cover
3-year warranty
Types of Firm Pillows
Pillow fill is a pillow's stuffing. A firm pillow's fill can affect its breathability, supportiveness, cushioning, durability, and price point.
Memory Foam
Memory foam pillows are best known for alleviating pressure and pain. The material is quick to respond under your body for rapid comfort. Memory foam pillows come in shredded or solid forms.
Shredded memory foam pillows contain hundreds of ripped-up pieces of memory foam, though some are blended with poly-foam or polyfill. These types of pillows are malleable to suit any type of sleeping position. Unlike solid memory foam, shredded memory foam pillows need occasional fluffing to keep them lump-free.
Solid memory foam pillows are made from a single block of foam. They don't go flat or lumpy like other pillows and are a firm, supportive pillow.
Latex
Latex is a natural fabric made from the sap of rubber trees. It's known for providing excellent pressure relief and being hypoallergenic, so you know the bed is free of dust mites, mold, and other potentially harmful bacteria.
Natural latex is sustainable, biodegradable, and breathable, making them one of the most cooling pillows are on the market. Be wary of latex pillows coined as "synthetic" or "blended" because, while they're cheaper than all-natural latex, they're not as durable or cool.
Similar to memory foam, latex pillows are available in both block and shredded variations. Generally, latex block pillows are firmer, but shredded latex pillows can be molded to stay firm as well.
Down
Down pillows are plush and luxurious, derived from ducks and geese. Unlike the coarse feathers on the outer layer of duck and geese coats, down is the soft feathers around the animals' bellies. This makes for a fluffy, durable, and lightweight pillow.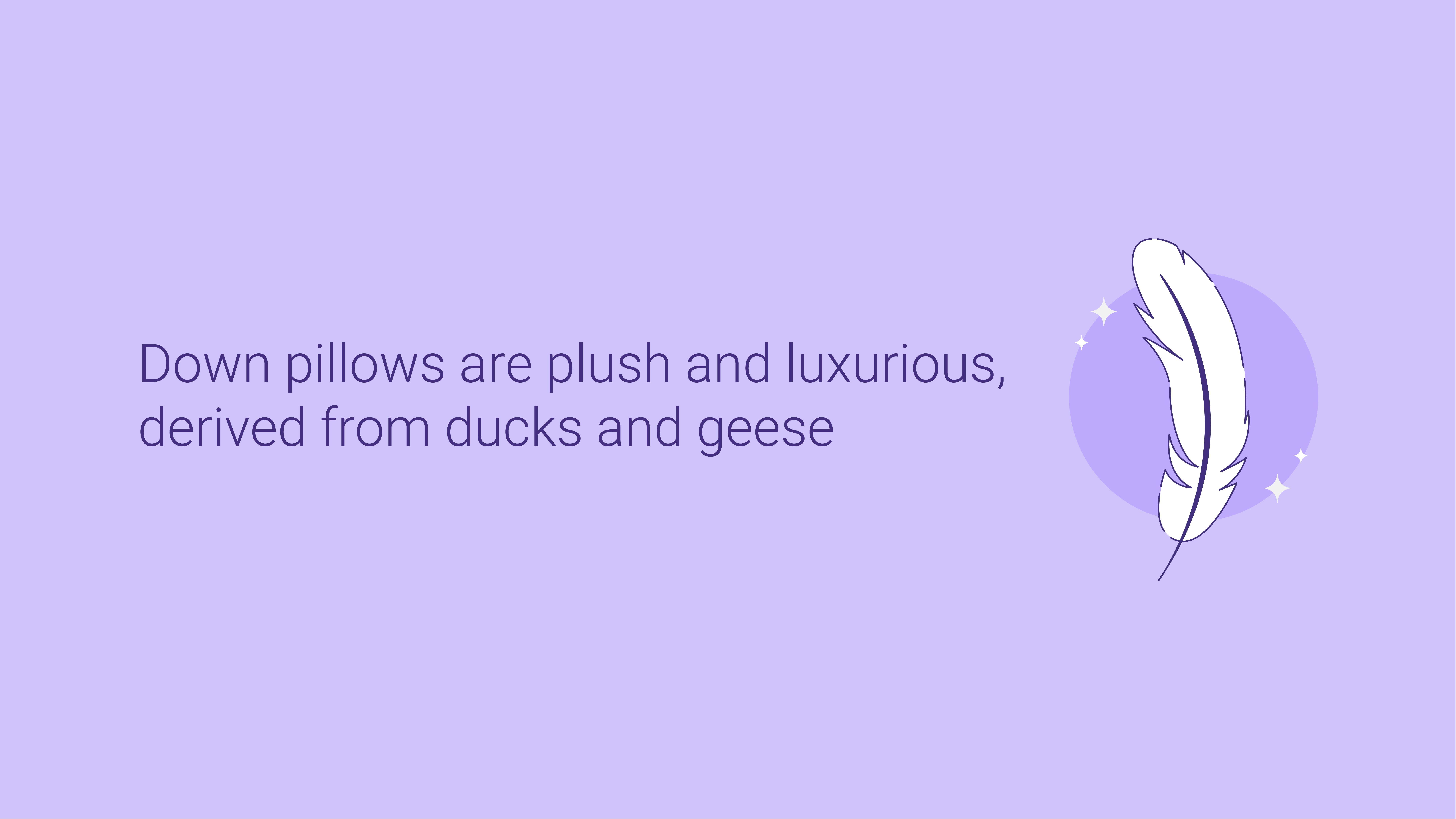 Down is temperature neutral—when it's warm, the fibers stay cool and breathable, but when it's cold, the fibers retain heat.
The issue with down is it's one of the pricier types of pillows, but it doesn't offer the long-lasting support foam pillows do. Firmer and more supportive down pillows have a higher fill power—the amount of down per cubic inch in a pillow—but this can cost you up to $200 or more per pillow.
Another problem with down is it's an animal product, which is an issue for plant-based shoppers and people with fur or feather allergies.
Down Alternative
If you enjoy the feel of down but need a cheaper or hypoallergenic option, down alternative is a good option. Down alternative—also called microfiber—is made from synthetic materials like polyester or nylon.
Down alternative pillows are meant to emulate the feel and fluffiness of down. Still, down alternative isn't quite as fluffy or breathable as traditional down is. Regardless, down alternative is readily available and has some of the easiest care instructions of any type of pillow.
Buckwheat
Buckwheat pillows are an alternative pillow fill made from buckwheat hulls. A buckwheat pillow can contain hundreds of hulls—similar to shredded foam or microbead pillows, only buckwheat degrades rapidly and is better for the environment compared to synthetic fills.
Although buckwheat is durable and does a great job of supporting the head and neck, buckwheat pillows can get noisy since the hulls crunch and rub up against each other. Not only that, but buckwheat pillows tend to cost more than more common pillow fills.
Water
Water pillows may sound a bit odd, but they're a great therapeutic option for sleepers struggling with muscle or joint pain. They're vinyl bags with plush covers and, unsurprisingly, filled with water.
The benefit of water pillows is they are adjustable, both loft and firmness-wise. Adding more water to your pillow makes it firmer and loftier for extra support.
The main problems with water pillows are the risk of leaks and how heavy the pillows can be. If there's a hole in your pillow, you and your mattress might get soaked, damaging your bed and surely ruining your sleep.
Sleeping Positions for Firm Pillows
Frankly, firm pillows aren't for everyone. The most reliable indicator for whether or not a firm pillow is right for you comes down to your sleeping position.
Side Sleeping
Side sleepers benefit the most from firm pillows. When side sleeping, there is a large gap between the head and neck and the mattress.
A firm and thick pillow fills the wide gap between the sleeper's head and neck and the mattress, ensuring their spine is neutral. Too soft of a pillow won't support a side sleeper, causing their head to tilt to the side and leading to pain. In most cases, the best pillows for side sleepers are medium to firm.
Plus, side sleepers can use a firm pillow between their knees. It's normal for sleepers' knees to scrape together when side sleeping, but placing a sturdy pillow between the legs alleviates this discomfort and further aligns the spine.
Back Sleeping
Typically, pillows for back sleepers are firm. The firmness prevents the head and neck from curving backward when sleeping on your back.
If you use a firm pillow when back sleeping, avoid a pillow thicker than 5 inches since it will likely be too thick for this sleep style. Softer, thick pillows can conform better under the head when back sleeping, but a firm pillow won't adapt as much, causing the head to curl in towards the chest and cause pain.
Stomach Sleeping
When sleeping on your stomach, firm pillows are generally less than ideal. The head is closest to the mattress while stomach sleeping, and a firm pillow may cause strain on your neck unless the pillow is thinner than 3 inches. The best pillows for stomach sleepers are soft and conforming. A softer pillow under the head when you sleep on your stomach can prevent placing stress on the neck.
If anything, stomach sleepers might consider placing a firm pillow under their hips. A firm pillow under the hips alleviates tension around the lower back and ensures the spine is neutral, minimizing pain and helping people sleep better.
Combination Sleeping
Finding the right pillow if you switch positions at night can be tricky. If you primarily switch between sleeping on your side and back, then a firm pillow can work fine. However, if you switch between back and stomach sleeping, you may want to go for a softer pillow to better accommodate stomach sleeping.
Generally, the best pillow firmness for combo sleeping is medium since it provides a balanced feel to suit most people, especially if you sleep in all sorts of ways throughout the night.
FAQs
Are firm pillows better than soft pillows?
There's no definitive answer to whether or not firm or soft pillows are better, since it simply depends on your individual needs.
Side sleepers and larger people generally prefer firmer pillows to ensure their heads and necks stay neutral. Some back sleepers also need firm pillows, but others may prefer something a bit softer to keep their spines neutral. However, stomach sleepers need softer or medium pillows to provide more cushioning for their necks and head.
Can a pillow be too firm?
A pillow can be too firm depending on your sleeping position. If you sleep on your stomach or back, it's typically best to use a pillow with a medium or soft feel to prevent your neck from curving unnaturally. An overly firm pillow can lead to stiffness, achiness, headaches, and fatigue.
What is the best pillow for neck pain?
Some of our favorite pillows for neck pain include the Amerisleep Dual Comfort Pillow, the Zoma Pillow, and the Purple Harmony Pillow. With this in mind, finding the right pillow for neck pain varies based on your sleeping position.
Look for a pillow suited for your sleeping position to ensure your neck and head are supported, but also in line with your spine. After all, neutral spinal alignment is key to relieving neck pain.
What is the best pillow for degenerative disc disease?
When struggling with degenerative disc disease—particularly around your neck—it's crucial to use a pillow with proper neck support. Look for pillows built to relieve pressure and pain, such as the Avocado Green Pillow, Amerisleep Dual Comfort Pillow, or the Zoma Pillow.
An adjustable pillow is a good choice when you have degenerative disc disease as it will conform to the shape of your neck.
What is the best pillow for a back sleeper?
As a back sleeper, it's best to use a mid-loft pillow with a medium to firm feel. Some of the best pillows for back sleepers include the Amerisleep Flex Pillow, Zoma Pillow, and Vaya Pillow. They're all known for their breathability and versatile comfort and support.
Conclusion
Finding the right firm pillow may take a bit of time, but don't skimp out and reach for the cheapest option. Especially when side or back sleeping—the positions best suited for firm pillows—it's crucial to use a sturdy pillow to maintain good posture at night.
Utilize our guide in your hunt for the right firm pillow to achieve better sleep and prevent pain in the mornings.