Best Pillows for Stomach Sleepers (2023): Reviews and Buyer's Guide

Bedding Guides
The right pillow can be key to keeping your spine in a healthy, neutral position throughout the night. Stomach sleepers, in particular, face some unique challenges to their comfort.
Stomach sleeping puts extra stress and pressure on the lower back. That stress increases if the hips sink into the mattress. We highly recommend trying to sleep in another position. However, everyone shifts positions during the night. Even if you start in another sleep position, you may find yourself on your stomach.
To help you sleep better, we've reviewed the best pillows for stomach sleepers and provided a pillow shopping guide to help you in your search for better sleep.
30 Second Summary: Best Pillows for Stomach Sleepers
Zoma's Pillow — The Zoma Pillow features moldable MicroCushions™ so you can adjust the pillow to meet your ideal levels of comfort and support.
Amerisleep's Comfort Classic — The Amerisleep Comfort Classic is another great pillow for stomach sleeping because it molds to the neck to relieve pressure and prevent pain.
Best Pillows for Stomach Sleepers
The Zoma Pillow's MicroCushions™ are designed to adapt to most sleep positions. Targeted to sleepers with an active lifestyle, the Zoma can twist and bend to comfortably support the low profile of the stomach sleeper. We like that this model is CertiPUR-US® certified, so you can rest easing knowing it's free of lead, mercury, ozone depleters, and harmful chemicals.
The MicroCushions™ give the Zoma its ability to mold to the head. Made from shredded foam and polyester fiberfill, stomach sleepers can press and shift the Zoma until they get the perfect fit. It has a moisture-wicking cover that's breathable and cool.
The hypoallergenic MicroCushions™ resists allergens and bacterial growth for a safer, cleaner sleep. When it's time for washing, an inner liner protects the filling while you machine-wash the cover.
A 10-year warranty covers the Zoma Pillow from any defects in materials or workmanship.
Zoma Pillow Highlights
Contains shredded memory foam for easy customization
Has a breathable cover to prevent heat retention
Hypoallergenic
Stomach sleepers will appreciate the kind of custom contouring the Amerisleep Comfort Classic Pillow has to offer. Made of Amerisleep's Bio-Pur® foam, this pillow deepens its comfort and pressure relief the longer your head stays in contact with it. Like the Zoma, it's CertiPUR-US® certified, which means it's free of odor-causing chemicals and heavy metals.
Bio-Pur®, a foam that's also used in the comfort layer of Amerisleep mattresses, softens under heat and pressure. For stomach sleepers, that means deeper contouring as your head continues to sink into the pillow. Bio-Pur's® advanced open-cell design keeps hot air flowing out of the pillow and prevents overheating. It's covered in a soft fabric with cooling channels to further keep sleepers comfortable.
Amerisleep's pillow comes with a 10-year warranty, covering defects in the materials or craftsmanship.
Comfort Classic Highlights
Features pressure-relieving memory foam to prevent pains
Contains cooling channels to keep you cool
CertiPUR-US® certified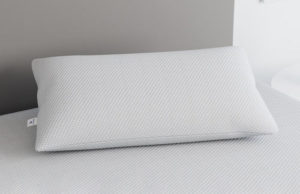 Do you wake up with sore neck because your pillow is too full or too flat? You won't experience that problem with Amerisleep's Flex Pillow. The pillow's fill adapts to your movements, making it an excellent option for stomach sleepers who change positions as they sleep.
The Flex Pillow is filled with hundreds of MicroFlex cushions, shredded pieces of foam that create a breathable, adjustable pillow core. A soft, removable cover encases the pillow in airy material for cool night's rest.
A Flex Pillow is easy to care for because it's 100 percent machine washable. You can remove the cover and throw it and the actual pillow into the washer on a delicate cycle. Dry the pillow on a low-heat cycle.
Once your Flex Pillow arrives at your home, you have 100 nights to try it out. The pillow is also backed by a 10-year warranty.
Flex Pillow Highlights
Cool, breathable cover
Customizable comfort
Machine-washable pillow and cover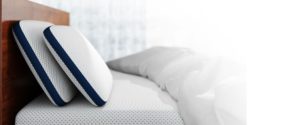 It can difficult to decide if a soft or firm pillow feels more comfortable. However, you can sidestep the decision with the Amerisleep Dual Comfort Pillow. As the name implies, the pillow has different feels on each side for double the comfort.
The soft side focuses on cushion, contouring to the neck and head for pressure point relief. The firm side provides a gentle lift that maintains spinal alignment.
The Dual Comfort Pillow is available in low and mid-loft options. We recommend the low-loft option for stomach sleepers because they benefit from minimizing the distance between their neck and the mattress.
Every Dual Comfort Pillow includes a 10-year warranty.
Dual Comfort Pillow Highlights
Contouring, breathable Bio-Pur® foam core
Soft and firm comfort levels
Choice of low or mid-loft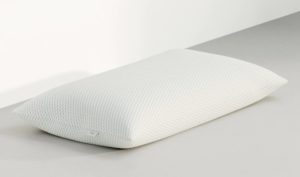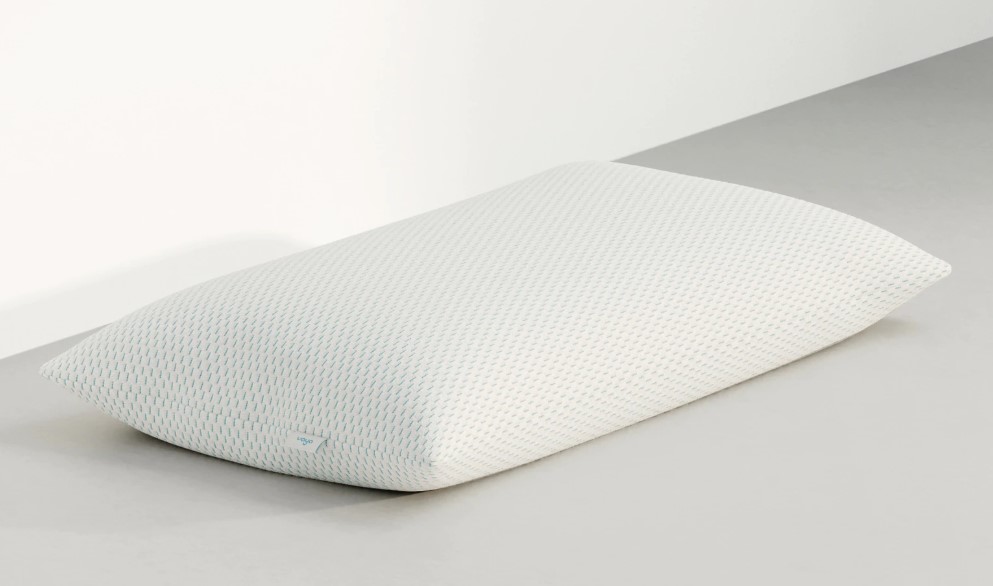 You don't have to break your budget to have a comfortable night's rest. The Vaya Pillow provides pressure-relieving cushion and soothing support at an affordable price.
The Vaya Foam Blend inside the pillow combines the company's comfort foam with plush microfibers. The 6-inch thick pillow has an adjustable height, so you can tailor its comfort to your sleeping position.
The Vaya Pillow is designed to last, which is why the company offers a 10-year warranty with every purchase. You also have 100 nights to try out the Vaya Pillow, so you can make sure that the pillow is the right choice for you.
Vaya Pillow Highlights
Budget-friendly prices
Plush, responsive durable materials
Adjustable loft to suit any position
The Pillow Guy Soft Stomach Sleeper Down Pillow is a great pillow for stomach sleepers. This pillow's 650 fill power white goose down is Responsible Down Standard (RDS) certified, which means no animals were harmed in the harvesting of the down. The quality of the down gives it a high loft, yet it's a soft pillow that allows the head to sink comfortably into it. It's the softness that lets the spine stay in a straight position from the top of the head to the tailbone even when stomach sleeping.
Down pillows can sometimes cause allergies. This pillow's feathers go through a cleaning process to remove allergens. They've also been tested for chemicals and potential irritants. A 100 percent cotton shell encases the feathers to prevent leakage and enhance breathability. It's covered by a 100 percent cotton, removable pillow protector that's machine washable.
The Pillow Guy Down Pillow can be returned within 30 days of purchase. The manufacturer advertises that the pillow should last at least five years. However, it is not covered under a warranty.
Pillow Guy Down Highlights
600 fill power
Responsible Down Standard (RDS) certified
Ultra-soft
Whether you are allergic to feathers or you need a pillow that's less expensive, the Sleep Guy Soft Stomach Sleeper Down Alternative Pillow is a relatively affordable and comfortable option. This pillow costs less than a down pillow and is hypoallergenic.
Pillow Guy's cooling fiber gel feels and responds almost exactly like down, giving it the loft and softness that stomach sleepers need. However, if the loft doesn't work for you, this same pillow comes in an overstuffed side/back sleeper option too. After all, not all stomach sleepers have the same preferences.
A shell of MicronOne™ fabric resists dust mites and bed bugs. It's also hypoallergenic, water-resistant, and chemical-free. Finally, there's a 200-thread count, 100 percent cotton pillow protector that fits over the shell. The naturally breathable cotton prevents overheating and can be machine washed.
The Pillow Guy's down-alternative model comes with the same 30-day guarantee as the Pillow Guy Down Pillow. The manufacturer suggests a life span of two years for the down-alternative pillow, but there's no warranty.
Pillow Guy Down Alternative Highlights
More affordable option than down counterpart
Hypoallergenic
Contains cooling fibers to prevent night sweats
The My Pillow® has an interlocking fill that functions much like a shredded fill. The My Pillow® comes in several lofts. Each customer answers four questions about themselves, including their gender, sleep position, T-shirt size, and past pillow experiences. From there, you're given a "color" that corresponds with the ideal pillow loft for you. For example, an average-sized, stomach-sleeping woman who wears a medium-size T-shirt would order the "yellow" fill My Pillow®.
The interlocking fill feels similar to a shredded foam or memory foam pillow. It can be fluffed and reshaped by the sleeper for a customized fit. The My Pillow® feels lumpier than down or down alternative pillows.
However, those soft lumps can shift and change position to fit the curve of your neck and head, giving this pillow a custom feel. It's an especially comfortable pillow for stomach sleepers who may spend a considerable amount of their sleep time on their back or side. With the My Pillow®, the sleeper can adjust the shape as they change sleep positions throughout the night.
The My Pillow® comes with a 60-day money-back guarantee and a 10-year warranty.
My Pillow Highlights
Customized pillow
Adjustable
Option to come in two-pack
Bluewave Bedding's Ultra Slim Original Cool Memory Foam Pillow comes in a short 2.5-inch loft that's perfect for stomach sleepers. It provides the custom contouring of memory foam but also has cooling gel and aeration channels that prevent heat build-up. CertiPUR-US® certified foam assures you that it's free of harmful chemicals and heavy metals, such as lead and mercury.
The Ultra Slim makes a great pillow for the stomach sleeper who easily overheats. Gel infused into the memory foam absorbs heat and transports it away from the body. The Ultra Slim also has a CarbonBlue coating that contains heat-absorbing graphite particles that help regulate the sleeper's body temperature. Finally, the memory foam has aeration channels evenly spaced throughout the pillow to keep air circulating. It's covered in a removable, Tencel cover that can be machine washed.
This model comes in an original and full version. The original has a flat bottom for sleepers who don't flip their pillow during the night. The full version has a rounded edge on top and bottom for those who adjust and move their pillow more frequently.
Bluewave Bedding provides a 100-day trial and a three-year warranty with their memory foam pillows.
Bluewave Bedding Highlights
Contains cooling gels
Notably thin loft
Features a soft, breathable Tencel cover
Pillow Fill Types to Consider
A pillow's fill gives it loft (height) and firmness. Stomach sleepers need lower loft pillows to maintain spinal alignment, and since their faces are usually pressed into the pillow, extra softness for all-night comfort. We'll go over each fill type, and how they can impact stomach sleepers' sleep quality.
Memory Foam
Memory foam stretches and conforms when under heat and pressure. When sleepers put their head on a memory foam pillow, the memory foam adapts to the curves of the neck while cradling the head. Memory foam pillows can be made with solid, shredded, or contoured foam.
Solid: Solid memory foam pillows are made of a single piece or several large pieces of memory foam. They may work for stomach sleepers if they have a low loft and a softness that prevents the build-up of pressure on the face. Some solid memory foam pillows are adjustable. These models usually have one or two pieces of memory foam that can be removed to lower the pillow's loft.
Shredded: Shredded memory foam pillows, as the name implies, have shredded bits of memory foam as the filling. Shredded memory foam fills are often mixed with other fillings like polyester or another fiberfill. This type of fill conforms to the head but have a lumpy feel. Sleepers can change the shape of a shredded memory foam pillow by manipulating the filling. Some shredded memory foam pillows are also adjustable, which means you can remove or add filling as needed.
Contoured: Contoured memory foam pillows are made of a solid piece of foam that's shaped and contoured for an ergonomic fit. Usually, they're designed to accommodate side or back sleepers, which often means they don't work as well for stomach sleepers.
Foam
Polyurethane foam, or poly-foam, may also be used as a pillow filling. Bed pillows don't usually contain poly-foam as it's more often used in throw or decorative pillows. However, poly-foam is an inexpensive alternative to memory foam because it cushions and supports the head, but it doesn't have the contoured feel of memory foam. Stomach sleepers can find comfort on a poly-foam pillow if it has the right loft and softness.
Natural or Organic Fill
Most of the time, the term "natural fill" refers to feathers of some kind. However, today, there are far more natural fill options like wool, kapok, and buckwheat. Natural fills may sometimes, but not always, be organic, too. Look for natural and organic fills with organic certifications from independent organizations. These organizations monitor and test products against established organic guidelines and assure you that all manufacturer claims are, in fact, true.
The most common natural fillers include:
Feathers: Feathers of all types and sizes are used in pillows. However, the most highly sought after are down feathers. These fine, soft feathers come from a bird's undercoat. Feather pillows are a comfortable option for stomach sleepers. Even if they have a high loft, they're generally soft and gently cushion the head. Most stomach sleepers, however, would still sleep better on a mid to low loft feather pillow that doesn't put too much pressure on the face and neck.
Buckwheat: The empty, washed hulls of the buckwheat seed make a firm pillow that's not usually comfortable for stomach sleepers. However, most buckwheat pillows are adjustable. If you like a firm pillow, you could remove the hulls until you reach a comfortable loft. The hulls can also be manipulated into different shapes for a customized fit to your favorite sleep position.
Kapok: Kapok comes from the seed of the kapok tree. It looks similar to cotton with a similar softness but has a silkiness that's unique to kapok. If you like down or wool, you'll probably like kapok, too. This lightweight, fluffy material has a cloudlike softness that's perfect for many stomach sleepers.
Wool: Wool pillows aren't common, but they have natural breathability and softness. Depending on the loft, they can be a comfortable, natural, and (sometimes) organic choice for stomach sleepers.
Latex: Natural latex is derived from the sap of the rubber tree. It's made into a foam that feels similar to memory foam. Latex's springy feel makes a well-cushioned pillow. Like memory foam, latex can be found in solid, shredded, or contoured pillows. Stomach sleepers need soft, low loft latex for comfortable sleep.
Synthetic Fill
Synthetic fills are made of many materials, but the most common are polyester and latex. They are generally hypoallergenic, making them a favorite for those with allergies. They're also more affordable in comparison to their natural counterparts.
Polyester may be used on its own or mixed with memory foam, such as in shredded pillows. Polyester is also used in poly-cluster fills. Silicone coats the poly-clusters, giving them a down-like feel that's popular in down alternative pillows.
Synthetic latex is derived from petrochemicals and feels almost identical to natural latex. However, it tends to off-gas and wear out faster than natural latex.
Pillow Budget
Pillows come in a wide range of prices. You can find inexpensive models in two-packs that cost less than $20 and premium pillows that cost well over $200. The bargain pillows, those that cost less than $25 to $30, typically have synthetic fillers of one type or another. These models don't usually have warranties and will break down faster than more expensive pillows.
Buckwheat, memory foam, and latex pillows of all types start around $30 and go up to $70 to $80. Those at the higher end of the price range are more likely to have independent certifications that assure the natural, organic, and/or material safety claims of the manufacturers. Some of these models have an adjustable loft, which allows you to add or remove fill as needed.
Down pillows start around $70 and go up to well over $250. The down's fill power and cover quality affect the final price.
Sleeping Position
Sleep position determines what kind of pillow you need and heavily influences what feels good to you. We'll give you a brief rundown of what each position generally needs from a pillow.
Side Sleepers
The best pillow for side sleeping is one that fills the gap between their head and the mattress. Firmer pillows with good contouring like a high loft memory foam or latex often provide a comfortable night's rest. Shoulder depths vary by sleeper size, which makes shredded and adjustable pillows another option as they can be shaped according to each sleeper's needs. Down, kapok, and other lightweight fills, however, don't usually have enough support for side sleepers.
Back Sleepers
Back sleepers don't need as much loft as side sleepers. Memory foam and latex pillows that fill the curve of the neck and support the head work well. Back sleepers who like a softer, low-loft pillow may also find down or down alternative pillows a good fit.
Stomach Sleepers
If the head of a stomach sleeper gets raised too far above the mattress, it puts extra stress on the lower back. Stomach sleepers are prone to lower back pain anyway, so it's vital that they use a low loft pillow. Down, down alternative, and shredded pillows with an adjustable loft are smart choices.
If the lumpiness of a shredded pillow bothers you, down and down alternative pillows offer a smoother feel, although you may be able to feel the feathers (or clumps in down alternative pillows) through the pillow's shell.
Sleeping Cool and Airflow
The body needs to maintain a regular temperature for a good night's sleep. Down naturally allows air to circulate, but it is an insulating material, so it may be warm. Memory and latex foam pillows should have some cooling techniques used, such as gel or aeration channels that improve ventilation and heat distribution. Shredded fills have space between each fill piece through which heat and air can circulate.
Breathable covers or pillow protectors also play a role in cooling and airflow. Cotton's natural breathability makes it an ideal material for covers.
Common Questions
What is the best pillow for side and stomach sleepers?
Side and stomach sleepers have very different pillow needs. Side sleepers need a firmer pillow with a higher loft to fill the space between the mattress and the head. Stomach sleepers, on the other hand, need a soft, low loft pillow to keep their spine in a neutral position.
Combo sleepers who switch back and forth from their stomach to their side may be best served by a model that's easily reshaped or has a shredded fill. There are some solid foam models with high and low loft sides in a single pillow. When stomach sleeping, the low loft side cushions the head. When side sleeping, the high loft side fills the curve of the neck and the space between the head and mattress.
Are down pillows good for stomach sleepers?
Down pillows are an excellent choice for stomach sleepers. All down is soft, but the loft of the pillow will determine if it's right for stomach sleepers. An overstuffed down pillow, for example, may be too high and create an uncomfortable curve in the spine. A low loft down pillow, on the other hand, can cushion the head while keeping it in line with the rest of the body.
Can I have sleep apnea if I sleep on my stomach?
You can have sleep apnea in any sleep position. However, sleeping on your stomach or side has been shown to reduce snoring in comparison to back sleeping. The side and stomach positions help the airways stay clear and open.
A neutral spine position, one in which the spine maintains a straight position from the top of the head to the tailbone, can further reduce some of the symptoms of sleep apnea. Your pillow and mattress make a big difference in your spine's position. In addition to a pillow that supports your sleep needs, your mattress should cater to your sleep position, weight, and preferences and life circumstances like sharing your bed with a partner.
Is it bad to sleep on your stomach?
Many sleep experts caution against sleeping on your stomach since the position can interfere with your spine's alignment. When you lie on your stomach, your belly may sink into your mattress and shift your spine out of it's neutral position. This chance of misalignment is why some stomach sleepers develop chronic back pain.
What is the healthiest sleep position?
We usually recommend sleeping on your side to experience the most health benefits. Side sleeping can reduce pressure on your heart and alleviate snoring and sleep apnea symptoms. Back sleeping can increase your chances of snoring or developing sleep apnea and acid reflux, but it's also one of the best positions for maintaining a neutral spine. Stomach sleeping is usually considered the least healthy position.
The Bottom Line
Stomach sleepers need a well-cushioned, low loft pillow that keeps their spine in a neutral position.
Down, down-alternative, and shredded memory foam or latex pillows with an adjustable loft often work well for stomach sleepers.
We do not recommend stomach sleeping due to the stress and pressure it places on the lower back.
Everyone deserves a good night's rest. A pillow that softly cushions and cradles the head while keeping your neck in line with the rest of your spine will lead you to better sleep. For stomach sleepers, that's often a soft, low loft pillow. Factor in your personal preferences, and invest in one of the most comfortable pillows that will provide support for years to come.