Best Pillows for Back Sleepers: Reviews and Buyer's Guide

Bedding Guides
If you're a back sleeper, you're few and far between, considering only 8 percent of the population prefers to snooze in the supine position. However, the benefits of back sleeping are numerous— it keeps your spine aligned, reduces symptoms of acid reflux, relieves sinus build-up, and can prevent chronic headaches. That said, back sleepers are more prone to neck pain than others, and that's why they need to pay special attention to their pillow choice.
Using the most supportive pillow for your back is an easy way to ensure you'll sleep comfortably and reap all the rewards back sleeping has to offer. In our guide, we cover the best pillows for back sleepers in addition to all the factors you should consider when choosing the perfect pillow.
30 Second Summary: Best Pillow for Back Sleepers
Amerisleep Comfort Classic — We recommend Amerisleep's Comfort Classic Pillow to back sleepers because it has an ideal 6-inch loft, feels medium-firm, features supportive Bio-Pur® foam, and has ventilated airways to keep you sleeping cool. Plus, it comes with a 10-year warranty.
Zoma Pillow – We like the Zoma Pillow because it contains customizable MicroCushions™ allowing you to adjust the pillow to your sleep needs. It also comes with a 10-year warranty, which is pretty hard to beat.
Best Pillows for Back Sleepers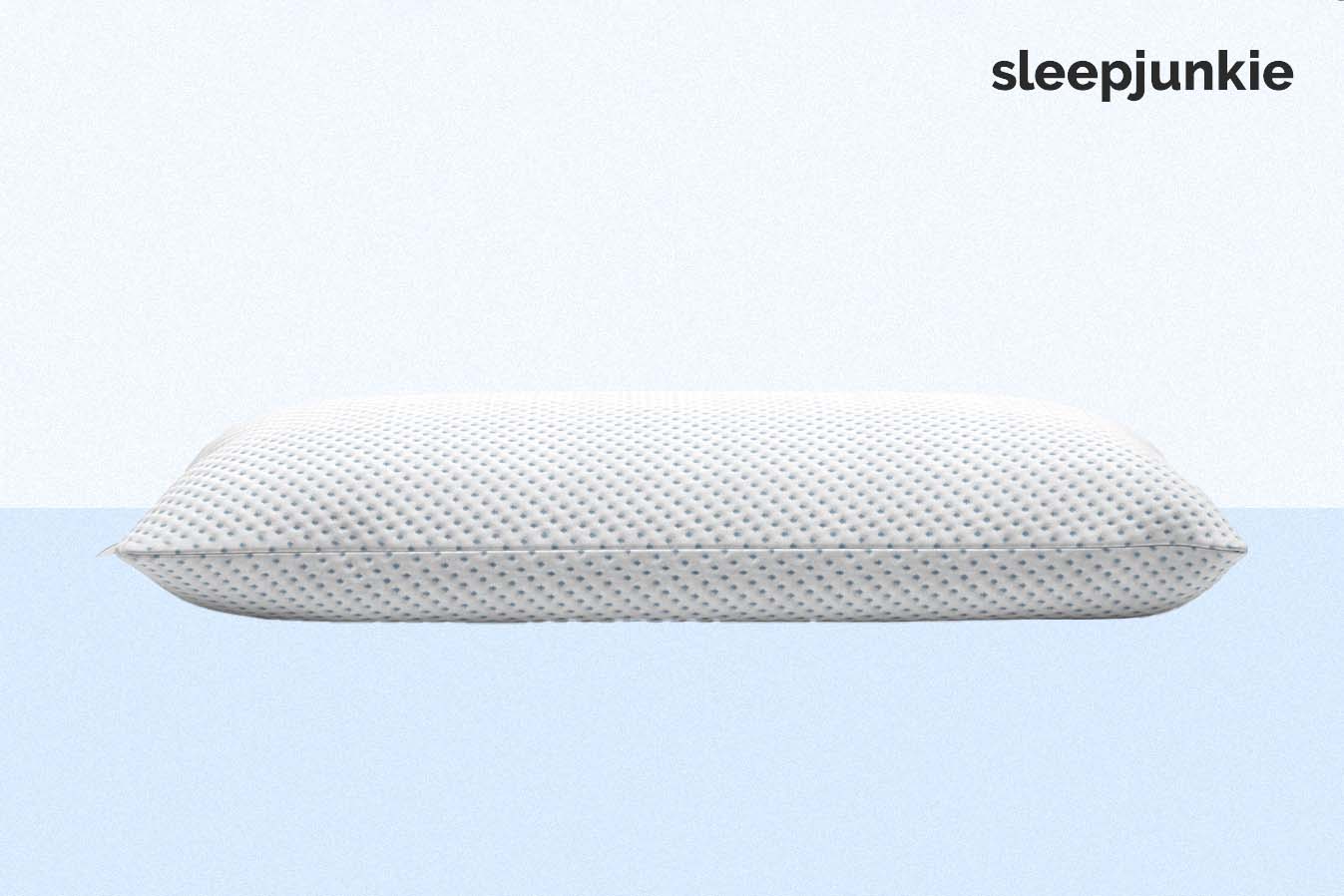 The Amerisleep Comfort Classic is our favorite pillow for back sleepers because it features pressure-relieving memory foam, is an ideal 6 inches thick, and has a medium-firm feel. Not only great for back sleepers, but Amerisleep's Comfort Classic is also our top recommendation overall for best pillow because it's adaptable to most sleeping positions and offers superior neck support.
The Comfort Classic features CertiPUR-US® certified Bio-Pur®, a versatile, open-cell foam designed to offer better neck support than traditional memory foams. Bio-Pur® is both responsive and breathable. It adapts to your neck and movement quicker than other foams, providing reactive comfort.  Plus, it includes built-in ventilated airways to prevent heat retention, making it perfect for hot sleepers.
The Comfort Classic comes with a removable cover for convenient washing. Like the Bio-Pur® inside, the cotton and polyester cover is airy and breathable to promote better airflow through the pillow.
The Amerisleep Comfort Classic comes with a 10-year warranty, helping you get a good night's sleep for years to come.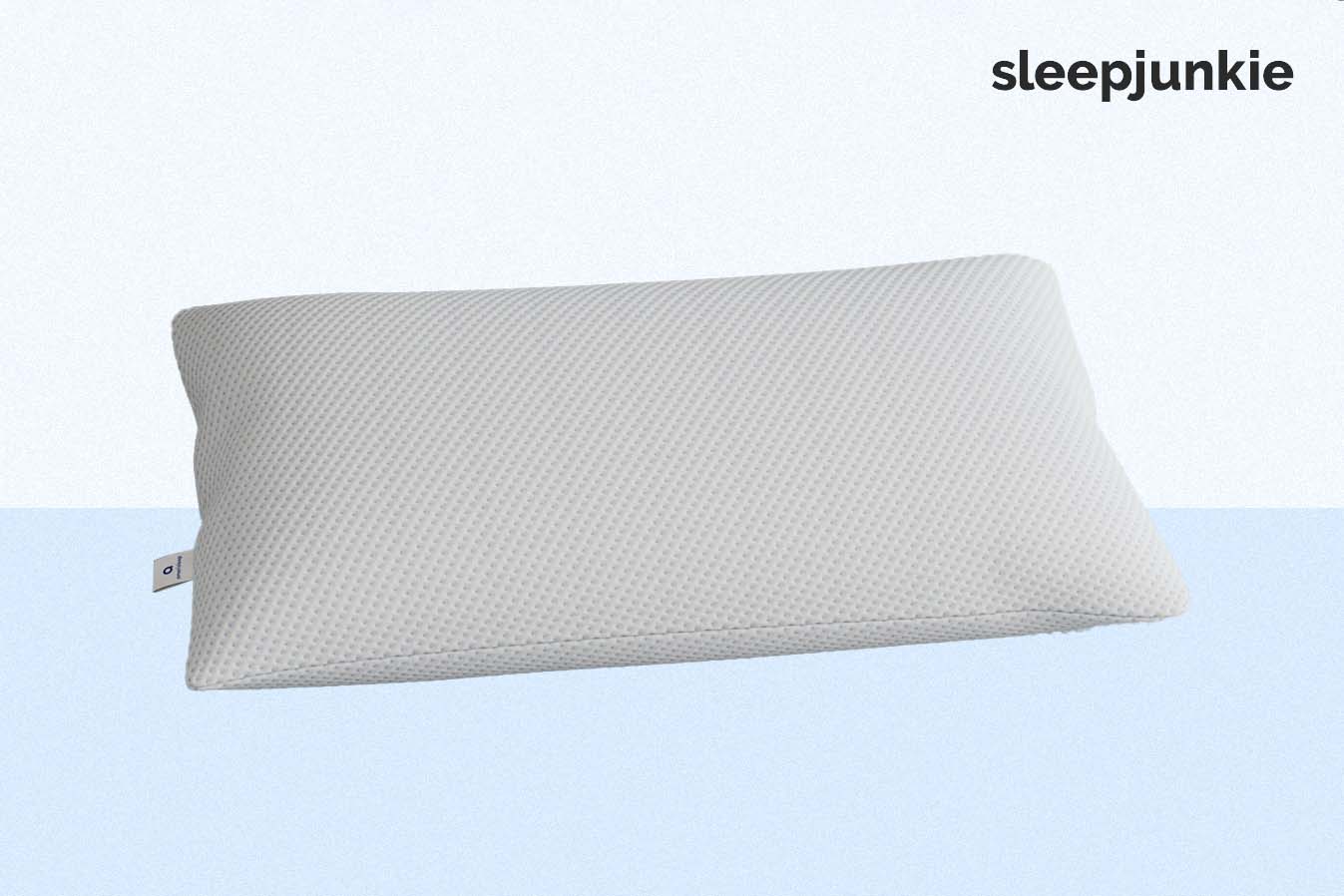 Amerisleep's Flex Pillow has a unique foam filling called MicroFlex. This shredded foam material is easily molded to the shape and size you need—making it feel like a custom made pillow.
Whether you are back sleeper or a combination sleeper, the Flex Pillow will keep you supported and resting in a safe position.
MicroFlex doesn't retain heat and moisture the way most foam varieties do. Plus, it has the same lightweight, airy cover as Amerisleep's Comfort Classic Pillow, so sleep will never be disrupted due to night sweats or overheating. 
The Flex Pillow comes with a 10-year warranty and is available in two different sizes, queen and king.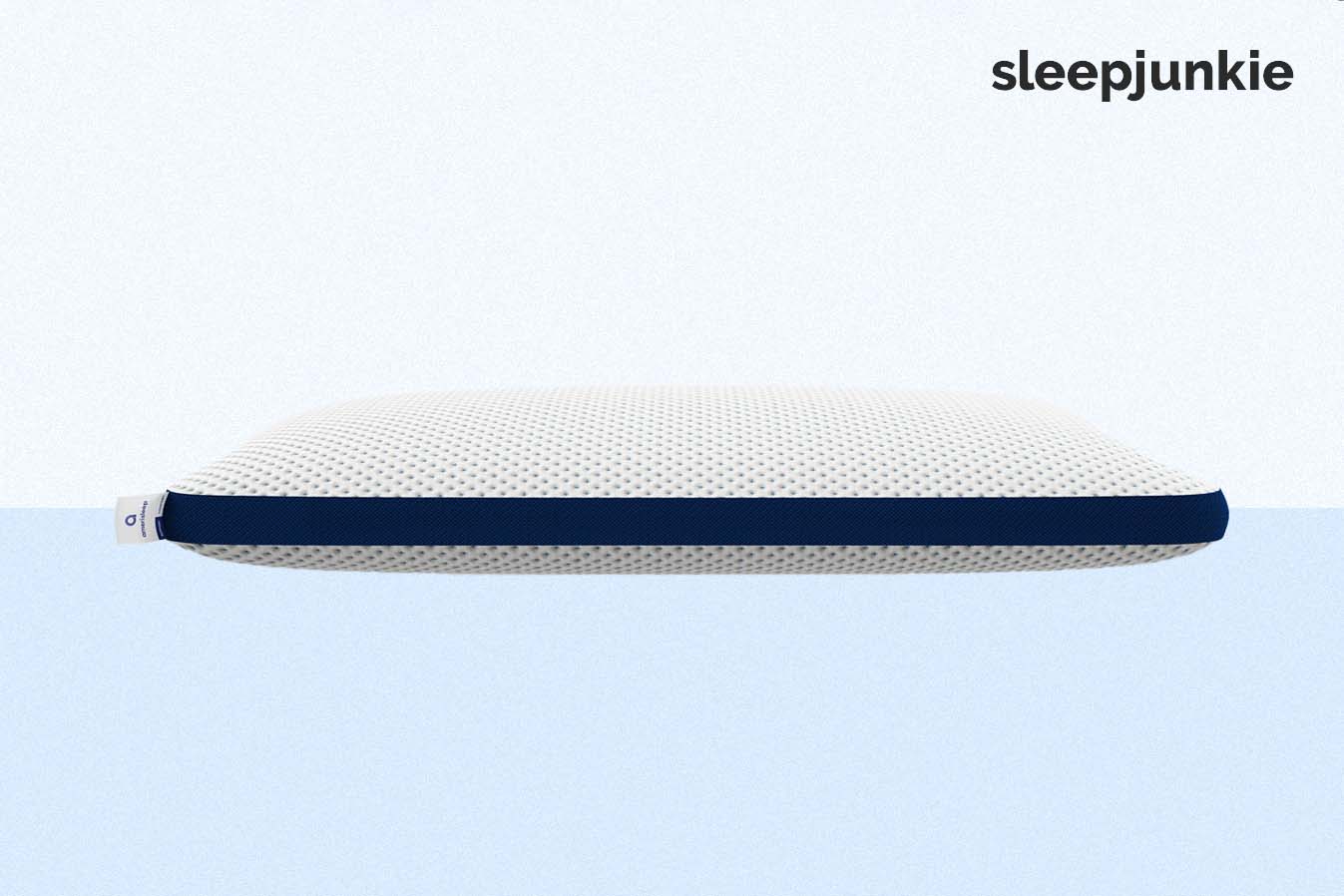 Amerisleep's Dual Comfort Pillow features their unique plant-based memory foam, Bio-Pur®. Since this material is made with fewer petroleum base oils, it retains less heat and moisture, reducing the occurrence of night sweats and overheating. Plus, this foam is eco-friendly and non-toxic, so you can rest assured it is safe for you and your family. 
This pillow offers sleepers two different firmness options—a soft side and a firm side. Back sleepers will likely prefer the soft side because it offers enough compression to keep the head and neck cradled and supported. Side sleepers may sleep best on the firm side because the slight lift of this comfort level will keep the head from falling below the shoulders, which can often lead to pain and discomfort. 
To increase breathability and improve air circulation, both sides of the pillow are embedded with cooling channels that allow warm air to escape, so the pillow always stays cool to the touch.
Like all Amerisleep pillows, the Dual Comfort Pillow comes with a 10-year warranty.

Another great option for back sleepers is the Zoma Pillow. Zoma's pillow is designed to accommodate all sleeping positions, but we like it for back sleepers because it has a comfortable 6-inch loft and customizable MicroCushions™ allowing you to find your ideal level of firmness.
Like the Comfort Classic, Zoma's Pillow is also CertiPUR-US® certified– meaning, its filling is made without ozone depleters, PBDE flame retardants, heavy metals, or other harmful chemicals. The Zoma Pillow has a breathable cover and plush filling.
The cover of Zoma's Pillow is a polyester/spandex blend, so it's both stretchy and breathable. At night, we naturally emit body heat, and Zoma's cover prevents that body heat from building up in the pillow and causing you to overheat.
Inside the pillow are Zoma's proprietary MicroCushions™, a mix of shredded foam and polyester fiber filling. The inclusion of the fiber filling gives this pillow a bit of softness and prevents it from ever feeling "chunky" as a result of the shredded foam. You can play with the MicroCushions™ inside to fluff or mold the pillow to your sleep style. These MicroCushions™ are designed to never go flat, so your pillow should maintain it's loft for years to come.
Zoma backs their pillow with a 10-year warranty protecting you against workmanship and structural defects.
The next option on our list is another memory foam pillow. However, this pillow features shredded foam pieces rather than a single block of foam. Coop Home Goods adjustable memory foam pillow has received over 17,000 reviews, 72% of which are a solid 5-star rating. Plus, this pillow comes with a 100-night sleep trial and a 5-year warranty.
The Coop Home Goods Premium Adjustable Loft Shredded Memory Foam is CertiPUR-US® and Greenguard Gold certified, so it's free from harmful chemicals. Memory foam and microfiber makes up the filling and offers an even balance of support and cushioning comfort. To customize the pillow to your ideal firmness and loft, add or remove filling until it feels comfortable.
The cover of this pillow is a soft-to-the-touch blend of bamboo-derived viscose rayon and polyester. It's naturally hypoallergenic and dust mite resistant, so you can sleep germ-free. Reviews of the pillow noted it sleeps rather cool and doesn't retain heat like some other memory foam options.
Another adjustable option, the Malouf Z™ pillow features shredded latex foam and a 100% cotton cover. Latex options are great for hot sleepers because they're natural cooling pillows. Plus, the cotton cover of this pillow offers a crisp, cool-to-the-touch feel.
Latex feels springy and responsive, and its quick pushback provides solid neck support. Just like the Coop Home Goods option above, you can adjust the filling of this pillow to your most comfortable loft and firmness.
The shredded latex inside of this pillow is designed not to clump or shift, so you won't have to fluff your pillow night after night. Plus, the cover is machine washable for easy maintenance.
Malouf offers a 3-year warranty with each of their pillows to back your investment.
While a good pillow can help alleviate pressure points, they offer only a fraction of the benefits best adjustable base can provide. Read our guide to learn more.
.
Best Buckwheat Pillow for Back Sleepers: Hullo™ Buckwheat
If you're looking for an all-natural pillow, the Hullo™ adjustable buckwheat pillow is perfect for you. Featuring an organic cotton twill case and buckwheat hulls, this pillow is eco-friendly and vegan.
Hullo™'s buckwheat pillow is another adjustable option. You can add or remove the buckwheat hulls inside to achieve your ideal level of support. When you lay on this pillow, the hulls inside mold to your neck and head to provide all-over comfort, allowing your neck muscles to relax.
The cover of the Hullo™ is breathable and airy, allowing for air to flow throughout the pillow. It's also machine washable for easy cleaning. The buckwheat hulls inside of the Hullo™ contribute to its breathability. Because they shift around, they offer exceptional airflow and prevent heat build-up.
For years, buckwheat pillows were most common across Asian cultures. It wasn't until just recently that they became popular in the United States. For that reason, not many people have tried buckwheat pillows. Hullo™ offers you a 60-night sleep trial with each of their pillows, allowing you to try it out and decide if it's a good fit for you. If you decide against it, they'll refund your money no questions asked.
What Should Back Sleepers Look for in a Pillow?
There are basic guidelines to follow when searching for the best pillow for back sleepers, but ultimately, finding your best pillow will take some personal reflection. In general, back sleepers need a medium or high-loft pillow that is firm enough to hold their head in line with the rest of their body.
In this section, we break down the key things back sleepers should consider before selecting a new pillow.
Loft
Loft refers to the height or thickness of a pillow. Regardless of your sleep position, your pillow's loft should be compatible with your body type and support your head between your shoulders.
A pillow that's too thick will force your neck upwards. Meanwhile, exceptionally thin pillows can cause your neck to droop backward— both of which can lead to aches and pains.
Low-loft pillows are less than three inches thick. Most often, these are best for stomach sleepers because they need minimal elevation from a pillow. Thicker pillows are uncomfortable for people who sleep on their stomachs because they crane the neck upwards and inflame pressure points.
Medium-loft pillows are anywhere between three to five inches thick. While these are usually the best pillows for side sleeping, they're comfortable for back sleepers, too. However, if you have broader shoulders, a high-loft pillow may be necessary.
High-loft pillows are a minimum of 5 inches thick and usually the most suitable for the back sleeping position. Side and stomach sleepers are generally uncomfortable on pillows this thick. However, in the back sleeping position, they can be the perfect height to promote proper posture.
Back sleepers with an average build are typically best suited for medium-loft pillows. Those with a larger stature will likely find high-loft options can establish one of the most comfortable pillows.
We recommend first-time pillow buyers invest in an adjustable pillow because they give you the freedom to customize your pillow based on your needs. These pillows allow you to modify the height of the pillow should you ever become uncomfortable. Adjustable pillows are helpful for people who aren't exactly sure what they need in terms of neck support.
Firmness
Like loft, your pillow needs to be firm enough to hold your neck in neutral alignment with the rest of your body. It should also be conforming enough to mold to your neck and relieve pressure. Beyond that, deciding on the firmness of your next pillow largely depends on personal preference.
If you find both a firm pillow and a medium pillow offer similar neck support for you, choose between the two by picking what feels most comfortable under your head.
Material
Pillows come stuffed with a variety of materials— latex, memory foam, down, polyester, and more. Each material offers unique sleep-promoting benefits, but not all of them are ideal for back sleepers. Below, we cover some of the most supportive pillow fillings for back sleepers.
Buckwheat: Buckwheat pillows are great for back sleepers because they offer a lot of support and firmness. Often, these pillows are adjustable, so back sleepers can remove or add more buckwheat hulls to customize their comfort. Another pro of buckwheat pillows is their exceptional breathability, preventing hot nights.
Latex: Latex pillows are great for back sleepers because they're notably durable. While contouring, these pillows offer sound neck support and retain their shape over time. Latex is also cooling and breathable, so it's perfect for hot sleepers.
Feather: While down pillows may be too soft to support your neck properly, feather pillows are not. Feather pillows are filled with outer feathers of ducks and geese, which are sturdier and more supportive than down feathers. These can offer your neck the support it needs to maintain neutral spinal alignment.
Memory Foam: Medium to firm memory foam pillows are great for back sleepers because they're adaptable, pressure-relieving, and supportive. A good memory foam pillow can promote neutral spinal alignment and prevent tossing and turning. Shredded memory foam is an excellent option for back sleepers seeking adjustability while cooling gel memory foam is great for hot sleepers.
Shape
Pillows are available in numerous shapes and sizes. While many people opt for the standard flat pillow, you can sometimes sleep more comfortably on pillows with an ergonomic design.
For back sleepers, we recommend considering cervical pillows— more specifically, contour pillows. Many people use the terms "contour pillow" and "cervical pillow" interchangeably when they're actually different things. While all contour pillows are cervical pillows, not all cervical pillows are contour pillows.
Below, we break down their differences.
An umbrella term, "cervical pillow" is defined as a "sleep pillow with a curved design to adapt to the head, neck, and shoulders of back and side sleepers." These pillows are orthotic devices used to relieve neck pain, stiff shoulders, and headaches. They can also help regulate your breathing to reduce snoring and sleep apnea symptoms.
We like simple cervical pillows that have a concave center. These give you a designated spot to place your head, while the raised sides around the center depression offer more neck support. These pillows can also keep your head still while you sleep and prevent tossing and turning.
Beyond basic cervical pillows, we recommend memory foam contour pillows with two raised sides. These are characterized by two slopes, one higher than the other, with a center depression. You can  try both heights underneath your neck and determine which feels most comfortable.
The sloped design of these pillows should release tension from your neck while providing you with solid support. Using cervical or contour pillows habitually can eliminate neck pain and prevent future discomfort.
Back sleepers can also benefit from knee pillows, another type of orthotic pillow. Sometimes when you sleep flat, a gap can form between the small of your back and the mattress. Placing a pillow below your knees can close that gap and promote better spinal alignment.
Types of Back Sleeping Positions
There are three primary back sleeping positions. You can sleep either completely flat with your hands down at your sides and your legs slightly bent— which is the more common way back sleepers choose to sleep. Alternatively, you can assume either the Starfish pose or the Savasana position.
The Starfish position is pretty self-explanatory— you sleep flat on your back with all of your limbs sprawled out like a starfish. In this pose, sleepers place their arms up by their head and usually bend one or both knees to get the most comfortable.
The Savasana position is a little more simple than the other two we've just described. In this position, you sleep with both arms and legs fully extended. Your arms remain down by your sides and not up over your head.
Regardless of which back sleeping position you find most comfortable, you can still reap the benefits of snoozing in a healthy position for your spine.
To get the most comfortable sleep and wake up every morning pain-free, read our guide on finding the best bed for a bad back.
Pros and Cons of Back Sleeping
Many sleep specialists and doctors agree that sleeping on either your side or back is the healthiest. While it's hard to debate which is the absolute "best" way to sleep (as everybody has different sleep needs) these two positions can help you wake up pain-free and get more undisturbed rest.
There are pros and cons to back sleeping. Below, we break down the three biggest benefits to back sleeping.
Natural spine alignment: Back sleeping leads to better spinal alignment. Unless you're twisting or contorting your body, this position is usually healthier for your spine than side or stomach sleeping.
Fewer wrinkles: Side and stomach sleepers often develop wrinkles and show early signs of aging as a result of their faces pressing up against their pillow at night. Back sleepers can avoid this because their faces don't touch their pillows when they sleep.
Alleviates digestive discomfort: Sleeping on your back with an elevated pillow can ease heartburn and acid reflux, helping you fall asleep faster and sleep undisturbed.
While back sleeping may be the most comfortable for some sleepers, it's not recommended for pregnant women, those who chronically snore, or people with sleep apnea.
When you sleep on your back, the breathing muscles in your airways relax, causing your tongue to collapse in your airway— this causes snoring and symptoms of obstructive sleep apnea. Additionally, pregnant women should not sleep on their backs because it can result in compressed veins.
Frequently Asked Questions
Should back sleepers use a pillow?
Back and side sleepers should always use a pillow, only stomach sleepers can get comfortable sleep without a pillow. Back sleepers need a medium or high-loft pillow to prop their head up in alignment and keep the neck from dipping down or craning up.
Is it better to sleep on your back or side?
Both back sleeping and side sleeping are healthy, so choosing which is better for you comes down to considering your unique sleep habits and needs. Those who are prone to snoring or have Obstructive Sleep Apnea (OSA) should sleep on their side since back sleeping can exacerbate these two conditions. Pregnant women are also advised to sleep on their left side since back sleeping can put too much pressure on the womb. On the other hand, those with hip or shoulder pains may get better sleep on their back, as back sleeping supports the natural curve of your spine.
Why is it bad to sleep on your back?
Sleeping on your back can cause your airway to narrow or become completely blocked as soft tissue collapses in your throat; this is why those with sleep apnea or who are prone to snoring should avoid back sleeping. Apart from this, back sleeping is a rather healthy sleeping position.
What is the best type of pillow for back sleepers?
Many back sleepers enjoy memory foam cervical pillows because they're pressure-relieving and designed to cradle the neck in a comfortable position. With that, standard mid- and high-loft pillows are also comfy for back sleepers because they slide perfectly under your head to keep your neck in healthy alignment.
Is it healthier to sleep without a pillow?
It's only healthier to sleep without a pillow if your neck can remain in alignment without the extra support. Stomach sleepers usually sleep without a pillow, or they'll use very thin pillows so they can sleep flat and keep their head in alignment. We don't suggest back or side sleepers sleep without a pillow because it'll likely lead to aches and pains.
Did You Find Your Next Pillow?
We hope our guide has steered you towards the most comfortable pillow for your sleep needs. To refresh, back sleepers are best suited for medium- to high-loft pillows with a medium to firm feel. However, reflecting on your personal preferences and sleeping habits is the best way to find the right pillow for you.
During your search, don't forget to read customer reviews and explore other online resources to ensure you're making the best decision for better sleep. If you're interested in learning more about other sleep accessories or bedding, check out our other guides.