Best Sheets for Hot Sleepers (2023): Reviews and Buyer's Guide

Bedding Guides
Your body temperature naturally drops when your sleep cycle begins. Then it fluctuates throughout the night. It doesn't reach your daytime temperature again until you begin the wake-up process. If you get too warm during the night, overheating can cause wakefulness, and nobody likes that. Your bed sheets can help you maintain a neutral temperature for a more comfortable night's rest.
We've picked four of the best sheets for hot sleepers. We've included information about fabric choices, weave, staple length, and thread count. The right sheets can complement the cooling technologies used in your mattress. When they're designed to keep you cool, you're looking at a better, more restful night's sleep, even on hot summer nights.
Best Sheets for Hot Sleepers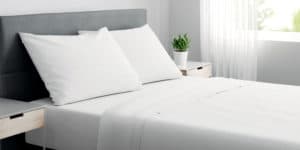 Amerisleep's Percale Cotton Bed Sheets keep you cool all night long. These crisp sheets feel thick and luxurious, and they only grow softer with time.
If you like a thick sheet that doesn't trap heat, these are the sheets for you. Percale's light weave leaves space for air and moisture to circulate and evaporate. The long-staple cotton of these bed sheets provides strength, softness, and durability. The 300-thread count balances a soft texture with breathability. The weight of the sheet gives you comfortable coverage.
The Amerisleep Percale Cotton Bed Sheets are designed to fit mattresses up to 18 inches deep. They're covered by a limited five-year warranty.
Amerisleep Percale Cotton Bed Sheets Highlights
Crisp, luxurious feel without heat build-up
Breathable weave lets heat escape
300 thread count provides drape but balances it with breathability
The Amerisleep Tencel Sheets rise to the top in softness, making them one of our top picks. Tencel® fabric is made from the cellulose fiber of eucalyptus trees. This material is all-natural and sustainable. Amerisleep's Tencel® eucalyptus trees are grown without pesticides and genetic manipulation.
These Tencel sheets have the right texture for delicate, sensitive skin. At the same time, Tencel wicks moisture and pulls heat away from the body, cooling the sleeper all night long. It also resists bacterial growth. Finally, these sheets have a Smarty-BandZz® Smartsheet system that resists bunching. Combined with the anti-wrinkle properties of Tencel®, you're looking at smooth sheets.
Amerisleep Tencel Sheets Highlights
Soft texture for hot sleepers with sensitive skin
Wicks moisture to cool the body
Absorbs heat, pulling it away from the sleeper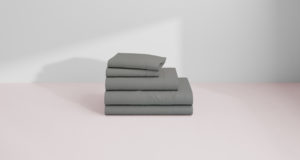 The Zoma Tencel Sheets are great for sleepers who struggle with more frequent or severe night sweats because they're designed for advanced cooling and deeper sleep. Zoma's sheets are incredibly moisture-wicking, so they keep you dry all night, and they're ultra-lightweight. With a 300 thread count, you can expect these sheets to feel light but still durable and strong.
Zoma's Tencel Sheets are not only great for hot sleepers, but those with allergies and sensitive skin will enjoy Tencel fabric, too, because it's hypoallergenic and buttery-soft. The Zoma Tencel Sheets are also easy to use, the fitted sheet has snug elastic to keep your sheets secure and the entire sheet set is machine washable.
Zoma includes 1 fitted sheet, 1 flat sheet, and 1 or 2 pillowcases (depending on the size you order) with every sheet set. Plus, they offer free shipping and a 1-year warranty.
Zoma Tencel Sheets Highlights
Ultra-cooling and moisture-wicking
Features sewn-in "Head/Foot" labels for easy bed-making
Luxuriously soft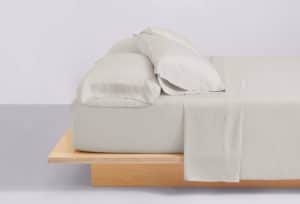 The Buffy Eucalyptus Sheet Set brings yet another natural fabric to the bedroom. Eucalyptus fabric has many of the same properties as cotton and linen. It's soft, breathable, and moisture-wicking. Buffy's sheets are OEKO-TEX® certified, so they're free of PBDEs, ozone depleters, and other harmful chemicals.
Eucalyptus sheets are cool to the touch, making them an inviting way to start your sleep cycle. They're also incredibly soft and smooth. Like other natural fabrics, they grow softer with time and use.
Buffy uses plant-based, all-natural dyes to reduce environmental impact.
Buffy provides a free seven-day trial before you have to pay for the sheets. If you return them within that time, you are not charged. You then have thirty days in which to return the sheets for a refund.
Buffy Eucalyptus Sheet Set Highlights
Sustainable eucalyptus fabric feels soft against the skin
Breathable fabric allows heat to circulate
Moisture-wicking sheets are cool to the touch
The last set of sheets on our list is made by SlumberCloud, a well-known bedding brand, and their Stratus Sheets receive rave reviews from hot sleepers. We like these sheets because they combine a blend of breathable cotton and moisture-wicking Outlast® fibers to regulate your temperature and prevent overheating.
They're designed to be soft and lightweight, so they don't cause you to feel trapped or stuck in your bedding. SlumberCloud even engineers these sheets to adapt to your changing temperature to offer maximum comfort. Cotton is breathable enough to wick away humidity to ward off night sweats, but it's also cozy enough to keep you comfortable in colder months, meaning these sheets are great for year-round use.
SlumberCloud offers a 60-day sleep trial with their sheet set, so you can give them a shot and return them if they don't deliver comfortable, sweat-free nights.
SlumberCloud Stratus Sheet Set Highlights
Features Outlast® technology to wick away moisture
Lightweight cotton prevent heat retention
Comfortable for year-round use
Factors to Consider
There are several important factors hot sleepers need to consider when shopping. The fabric, weave, staple length, and thread count all affect the sheet's feel, breathability, and durability.
Fabric
Hot sleepers should stick to natural fabrics. Many of them wick moisture and/or absorb heat. They all have better breathability than synthetic fabrics and most get softer with time.
Bamboo
As far as sustainability goes, it's hard to beat bamboo sheets. Sheets made from bamboo pulp have a soft texture and luxurious drape. Bamboo is more breathable than synthetics like nylon and microfiber. But it's not quite as breathable as cotton or linen.
Cotton
Cotton is the standard of comfort and breathability. But not all cotton is the same. Different types of cotton have different staple lengths, feels, and properties that make them better (or worse) for sheets.
Egyptian cotton: Egyptian cotton is the standard for high-quality cotton sheets. The long-staple length gives Egyptian cotton sheets incredible softness, breathability, and durability. Some varieties even have extra-long staples, making the sheets even softer and more luxurious.
American upland cotton: The shorter staple of American upland cotton means that sheets made of this fiber aren't as soft or durable. But this type of cotton produces breathable sheets that come at an affordable price.
Pima: Depending on the variety, Pima cotton can have medium to extra-long fibers. Pima cotton sheets can have a similar feel to Egyptian cotton but have a distinct sheen.
Combed cotton:

A combed cotton fabric has all the short fibers removed, leaving only the longest behind. These sheets will be exceptionally smooth and soft.

Cotton Jersey:

This knit fabric feels like a t-shirt and breathes well. But hot sleepers may find themselves tangled in these sheets, which can cause overheating. 
Linen
Linen is made from flax stem. It's naturally breathable and moisture-wicking. Linen fibers are thicker than cotton, which means linen sheets usually have a lower thread count than cotton sheets. Those thick threads leave room for air to circulate and feel heavier, creating a noticeable drape that cotton lacks. 
Linen's casual look comes from the way it holds wrinkles. But it continues to soften with time and has excellent durability. 
Tencel® and Eucalyptus
We included Tencel® and eucalyptus in the same category because Tencel is made from eucalyptus pulp. It has a softness that rivals cotton and good durability. It's also naturally antimicrobial. Eucalyptus is more eco-friendly than cotton because it requires less water, energy, and chemicals to make. While it's highly breathable, it's not quite as breathable as cotton or linen.
Polyester
Polyester is a synthetic material that's inexpensive to make. Polyester can be made into different types of fabrics used to make sheets such as microfiber, nylon, and acrylic. While polyester fibers are durable, they don't have the breathability of natural fibers, making polyester a poor choice for hot sleepers.
Weave
Different weaves give fabrics different feels, weight, and sheens. The most common include:
Percale: A percale weave has a one-under-one-over pattern. Percale sheets are lightweight and allow more air to pass through the fabric than a sateen weave.
Sateen: A sateen weave has a four-over-one-under weave that creates a heavier, less breathable sheet. They also have a slight sheen to them. Save sateen for the winter months. Some hot sleepers may overheat in them any time of the year.
Satin: A satin weave comes from a very fine thread and a high thread count. Synthetic fibers are the only ones used to make this weave. They are slick and not very breathable, so hot sleepers aren't likely to find them comfortable.
Flannel: Depending on the weave, flannel may have a nap on one or both sides of the sheet. The weave creates thousands of tiny air pockets that insulate the body. Hot sleepers may only want to use them in the winter, if at all.
We also want to mention single and two-ply weaves. Single-ply fabrics have one thread weaved over another. Two-ply fabrics have two threads twisted together and then weaved into fabric. Single-ply fabrics are lighter and softer, making them a better choice for hot sleepers.
Staple Length
The staple length is the length of the cotton fiber. Different cotton varieties have short, medium, long, or extra-long staples (ELS). Long and ELS are highly sought after because the extra length provides more strength and durability to the fiber. Fewer fibers also create a smoother, softer surface, making long and ELS cotton sheets some of the most luxurious on the market. But staple length doesn't affect breathability. Short staple cotton may not be soft, but it's still breathable.
Thread Count
Thread count, the number of yarns or threads used per square inch, used to be the standard by which many people measured a sheet's quality. Some manufacturers produce sheets with 1,000 thread counts by counting both plys of two-ply sheets. So they double the thread count but add nothing to the quality of the sheet.
Other fabrics like flannel and knits are measured by weight rather than thread count. And, linen's thicker threads mean that linen sheets have a lower thread count than a cotton sheet of similar quality. Your takeaway— the quality of the materials is a better indicator of sheet quality than thread count.
Bed Sheet Budget
Hot sleepers can't use just any sheet set. Inexpensive synthetic fabrics can be found for as little as $15 per set but will leave hot sleepers sweaty, uncomfortable, and, worst of all, awake.
Breathable, 100 percent cotton sheets made of short to medium staple cotton varieties like American upland cotton start around $25 to $45. These sheets aren't as soft as long-staple or ELS cotton, nor are they as durable. But their affordability makes them a simple, breathable option. The threads counts may be around 200, but as we've stated earlier, thread count isn't the best indicator of quality or breathability.
In the $45 to $100 are higher quality sheets, including some percale, long-staple cotton sets that do a good job of keeping the body cool. These sheets may not be made of top-of-line cotton, so they may not have the durability of more expensive sets. This price range may also include some certified organic sheets if you're concerned about environmental or human safety.
High end and premium sheets run are usually found for over $100. These sheets have long or ELS cotton, but may also be made of Tencel or linen. Thread counts range between 300 to 500, though linen sheets will have a lower thread count. There are more certified organic, all-natural, and sustainably produced sheets at this price.
Sleeping Cool and Breathability
Fabrics that wick moisture and either absorb and/or allow heat to move freely away from the body offer the best breathability. Natural fabrics like cotton, linen, eucalyptus (Tencel®) have the best breathability. Most sheet sets also have pillowcases, so you'll be getting all-around breathability. Hot sleepers may also want to think get a comforter or duvet in natural materials to keep the air and heat moving away from the body.
Common Questions
What thread count is best for cool sheets?
As we've stated earlier, thread count doesn't play a definitive role in the quality of the sheets. For example, linen thread is thicker than cotton, so linen sheets will have a lower thread count than cotton sheets. Microfiber sheets, which don't breathe well, can have a high thread count because they're made of thin threads.
High-quality sheets made of breathable materials and weaves, like percale, are generally the most breathable. Thread counts between 300 to 500 balance breathability with quality. Lower thread counts may allow better air circulation, but you'll be sacrificing feel and durability.
What is the most breathable fabric for sheets?
Cotton and linen have been used for decades, and they still rise to the top when it comes to breathability. Eucalyptus/Tencel® also performs well and brings hart-to-beat softness. Of these three, it's really about the one that feels the best to you. Those with sensitive skin may not have the patience to wait for linen sheets to soften with time. Others may like the extra softness and eco-friendliness of Tencel®. If you're not sure which you'll like, cotton is a safe bet.
Do bamboo sheets keep you cool?
Bamboo has risen in popularity due to its sustainability, texture, and drape. As a natural material, bamboo sheets are more breathable than synthetic fibers like microfiber or nylon. The breathability rivals that of eucalyptus but isn't quite as high as cotton. Bamboo sheets often have special washing instructions, so read the tags carefully.
What is the coolest fabric for summer?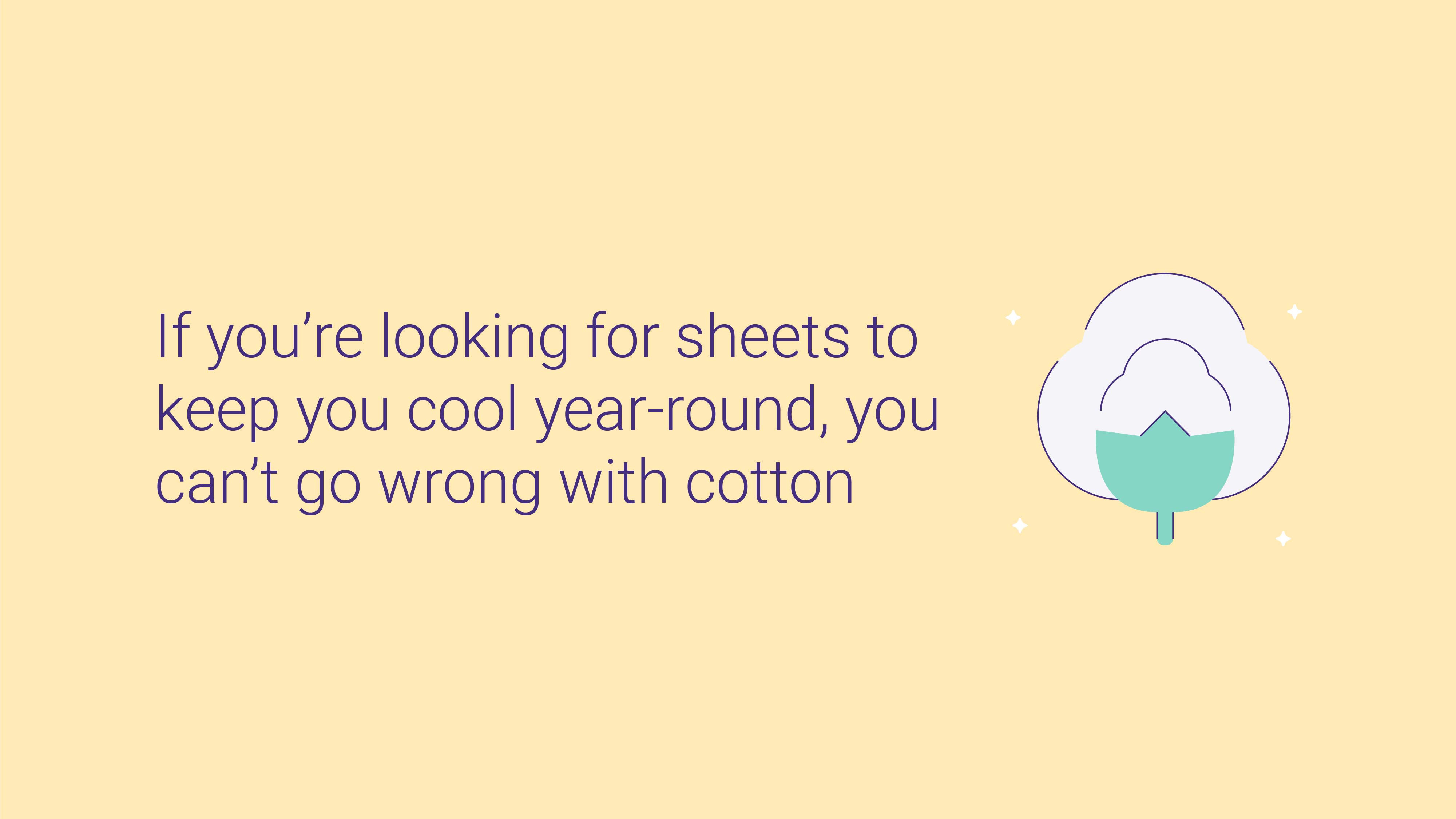 If you're looking for sheets to keep you cool year-round, you can't go wrong with cotton. Cotton is lightweight and breathable so it keeps hot air flowing out of the bed and away from you. Cotton sheets are also a popular choice since these sheet sets are usually priced rather affordably.
Are bamboo sheets better than Egyptian cotton?
Bamboo sheets are a bit more breathable than cotton sheets, but both bamboo and Egyptian cotton are great choices for hot sleepers. Egyptian cotton sheets are a more luxurious option, so they're a bit more expensive than bamboo, but they are loved by many for promoting restful, undisturbed sleep.
Best Sheets for Hot Sleepers: The Bottom Line
Buy the highest quality sheets you can afford. They'll last longer, feel amazing, and you'll be more comfortable.
Natural fibers like linen, cotton, and eucalyptus are naturally breathable. The quality of the fabric makes a difference in how the sheets feel and how long they'll last.
Eucalyptus/Tencel® and bamboo are highly sustainable, affordable, and have similar breathability to cotton and linen. These cooling fabrics create excellent sheets for memory foam mattresses.
Your sheets have direct contact with your skin all night long. Everything about them from the drape to the texture should help you fall and stay asleep. Investing in your sheets is an investment in your sleep health that will leave you better rested and energized for the day.