Best Cooling Weighted Blanket (2023): Reviews and Buyer's Guide

Bedding Guides
If you easily overheat at night, the extra weight of a weighted blanket may not sound like a good idea. However, weighted blankets provide deep pressure stimulation, sometimes called deep touch stimulation, which triggers the body's relaxation response. These blankets are often used to relieve anxiety and stress, both of which can lead to better sleep.
Unfortunately, all that weight can create extra heat. Overheating is a quick way to lose sleep. However, cooling weighted blankets provide the weight you need with less of the heat you don't. We review six of the best weighted blankets on the market and we've included a shopping guide to help you decide on the right one.
Best Cooling Weighted Blankets
The COOLMAX® Weighted Blanket packs a lot of technology into a 15 to 25-pound blanket. It comes in three weights, but only one size. The single size is designed to concentrate the weight over the body for optimal results.
The COOLMAX® is filled with FDA grade plastic beads encased in quilted baffles (squares). The size of the baffles maintains a relatively even weight across the surface of the blanket. This blanket doesn't come with a separate cover. Instead, the durable COOLMAX® fabric that holds the beads comes in direct contact with the body. This cotton/poly blend wicks away moisture and helps it to quickly evaporate. That keeps sleepers dry, cool, and comfortable. The COOLMAX®  is also machine washable, which can't be said for all weighted blankets.
COOLMAX® Weighted Blanket Highlights
COOLMAX® fabric wicks moisture to cool the body
Baffle size maintains even pressure
Maintains cooling abilities after machine washing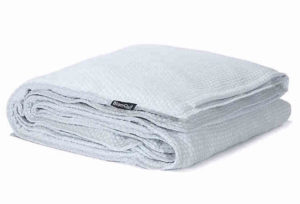 The BlanQuil Chill Cooling Weighted Blanket doesn't hold back on comfort or cooling. It only comes in one size and two weight options—15 and 20 pounds. While there's not a wide range of weight options, the two provided work for most average-sized adults.
Eco-friendly glass beads quilted in small hexagons distribute weight as evenly as possible. There will be absolutely no pooling or shifting of beads in these tiny pockets. However, it's not the beads that give the BlanQuil its cooling powers. The BlanQuil's cover wicks moisture and absorbs body heat. It's so successful that it actually feels cool to the touch.
The cooling effect lasts for the first 15 to 20 minutes of use while the fabric will continue to wick away moisture.
Unlike many other weighted blankets, the Blanquil comes with a 60 night in-home trial period, during which you can return it if you're dissatisfied.
BlanQuil Chill Cooling Weighted Blanket Highlights
Moisture-wicking, heat-absorbing fabric
Even weight distribution prevents temperature variation
Cool to the touch for the first 15 to 20 minutes of use
The YnM Bamboo Weighted Blanket comes in more weights and sizes than many other blankets, including some weights outside of the usual five-pound increments. You also choose from eight color and pattern options. While there are four sizes and seven weights available, not all weights come in every size.
This weighted blanket has bamboo viscose fabric filled with polyfill and glass beads. The bamboo's natural breathability and moisture-wicking abilities make it perfect for hot sleepers. Heat and moisture don't stick around, so you can get a cooler night's rest.
The fabric feels soft and can be used without a cover. The manufacturer also offers cooling bamboo duvet covers that attach to tabs around the perimeter of the blanket. However, it must be purchased separately.
While this model is machine washable, the manufacturer recommends spot cleaning due to the weight.
YnM Bamboo Weighted Blanket Highlights
Cooling with or without a cover
Naturally breathable, soft bamboo fabric
The manufacturer offers cooling bamboo covers
The Luna Weighted Blanket is the most affordable blanket on our list. It comes in five sizes, ten weights, and twelve colors or patterns. With that many choices, you're sure to find a Luna that's perfectly weighted, in a fabric style that fits your home decor.
The 100 percent cotton cover lets the body breathe and release excessive heat. Cotton promotes airflow and absorbs moisture. The Luna is also OEKO-Tex Standard 100 certified, which means the cotton has been produced and manufactured without the use of harmful chemicals. Non-toxic glass beads fill the baffles, while eight ties around the perimeter secure a cover.
As with the YnM, you'll have to buy the duvet cover separately. If you decide to add a cover, it should be made of cooling fabrics like cotton, bamboo, or eucalyptus to take full advantage of the Luna blanket's cooling ability.
Luna Weighted Blanket Highlights
Affordable blanket made with naturally breathable cotton
OEKO-Tex certification assures product safety
Includes tabs to hold a cooling duvet cover in place (can be purchased separately)
 The Quility Premium Weighted Blanket boasts thousands of well-deserved four and five-star reviews. This model balances price with comfort and durability. It comes in five sizes, seven weights, and includes a removable cover that also comes in six colors and/or patterns.
It's the 100 percent cotton fabric that gives this blanket its breathability and cooling abilities. The unique seven-layer design includes polyfill and glass beads to provide durability and weight. A plush, Minky cover also comes with the Quility. While Minky fabrics are soft, they're also quite insulating. If you struggle to sleep cool, we suggest removing the cover.
You can easily use the Quility without a cover since the entire blanket is machine washable. With this model, you might have to sleep without the cover part of the year and with the cover when it gets cold. Your other option is to buy a separate breathable cover for the summer months.
Quility Premium Weighted Blanket Highlights
Breathable 100 percent cotton fabric
Quality and durability of the seven-layer design prolongs the life of the blanket
Use of Minky duvet cover in warmer months
The Bearaby Tree Napper Knit Weighted Blanket takes the prize for coziness and aesthetics. If chunky, natural textures are your thing, this is the weighted blanket for you. It comes in one size, three weights, and three colors. This blanket is Global Organic Textile Standard (GOTS) certified, which means the materials are monitored during the growing, harvesting, and manufacturing to make sure they meet high organic standards.
The Tree Napper's weight comes entirely from the Tencel™ lyocell/cotton blend fabric. Made from eucalyptus trees, Tencel™ absorbs moisture and has similar breathability to cotton. In this blanket, it's blended with organic cotton for extra durability and breathability. The Tree Napper also has some spandex in it, which gives it some stretch for a closer, cozier feel. The materials make this blanket usable at any time of year, including the summer months. It can be machine washed and tumble dried.
The Tree Napper comes with a 30-day return window, during which it can be returned for a full refund.
Bearaby Tree Napper Knit Weighted Blanket Highlights
Fashionable (doesn't necessarily look like a weighted blanket)
Breathable, Tencel™ Lyocell/cotton blend fabric promotes airflow and absorbs moisture
Stretch of fabric provides a close, comfortable fit
Weighted Blanket Features to Consider
Weighted blankets come in different styles, covers, and fillings. And, of course, they vary in weight. You'll need to do some calculating and make a few decisions before you make your final decision.
Fill vs. Knit
The majority of weighted blankets get their weight from plastic pellets or glass beads spread throughout the blanket in quilted pockets called baffles. The baffles prevent the pellets or beads from shifting or pooling, creating an even distribution of weight.
Weighted blankets need sturdy, durable fabrics that are strong enough to hold filler beads with tearing. However, sometimes that means they're not particularly soft. For that reason, weighted blankets may come with a removable duvet cover made of a softer fabric. The covers of cooling weighted blankets should be moisture-wicking and highly breathable to prevent heat build-up.
Knitted weighted blankets are made with thick, heavy yarn or fabric. The yarn itself provides the weight of the blanket. The fibers are typically made of bamboo, eucalyptus, or cotton. These plant-based fabrics have natural breathability and either absorb or wick moisture, all of which helps to cool the body. Steer clear of synthetics since they often trap heat.
Duvet Cover
For some weighted blankets, the duvet cover makes all the difference. Covers made with natural, breathable fabrics like cotton and cooling bamboo promote breathability and absorb heat. Those that wick moisture further enhance cooling. Soft, Minky fabrics and sherpa are popular covers for weighted blankets too, but they're prone to overheating.
Weight
Weighted blankets come in weights that range from 5 to 30 pounds. The right blanket weight for you is determined by your body weight. The blanket should weigh ten percent of your body weight plus one pound. Using that formula, a 150-pound person should buy a 16-pound weighted blanket. Weighted blankets typically come in increments of five, so you would buy a 15-pound blanket.
The same formula can be used for children, too. However, weighted blankets start at five pounds, which means your child should be at least 50 pounds before using one.
Weighted Blanket Budget
Weighted blankets can be pricey, especially the cooling kind. Fifteen-pound weighted blankets without a cover start around $30 to $50. At this price, it may only be a lap or twin-size blanket. In many cases, you would still need to buy a cover for another $10 to $20. These models may be made with cotton or a cotton blend. They'll do an average job of cooling the body, but it might be worth splurging on a blanket specifically designed for cooling.
Most cooling duvet covers cost between $50 and $100, while the actual weighted blankets fall in the $100 to $200 price range. Wicking fabrics designed to pull moisture and heat away from the body make these blankets much cooler than those at lower prices.
At the top of the price range are the weighted blankets over $200. Knitted blankets made of plant-based fibers are in this category, as are blankets with premium cooling covers designed to be cool to the touch. If you rely on a weighted blanket to relieve anxiety or stress, but you easily overheat, it might be worth investing in one of these models.
Sleeping Cool and Airflow
If heat and moisture can't escape from your body, you'll overheat. It's as simple as that. The extra weight and layers that come with a weighted blanket make it necessary to help heat and moisture escape. For models with filler beads and pellets, the cooling usually comes from the duvet cover. Cotton, eucalyptus (Tencel™), and bamboo are the best options. Some may contain some polyester to improve moisture-wicking.
Knitted weighted blankets made with plant-based fibers naturally wick away moisture and promote breathability. Stay away from those made of synthetic fibers. They may look the same, but they're prone to overheating.
Other Cooling Bedding to Consider
If you're trying to stay cool while stretched out underneath a cooling weighted blanket, then investing in other cooling bedding can minimize heat retention. Otherwise, you might wake up warm and sweaty in the middle of the night.
If you're looking at the best sheets for hot sleepers, we suggest looking for natural fibers:
Naturally, having the best cooling mattress is the most significant way to stay cool at night, though it can also be quite the investment to replace your current mattress.
Common Questions
Does a weighted blanket keep you cool?
Weighted blankets aren't necessarily designed to keep you cool. However, if you've come to rely on a weighted blanket to relieve stress or help you sleep, you'll probably want to use it year-round. In that case, cooling weighted blankets can reduce the heat and moisture that contribute to overheating.
How does a cooling blanket work?
Cooling weighted blankets have fabrics in the blanket or cover that promote airflow. Cotton, for example, naturally absorbs moisture and has air pockets that allow heat to circulate. Other natural fibers like bamboo and eucalyptus have a similar effect. Some covers are a cotton/polyester blend that both wick away moisture and dry quickly, further reducing heat build-up.
Should I get a 15 or 20-pound weighted blanket?
The weight of the blanket should be based on your body weight. The blanket should weigh ten percent of your body weight plus one pound. The most common weights for adults are 15, 20, and 25 pounds. However, there are 12, 17, and 30-pound models, too. There are weighted blankets designed for children, with five pounds being the lightest weight available.
Does a cooling weighted blanket work?
Cooling weighted blankets prevent night sweats by wicking away body heat and providing a cooling sensation for a period. These blankets work for a short time, say a few hours, but can't keep you super cool all night long. Eventually, the temperature of these blankets will take on the temperature of the rest of the bedding.
Who should not use a weighted blanket?
Childen, especially those under three years old, should not use a weighted blanket. Weighted blankets pose a suffocation risk for those under 50 pounds. If you are interested in a weighted blanket for your child, wait until they're over 50 pounds and choose a weighted blanket specifically designed with a lighter weight to suit children.
Cooling Weighted Blankets: The Bottom Line
Weighted blankets usually come in increments of five, ranging from 5 to 30 pounds. However, some blankets may come in weights that fall in between, like 12 and 17 pounds. Their size may range from a lap blanket to a king-size blanket.
Natural fibers like cotton, bamboo, and eucalyptus promote breathability, creating a cooler weighted blanket. Sometimes these fabrics are blended with synthetic fibers to keep the blanket (and you) dry and comfortable.
Weighted blankets can relieve stress and promote better sleep. Cooling models give you those benefits year-round.
Whether it's lack of sleep or overwhelming anxiety that's got you searching for a weighted blanket, the deep pressure stimulation can improve your well-being and your sleep. Know your budget, and look for a blanket that's both the right weight and has fabrics that will keep you comfortably cool.