Best Cooling Sheets
Updated November 22, 2023

Bedding Guides
As the nights get hotter, it gets increasingly difficult to sleep. You're either left sweaty, listening to the sound of your fan buzzing, or stuck tossing and turning all night.
An easy way to beat hot nights is by investing in a good set of cooling sheets. Different sheet sets are designed to be breathable, moisture-wicking, or thermoregulating, all of which can help you stay cooler and sleep comfortably.
A set of cooling sheets typically includes one fitted sheet, one flat sheet, and one or two pillowcases depending on the size you choose. Occasionally, some sheet sets might include a bed skirt or pillow shams, but this isn't the norm.
Our article takes you through some of the best cooling sheets and shares what features to look for in a good set of bed sheets.
Best Cooling Sheets of 2023
Amerisleep's Tencel™ Sheets are lightweight, soft, and cool. Unlike some other breathable materials, Tencel™ is sustainable and all-natural.
One of the unique features of the Amerisleep Tencel™ sheets is its patented Smarty-BandZz® technology, two elastic bands connected to either side of the fitted sheet. The Smarty-BandZz® technology prevents the fitted sheet from popping out, wrinkling, or bunching. If you have a thicker mattress or an adjustable bed base, the Smarty-BandZz® tech is especially helpful.
Not all Tencel™ sheets are machine washable or dryer safe, but you won't need to worry about this with Amerisleep's sheets. You can toss these Tencel™ sheets in the washer and dryer without a problem.
The Amerisleep Tencel™ Sheets come with a 1-year warranty and free shipping. They come in twin, twin XL, full, queen, king, split king, and California king sizes .
Amerisleep Tencel™ Sheets
Ultra-soft, eco-friendly material
Smarty-BandZz® keep sheets firmly in place
1-year warranty and free shipping
Another excellent set of Tencel™ sheets are the Zoma Tencel™ Sheets. With a thread count of 300, these sheets are plush, breathable, and durable.
Zoma's Tencel™ Sheets have a sateen weave and are thermoregulating, ensuring work year-round. During the winter, the sheets keep you warm, but on hot summer nights, the sheets stay cool.
If you struggle with allergies or have sensitive skin, the Zoma Tencel™ Sheets are hypoallergenic, antimicrobial, and don't pill the same way other sheets do, preventing your skin from getting irritated. Tencel™ is also just resistant to trapping scents, so you won't have to worry about sweaty-smelling sheets in the morning.
Zoma provides free shipping and a 1-year warranty for their Tencel™ Sheets.
Zoma Tencel™ Sheets
300-thread count cotton is durable and ultra-soft
Hypoallergenic materials are ideal for those with allergies and sensitive skin
Super absorbent to keep sleepers cool and dry
Best Eco-Friendly Cooling Sheets: Purple Sheets
Purple Sheets are thin and stretchy, yet durable and plush. The sheets are made from a blend of bamboo-derived viscose and spandex. Purple designed them so you can enjoy the cushiony feel of your mattress while resting on soft sheets that protect your bed.
The bamboo-spandex blend is easy to care for. Purple suggests machine washing the sheets cold and either hang drying or tumble drying them on low heat.
The Purple Sheets come in multiple colors: white, slate, sand, and purple. Purple includes free shipping and a 1-year warranty with their sheets.
Purple Sheets
Available in white, slate, sand, and purple
Machine washable
Made with bamboo-derived viscose and spandex
For soft, cool sheets at an affordable price, check out the Tuft & Needle Jersey Sheets. Made from a blend of cotton and Tencel™ with a jersey weave, these sheets are built to stretch without being wrinkly or pilling.
Jersey sheets are a good option if you're looking for sheets with good airflow, but don't want your sheets to feel cold when you first lay on them like you would with percale or sateen sheets. Jersey also dissipates moisture, won't wrinkle, and doesn't pill.
T&N's Jersey Sheets are Standard 100 by OEKO-TEX® certified, meaning the sheets have been tested and are free from over 300 potentially harmful chemicals.
The T&N Jersey Sheets come with a 100-night sleep trial, a 1-year limited warranty, and free shipping and returns.
Tuft & Needle Jersey Sheets
Resistant to wrinkles and pilling
Soft, durable jersey knit weave
Standard 100 by OEKO-TEX® certified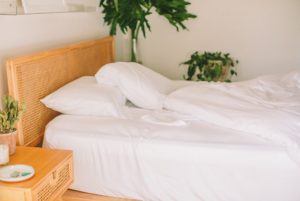 Whether you're looking for a sustainable bedding option or have sensitive skin, Nest Bedding's Luxury Tencel™ Sheets have got you covered. The Luxury Tencel Sheets™ stand out for their smooth and moisture-wicking capabilities, helping sweaty sleepers stay both cool and dry at night.
As an all-natural fabric, Tencel™ is less likely to aggravate your skin or release harmful odors. Not only that, but it's more resistant to pilling compared to synthetic materials, so you won't be uncomfortable and itchy.
Nest Bedding offers free shipping for the Luxury Tencel™ Sheets.
Nest Bedding Luxury Tencel™ Sheets
Wicks away heat and moisture for a cool night's sleep
Hypoallergenic and ultra-soft
Made with durable Tencel™ fabric
Available in a multitude of colors, the Boll & Branch Signature Hemmed Sheet Set is made from 100 percent organic cotton with a simple weave. It has a matte finish and 300 thread count for a light and soft feel. Over time and washes, the Signature Hemmed Sheet Set only gets softer.
The Signature Hemmed Sheet Set is a good sheet option year-round. During the summer, this organic sheet set is built to stay cool and dry, but on colder nights, the sheets will retain heat so you aren't left trembling and unable to sleep.
The Boll & Branch Signature Hemmed Sheet Set is Fair Trade certified, GOTS certified, and Standard 100 by OEKO-TEX® certified.
With the Boll & Branch Signature Hemmed Sheet Set, you receive free shipping and returns and a 30-night risk-free trial. The sheets also have deep pockets, so they can fit mattresses thicker than 14 inches.
Boll & Branch Signature Hemmed Sheet Set
GOTS certified organic cotton
300-thread count cotton with a matte finish
30-night risk-free sleep trial
Cariloha prides themselves on their sustainable products. The Cariloha Classic Bamboo Cooling Sheets are carbon neutral and one set of sheets saves 22 miles of driving emissions, 1992 days of drinking water, and 7081 hours of bulb energy.
The Classic Bamboo Sheets are made from 100 percent viscose derived from bamboo and have a twill weave finish. Cariloha claims their sheets are softer and more durable than Egyptian cotton and cooler than other fabrics since the sheets contain thermoregulating products.
The Cariloha Classic Bamboo Cooling sheets ship for free.
Cariloha Classic Bamboo Cooling Sheets
Made with ultra-soft, sustainable Bamboo fibers
Twill weave finish for maximum breathability
Long-stable Egyptian cotton for added durability
Types of Cooling Sheets
When shopping for cooling sheets, the fabric you choose plays one of the biggest roles in whether or not your sheets will perform well. Some of our favorite fabrics in sheets for hot sleepers include cotton, Tencel™, linen, and bamboo.
You might also come across silk or polyester cooling sheets, but we advise against them. Below, we outline the best type of sheets for a cooler night's sleep.
Cotton
Cotton is a diverse and readily available material. It comes in affordable options along with more upscale luxury sheets, breathable and warm options, and soft or rough options. As one of the oldest fabrics, it's unsurprising that there are so many variations of cotton.
The quality of cotton sheets primarily depends on their staple length, or the length of the fibers used to weave the cotton into fabric. The three staple lengths used to describe cotton are short-staple, long-staple, and extra-long staple. Longer staple cotton is generally softer, more durable, and highly breathable.
Some examples of long-staple cotton include Egyptian cotton and Pima cotton, while the most common short-staple cotton is Upland. Unsurprisingly, the best cotton sheets are those with long-staple cotton.
Organic cotton sheets are also great if you want to reduce your home's carbon footprint.
Tencel™
Tencel™ is the trademarked name for lyocell, an organic compound derived from the wood pulp of eucalyptus trees. Tencel™  sheets are wrinkle-resistant, anti-microbial, and best of all, breathable. It's cool to the touch and draws moisture away from the body, helping sleepers stay dry and cool.
In a way, Tencel™ combines features similar to cotton. It's smooth and has a slight sheen, like silk, but is also durable and circulates air, like cotton. Unlike cotton or silk, it uses less water and energy to produce, making it one of the best sustainable fabric options. Of course, sustainability comes at a cost. Tencel™ is a pricier type of fabric.
While Tencel™  is a type of lyocell fabric, not all lyocell is Tencel™. For more about lyocell in general and it's not unlike cotton, see our guide Lyocell vs. Cotton Sheets: Which is Best?
Linen
Made from flax fibers, linen is one of the most breathable materials available as it thermoregulates your body's temperature. This means the fabric keeps you warm when it's cold, but stays cool when it's warm. So, if you're expecting many cold and warm nights, linen might appeal to you.
Linen sheets are also great because this fabric draws moisture away from the body so you stay dry. And although linen tends to be a heavier sheet, it still allows for proper airflow so you stay cool.
Bamboo
Bamboo sheets are known for being silky soft, shiny, and cool. Many consumers believe bamboo sheets are eco-friendly, but most bamboo bedding isn't actual bamboo. Sheets made entirely from bamboo, albeit eco-friendly, would be rough and uncomfortable.
Instead, bamboo pulp is used to produce different fabrics, but most commonly rayon or viscose. At that point, the bamboo has been heavily processed with chemicals, nullifying any chances of the product being sustainable.
While bamboo rayon sheets are affordable and high-quality, they aren't the environmentally-friendly option you might think they are.
Silk
Although silk is known for its smooth, shiny appearance and being cool to the touch, silk tends to trap heat and moisture. After you sleep on silk for a couple of hours, it'll soak up your sweat and get hot instead of staying cool throughout the night.
Considering how expensive silk sheets can get, it may be worth skipping it when looking for breathable sheets. Silk works better if you're looking for a smooth but warm set of sheets.
Polyester
Polyester is a synthetic fabric often blended with other fibers, making it more affordable and easy to care for. However, on its own, polyester can be stiff, scratchy, and breaks down rapidly compared to other fabrics. Also, polyester isn't the most breathable type of fabric out there.
A common type of polyester sheet is microfiber. It's tightly woven so it's soft and durable, but even then, it's not the most breathable type of fabric out there. Still, microfiber sheets are resistant to stains and usually a good type of sheet for children.
Types of Bed Sheet Weaves
A bed sheet's weave is the pattern in which the fabric threads are sewn together. While bed sheet weaves may seem unimportant, they affect a sheet's durability, appearance, and feel.
Sateen
A sateen weave features four threads over, one thread under pattern. It's a common weave for cotton, bamboo, or Tencel™ sheets and has a slight sheen. Although you might come across cooling sheets with a sateen weave, it's most commonly found in warmer sheets for cold sleepers.
Percale
Percale is a very common weave amongst cooling bed sheets. It has a one thread over, one thread under pattern great for a lightweight and breathable set of sheets. Although percale cotton sheets may be simple, they're quite durable, crisp, and smooth, which is why the percale weave is so ideal for hot sleepers.
Jersey
Rather than being a type of weave, jersey is technically a knit cotton fabric. It's stretchy, breathable, and lightweight, like jersey t-shirts. While jersey cotton is affordable and great for hot nights, it's not as durable as some other types of weaves, so you'll likely need to replace it sooner.
Satin
A satin weave has a one thread over and four threads under pattern, or the opposite of a sateen weave. Satin weaves are common for silk or nylon fibers and result in a cool, smooth, and luxurious fabric. Although satin is great at staying cool, it's generally one of the most expensive weaves on the market.
Don't Forget a Cooling Mattress
While cooling sheets are an important part of a building a bed that limits overheating, they should not be your only focus. A cooling mattress for hot sleepers promotes heat dispersion instead of retaining absorbed body heat, leaving less work for the sheets to do.
Some of the best mattress types for coolness are:
If you're unsure which mattress type is right for you, we have compiled a number of mattress comparison guides that compare their pros and cons:
You can also look into other cooling bedding to stay cool on warm nights:
FAQs
How often should I change my sheets?
Generally, you should change your sheets and wash them once every one to two weeks to prevent bacteria build-up. However, if you sweat a lot at night or have acne, it's best to wash your sheets weekly so they stay fresh.
What sheets are the best for night sweats?
If you struggle with night sweats, look for moisture-wicking bed sheets and fabrics. Most fabrics that wick away moisture are also designed to be breathable, as well. Some good moisture-wicking types of bed sheets include cotton, Tencel™, linen, and bamboo.
How long do sheets last?
The exact lifespan of bed sheets varies on the material, but most sheets will last you between 1 to 2 years. Higher-quality sheets can last between 6 to 8 years, if not 10 to 12 years, it all depends on the type of sheets you own.
Some signs your sheets need to be replaced include:
Yellowing or fading colors
Pilling or thinning fabric
Loose elastic on the fitted sheet
Are 1000 thread count sheets worth it?
No. Thread count refers to the number of threads per square inch of fabric and is most commonly associated with cotton, though some other fabrics are measured by thread counts.
A bed sheet's thread count determines its quality to some extent, but this isn't always a reliable form of measurement. Many buyers look to higher thread counts as a means of deciding if a set of sheets is worth buying, and some manufacturers have taken advantage of this.
Manufacturers have started double, even triple-layering cheap or thin threads to fit more threads into a square inch of fabric. This way, they have high thread counts, although the sheet isn't high-quality.
Lower thread count sheets between 200 to 600 are usually higher quality than 1000 thread count sheets because they feature stronger threads.
How can I stay cool while sleeping?
If you struggle with hot sleeping, there are various ways to keep cool beyond just using breathable bed sheets. This includes:
Leaving fans on at night
Taking cold showers before bed
Wearing loose, lightweight pajamas
Using a breathable mattress
Opening windows on colder nights
Drinking water
Applying cold compresses
Conclusion
Staying cool is essential to fostering a good night's sleep. A set of cooling bed sheets is a good first step to staying comfortable and sleeping well on hotter nights, and many sheet sets include extras like bed shams so they look and feel good.
Look for high-quality bed sheets made from materials such as cotton, Tencel™, or linen. Such sheets for memory foam mattresses and other types should have a weave designed for excellent air circulation, including percale, jersey, or satin weaves. Avoid warm fabrics such as polyester, flannel, and silk, or sateen weaves.