Best Duvets and Duvet Inserts: Reviews and Buyer's Guide

Bedding Guides
Duvets have been popular in Europe for several years, but recently, more and more Americans are discovering the benefits of this fluffy, pillow-like bedding. Duvets are more versatile and easier to clean than most traditional comforters. They're also much softer, more breathable, and create a luxury sleep experience.
If you have decided to buy a duvet of your own, you may need some guidance when shopping for your specific needs. If you're a hot sleeper, you will need something that is cool, yet cozy. If you have allergies, you should opt for a hypoallergenic duvet. With so many different duvet materials on the market, it can be difficult to determine the best option for you.
To make the selection process as easy as possible, we've reviewed some of the best duvets of 2023. Plus, our extensive buyer's guide breaks down the most common duvet features so you can find the perfect fit for your bed.
Best Duvets of 2023
The Amerisleep Recover+ Comforter is made with a unique blend of materials to bring you a comfortable and restorative sleep. With the use of FDA-determined Celliant® technology, this duvet will help you sleep cool and dry during any time of year.
Celliant® is an advanced material embedded with thermo-reactive minerals. Throughout the night, these fibers wick heat and moisture away from the body to prevent overheating. Plus, Celliant® safely converts body heat into infrared energy, which is then reabsorbed by the muscles. When absorbed, this energy encourages local circulation so you can achieve deep sleep, and muscle can repair and rebuild. Both the shell and the filling of the Recover+ feature this Celliant® with a combination of plush microfiber filling.
This duvet is machine washable and available in a twin XL, full/queen, or king size. To ensure that you find better sleep with the Recover+, Amerisleep includes a 1-year limited warranty. You can also pair the Recover+ Comforter with one of Amerisleep's Percale Duvet Covers.
Amerisleep Recover+ Duvet Highlights
Features FDA-determined Celliant® technology
Breathable and moisture-wicking for all-season use
1-year limited warranty
The Buffy Breeze Comforter is made with 100 percent sustainable eucalyptus lyocell to bring you a more breathable and eco-friendly comforter. Buffy also uses a waste-free manufacturing process and utilizes 100 percent recycled threads in each duvet.
The use of eucalyptus creates a cloud-like softness and airy feel, so sleepers rest comfortable and cool. This material is also resistant to dust mites and mold, so your duvet will stay clean and odor-free between washes. Because this duvet is dry clean only, Buffy suggests pairing it with one of their eucalyptus duvet covers. The cover can be easily removed and washed at home.
With the Breeze Comforter, Buffy offers a risk-free 7-day sleep trial that allows you to test the duvet before deciding if it's right for you. It is also available in three different sizes—twin/twin XL, full/queen, and king/Cal king.
Buffy Breeze Comforter Highlights
Made with 100 percent sustainable eucalyptus
Mold and dust mite resistant
7-day sleep trial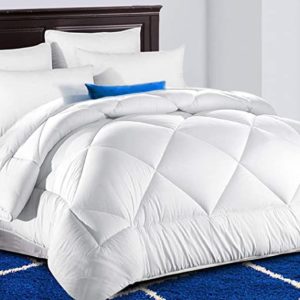 If you are looking for a duvet with the comfort of down, but at a more affordable price, the Tekamon Down Alternative Duvet is a good option. Down alternative duvets are also suitable for those with allergies, since 100 percent down can often trigger a reaction.
The Tekamon Duvet features an ultra-soft polyester filling and a diamond stitching pattern that keeps material even disrupted. The lightweight filling offers coziness and warmth during the winter but also keeps you cool during the summer months. The shell of the Tekamon Duvet is made with an anti-tear and anti-fade fabric to increase durability. The shell has eight corner ties that can be attached to any duvet cover.
The Tekamon Duvet is machine washable in cold water. It can be hung dry or set to a tumble dry setting. It is available in a twin, full, queen, oversized queen, king, or California king size.
Tekamon All Season Down Alternative Duvet Highlights
Diamond stitching pattern to prevent clumping
Includes eight corner tabs for a secure fit
Machine washable
The Whatsbedding Cotton and Down Duvet Insert can be used as a stand-alone comforter or paired with a duvet cover. The down-proof shell prevents feather "ticking." Ticking is when feather quills stick up through the material and cause discomfort. With a durable cotton shell, this duvet is soft and comfortable even without a cover.
The Whatsbedding Duvet has a 233 thread count Damask shell that is both cozy and breathable. The filling features down feathers and fibers with a thickness that is ideal for year-round comfort. With four corner tabs, you can also choose to secure the duvet inside a decorative cover. With the stylish square stitch pattern, down filling will not shift with use.
You can purchase a Whatsbedding Duvet to fit either a twin, full, queen, oversized queen, king, or Cal king-sized mattress.
Whatsbedding Cotton and Down Duvet Highlights
233 thread count Damask fabric shell
Can be used with or without a duvet cover
Includes four corner loops
The Since Silk Duvet is a versatile option, perfect for both the summer and winter months. Although it is lightweight, it hugs the body and has a smooth feeling for maximum comfort.
With a 100 percent silk filling, this duvet has natural breathability and moisture-wicking abilities. Plus, silk is also antibacterial, so the duvet stays clean and germ-free. The box stitch pattern keeps the silk strands from bunching, and the four corner ties allow it to fit securely inside your favorite duvet cover.
The 100 percent cotton shell makes this duvet insert machine washable. However, for best results, Since Silk recommends dry cleaning when possible. It is also available in a twin, full, queen, king, and California king size.
Since Silk Mulberry Natural Silk Duvet Highlights
Features 100 percent natural long strand silk
100 percent cotton outer shell
Machine washable
The Cucuun Duvet combines premium materials to create an inviting and stylish sleep space. With 750+ fill power, this duvet has a fluffy, yet cool feel.
The shell of the Cucuun Duvet features 1200 thread count Egyptian Cotton that prevents ticking, so it can be used with or without a cover. The filling of this duvet is made with organic Siberian goose feathers for ideal softness and insulation. The box stitch construction keeps filling even spread throughout and prevents shifting and cold spots.
This duvet is available in either luxury thin, or luxury warm for either twin, queen, and king mattresses. Cucuun also offers a 5-year warranty with each duvet.
Cucuun Egyptian Cotton and Down Duvet Highlights
1200 thread cotton Egyptian Cotton shell
750+ fill power
5-year warranty
What is a Duvet Insert?
Traditional comforters and duvets have similar uses—they are both designed to keep you comfortable and cozy so you can get a good night's sleep. But, in terms of structure, these two bedding options vary slightly.
A duvet typically has two parts—an insert and a cover. The duvet insert is filled with down, cotton, silk, or polyester microfibers and generally is plain white. Often, duvet inserts are made to be used inside an interchangeable cover. However, some duvet inserts can be used as a stand-alone comforter.
Duvet covers come in several different materials, colors, and patterns to fit your comfort needs and decor. Covers are also removable and washable, so it's easy to keep the duvet clean and in good condition.
What is the Difference Between a Duvet and a Comforter?
A traditional comforter is typically used without a cover, and often has a quilted finish. Unlike duvets, comforters are larger than your mattress and hang over the sides of the bed. Comforters are often harder to wash at home and must be dry cleaned or washed in an industry-sized, front-loading washing machine.
Duvet Features to Consider
As you shop for your new duvet insert, you will come across different construction methods, stitching patterns, fillings, and materials. The following buyer's guide will help you make sense of each feature and determine which is right for you.
Fill Materials
The filling of a duvet determines its comfort and breathability. Below, we outline the filling materials most often used in a duvet insert.
Goose Down
Down is the soft plumage beneath a goose's feathers. This fluffy coating keeps the animal insulated and warm in the winter and cool in the summer. As a filling, down is used in clusters that contain only this soft filament—no features or quills (the sharp end of the feather) are included. This material provides luxuriously soft, yet cool comfort.
Down feathers, on the other hand, do contain quills. As you shop, you will notice that many duvets labeled as "down" actually use both down and feathers. A higher percentage of down versus feather fibers will create a more luxuriously soft feeling. But, the combination of these two natural fillings creates a durable material that is both breathable and warm.
The only downside of the product is that it can often trigger a reaction in those who suffer from allergies. Therefore, allergy sufferers will want to opt for a down alternative duvet insert.
If you're vegan or have concerns over animal welfare, you may also prefer a duvet with alternative materials.
Duck Down
Like goose down, duck down is the plumage from the underside of the bird's wings. It protects and insulates the animals and regulates their body temperature. Duck down tends to be less fluffy than goose down and is often more cost-effective. However, like goose down, this material may not be suitable for allergy sufferers.
Down Alternative
Down alternative does not come from an animal. It is often hypoallergenic and perfect for those with allergies. A down alternative filling is often made with polyester microfiber that is incredibly soft and mimics the feeling of pure down. Duvet inserts made with a down alternative are often more affordable and provide a similar level of comfort.
When considering a down alternative duvet insert, be sure to select one made with high-quality materials. Cheap, lower-quality synthetic fabrics will be less durable and not as soft.
Cotton
Cotton can be used in both the shell and the filling of a duvet insert. Cotton is naturally sustainable, soft, and breathable so it is a common bedding material—cotton sheets are popular because they're lightweight and airy. However, if you live in a colder climate, cotton may not provide the insulation of a down or down alternative duvet.
Wool

Like down, wool offers excellent insulation and breathability, which is perfect for cold winter months. However, wool is denser and has less loft (or fluff) than down and down alternatives and can often be heavier.
Silk
A silk filling creates a soft and lightweight duvet. If you live in a milder climate, a silk duvet is ideal. However, silk has a low loft and may not provide enough insulation for colder weather.
Fill Power
As you research duvet inserts, you will notice that many of them have a "fill power" number attached. The duvet's fill power is an indication of its loft or fluffiness. To be more precise, it is the amount of space that one ounce of filling will take up. If the down is good quality and made of more down than feathers, it will have a higher fill power. A higher fill power results in a thicker, fluffier, more insulated, and more durable duvet.
With a down alternative duvet material, it is often difficult to determine the fill power. These products may not have a fill power listed.
The following are the standard fill power ratings you will come across when shopping for a down comforter.
400 or less: A duvet insert with a fill power less than 400 will have a low loft and lightweight feel. These duvets are suitable for summer months or milder climates. If you're a hot sleeper, you may prefer a lower loft duvet.
400 to 600: A fill power between 400 and 600 suggests a medium loft suitable for most climates. However, if you live in a cold environment, you may find that this fill power lacks insulation.
600 to 800: Duvets with this fill power have a higher lofter and are often considered "all-season" duvets. These duvets are warm and insulated for winter months, yet cool and comfortable for summer.
800 and above: Duvets with a fill power over 800 have the highest loft and are the warmest, most durable option. If you live in a colder climate, it is best to opt for an 800+ fill power.
Fill Weight
The fill weight is simply the weight of the filling inside the duvet. Many companies list the fill weight to make it seem as though the material is warmer and more durable. However, a higher fill weight does not necessarily mean the duvet will be warmer. Different materials have different weights—for example, synthetic fibers weight more than natural materials.
If the duvet is made of down, it is best to look at the fill power to determine its warmth. If it is down alternative, look to the materials used in the filling to determine its insulation.
Shell Materials
The shell or casing holds the duvet filling. Ultimately, this shell will be wrapped in a duvet cover, but the casing materials can play a role in your overall comfort. The following are the most common duvet shell materials.
Cotton: Cotton is a popular bedding material because it is sustainable, adorable, and naturally breathable. A duvet with a cotton cover will have a light, airy feeling, while still providing warmth. With a cotton casing, you will be less likely to experience night sweats. Plus, many cotton shells make the duvet machine washable.
Note: When selecting a duvet with a cotton shell, be sure to opt for a higher thread count. The thread count is the number of threads per square inch of material. A thread count above 300 suggests strong, durable cotton was used.
Polyester: Polyester is a versatile and affordable synthetic material. This fabric is resistant to fading, so it maintains its shape even after repeated washing. It is also less absorbent than cotton so stains can be easily removed.
Cotton-polyester blend: This fabric is a combination of cotton and polyester. This blend creates a fabric that is both strong and breathable. Cotton-polyester materials are often less likely to shrink or wrinkle during washing.
Construction
The stitching and construction of a duvet determine its durability and how well the filling will remain in place. There are several different methods of achieving this, and we break down the most popular ways below.
Box Stitch
The box stitch is often called the "stitched through" method because threads are stitched through both sides of the casing. The stitching is done in a box pattern throughout the duvet. The boxes are stuffed with the perfect amount of filling for a uniform comfort level. The boxes also hold the filling in place and keep it evenly distributed.
Panel Stitch
Like a box stitch, a panel stitch is also sewn through both layers of the casing. However, panel stitching runs in vertical lines along the length of the duvet. This stitch is a common method of construction but often results in a clumpy or unevenly distributed filling.
Baffle Box
A baffle-box construction is done by sewing an additional piece of material that connects the top of the duvet casing to the bottom. This method allows for a higher loft filling, but these duvets need to be routinely fluffed for even distribution.
Channel Construction
A channel construction includes long rows of fabric, or baffles, that run down the length of the duvet and attach to the top and bottom of the casing. This method is used to give high-quality down more fill space. However, if the filling is not high loft, it will be more likely to shift and clump together with this construction style.
Gusset
A gusset stitch is done by sewing a fabric "wall" around the edge of the duvet. This fabric connects the top and bottom of the duvet casing. A gusset construction allows for higher loft filling and creates a more three-dimensional shape. Like baffle-box stitching, these duvets require regular fluffing.
Sizing
Duvet inserts are designed to fit the exact measurements of your mattress with little to no overhang. Your duvet size should match your mattress size. For example, if you have a queen bed, it is best to opt for a queen size duvet. Most duvets are available in twin, twin XL, queen, Olympic (or oversized) queen, king, and California king sizes.
If you prefer a more traditional comforter that hangs over the sides of the bed, it is best to opt for the next size up. So, if you have a queen size mattress, opt for a king size duvet instead. This size will give you extra material at the foot and along the sides.
Care
It is best to wash your duvet insert every 2 to 3 months. Most down alternative duvets are machine washable and can be easily cleaned at home with cold water. However, down duvet inserts often require dry cleaning. Before washing, be sure to check the care instructions on the label or the manufacturer's website.
If you have a queen or king size duvet cover, you may have trouble fitting the duvet into your standard washing machine. If this is the case, it is helpful to take the duvet to a laundromat with commercial-sized washing machines.
Whether you have a down or down alternative duvet, it is best to air dry the material whenever possible.
Duvet Covers
Regardless of the style of duvet you have, you can keep it clean by using a cover. Duvet covers are available in several different colors, prints, and materials. Since this is the material that will be closest to your body when sleeping, be sure to choose something soft and breathable such as cotton or linen.
Cost
The price of a duvet insert will vary depending on size, construction, and materials. High-quality down alternative duvet inserts will cost between $200 and $350. Down duvets will range in cost based on the quality of the down filling.
The down to feather ratio often determines the cost. The higher the percentage of down, the higher the price. A 100 percent down duvet insert can cost upwards of $500. Organic or human-harvested materials will also cost more. If extended warranties or sleep trial periods are included, it could also cause the price to increase.
Return Policy and Warranty
Most high-quality duvets will come with at least a 1-year warranty to protect your investment. As you shop, be sure that you are covered for at least a year in case you notice any manufacturing defects.
Some brands offer a short sleep trial period or a generous return policy in case you are not satisfied with the product. A reputable company will provide at least a 30-day return policy.
Common Questions
Are duvets easy to wash?
Duvets made of down often require dry cleaning. However, down alternative duvets are machine washable and easy to clean. If you use a duvet cover, the duvet will stay clean for a longer period of time. Most duvet covers can be easily washed and dried at home.
How should I store my duvet when I'm not using it?
If your duvet is exceptionally warm, you may want to store it during the summer months. If this is the case, the best way to store your duvet is in a clean, dry place. First, clean and air out your duvet. Then, fold and place it in an airtight container, such as a plastic bin or bag.
Do I need to use a duvet cover with my duvet?
Duvet inserts provide the most comfort when paired with a cover. Duvets made of down and feathers tend to have sharp quills that stick up through the casing fabric. Duvets made with down alternative materials won't have this issue but are often used with a cover for cleanliness.
Down duvets with "ticking-proof" or "down-proof" casing can be used without a cover. Ticking proof means that the shell material is thick enough to prevent the quill from sticking through. If the duvet is advertised as "stand-alone," that often means it can be used without a cover.
What is the best thread count for a duvet?
If your duvet has a 100 percent cotton casing, it should have a thread count listed on the packaging. The thread count refers to the number of threads woven together per square inch of fabric. To determine this number, treads are counted both lengthwise and widthwise. If the fabric has 100 threads lengthwise and 100 threads widthwise, the thread count is 200.
In some cases, a higher thread count can increase the fabric's softness, but this is not always the case. The quality of the thread can also make a difference. Typically, a 300 to 400 thread count cotton is all you need. A thread count in this range will create a durable, yet soft, and comfortable material.
Do duvet covers have zippers?
Duvet covers often have a button, zipper, or tie closure on the bottom or side. These closures usually have an additional strip of material placed over the top, so they are hidden and do not cause discomfort. Ties or loops attached to the sides of the duvet insert can be used to secure the cover and prevent sliding.
Have You Found the Right Duvet Insert for You?
As you shop for the right duvet, keep in mind how you plan to use it. Are you looking for a higher loft duvet to add warmth to your bed or a medium loft duvet for year-round use? Keeping your purpose in mind will help you find the perfect duvet so you can start getting more comfortable sleep.