Best Orthopedic Mattress of 2023
Dr. Jennifer Miller, PT, DPT: Expert Physical Therapist and Pelvic Health Specialist
Dr. Jennifer Miller, PT, DPT: Expert Physical Therapist and Pelvic Health Specialist
Dr. Jennifer Miller is a compassionate and skilled outpatient physical therapist with nine years of experience in the field. She earned her Doctor of Physical Therapy from Elon University and holds a Bachelor of Science in Health Science from Minnesota State University-Mankato. Dr. Miller specializes in Neurological, Geriatric, and Vestibular Physical Therapy and serves as […]
Updated August 27, 2023

Mattress Guides
Why you can trust SleepJunkie
If you find yourself waking up with back or joint pain, an orthopedic mattress might be the solution to all your problems. Orthopedic mattresses are made to help reduce pain by offering ideal support to the human body.
However, not all mattresses are equal. There are good orthopedic mattresses, bad orthopedic mattresses, and mattresses that really don't deserve to be labeled orthopedic at all. Let's ignore those though and talk about some of the best orthopedic mattresses on the market right now.
30 Second Summary: Best Orthopedic Mattress
Our Recommendation: Amerisleep AS3 Hybrid — For sleepers with chronic pain, the Amerisleep AS3 Hybrid stands out for its pressure-relieving memory foam and zoned technology built to keep the spine neutral. It also incorporates cooling technology so as not to trap body heat and further a sleeper's discomfort.
The Amerisleep AS3 Hybrid is designed for the ultimate sleep experience. The AS3 Hybrid takes a responsive and adaptable coil support core and combines it with medium feel foam for a great mix of cradling and support.
The plant-based Bio-Pur® memory foam is cooling and pressure-relieving, and the ergonomic coil support layer distributes body weight and offers customized support by compressing in line with the shape of your body, helping to keep your spine in proper, neutral alignment.
The AS3 hybrid mattress is great for side sleepers looking for an orthopedic mattress. Its medium feel is also ideal for petite sleepers who might need to go up a firmness level in order to get additional support. However, the medium feel is also a good option for plus-size sleepers who don't find a firmer feel comfortable and even back sleepers looking for a softer bed.
All in all, this is a versatile mattress that is comfortable for just about everybody. All Amerisleep mattresses come with a 20-year limited warranty and a 100-night sleep trial.
Amerisleep AS3 Hybrid
Medium firmness perfect for side, back, and combination sleepers
Plant based memory foam for maximum breathability
100-night sleep trial and 20-year warranty
The Zoma Boost was carefully engineered to provide proper spinal alignment and back support, along with ample amounts of cooling cushion. The quilted hypersoft foam and graphite-infused memory foam layers cushion and relieve pressure points, while the durable pocketed coils minimize strain on your back. Overall, this orthopedic mattress conforms to your body's natural curves.
The Zoma Boost starts with a cooling cover that keeps you comfortable throughout the night. Underneath the cover is a layer of quilted hypersoft foam to cradle your body, providing pressure relief and contouring.
Next is a layer of graphite-infused memory foam, deepening the pressure relief and helping to regulate your body temperature, preventing you from getting too hot during the night.
The Reactiv™ foam layer is third, a material designed to be responsive and provide the light pushback needed to keep you from sinking too far into the mattress. Reactiv™ is a key part of how the Zoma Boost can serve as an orthopedic mattress, its buoyancy promoting a healthy spine alignment.
The support core of the Zoma Boost is durable pocketed coils, each individually wrapped. These coils are designed to conform to your body and minimize strain, while also providing excellent motion isolation to prevent disturbing your partner's sleep.
The handles along the sides of the mattress minimize strain on your body as you lift the mattress to change its sheets and clean around the bed frame.
Those looking for an orthopedic mattress at an affordable price should check out the Vaya Hybrid. The queen size's $799 price tag is very reasonable for this mattress type, well under the average price of over $1000. Don't let the affordability fool you, the Vaya is a high-quality mattress that can compete with any of its more expensive counterparts.
Its breathable, ultra-porous foam and open pocketed-coil system keep it cooler than even the coolest gel memory foam mattress. The pillowy cotton top pulls heat away swiftly while gently cushioning the body. And the combination of its soft feel and durable support core make it an excellent option for those who need both cushion and lift.
The Vaya Hybrid's softer feel is perfect for side sleepers and petite sleepers who need a little extra compression without sacrificing sturdy support. The Vaya Hybrid comes with a generous 10-year warranty and a 100-night sleep trial.
Vaya Hybrid
Responsive comfort layer promotes spinal alignment
Pocketed spring coil base offers minimal motion transfer
100-night sleep trial and 10-year warranty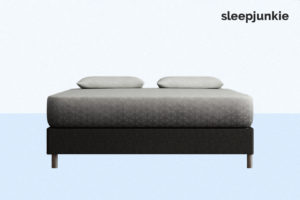 Designed by and for athletes, the Zoma Hybrid was created to encourage great sleep posture, aiding those with pain related to physically demanding jobs or intense sporting activities. Its coil support core and Reactiv™ transition layer work together to provide responsive and adaptable support.
Meanwhile, the Zoma's highly breathable gel memory foam comfort layer offers ideal plushness to tired joints, helping decrease recovery time and improve recovery quality. The pocketed coils are designed to reduce motion transfer as well, improving sleep quality and depth.
The Zoma is a highly adaptable bed, making it a good choice for just about any sleeper. Back sleepers will appreciate the support of the coil layer, while side sleepers will enjoy the soft and breathable foam comfort layer. And just about anyone in any weight class can sleep on the versatile Zoma.
Zoma Hybrid
Gel memory foam comfort layer increases breathability
Zoned comfort layer with targeted lumbar support
100-night sleep trial and 10-year warranty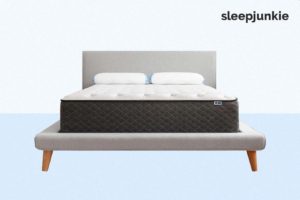 Hot sleepers who want an orthopedic mattress should consider the Bear Hybrid. Every layer of this mattress was designed to dissipate body heat. The Hypersoft cooling gel memory foam layer offers a cloudlike feel as well as a comfortable chill. This is especially helpful for pregnant women, who tend to run hot during pregnancy due to an increased blood supply. The responsive transition layer helps increase bounce and reduce potential pressure from the coil core.
Speaking of the core, the pocketed coil system offers great edge support as well as promoting air circulation and spinal alignment, helping relieve pain not just by supporting the spine but also by making it easier to get in and out of bed. The coil support layer sits atop a motion-isolating high-density foam as well.
The Bear Hybrid is another mattress designed to be versatile. Like the Zoma, it's a great choice for all sleep positions and all body types.
Bear Hybrid
Gel infused memory foam promotes breathability
Coil base prevents heat trapping
100-night sleep trial and 20-year warranty
What's An Orthopedic Mattress Anyway?
Orthopedic mattresses are specifically designed to give optimal support to joints and encourage spinal alignment. They're normally on the firmer side to offer extra support to the spine and prevent sinkage, but a soft mattress can be orthopedic if it's designed for pain relief and targeted support.
You may have noticed a lot of hybrids on this list. That's because the pocketed coil support core in this type of mattress is adaptable and firm, making it perfect for orthopedic mattresses because the coils offer compression where you need it and resistance where you need it.
Hybrid mattresses combine this coil support core with a layer of either latex or memory foam. Foam makes for a superior comfort layer because it's highly adaptable, able to contour to your shape and offer customized cushioning for added pain and pressure relief. While innerspring mattresses also have a coil base, the pillow top is often thinner and provides less pressure relief than a hybrid. Hybrids also have less noise and better motion isolation than innerspring beds.
Latex mattresses tend to have more bounce than memory foam mattresses. However, both provide contouring and support that is ideal for pain sufferers. Latex beds are also hypoallergenic, dust mite resistant, sag resistant, and highly durable.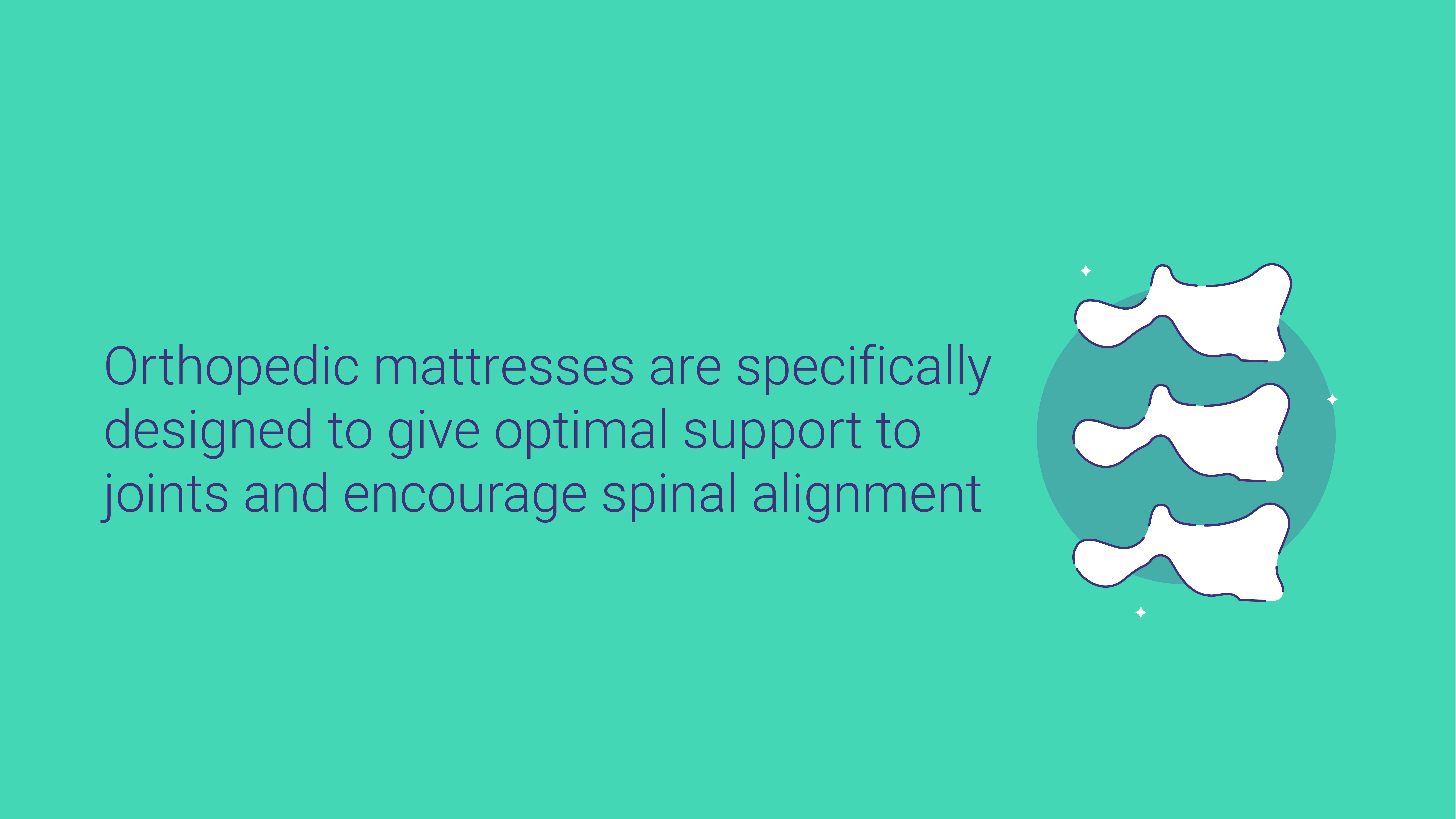 FAQs
How can I tell if a mattress is orthopedic?
Since there aren't any legal restrictions on what mattress manufacturers can and can't call an orthopedic mattress, you need to watch out for pretenders. Real orthopedic mattresses offer pressure relief to your joints and support to your spine.
To ensure you're checking off both these boxes, take a look at your prospective mattress's description. Does the seller thoroughly outline all the layers? Do they tell you exactly how their new mattress offers support and cushioning?
Sellers with quality orthopedic mattresses will go into a lot of detail about how their mattress is set up and how that setup works to make you comfortable.
Who should sleep on an orthopedic mattress?
Basically anyone with aches and pains should consider an orthopedic mattress. If you have back pain, especially lower back pain, they can help relieve it by promoting healthy spinal alignment.
If you have joint pain, orthopedic mattresses can reduce it by cushioning your joints throughout the night, alleviating the pressure points that typically pop up around the shoulders and hips.
Which firmness level should my orthopedic mattress be?
Normally, you want your orthopedic mattress to be on the firmer side, so you may want to go up a firmness level from your ideal one. The firmness scale runs from 1 to 10, with 1 being the softest. However, most mattresses on the market today fall between a 3 and an 8.
Sleep position is the number one factor in determining your mattress needs. Mattresses for side sleepers are often soft to medium to relieve pressure in their shoulders and hips. Beds for back sleepers are typically medium-firm mattresses because they have enough firmness to support the lumbar spine. Beds for stomach sleepers should be firm to keep their pelvises from sinking, and mattresses for combo sleepers should opt for a medium mattress.
Body type can also impact your firmness needs. Generally, if you're under 130 pounds, you need a softer mattress to get enough compression. If you're over 230 pounds, you need a firmer mattress to avoid too much compression. Everyone in between can stick to the firmness level corresponding to their sleep position.
Can I use a topper to make my existing mattress orthopedic?
Mattress toppers only change the firmness level of the mattress's comfort layer. To be truly orthopedic, your mattress needs to support you all the way from the base layer to the top layer.
That means you can't toss a topper on any old innerspring or foam mattress and expect it to be orthopedic. Adding a quality topper can help improve your mattress's support and cushioning, but it won't make your mattress orthopedic.
Bottom Line
Orthopedic mattresses are great for pain relief, but you need to watch out for imposters. Take a look at the different layers of your mattress to see how they're designed and how each layer supports your spine and cushions your joints. That way, you can be sure you're getting the real deal. Also, keep in mind that even if a bed is labeled as "orthopedic," if it is not the right firmness for your body type and sleep preferences, it may not be the best mattress for you. According to Dr. Jennifer Miller, an outpatient physical therapist, "If changing your mattress does not ease your pain, make sure to see your doctor and physical therapist to address your pain."