Best Firm Mattress Topper
Updated November 22, 2023

Mattress Accessories
If you've noticed that your bed is just a bit too soft for your needs, you may need to make some changes to your sleeping surface. Mattress toppers are 1 to 4-inch layers you can place over your current mattress to alter the feel of your mattress and even help the bed last longer.
Realistically, most of us don't have the budget to replace our mattresses without saving up for months, so a mattress topper is a good accessory to upgrade your bed without breaking the bank.
For those of you who need a harder bed, a mattress topper can make your soft bed firmer and extra supportive. We take a look at some of the best firm mattress toppers to help you start sleeping comfortably.
Support Lift by Amerisleep™
provides a buoyant and breathable sleep surface to ensure you're well-supported at night.
The Support Lift by Amerisleep™ contains Affinity foam with HIVE® technology, a zoned support system comprising hexagonal cutouts in the foam. There are five zones. Around the head, back, and feet, the hexagons are close together and have less give. For the shoulders and hips, the hexagons are spread further apart, providing extra cushioning.
The topper is encased in a breathable and soft cover. The bottom half of the cover contains MicroGrip®, technology, non-slip material to keep the topper in place without ruining the top of your mattress.
The Support Lift by Amerisleep™ is 3 inches thick, which is perfect for modifying the feel of your bed without being overly cushiony to throw your body out of neutral alignment.
The Affinity foam is CertiPUR-US® certified, meaning the foam is free from harmful chemicals such as formaldehyde, heavy metals, and volatile organic compounds (VOCs). A CertiPUR-US® certified topper is unlikely to let off an unpleasant scent and won't cause symptoms such as eye and skin irritation or an itchy throat.
The Support Lift by Amerisleep™ is made in the USA and comes with a 5-year warranty. Also, it ships for free within the contiguous US.
SUPPORT LIFT BY AMERISLEEP
HIVE® technology with five support zones
MicroGrip® keeps the topper in place
Breathable foam and cover prevents overheating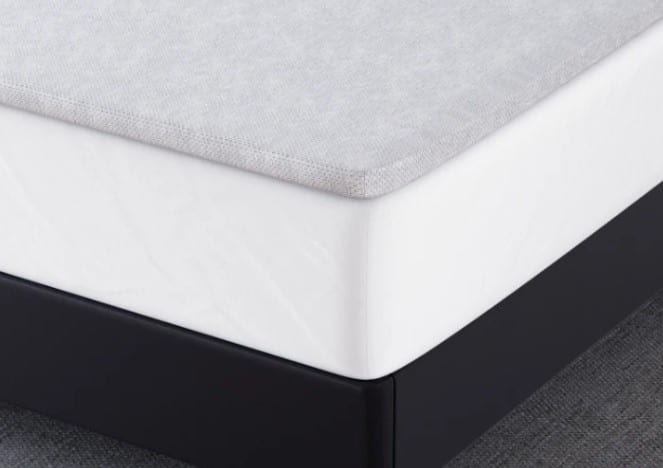 The Zoma Balance Pad is a bouncy mattress topper designed to boost muscle recovery and maximize your comfort in bed. This topper is 3 inches thick and enhances the support of an uncomfortably soft bed.
The Zoma Balance Pad is made from Reactiv™ materials, Zoma's responsive foam. Reactiv™ is firm, but still offers enough cushioning to reduce motion transfer and prevent pressure points and pain.
Not only is Reactiv™ foam breathable, but the Balance Pad's plush cover is ventilated, promoting airflow and minimizing heat retention. The mattress pad features a non-skid fabric on the bottom side to prevent it from slipping out of place at night. Still, the material is gentle enough to not damage your mattress.
The Zoma Balance Pad is CertiPUR-US® certified and made in the USA. Zoma offers a 5-year warranty for the Balance Pad and ships it to your home for free.
ZOMA BALANCE PAD
Contains Reactiv™, a buoyant foam similar to latex
Dynamic foam quickly responds to your movements
Breathable and prevents heat retention
The ViscoSoft 3" Memory Foam Mattress Topper is a sturdy and firm topper designed to optimize airflow. It's made from gel-infused memory foam, a pressure-relieving material. Memory foam toppers are also quiet and isolate motion—a feature especially useful for couples. The gel prevents you from overheating at night and ensures you sleep undisturbed.
The topper's hypoallergenic and soft bamboo-rayon cover has a slip-resistant base with adjustable elastic straps to keep the topper secure on your mattress. The cover is easily removable and machine-washable.
The ViscoSoft 3" Memory Foam Mattress topper is made in the USA. It comes with a 60-day money-back guarantee and has a 3-year warranty.
ViscoSoft 3" Memory Foam Mattress Topper Highlights
Hypoallergenic cover minimizes irritation
Slip-resistant base and elastic straps keep the topper in place
Gel-infused memory foam reduces heat retention
The Pure Green 100% Natural Latex Firm Topper is made from eco-friendly and organic Dunlop latex designed to keep your sleeping space clean and safe. Dunlop latex is exceptionally cool as is, but the topper features holes to promote airflow. The Pure Green 100% Natural Latex Firm topper is durable, responsive, and supportive.
The topper comes in various thicknesses at different price points: 1-inch, 2-inch, and 3-inch. If your mattress is incredibly soft and needs a drastic firmness change, we recommend the 2 or 3-inch toppers. Conversely, if your mattress is too soft, the 1-inch topper should be enough.
The Pure Green 100% Natural Latex Firm Topper has a variety of quality certifications, including GOLS organic, Greenguard Gold, eco-INSTITUT, and Standard 100 by Oeko-Tex.
Pure Green 100% Natural Latex Firm Topper Highlights
Made from Dunlop latex, a naturally breathable and bouncy foam
Organic and eco-friendly
Available in three different thicknesses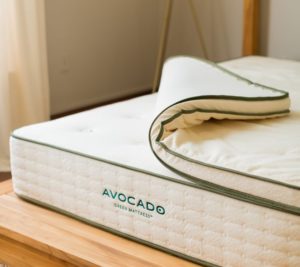 For those who are plant-based or prioritize shopping cruelty-free, consider the Avocado Vegan Topper. It's 2.75 inches thick and a medium-firm to add some extra support to your current mattress.
The Avocado Vegan Topper is made from organic latex foam, a long-lasting and temperature neutral material. Unlike other Avocado products that contain wool, the Vegan Topper's quilted cover is made from organic cotton and has reinforced seams so as not to break apart.
The topper is vegan certified, PETA approved, GOLS certified organic, and GOTS certified organic among many other certifications.
The Avocado Vegan Topper comes with a 1-year sleep trial and a 10-year warranty. It's also handmade in California and ships for free.
Avocado Vegan Topper Highlights
Vegan product made from natural materials
Variety of certifications ensure the product is safe, organic, and eco-friendly
Features a cotton cover instead of wool
The AmericanMade Foam Mattress Topper is an affordable best-seller and perfect for anyone in need of a firmer bed. As the name suggests, the AmericanMade Foam Mattress Topper is made in the US.
The topper is made from 3 inches of poly-foam and can help reinvigorate your aging mattress. The firm poly-foam distributes your body weight and prevents you from sinking into your bed.
The AmericanMade Foam Mattress Topper is PURGreen certified and eco-friendly for a healthier sleeping environment. A PURGreen certification ensures your mattress is free from harmful chemicals and meets specific performance standards.
AmericanMade Foam Mattress Topper Highlights
Firm poly-foam prevents sinking or pressure build-up
Affordable and made in the USA
Free from toxic chemicals and allergens
What to Look For in a Firm Mattress Topper
Just like when buying a mattress, you should consider similar factors when you shop for a mattress topper. In particular, look into the mattress topper's thickness and firmness to ensure it'll meet your needs.
Thickness
Most mattress toppers are between 1 to 4 inches thick. Your topper's thickness determines how different your sleep surface will feel and both soft and firm toppers are available in different thicknesses.
Based on how your current mattress feels, you'll need a thicker or thinner topper. If you only need a slight firmness boost, a thinner topper (1 to 2 inches) is best. Conversely, a thicker topper (3 to 4 inches) is a good idea if your current mattress is incredibly soft for you and needs a drastic overhaul.
Firmness
Mattress firmness is how much cushioning your topper has along with how it feels beneath you. The firmness is ranked on a scale from 1 to 10, with 1 being the softest and 10 being the firmest. Medium-firm and firm mattress toppers are roughly between 7 to 10 on the mattress firmness scale.
A firm topper can be just what you need if you're looking for a mattress topper for back pain, but some may need a softer topper to ease tension in sensitive areas.
Types of Firm Mattress Toppers
Mattress toppers come in a wide variety of materials and depending on which you choose, they'll affect the durability and support of your topper. Some popular types of mattress toppers include memory foam, latex, poly-foam, and down.
Memory Foam
Memory foam is easily one of the most popular materials for toppers and mattresses alike. Memory foam mattresses and toppers are known for their hug-like and pressure-relieving feel.
Lots of mattress brands use some variation of memory foam in their toppers. Brands often insure their memory foam toppers with gel, castor oil, or graphite to promote airflow and minimize heat retention, establishing a cooling mattress topper.
Latex
Although memory foam is popular, it can get hot and isn't very responsive. If you're looking for a cooler and springier bed, consider latex. Latex is similar to memory foam because it's close-conforming, but it's much more breathable and durable. Also, latex is a natural and hypoallergenic option but is not safe if you suffer from latex allergies.
Poly-Foam
Poly-foam is an affordable foam but usually isn't as long-lasting as memory foam or latex. Poly-foam toppers are common because they're so cheap and readily available, but they can get hot and aren't as supportive as latex or memory foam.
Down
You may come across plush materials such as down in a mattress topper. Many people enjoy down because it's plush, durable, and breathable. However, it doesn't make for a great mattress topper because it's not supportive and can be overly soft. A down topper may work when softening a bed, but it's not a good idea if you're looking to firm up a bed.
Who Should Use a Firm Mattress Topper?
Firmness is subjective to an extent. Based on your weight and sleeping position, you'll need a different mattress and mattress topper firmness. We recommend stomach sleepers, back sleepers, and plus-sized adults use a firm mattress topper.
Stomach Sleepers
Above all other sleeping positions, stomach sleepers need the firmest sleep surface to keep their hips in line with their spine. A firm mattress topper prevents stomach sleepers from sinking and experiencing lower back pain.
Back Sleepers
Back sleepers benefit from firm mattress toppers as the toppers ensure their lower back stays aligned with their spine and doesn't sink too far into their bed.
Plus-Sized Adults
If you're a larger adult, a firm mattress topper can provide needed support since you put more pressure on your bed. A firm topper also prevents you from being overly cradled and feeling trapped in bed.
Pros of a Firm Mattress Topper
Firms up an overly soft bed
Can improve your bed's support
Improves spinal alignment
More affordable than replacing a mattress
Lightweight and transportable
Cons of a Firm Mattress Topper
Too stiff for side sleepers and petite adults
Less reliable than getting a new mattress
Might be ineffective if your mattress has lumps, soft spots, or is sagging
FAQs
Is a thicker mattress topper better?
Not necessarily, the best topper thickness depends on what you need from your topper.
Thicker mattress toppers have a bigger impact on your sleeping surface, while thinner toppers have a smaller impact, but are still effective. A thicker topper won't last longer than a thinner topper and vice versa. Also, thicker toppers are more expensive than thinner toppers because they contain more materials, not because they're better.
Is a firm or soft mattress topper better for back pain?
We usually recommend using a medium-firm or firm topper if you struggle with back pain, but be wary of using an extra firm topper. Overly firm toppers can cause pressure build-up and cause joint pain, while overly soft toppers can cause you to sink too much and throw your back out of alignment.
Our firm vs soft mattress delves into the pros and cons of each firmness.
Should I use a mattress protector with a mattress topper?
Yes, we always recommend using a mattress protector, mattress topper or not. A mattress protector is similar to a fitted sheet because it encases your mattress, but instead of just being soft and cozy, it's waterproof and designed to keep your mattress clean.
You should use a waterproof mattress protector over both your topper and the mattress itself to protect them from sweat, dust, and stains. Since mattress protectors aren't very soft, you should still use a fitted sheet to ensure you're comfortable.
How do I know if my mattress is too soft?
There are some signs you should look out for that indicate your mattress is too soft for you:
You struggle to get comfortable in bed
You feel stuck in bed, or as though your bed is "bottoming out"
You have a hard time getting in and out of bed
You frequently wake up with neck or shoulder pain
How can I make my mattress firmer?
Our best advice for firming up your mattress is by using a mattress topper since they make the most significant impact on your bed's feel.
Another good way to firm up your bed, regardless of its mattress type, is by adding a bunkie board between your bed and its foundation. A bunkie board is a 1 to 3-inch piece of plywood designed to support your mattress and boost its firmness.
Conclusion
Mattress toppers are a great solution if your bed just isn't the correct firmness for you. Compared to purchasing a firm or extra-firm mattress, a firm mattress topper is much more affordable and can still improve your sleep quality.
With all of this in mind, there is little you can do to restore an old, sagging mattress. Mattresses only last about 7 to 10 years, and while a high-quality mattress topper can protect your mattress and potentially help it last a bit longer, you'll still eventually need to replace it.