The First Year of Parenthood: New Parents and Their Sleep Patterns
Sleep Research
Another sleepless night with your newborn? You are not alone. 
Here at Sleep Junkie, we surveyed parents who have given birth within the past 18 months to analyze their sleep patterns and break down what a typical day looks like with their new little one. 
According to The National Sleep Foundation, people ages 18-64 need around 7-9 hours of sleep every night in order to keep up good health. But regardless of whether you are a new parent or not, an adult's daily to-do lists are filled with work, chores, and errands, making this recommended timeframe feel impossible. 
For new parents, this becomes even more difficult. Our study reveals that 68% of surveyed people were getting 7+ hours of sleep per night, prior to having a baby. Afterwards, only 10% of parents are hitting that.
Our research found that new parents are falling short of sleep by around 3 hours every night in their child's first year. However, mom and dad should rest assured knowing that this lack of sleep does ease once the baby begins to sleep through the night. According to Stanford Children's Health, most babies do not begin consistently sleeping for 6-8 hours until at least 3 months of age. 
During the study, we asked a series of questions to 500 UK and 500 US parents to find out what a typical day looks like with their family's new addition. We found that of those surveyed, many were using a variety of different activities to help get their baby to sleep. These ranged from feeding the baby to jumping in the car for a casual drive. From this, we were able to determine just how much time each day adults were doing these activities. In the table below, these have been ranked from the most to least time: 
| | | |
| --- | --- | --- |
| Rank (Most time to least time) | Activity | Amount of time spent  |
| 1st | Feeding  | 1 hour 46 minutes  |
| 2nd | Walking | 1 hour 21 minutes  |
| 3rd | Driving | 41 minutes |
| 4th | Reading | 34 minutes |
| 5th | Bathing  | 29 minutes |
| 6th | Burping | 24 minutes |
| TOTAL | – | 5 hours 25 minutes |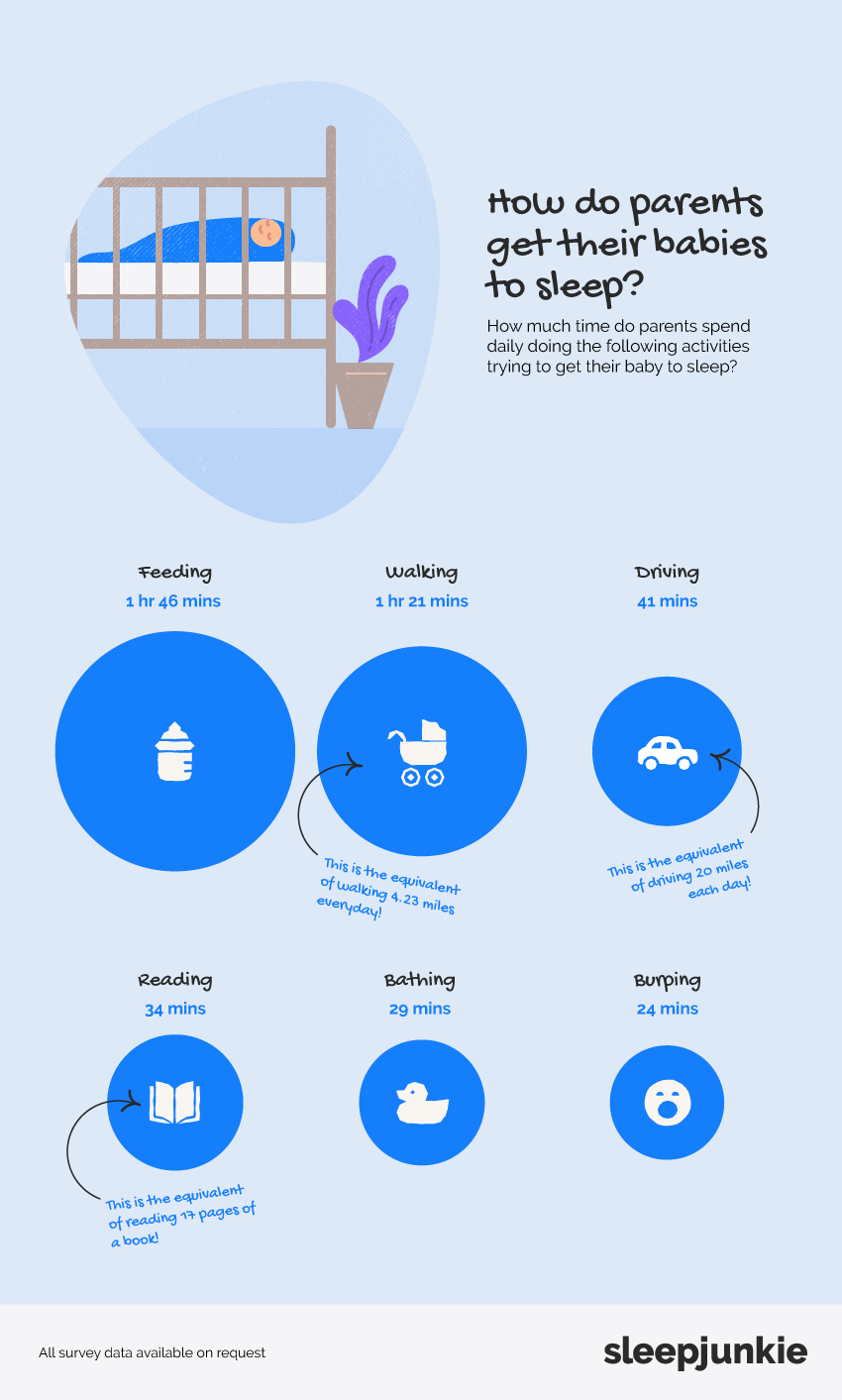 Through the study, we can reveal that parents are spending on average 41 minutes driving around trying to get their baby to sleep, which is equivalent to driving 20 miles. What's more, parents are walking for roughly 1 hour 21 minutes a day which is the equivalent of walking 4.23 miles. In total, parents are spending 5 hours 25 minutes each day putting their baby to sleep. 
Sleep
Dep
rivation
Confessions 
Doing things out of the ordinary and quite funny whilst sleep deprived is a new parent's rite of passage. We asked our new parents to tell us some of the funniest things they've done due to their tiredness. 
One had said they'd poured a bottle of milk onto the floor completely missing the sink and another parent dipped their fry in their drink instead of their sauce. 
A different parent admitted to brushing their teeth with diaper rash cream instead of toothpaste, and another even managed to put almond milk into the washing machine rather than fabric softener. 

A happy parent = a happy baby
Whilst the first few months are hectic with a newborn, it's important that parents are still making the time to take care of themselves. We found that parents on average are spending only about 4 hours a day on themselves. These hours are broken down into activities such as socializing (1 hr 07 mins), self-care (1 hr 18 mins), and leisure time (1 hr 35 mins).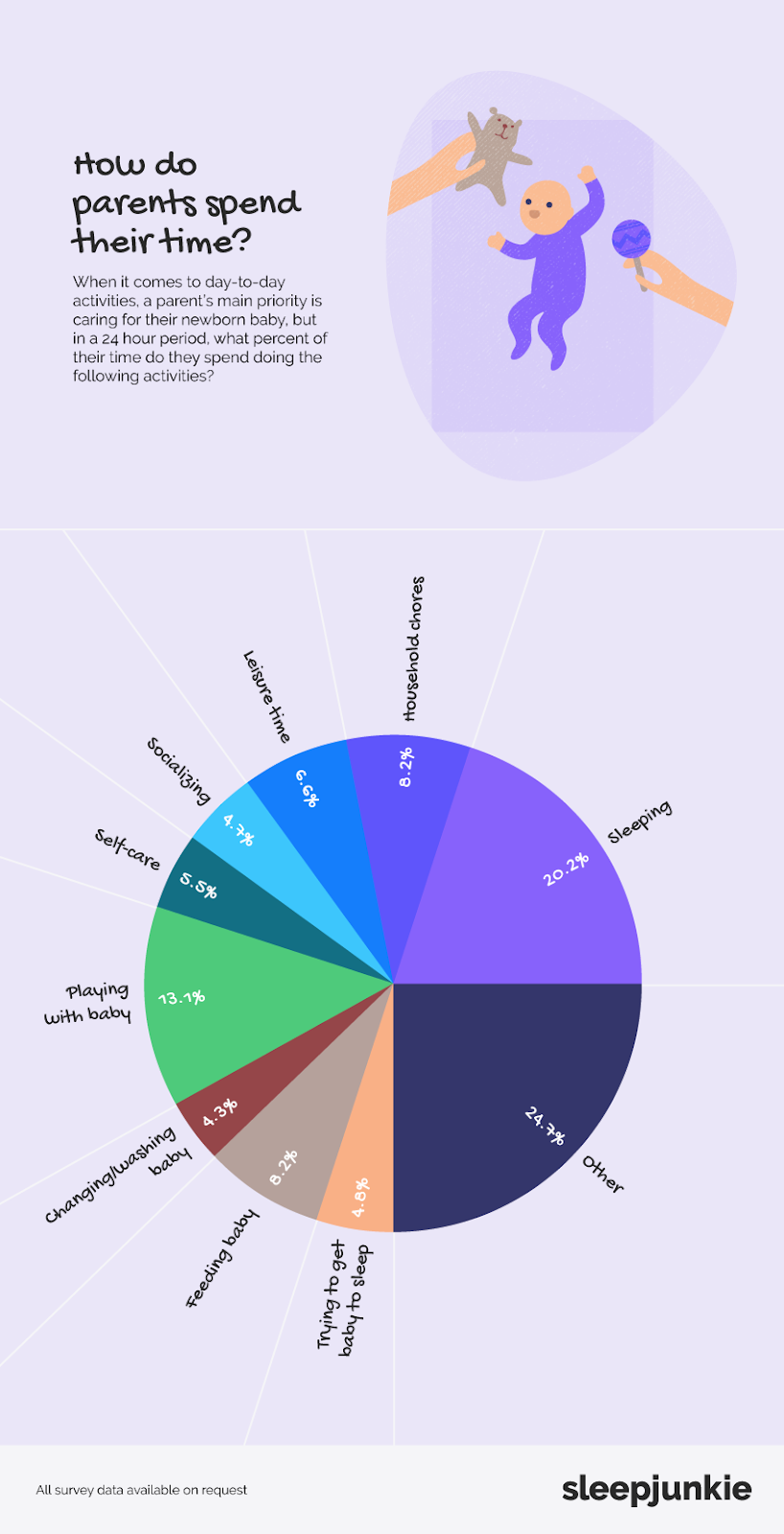 One way of ensuring you can get your rest is to take the support that is offered by others. If a family member or neighbor offers to help babysit, take their assistance and use that time to wind down and sneak in some time to sleep. You'll be happier and healthier because of it. As a result, you'll be able to return to your baby refreshed and ready to give your child the attention and care they deserve. 
Sleep through the Night
Finding time for sleep is hard enough. The last thing you want is to spend your night tossing and turning after you finally get to bed. To get the most out of those nightly eight hours, it might be time for an upgrade. We compiled a list of the best mattresses, from memory foam to innerspring and including more affordable mattress in a box brands, to help you get the sleep you deserve.
In response to our findings, Meg Riley, editor at Sleep Junkie, comments: 
"From the survey results, we can see that there is a clear decline in the number of hours of sleep parents get in the first year of parenthood. If you're a new parent and struggling with a loss of sleep, there are several things you can do.
Try and sleep when your baby sleeps – although they may wake frequently in the night, newborn babies cram in lots of sleep during the day so you should aim to sleep when they do. You should also make sure you share out the wake-up calls through the night so it's not just one parent getting up every time – if bottle feeding, take the duties in turn. Also, keeping your baby active and alert throughout the day can create a calmer atmosphere for both you and the baby at night and allow for a better night sleep for all. And finally, just remember – this stage doesn't last forever and the older baby gets, the longer they will sleep!"