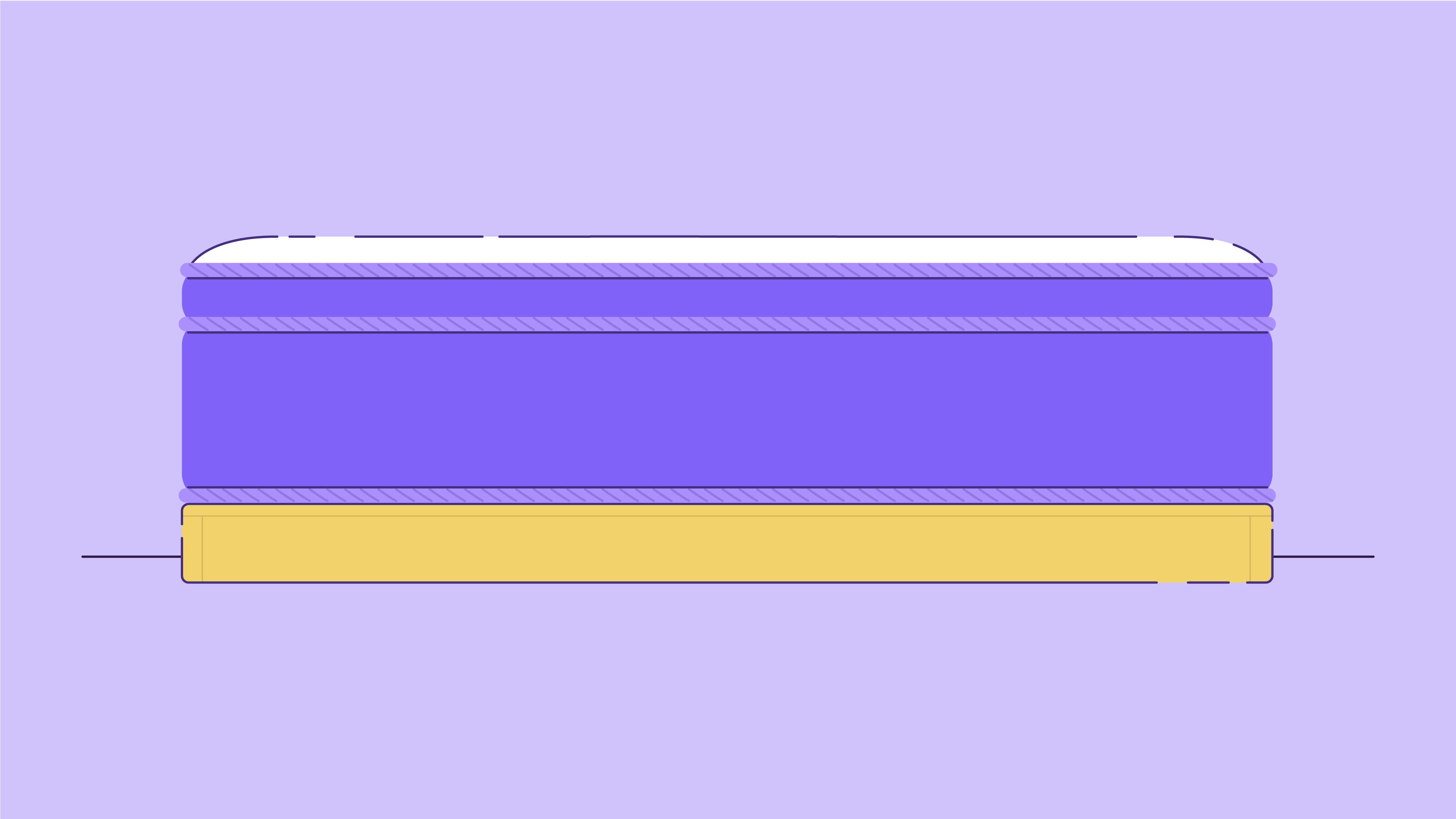 What is a Low Profile Box Spring?

Mattress Accessories
Though they were invented over 100 years ago, box springs are still one of the most common bed bases in use today. Meant to go under your mattress and on top of your bed frame, box springs add height to your bed, absorb shock from your mattress, and help increase airflow.
Box springs are a wooden or metal frame filled with a spring network and upholstered in fabric on the top and a dust cover on the bottom. Normally, box springs are at least 9 inches high.
Low-profile or thin box springs, meanwhile, cut that height down to between 4 and 6 inches without sacrificing the functionality of a traditional box spring set. These box springs aren't as common as their higher-profile counterparts, but they still come in all standard mattress sizes (twin/twin XL/full/queen/king/California king).
Pros of Low Profile Box Springs
There are a few reasons you might choose a low-profile box spring set over a higher profile alternative. For one thing, the thinner low-profile spring sets have less material, making them lighter and easier to move through tight spaces like hallways and stairs. People who relocate a lot might find that appealing.
Low-profile box springs offer a sleeker, more modern look to your bed without requiring you to go out and purchase an entirely new bed frame or get rid of your thicker mattress.
In the same vein, if your bed frame is too tall for you, low-profile box springs can reduce the overall height of your bed. This can make it easier for shorter people and/or children to get in and out of bed.
Cons of Low Profile Box Springs
Low-profile box springs do have their drawbacks. For one thing, they won't absorb as much shock as normal-height spring sets, leading to additional motion transfer. They're also less supportive than high-profile box springs, so their maximum weight may be reduced.
The low-profile bed also isn't for everyone. If you have mobility issues, you might find it hard to get in and out of a bed that is shorter than the standard 20-24 inches.
Who Should and Shouldn't Sleep on Low Profile Box Springs?
People who should sleep on a low-profile box spring set include:
People who want a modern-looking bed
People who move a lot
People who like the feel of a traditional bouncy bed
People who should avoid low-profile box springs include:
People who can't get in and out of bed with ease
People who don't like a low-profile look
People with a heavy mattress
A note on heavy mattresses: if you have any mattress other than an innerspring mattress, you should not use box springs of any height. Box springs don't offer strong support and cannot bear the weight of memory foam, latex, or hybrid mattresses.
Other Low-Profile Bed Options
If you want a low-profile bed, you do have other options. A platform bed is a great choice for those looking for a sleek, modern style. In their most basic form, platform beds are metal or wooden frames with rigid slats stretched across them. These slats may be flat or curve upward for extra support in the middle.
Platform beds are made to stand on their own. Some have legs, others have storage space, and others even feature extras like headboards, footboards, and even canopies. The great thing about platform beds is you don't need a base underneath your mattress. You can lay the mattress right on the platform.
If you want to keep your bed frame but don't want a set of box springs, another option you have is the low-profile mattress foundation. Just like low-profile box springs, low-profile foundations take a regular mattress foundation (a frame with slats made to fit in a bed frame) and make it much thinner to offer less height.
FAQs
Is it hard to assemble low-profile box springs?
A lot of low-profile box springs may come assembled, but if they come in compact packaging, they'll have instructions for easy assembly. The packaging may contain the necessary tools for assembly as well as any screws or bolts needed. In short, your box spring set shouldn't be too tough to put together.
Are box springs compatible with my mattress?
Box springs are not compatible with any mattress type other than innerspring. They were designed for this mattress type and are too weak to hold heavier modern mattresses like latex mattresses, hybrid bed, or memory foam mattresses.
If you have any other kind of mattress than an innerspring, you're going to need a mattress foundation or platform bed. The rigid slats are much sturdier than box springs and can bear more weight.
Can I use a low-profile box spring on an adjustable bed?
You should never use box springs of any height on an adjustable bed. Adjustable beds need their mattresses laid directly on them, so you can't use any kind of additional bed base. Adjustable beds may break box springs or mattress foundations when they change positions.
Do I have to buy new box springs when I get a new mattress?
Unless your box spring set is really new, you should always get a new set when you get a new mattress (or replace that set with a foundation or platform). Box springs wear out over time, and they won't offer the kind of support your mattress needs. Laying your mattress on an old box spring set may also void its limited warranty.
What should I do with my old box springs?
There are a few things you can do with your old box springs. Many mattress companies or furniture stores offer disposal services upon delivery of your new bed. There are also bedding recycling facilities and services that can help you dispose of your old mattress and/or box springs in an eco-friendly way, either for free or for a small recycling fee.
There are also lots of great DIY options. If you want to recycle the box spring yourself, you can cut it apart and repurpose its wooden, metal, and fabric components.
Bottom Line
Low-profile box springs can be a good alternative to traditional box springs. However, if you're looking for a great low-profile bed, we'd recommend a platform bed.
This option offers the modern style you're looking for along with far superior support. Its rigid slats are sturdy enough for even the heaviest mattress. Best of all, unlike box springs, platform beds last a long time. While box springs wear out fast, a high-quality platform bed can outlast multiple mattresses.