Best Feather Pillows: Reviews and Buyer's Guide

Bedding Guides
Dating back to Ancient Egypt, feather pillows have stood the test of time because they're comfortable, moldable, breathable, and relatively inexpensive. Stuffed with the plumage of ducks and geese, these pillows feature both feathers and down clusters to offer superior comfort and support. Plus, they work for all kinds of sleepers.
Because these age-old classics are still a well-liked option, we put together this guide covering our favorite feather pillows. In it, we also discuss factors worth considering when choosing the best feather pillow for you.
Best Feather Pillows

The first pillow on our list is puredown's Natural Goose Down Feather Pillow, sold in a set of two. These top-rated feather pillows contain 95% goose feathers and 5% goose down and are designed to have a medium firmness. puredown's pillows have a 100% cotton outer shell that is double-layered with fabric to prevent feather pricks.
puredown's Natural Goose Down Feather Pillow has double diamond lattice quilting and brown piping, giving it a more elegant appearance. As you can imagine, these pillows can be covered with pillowcases to modify their look, too. These pillows are recyclable and eco-friendly, so they're perfect for "green" shoppers.
The Natural Goose Down Feather Pillow by puredown is available in King (18″x34″) and Queen (18″x 26″) sizes. These pillows have a 2-inch loft as well, so they're a good fit for some stomach sleepers but are likely too short for back or side sleepers.
puredown offers a 30-night sleep trial and corresponding return policy with each of their pillows. If you decide you don't want to keep their Natural Goose Feather Down Pillow for any reason, you can ship it back to them for a full refund— all you have to pay for is the shipping label. However, if your pillow has material defects, such as tears in the seams, puredown will cover the shipping label for you, too.

JA Comforts sells a variety of bedding accessories on Amazon, including a set of two Goose Down and Feather Bed Pillows. For those shopping on a tighter budget, they also sell Duck Down and Feather Bed Pillows- but we recommend sticking with their goose counterpart because goose feathers are higher quality.
JA Comforts carries these pillows in either one or two-packs in both Queen and King sizes. Because they sell primarily on Amazon, they offer a 90-night sleep trial with each of their pillow sets. Additionally, they offer three years worth of warranty coverage with their pillows.
The Goose Feather Down Pillow by JA Comforts contains 95% goose feathers and 5% down. The 233 thread-count cover is 100% cotton. The pillow should feel both cushioning and soft to the touch, while the cover is light and airy enough to ensure hot air doesn't get trapped within the pillow. JA Comforts also designs this cover to be extra durable to prevent quills from poking out and causing discomfort.
JA Comforts' pillow maintains its shape rather well and is designed to be a comfortable option for any sleep style— though we do hesitate to recommend this pillow for stomach sleepers as it's likely too tall and stomach sleepers should stick with a low-loft (1-3″) pillow.

Next on our list is the luxurious Continental Bedding's Superior 100% Down Pillows featuring Hungarian White Goose feathers and a cotton shell. These pillows come in packs of one or two and Standard, Queen, and King sizes.
Continental Bedding's Superior Pillow has a 700 Fill Power, so the pillow should feel firm and fluffy. The term "fill power" simply refers to the height and insulating abilities of a pillow. Pillows with a higher fill power will be taller and able to retain more heat than pillows with a lower fill power. Therefore, Continental's Bedding Superior Pillow is likely comfortable enough for back and side sleepers but too tall for stomach sleepers.
Continental Bedding stuffs their pillow with Hungarian White Goose down clusters. These clusters are both hypoallergenic and designed not to trap dust, dirt, or other allergens
When it comes to feather fillings, some pillow connoisseurs say Hungarian Goose feathers are the most superior pillow-stuffing material (though others aren't so passionate and find other materials just as comfortable). So while expensive, many Hungarian White Goose down pillows are highly durable, resistant to wear and tear, and likely worth the investment.
The 300-thread count cover of Continental Bedding's pillow is a striped damask cotton fabric. It's soft to the touch and breathable enough to prevent hot nights.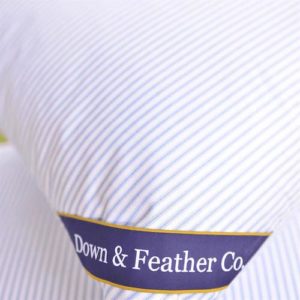 As their name suggests, Down & Feather Co. specializes in making down and feather bedding accessories such as pillows, comforters, and more. Though they make a number of high-quality feather pillows, we are fans of their Original Feather Pillow because it's their best seller and top-rated.
Down & Feather Co. uses top-notch Hungarian goose feathers inside their pillow, while the shell is 100% airy cotton. The cover of their original feather pillow has blue and white stripes, giving it a classic appearance.
You can buy their Original Feather Pillow in Standard, Queen, or King sizes. To make it even more customizable, Down & Feather Co. carries their Original Feather Pillow in Soft, Medium, Firm, Extra Firm, and Extra Extra Firm firmness options. Because their pillow is available in different lofts and firmness levels, there's an option for every sleep style.
We're fans of the Down & Feather Co. brand because they offer a 30-night sleep trial and a 10-year limited warranty with each of their pillows. They also provide a Perfect Pillow Policy for the first year; this includes free pillow adjustments should yours become misshapen or lumpy.

Top-rated bedding company, Pacific Coast®, makes the next feather pillow on our list— the Double DownAround Pillow. Boasting a pillow-in-a-pillow design, this pillow offers exceptional support while still feeling fluffy and soft.
Available in Soft, Medium, and Firm firmness, and Standard, Queen, and King sizes, this pillow is suitable for any sleep needs. In fact, this pillow is found in over 2 million hotel rooms nationwide and receives an A- rating from Good Housekeeping Magazine.
Pacific Coast®'s feather pillow features a small plush inner pillow stuffed with fluffy Resilia® feathers, surrounded by an outer layer containing 550 fill power Hyperclean® down fill. Its outer shell is 300 thread count 100% cotton, boosting airflow and preventing hot nights.
To give their pillows some flair, Pacific Coast® also includes a 1-inch gusset and navy blue printed cording around the edges. Each of their pillows comes with a 30-night sleep trial and a 3-year limited warranty.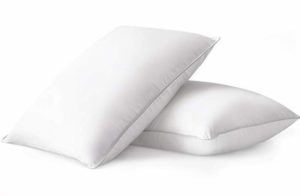 The Beckham Hotel Collection Luxury Feather Pillow is sold on Amazon and features a hybrid filling of both duck feathers and duck down. It also has a luxurious Egyptian Cotton cover tailored to feel silky soft to the touch.
The design of the Beckham Hotel Collection's Luxury Feather Pillow includes a supportive inner chamber and a plush outer shell. They even weave cooling gel fibers throughout the outer shell to help with temperature regulation.
These pillows are great for side and back sleepers but are likely too tall for stomach sleepers. Plus, they're an excellent choice for allergy sufferers or those with respiratory issues because they're designed to combat dust mites, mold, and mildew and help you sleep germ-free.
Every Beckham Hotel Collection pillow comes with a 30-night satisfaction guarantee. If you decide you're unhappy with your pillow during the first 30 nights, they'll refund you your money, no questions asked.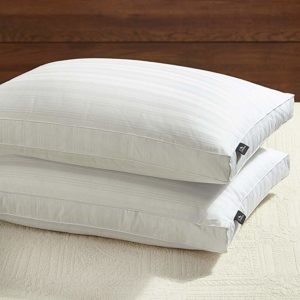 downluxe's Goose Feather Down Pillows are perfect for side and back sleepers as they offer a great balance of lofty support and plush comfort. These pillows are stuffed with hypoallergenic goose feathers and goose down and feature a soft-to-the-touch 100% cotton cover.
downluxe utilizes a double-layered fabric design and finishes each of their pillows with decorative piped edges to prevent seams from wearing down or feather quills from poking out.
For convenient care, downluxe's pillows are machine washable. As far as we know, they do not come with either a sleep trial or warranty, so we suggest being 100% sure they're the best for you before investing.

The next pillow on our list is Malouf Z™'s TripleLayer™ Down Pillow. Malouf Z™ sells a variety of bedding accessories, and their pillows are always highly rated.
The TripleLayer™ Down Pillow features two layers and a supportive core. The supportive core is composed of 90% duck feathers and 10% duck down, while the two layers surrounding it are 90% duck down and 10% duck feathers. Malouf Z™'s three-part design creates a lofty but cushioning pillow perfect for side and back sleepers.
The cover of their pillow is 100% unbleached, undyed cotton with a crisp percale weave. It's cool to the touch and breathable enough to help hot sleepers get a good night's sleep.
The TripleLayer™ Down Pillow is carried in Queen and King sizes and comes with a 3-year warranty.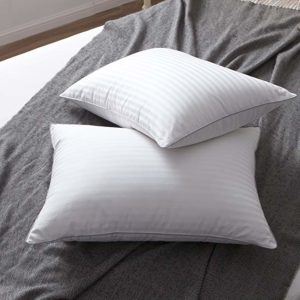 L Lovsoul sells a variety of popular bedding products exclusively through Amazon. Their White Goose Down and Feather Bed Pillows are our favorite, though.
Featuring a 1,000 thread count 100% Egyptian Cotton Cover and a three-chamber design, these pillows are comfortable enough for side, back, and stomach sleepers. Inside the pillow, L Lovsoul stuffs 90% goose feathers and 10% goose down into the innermost chamber, followed by 100% goose down in the outer chamber.
You can buy these pillows in Queen and King sizes as well as one or two-packs.
L Lovsoul's goose feather pillows are dry-clean only and come with a 30-night satisfaction guarantee. If you order your pillow and decide it's not for you, you can return it for a full refund.
What is a Feather Pillow?
As the name suggests, feather pillows are stuffed with feathers, specifically from waterfowl such as ducks and geese. Feather pillows are cool to the touch and feel super soft. They're great for hot sleepers and those who find memory foam or latex pillows to be too firm. A feather pillow can complete the home-away-from-home experience many sleepers try to establish with a hotel mattress.
There are different types of feathers for these pillows, each offering a unique feel and sleep-promoting benefits.
Goose feathers are superior to duck feathers as they're often better quality and likely to last longer. These are plucked from the wings or backs of geese and have a solid white color.
Duck feathers are a budget-friendly alternative to goose feathers. Though more affordable, duck feathers are not "cheap" and can still offer you supportive comfort. Like goose feathers, these are plucked from the wings and backs of ducks. They have an off-white color but are sometimes bleached to have a cleaner appearance.
Surely you've heard of "down" during your search for a new pillow. Down feathers are regarded as the best and have a much softer, warmer feel. Unlike the feathers we discussed above, down feathers are located on the underbellies of waterfowl to provide insulation. Often, down feathers are featured in winter-wear to keep you cozy and warm.
Most feather pillows contain a small portion of down to increase the pillow's plushness. However, pillows filled exclusively or almost exclsuively with down filling, otherwise known as down pillows, are the most expensive and luxurious feather-filled pillows.
Despite being luxurious, down feathers can trigger allergies in some. In response, many bedding companies have adopted a down alternative material to those seeking a hypoallergenic pillow. "Down alternative" is a polyester microfiber designed to be as light and soft as genuine down.
In the next section, we break down the pros and cons of choosing a feather pillow.
Pros and Cons of Feather Pillows
While feather pillows are a popular choice amongst a large portion of sleepers, they still have their downsides.
Pros:
Moldable: Feather pillows are easy to fluff up and scrunch into various shapes and heights. Because they're flexible, they're suitable for a variety of sleepers.
Breathable: Feather pillows are less likely to retain heat than foam or down pillows. You naturally emit body heat while you sleep, and these pillows allow that heat to flow away from your body. For hot sleepers, this is especially important.
Lifespan: Feather pillows are very durable and usually have a 25% greater lifespan than other pillow types. Some feather pillows can last upwards of ten years— equal to the average lifespan of a good quality mattress.
Weight: Unlike foam pillows which can be quite cumbersome, feather pillows are light and airy. Lightweight pillows are easier to move and adjust throughout the night if need be.
Softness: If you prefer to snuggle with a pillow while you sleep, a feather pillow is perfect for you because they're so soft and scrunchy.
Lower Price Point: The average feather pillow costs anywhere between $25 and $50— making them relatively more affordable than down feather or foam alternatives. Plus, many feather pillows are sold in sets of two, offering even more savings.
Cons:
Support: Because these pillows are so moldable, it's not uncommon for them to lose their shape and support over time. Some feather pillows turn lumpy, while others flatten out. Sometimes you can fix a lumpy pillow, sometimes you can't. At that point, it's time for a replacement.
Noise: Some feather pillows can make crunching or rustling sounds when you're fluffing them up, which can be bothersome at night.
Feathers can poke you: While most pillow covers protect you from rogue quills, feathers can sometimes poke through the pillowcase and jab you. While these likely aren't going to harm you, they can be annoying.
Poor at pain relief: Memory foam and latex pillows are pain-relieving because they can conform to your neck, shoulders, and head to alleviate pressure points. Conversely, feather pillows are not contouring and therefore aren't the best for people with upper body or neck pain.
Cleaning: Most feather pillows are dry-clean-only, which can add up. If you're looking for a low maintenance pillow, these may not be the ones for you.
What to Consider Before Buying a Feather Pillow
There are hundreds of feather pillows on the market, and what works for you may not be a fit for somebody else. In this section, we talk about the most important things to consider to find the best feather pillow for you.
Sleeping Positions
The primary role of a pillow is to offer healthy neck support. How you prefer to sleep at night is the most significant factor in choosing the best support for your neck. If you choose a pillow that's too tall or too short, you're at a much higher risk of experiencing pains later on down the line.
Back sleepers need a pillow that will keep their head level with their shoulders. If you choose something too tall, you force your spine upwards, whereas something too low causes your neck to droop. Most often, the best pillows for back sleepers have a higher loft and feel firmer to hold your head in place.
If you sleep on your stomach, you may find you don't even need a pillow. However, going pillow-free isn't necessarily the best idea. The most comfortable pillow for stomach sleepers is thin and offers a "barely-there" feel in terms of support. It's critical stomach sleepers find a pillow that does not lift their head, as that can cause the neck to crane backward, resulting in pain.
If you sleep on your side, your pillow should fill the gap between your head and shoulders, allowing your neck to relax naturally. Thicker pillows, around 3 to 6 inches tall, are often best for side sleepers.
Firmness
Beyond the height of your pillow, your sleep position plays a role in deciding the firmness of your next pillow, too.
Extra-firm pillows are best for side sleepers because they hold the head level with your shoulders and prevent sinkage.
Medium-firm pillows are suitable for back sleepers because they are soft enough to cushion your head and prevent your neck from tilting forward, and firm enough to stop your neck from bending too far back.
Medium-soft pillows are best for stomach sleepers because they should be soft enough to allow the neck to sink in, preventing it from craning back.
Size
Feather pillows are sold in several sizes. Below, we describe the most common sizes to point you towards the most fitting option for your sleep needs. We recommend choosing Standard and Super Standard pillows for kids, and Queen and King size pillows for adults.
Standard (20W" X 26L"): Standard size pillows are the most common. They're the shortest, smallest pillows available, and thus, the most inexpensive.
Super Standard (20W" X 28L"): The Super Standard pillow is 2 inches longer than a regular Standard pillow. It provides a little extra room, but not much.
Queen (20W" X 30L"): Queen size pillows are 4 inches longer than Standard pillows, offering you more sleeping surface. These pillows are great for people who tend to toss and turn, as they have the length to accommodate a moving sleeper.
King (20W" X 36L"): King pillows are by far the longest (apart from body pillows) and measure 10 inches longer than a Standard pillow and 6 inches more than a Queen! King pillows offer the largest sleeping surface, so they're great for people who toss and turn. Because they're so big, you can prop King size pillows up behind you at night to serve as a back or headrest while you watch TV or read.
Euro (26W" X 26L"): Euro pillows are square-shaped instead of rectangular. These are available in numerous dimensions, but they're always squares. Most often, Euro sizes apply to throw pillows rather than bed pillows.
Body (54W" X 20L") or (48W" X 20L"): As you can probably guess, body pillows are the length of your body. Despite their great length, these pillows are only as wide as a standard pillow. These are great for side sleepers or people who like to cuddle up with a pillow at night.
Budget
As we mentioned earlier, feather pillows are relatively inexpensive and can range in price from $25 to $50. Feather pillows are still the most common type of pillow and are sold just about anywhere you can find pillows, such as Bed, Bath & Beyond, Walmart, Target, Macy's, Amazon, Overstock, and more. You can also find feather pillows at most mattress retailers, such as Mattress Firm.
A lot of feather pillows are bundled in two-packs for extra savings, too.
Return Policy and Warranty
Whether you're buying online or in-store, it's hard to judge the comfort of a pillow just by feeling and looking at it. To get a better idea of whether or not a pillow will work for you, you have to give it a test run. The best pillows come with a sleep trial or return policy.
Sleep trials are essentially the same as return policies— they let you buy the product and return it risk-free if it doesn't work out for you. These are invaluable during your search for a new pillow because they grant you the opportunity to try different options before making a final decision.
We also recommend choosing a pillow with a warranty. Most feather pillows are expected to last at least two or three years, and warranty coverage protects your investment. Look for a pillow with a warranty of at least three years to get your money's worth.
How to Clean a Feather Pillow
To get the most out of your new feather pillow (and to get the healthiest, cleanest sleep), wash your pillow every 4 to 6 months. Dead skin cells, sweat, and oils build up on your pillow over time, creating a breeding ground for fungal spores. As a good rule of thumb, you should wash your pillow four times a year to keep it germ-free.
Some feather pillows are machine washable, while others require spot or dry cleaning. Before throwing your pillow in the washing machine, check the care instructions. More often than not, there will be a tag on your pillow outlining the proper cleaning process.
If your pillow is missing care instructions, follow our simple steps below to wash a feather pillow at home safely.
Start by checking your pillow for holes or tears. You'll want to use fabric glue or a needle and thread to stitch any openings back together before throwing your pillow in the wash. Failing to do so can ruin the inside filling.
Then, place two pillows in the washing machine. Always wash two pillows at once to keep the washer balanced.
Pour just a little bit of gentle detergent inside the washing machine. Always avoid bleach, fabric softeners, and harsh detergents because they can wear on the fabric and filling, causing your pillow to look old.
Run a gentle cycle using cold or lukewarm water. Never wash pillows in hot water as it can cause shrinkage.
After the first washing cycle is over, run another quick rinse on your pillows to ensure all the soap has been rinsed out.
Once your pillows are soap-free, you're safe to dry them. You can air dry, hang dry, or machine dry feather pillows— it all comes down to personal preference. If you choose to toss them in the dryer, do so on a low temperature to prevent your pillows from shrinking.
When drying your pillows, you must fluff them every few minutes to prevent clumping. You can throw a tennis or dryer ball in with your pillow to help give it some shape, too.
If you use a dryer, it may take a few cycles of drying and fluffing to get your pillow completely dry. You should never try to wring out or even twist your pillow as it can cause irreversible damage to the feathers inside.
Frequently Asked Questions
Why do feather pillows smell?
Feather pillows can retain smells from where they're kept. They may smell a bit like your closet if you store them there, or they might smell like sweat if you sleep with them every night. You can deodorize a feather pillow by leaving it outside on a sunny day. You can also give it a good washing.
Does putting pillows in the dryer fluff them?
Yes, you can fluff up a feather pillow by running it through the dryer on low. Try throwing in some clean tennis balls or wool dryer balls to help get your pillow even fluffier. Other methods for fluffing a pillow include hitting or squeezing the pillow.
How do you get rid of dust mites in a feather pillow?
If you want to eliminate dust mites in a pillow, try washing your pillows with gentle detergent in hot water.  If you do not want to use hot water, run your pillows through your dryer's hottest setting. You should wash your pillows at least two to three times a year to keep them clean.
How long do feather pillows last?
Feather pillows can last a few years or even a full decade with good care. Your feather pillow is probably ready for a replacement if you can't fluff it back up after a wash or if you find yourself waking up with a sore neck. The feather fill can also poke through an older pillow, though a pillow protector can prevent feathers from spilling everywhere.
What is the difference between down and feather pillows?
Both feather and down pillows usually contain a mix of down clumps and feathers. What separates the two pillows is how much of the fill is down and how much of it is feathers. A feather pillow naturally has more feathers than down, while a down pillow has more down than feathers. Down is considered softer and is often more expensive.
Did You Find Your Next Feather Pillow?
A high-quality pillow is nothing to overlook. It's more than just a comfortable spot to place your head at the end of each day— pillows keep your neck in proper alignment to alleviate pressure and prevent pains.
We hope our guide has narrowed down your selection of feather pillows and pointed you towards the most comfortable option. Don't forget to read customer pillow reviews during your search to receive even more feedback about your different options. If you're still looking for more resources, check out our other bedding guides to learn about other products and brands.