Best Percale Sheets (2023): Reviews and Buyer's Guide
Updated November 22, 2023

Bedding Guides
Is there anything quite like slipping between a pair of cool, crisp sheets? They soothe the body and help you get a deep sleep that fuels your everyday activities. Percale sheets have a reputation for breathability and a crisp feel that many people love.
However, there's also some confusion surrounding percale. For example, percale is a weave, not a type of fabric. There are a few other details about this popular weave you may not know. We've created a guide discussing top-rated percale sheets and the information you need to find the best sheets.
Best Percale Sheets
Amerisleep products, including their Percale Cotton Bed Sheet, are made with quality materials. These sheets prove that percale can be breathable and have a thick, luxurious feel.
Sleepers who like their sheets to feel thick and sturdy will love these. The long-staple cotton fibers are strong and soft, while the weave allows air to circulate. If you're a hot sleeper, you can't go wrong with these sheets.
The 300-thread count adds the perfect amount of weight without trapping heat. The sheet set comes in four colors and designs. Each set includes a fitted sheet with an 18-inch deep pocket that will fit most mattresses, including an adjustable bed.
Amerisleep's percale sheets come with a 5-year warranty.
Amerisleep Percale Cotton Bed Sheet Set Highlights
Nice weight and drape, yet maintains breathability
High-quality, long-staple cotton provides strength and softness
Deep, 18-inch pocket fits most mattresses and adjustable beds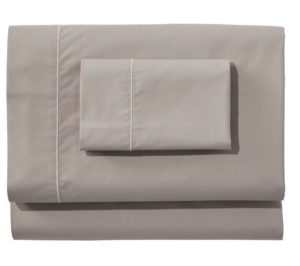 L.L. Bean's Premium Egyptian Percale Sheet Collection Set is made of long-staple cotton that gives these sheets a delicate crispness. The sheets may take a few uses and washes before they reach their optimum softness, but once they're perfectly soft, you'll have a hard time leaving your bed.
This L.L. Bean sheet set is 400 thread count and made with long-staple Egyptian cotton, delivering luxury straight to your bed. The sheets come in a fun pattern and have a 15-inch pocket that's tall enough for most standard mattresses. However, if you have a particularly plush mattress with thick comfort layers, the fitted sheet in this set may not be deep enough. This set is also OEKO-TEX® Standard 100 certified, which means the sheets are free of harmful chemicals like formaldehyde and chlorine.
L.L. Bean will provide a refund for up to one year after your purchase as long as you have a receipt. After the one year mark, they will only refund defective items.
L.L. Bean Premium Egyptian Percale Sheet Collection Highlights
The softness of the Egyptian cotton continues to deepen with time
400 thread count adds weight without compromising breathability
Includes a certification that assures they're free of harmful chemicals
3. Alterra Pure Organic Cotton Sheet Set
The Alterra Pure Organic Cotton Sheet Set provides a comfortable night's rest and peace of mind. They're Global Organic Textile Standard (GOTS) certified, which means the growing, harvesting, and manufacturing of the cotton has been closely monitored and tested to high organic standards. The sheets are made in LEED-certified factories, meaning they have low carbon emissions and are energy and water-efficient.
Long-staple cotton woven into 310 thread count sheets create a classic and crisp percale sheet. They're incredibly soft and grow softer with each wash cycle. However, they don't lose their crispness even with age and heavy use.
Alterra Pure offers one free return within the first 90 days, even if the sheets have been used. However, you have to have the original packaging and receipt, and you can only do one return per purchase.
Alterra Pure Organic Cotton Sheet Set Highlights
GOTS certification assures they're made to independent organic standards
Long-staple cotton provides durability and increased softness over time
Maintains crispness even after heavy use
Everything about Snowe's Percale Sheet Set affirms luxury and opulence. While thread count doesn't automatically mean luxury, it's a good indicator in this case.
Snowe uses long-staple Egyptian cotton to make these 500-thread count tight-weave sheets. The higher thread count makes them softer and gives them an impressive drape. However, they still have the breathability and crispness for which percale sheets are known. These luxury sheets maintain their texture and crisp feel even after several wash cycles. Snowe also provides a handy percale envelope in which to store the sheet set.
Snowe's sheets have a 90-day return window, during which you can get a full refund if you're not satisfied with the sheets.
Snowe Percale Sheet Set Highlights
Long-staple Egyptian cotton provides extra durability and softness
500-thread count gives the sheets heft without compromising breathability
Sheets stay crisp even after many uses
5. JCPenny Easy Care Sheet Set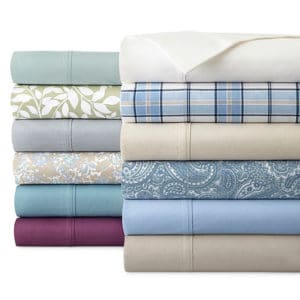 Our list includes some top-of-the-line sheets. However, if you want a more affordable percale sheet, look no further than the JCPenny Easy Care Sheet Set. This cotton/poly blend sheet set offers the crispness of percale without all the wrinkles.
If you're looking for sheets that are both affordable and easy to care for, this set is for you. The polyester gives them a smoothness you won't find in 100 percent cotton sheets.
JCPenny's refund policy varies based on whether you buy in-store or online. In-store purchases without a receipt have a 45-day return window, while those with a receipt can be returned at any time. Online purchases are eligible for a full refund within 90 days of purchase.
JCPenny Easy Care Sheet Set Highlights
Wrinkle-resistant cotton/poly blend fabric creates a smooth sleep experience
Affordable price for breathable percale sheets
The crisp feel only increases with use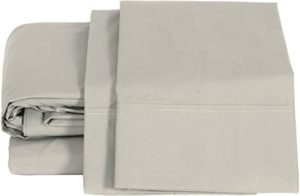 The Linen Home Cotton Percale Sheet is another affordable option. These sheets have a MADE IN GREEN by OKEO-TEX® label, which means they were made using eco-friendly practices.
These sheets may not have the softness of more expensive sets, but they lead out with their crisp, cool feel. They're made with combed cotton, wherein the shortest staples are removed for a smoother feel.
The sheets resist pilling, even after heavy use and washing. Their relatively low 200 thread count makes them thinner than more expensive percale sheets. However, hot sleepers who prefer to barely feel the top sheet will happily sleep the night away with this sheet set.
The return availability of Linen Home products varies by retailer.
Linen Home Cotton Percale Sheet Set Highlights
Eco-friendly manufacturing process
Crisp, cool feel even as they age
Resists pilling
Percale Sheet Features to Consider
Percale sheets come in many different fabrics and thread counts, both of which change how they feel and breathe. The following features will also affect the sheet's durability and how they wear over time.
Fabric Type
The term "percale sheets" is somewhat misleading. It sounds like the name of the fabric, but percale is actually the name of the fabric's weave. Percale sheets have a one-over-one-under weave that's strong and durable yet lightweight and breathable. However, the feel and breathability of the percale will be affected by the fabric.
Cotton
Cotton's natural breathability and moisture-absorbent qualities make it ideal for crisp percale sheets. There are many cotton varieties. Cotton sheets with a long or extra-long staple (fiber length) are softer and more durable. However, they also tend to cost more. Less expensive, shorter staple cotton is still breathable, but it may not have the durability or softness of long-staple cotton.
Egyptian: Egyptian cotton sheets are well known for its quality and durability. Depending on the variety, it has either a long or extra-long staple. Fewer individual cotton fibers are needed to make each thread, which gives them strength and luxurious softness.
Pima: Pima is a type of cotton that rivals the Egyptian varieties in durability and softness. Staple lengths vary from medium to extra-long. Like cotton, the longer the staple, the higher the quality of the thread and, therefore, the sheet.
American upland cotton: Both Egyptian and Pima cotton can be pricey. American upland cotton costs far less than either one. It has a short staple, so percale sheets made of this type of cotton won't be as soft or durable.
Combed cotton: Combed cotton is any type of cotton that's had the shortest fibers removed. The process leaves behind a smooth sheet.
Bamboo
Bamboo's popularity largely stems from its sustainability, but it's also highly breathable and comes close to cotton's softness. Bamboo sheets are breathable and quite soft, and their feel is often compared to cotton. Some manufacturers even sell bamboo-cotton blended sheets.
Tencel®
Tencel® is actually a brand name for fabric made from the eucalyptus tree. It's soft and breathable, which results in incredibly comfortable percale sheets. Like bamboo, it's also highly sustainable.
Polyester
Polyester's versatility means that it's used to make many different types of synthetic fabrics, such as microfiber and nylon. Polyester percale sheets are lightweight but lack the breathability of natural fibers. While a percale weave enhances breathability, sheets made with a synthetic fabric will be warmer than natural fiber percale sheets.
Thread Count
Thread count indicates how many horizontal and vertical threads there are per square inch. For years, bed sheet manufacturers advertised thread count as an accurate indication of a sheet's quality. Thread count does come into play, but it's not the best way to judge a sheet.
The quality of the fabric's raw materials is a better indicator of quality since thread count can be misleading. Some fabrics are two or three-ply, which means they contain two or three yarns twisted together to make a thread. Shockingly high thread counts of 1,000 to 1,500 come by counting each ply even though it only makes one thread. Unfortunately, the extra plys don't necessarily add to the softness or durability of the sheet.
A cotton, bamboo, or Tencel® sheet with a 200 to 500 thread count will feel soft and be durable. The threads of synthetic fibers like microfiber and nylon are thinner than natural fibers, which will give them a higher thread count without adding softness or durability.
Finish
Many sheets undergo treatment with chemicals like silicon or formaldehyde to prevent shrinking and wrinkling. Others may have a finish that gives them a sheen. Any of these treatments increase your risk of exposure to chemicals.
Certified organic sheets will not have these chemical finishes. Another option is pure-finish sheets. These sheets may not be organic, but they haven't been treated with chemicals either.
Percale Sheet Budget
Percale sheets are made in many different fabrics, and it's the fabric quality that determines the price. Microfiber and short-staple cotton percale sheets sell for as little as $20 to $50. Thread counts vary, with some sheets having low 150 to 200 thread counts and others being around 1,000 if they're made of synthetic fibers.
The sheets in the $50 to $150 range offer better quality, with long staple and some extra-long-staple cotton, high-quality bamboo, and smooth Tencel®. Thread counts run between 200 to 500. All-natural and organic sheets can also be found at the higher end of this price range.
Percale Egyptian cotton sheets run anywhere between $150 to $250. Certified organic sheets are more likely at this price range. The quality of these sheets often means superior crispness, breathability, and durability.
You can stretch out the lifespan of your percale sheets by washing the sheets often without overwashing them.
Sleeping Cool and Breathability
If you live in a warm climate or you easily overheat, percale sheets are definitely for you. A percale weave creates a strong sheet but allows air to circulate. The breathability of natural fibers like cotton and bamboo add to a percale weave's breathability for a cooler night's rest.
Percale sheets made of synthetic fabrics will have some breathability but not like that of natural fiber fabrics.
Common Questions
What is the difference between cotton and percale sheets?
This common question comes from some confusion about what percale actually is. Percale is a weave, not a fabric. A percale sheet can be made of cotton, bamboo, eucalyptus, or a synthetic fabric like microfiber.
Sateen and flannel are examples of other types of weaves that are found in different fabrics. Sateen sheets have a distinct sheen on one side, while you can't miss the fuzzy softness of a flannel sheet. Both of these weaves are heavier and warmer than percale, making them a better choice for cool climates or cold sleepers.
Is percale better than Egyptian cotton?
This question, too, comes from a misunderstanding about what percale is. Percale sheets can be made of Egyptian cotton. They can also be made of Pima cotton or American upland cotton. The long or extra-long staple of many varieties of Egyptian cotton often create sheets of premium quality. Longer staple length adds strength and softness to every thread, giving the sheet softness and a lightweight drape.
Are percale sheets good quality?
Percale sheets can be low or high quality; it depends on the staple lengths and fabric type (remember, percale is a weave). Cotton with long staple lengths and bamboo and eucalyptus tend to offer the best quality. However, even among these fabrics, there's variation.
When you're thinking about quality, also consider what qualities of a sheet are important to you. For some, the sheet's feel and how it wears over time are most important. For others, it's the crispness and wrinkle resistance. And for others, organic sheets are the only ones they'll consider.
It's about what you want most from your sheets. If it's softness and durability, choose Egyptian cotton sheets of the highest quality you can afford. If you're concerned about sustainability, bamboo and Tencel® might be a better choice.
How do I get my sheets white again?
White sheets may begin to yellow as time passes. While the yellow tinge doesn't mean that the sheets are unclean,  you can try to restore some of its previous white color with bleach, baking soda, or vinegar. Make sure you only use one at time and that you don't try mixing the three.
How often should you wash your sheets?
Research suggests that it's best to wash your sheets and other bedding once a week. Regular washing keeps down the dust mite population—dust mites are microscopic creatures that feed on dead skin and can cause allergies to flare up. If you have severe allergies, you may need to wash your sheets more often.
Percale Sheets: The Bottom Line
A percale weave has a one-under-one-over pattern that results in a crisp, breathable sheet.
Percale sheets come in a variety of fabrics, including cotton, bamboo, eucalyptus, and polyester.
Be wary of misleading thread counts. The raw materials used to make the fabric is a much better indicator of the sheet's quality.
Percale sheets make a wonderful addition to the bedroom on those warm summer nights. When you've got the right fabric, your sheets will be your best (sleep) friend.