Best Reading Pillows: Reviews and Buyer's Guide

Bedding Guides
When you're settling in for a long period of reading, comfort is a necessity. You've probably found yourself with a dead arm or some other numb areas from the prolonged pressure while you got caught up in a good book and eventually had to shift positions.
If you're anything like us, you've probably attempted to prop yourself up with a dozen or so pillows all scrunched between you just to get minimal support. Traditional pillows just don't work!
Reading pillows were created especially for this problem. They are designed to cradle the back and support the spine at a slanted incline. This way, you don't end your reading sessions with a sore neck and shoulders or a stiff back.
Below, we'll discuss our top reading pillow recommendations, the benefits of using one, and guidelines for choosing a reading pillow of your very own.
Best Reading Pillows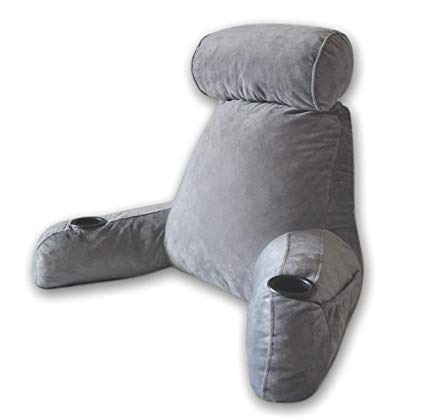 The Cascadia Essentials pillow comes in 25 colors and has a backrest, armrest, and a headrest.
This pillow has some additional features that the other reading pillows on our list do not— for example, it has an adjustable loft. The zipper in the inner shell of the pillow lets the user remove or add foam to personalize it.
This pillow sports a detachable neck roll and built-in side pockets to hold any items you may need to set aside for later.
This reading pillow is taller and wider than most models on the market: 39 inches wide and 31 inches tall. With the purchase of the Cascadia pillow, the customer gets a 100-night sleep trial and a 3-year warranty.
The Cascadia Essentials pillow is our favorite reading pillow, but if you want to learn about the best pillow of the year, read our other guide.

More commonly used as a bed pillow rather than a reading pillow, Brentwood's Crystal Cover Wedge Pillow is infused with charcoal. Wedge pillows are bed pillows that give support and correct sleeping posture. They're definitely not the soft cushions you want to snuggle. The stiff attributes the Crystal Cove Wedge Pillow provides a gentle slope for upper back and lumbar support.
Even if this pillow doesn't have arm support, it takes the strain off the back and shoulders by relaxing the muscles. Customer reviews point to this pillow relieving respiratory issues, neck pain, and improving blood circulation.
This bed wedge is made of solid memory foam with heat-activated, CertiPUR-US® cooling material.
Hand made in the USA, the wedge pillow only comes in one size: 24 inches by 24 inches by 10 inches.
A 1-year warranty policy covers all Brentwoods pillows. If you're unsatisfied with your purchase, you have 30 days from the date of purchase to return it.
Time to upgrade your entire bed set? Read our guide of the best mattress of 2023 to find your next bed.

Malouf's bed rest pillow, the Z Lounge™ has a shredded foam interior and a bamboo velour cover. The bamboo blended cover encourages breathability, ensuring the user doesn't overheat.
It has a top handle, making it easy to carry. The armrests encourage relaxed shoulders, allowing the user to rest in a comfortable position.
The Z Lounge™ pillow comes in one size (35-inches by 22-inches by 17-inches). The zippered cover can be washed with other clothing or linens; however, the pillow can only be spot cleaned. We assume the pillow is spot-clean only.
This bed rest pillow comes with a three year-warranty from the date of purchase. It covers manufacturing and material defects. Although, the warranty does not cover tears or regular ware from use.

Keen Edge Home's reading pillow has firm back support with armrests that help your back and neck muscles relax. It's an ideal lounging pillow for people who like reading, playing video games, and watching television.
This sturdy pillow is filled with high-quality shredded memory foam. The filling promotes airflow and molds to the user's body shape.
The cream-colored, velour cover has a zipper and is machine-washable.
The backrest measures 20 inches high, which is the standard for adult users but it is a good height for older children as well.
The Keen Edge Home bed rest pillow does come with a warranty; however, we were unable to find the length of coverage. We had the same issue with the return policy.
While a good pillow can help alleviate pressure points, they offer only a fraction of the benefits best adjustable beds can provide. Read our guide to learn more.

This pillow comes in 6 sizes: twin, twin XL, full, queen, king, and California king. Vercart's Sofa Pillow is made with high-quality cotton cover and 100% polyester fiber filling.
The pillow has a slight curve on the front support surface meant to cradle your lower back for lumbar support.
This reading pillow takes the form of a wedge. Unlike other wedges, the fiberfill makes it easier to clean. The zipper holding the cotton cover in place is removable and machine washable. You can undo the buttons for easy cleaning.
We highly suggest following the care instructions on the tag. This will ensure your pillow isn't damaged while being cleaned.
You can get this product on Amazon. We were unable to find any warranty information, but Amazon's 30-day return policy applies to this pillow.
Buying Guide
Now that you're ready to ditch your mound of unsupportive pillows and get some proper support during your reading time, let's talk criteria. You've seen our recommendations. But how did we pick them? Let us walk you through our guidelines for choosing the best reading pillows.
To get the most comfortable sleep and wake up every morning pain-free, read our guide on finding the best mattress for back pain.
Who Needs a Reading Pillow?
If you're a book lover, you know why a reading pillow is a necessity. The incline supports natural spine alignment and reduces pressure points in the neck and lower back. On top of that, the armrests (if included) relax the shoulders, giving you the ability to hold your book for hours without having to readjust for comfort.
Other people can get value out of reading pillows as well. Marathoning a TV series in an uncomfortable position causes stress to the neck and lower back. Using a reading pillow alleviates tension and allows you to watch television without the muscle strain.
People recovering from surgery or restricted to a bed for medical purposes will find these pillows comfortable, supportive, and pain-relieving. People who have to sit in bed the entire day eventually need to shift positions, or they'll get a bad case of bedsores. One of the best ways to prevent sores is by switching to a sitting position, which a reading pillow makes more comfortable.
Why Should You Read Before You Sleep?
It's an age-old tradition to read before bed. It's a classic way to relax after a hard day's work by distracting yourself with an engaging story.
It can boost your health metally and keep you away from long exposure to blue light.
Winding Down and Increased Mental Clarity
Let's start with the obvious reason— reading before bed is good for you. Some people may watch TV or exercise before sleep. Reading, on the other hand, doesn't stimulate your adrenaline or increase your body temperature like exercise, and it doesn't expose you to blue light like watching television or scrolling through your phone does.
Reading is a calming activity, settling your brain by forcing it to focus on one thing. Further, Keith Oatley Ph.D., the director of Cognitive Science Program at the University of Toronto, stated, "As we start [reading], we set aside our own goals and concerns, somewhat like a person who is starting a stretching session." Essentially, when you read your heart rate slows down and your muscles relax, better preparing you for sleep.
Decreased Screen Time
Reading a hard copy book helps us to avoid blue light exposure in the evening, so reading a book close to bedtime can be a good way to unwind. Electronic devices with screens, such as cell phones, televisions, and tablets interfere with the circadian rhythm by pushing sleep further out of reach, so replacing them with a book can potentially improve your sleep.
The circadian rhythm, otherwise known as our sleep-wake cycle, is a 24-hour cycle by which every living being functions. It dictates when an organism wakes up, eats, sleeps, and so on. As it turns out, the sun controls the way the circadian rhythm operates.
Blue light emits from the sun's rays. They bounce off every surface, telling us when to wake up. When the sun has gone down, blue light diminishes— signaling our brains that it is time to sleep.
Throwing our circadian rhythms out of sync with the sun can cause innumerable health issues— everything from drowsiness to chronic pain to sleep apnea may develop. Avoiding blue light by reading a book can help us avoid sleep deprivation.
Interested in the benefits of memory foam? Read our other guide on finding the best memory foam mattress for your sleep needs.
What to Look For in a Reading Pillow
Just like regular pillows, many reading pillows are made with a variety of materials. Here are a few of the most basic reading pillow fillings and cover materials you can choose from.
Pillow Filling
Shredded Memory Foam: Very similar to memory foam pillows, this type of pillow is stuffed with shredded foam. Shredded foam can react individually to the user's individual shape.
Memory Foam: A memory foam pillow uses a solid piece of dense, versatile foam that contours to the body.
Polyester Fiber: Polyester is an inexpensive synthetic material. It's a common filling but doesn't give the same support as memory foam or shredded foam pillows.
Pillow cover
Corduroy: Made from cotton or a cotton blend, the fabric is known for the unique ridge look and feel. These covers do snag easily in the washing machine, so set the dial to delicate or gentle.
Velour and Velvet: Both velvet and velour are shiny, soft fabrics. They give your reading area a luxurious style. Less expensive and more durable than velvet, velour is kid and pet-friendly. If you don't have children or pets and want to spend a little more, go with velvet, which is more breathable.
Microfiber (Faux Suede): This synthetic material has a sleek look and feel. Out of the four outer covers, microfiber is the most family-friendly. It's tightly woven, so it's durable. The weave enables the fabric to repel stains.
Pillow Shape
There are three basic reading pillow shapes. Some are a little more extravagant than others, but each provides the support needed to read or watch TV for hours on end.
Wedge: Sleeping pillows have a steady incline, wedge pillows can help alleviate issues such as obstructive sleep apnea, acid reflux, snoring. As a reading pillow, wedges support posture by providing a confirmative surface to lean against. They are supportive and hypoallergenic thanks to their foam filling.
Traditional reading pillows: These pillows have a headrest and armrests to prevent stiff and sore necks. It is extra supportive of the upper body, including the shoulders and the arms, and usually, have additional features such as pockets handles, carry handles, and cup holders.
Bedrest: This type of pillow lacks the headrest and fancy additions. Bed rests are basic reading pillows that provide comfort and support.
Maintenance
While selecting a reading pillow, consider its washability. Depending on how often you use it, you'll want to wash your pillow at least once a month for germ-free lounging.
Unfortunately, reading pillows are not easy to clean. The typical shape and stiff, supportive back won't allow you to throw it into the washer. Yet, most come with a removable cover you can machine wash.
You can spot clean your pillows with a damp cloth to preserve their longevity.
If you suffer from allergies or breathing problems, actively look for hypoallergenic pillows and covers, such as pillows made using foam and covers made with bamboo, Tencel, or 100% cotton These materials can help you breathe easier and improve your quality of life.
Frequently Asked Questions
What do you call the pillows with arms?
They're commonly called reading pillows since people use them to sit up in bed and read. The pillow's design usually lets you rest at a comfortable incline. A pillow with arms and a backrest is also sometimes called a husband or boyfriend pillow.
Is reading in bed bad for sleep?
Sleep experts often recommend that you reserve your bed for sleep only. Reading in bed can affect your sleep habits and make it more difficult to fall asleep. If you choose to read in bed, we recommend print books over tablets and other electronic devices.
What should I read before bed?
If you like to unwind before bed with a book, it's important to make sure it's one you'll be able to put down so you can go to sleep. Instead of a paging-turning thriller, you might want to try a short story collection or a few chapters of a favorite novel. You should also try to avoid subject matter that may stress you out, such as horror or true crime. The goal is for you to be relaxed and ready to fall asleep.
What is the most healthy sleep schedule?
A good sleep schedule helps you get 7 to 9 hours of sleep a night and has you falling asleep and waking up at roughly consistent times. Yes, this means you should try to avoid sleeping in on the weekends.
Is it better to read sitting up or lying down?
Trying to read while lying down can make it difficult for light to to fall onto your book, causing eyestrain. You may also find it challenging to comfortably hold your book while lying down. Sitting up can make it easier to hold a book and read the words on the page.
No matter your favorite reading position, it's always a good idea to take the occasional break and walk around.
Did You Find Your Next Reading Pillow?
Taking care of your back, shoulders, and neck is just as important as reading. Getting a pillow with the right slope and firm support will help reduce the risk of strain. Even if you aren't an avid reader, getting a support pillow for lounging or watching TV can improve your comfort and health.