Best Wool Blankets: Reviews and Buyer's Guide
Updated November 22, 2023

Bedding Guides
Wool is a diverse material-strong, durable, and soft. Wool, in particular, is known to be the type of standard blanket issued by the military. Wool blankets are also a great option to add to an emergency kit. Their strong material can withstand the elements, perfect in case of a natural disaster.
But, did you know that wool can also be a stylish throw blanket? A comforter or duvet? Wool is not just for outdoor use. Its durable material makes it a long-lasting blanket.
The natural breathability of the fabric keeps customers warm in the winter and cool during the summer. The following are our top picks for best wool blankets of 2023.
30 Second Summary: Best Wool Blanket
Our Recommendation: Alpaca Threadz comes in a variety of vibrant designs, perfect for anyone who wants to stay warm while feeling cozy under a colorful blanket.
Runner-Up: Pendleton Eco-Wise – As our top choice, this 100% virgin wool blanket is soft and luxurious, made from natural fibers and an open weave to allow consistent airflow for year-round use.
Honorable Mention: Poyet Motte Aubisque – Following close behind, this blanket is also made from 100% virgin wool, but has a tighter weave, restricting airflow for a warmer blanket.
16 Best Wool Blankets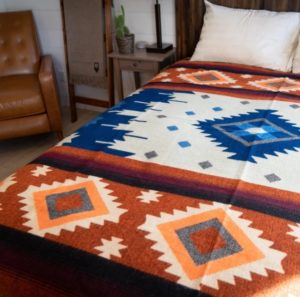 Our top recommendation for a wool blanket is the cozy and fluffy Alpaca Threadz. With more than 20 reversible designs to choose from, with options ranging from enough colors to shame a rainbow to simple and elegant black-and-white patterns, shoppers won't be at a loss when it comes to completing their bedroom's look.
Artists craft these hypoallergenic blankets by hand in Ecuador on 100-year old looms. The blankets are made with Alpaca wool and plush acrylic material that's partly recycled. The weave is lightweight and feels like cashmere, making the Alpaca Threadz blanket ideal for year-round use.
The company began in 2020 as a way to support Andean people after a decline in the tourism that originally supported their textile industries. A portion of the proceeds from the blankets goes back to supporting the Ecuadoran artists responsible for making them.
A queen size blanket is $150 and includes free shipping within the U.S. and a 30-day return policy. With our code BLANKET10, you can receive 10 percent off your order!
Alpaca Thradz Highlights
Sustainably sourced materials
Handmade by Ecuadoran craftspeople
Insulation from the wool and soft acrylic material

The Pendleton Eco-Wise blanket is made from 100% virgin wool. Its soft and luxurious feel is one of the reasons why it topped our list. The natural fibers provide airflow and wick away moisture, allowing sleepers to stay cool and dry.
Because of its quality materials, the Pendleton Eco-Wise blanket does come with a higher price tag. However, it's very durable with little shrinkage and maintains its warmth, insulation, and breathability even after several washes.
The breathable material of the Pendleton Eco-wise blanket makes it an ideal choice for year-round use. It's made in the U.S. and comes in three different sizes— Twin, Queen, and King. It's also available in 25 colors— 12 plaid designs, 13 solid tones.
The family-owned Pendleton company has a reputation for producing high-quality blankets— they've been making these and other products for over 150 years. Part of the profits received from each sold product is donated to organizations like Fisherhouse, American Indian College Fund, Native American Rehabilitation Association, and the National Park Foundation.
Pendleton's Eco-Wise is our runner-up wool blanket, but check out our guide on the best blankets of the year for more options.
Pendleton Eco-Wise Highlights:
100% virgin wool
High-quality materials
Part of the profits go towards several charities
Looking for a new mattress to go with your comfy wool blanket? Check out our article on the best mattresses of 2023.

The Poyet Motte Aubisque blanket is made from 100% virgin wool. This high-performance, insulating fabric absorbs moisture, keeping sleepers cool and dry. It can also keep you nice and warm during the coldest night.
Antibacterial and hypoallergenic properties make the Poyet Motte Aubisque ideal for those with sensitive skin and those who suffer from allergies. Its ultra-light, durable material is pliable and anti-pilling— customers won't have to worry about shedding.
The Poyet Motte Aubisque has a tight weave that traps heat for excellent warmth. Double-stitched satin binding along the edges gives a clean, crisp look and adds strength to the blanket. It's available in three sizes— Twin, Full/Queen, and King, and five reversible colors— natural, blue/light blue, doe/natural, grey/light grey, and maise/natural.
Poyet Motte was established in France in 1839. They've been in business ever since, and are one of the leading manufacturers of high-quality wool blankets throughout Europe.
Poyet Motte Aubisque Highlights:
100% pure virgin wool
Absorbs and wicks away moisture
Ideal for those with sensitive skin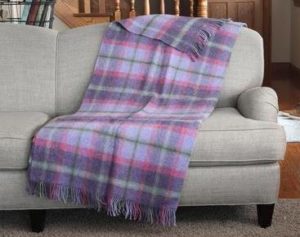 The Biddy Murphy Plaid wool throw is made of 100% Merino lambswool. It gives the throw a soft and silky feel. The blanket itself is not too heavy, and feels great on its own or paired with a top sheet.
Its handwoven structure gives the Biddy Murphy Plaid throw a more cozy appearance while keeping the customer warm and dry. To better preserve its structure, care is dry-clean only.
The Biddy Murphy Plaid throw comes in one size, measuring 72″x50″. Its base gray color is decorated with stripes of black, red, green, white, and yellow. It also includes fringes along the edge for flair.
Biddy Murphy was founded in Michigan by native Irishman Ward Gahan in 2004, but has since switched to selling their goods online only. They specialize in working with Irish artisans, like Studio Donegal, to source authentic goods, including knit blankets.
Biddy Murphy Plaid Highlights:
100% Merino lambswool
Soft and silky feel
Handwoven structure for cozy feel

The Coyuchi Striped throw is made of 100% sheep's wool. Warm and cozy, but still lightweight, it's made in a 140-year-old Canadian mill. The throw is one of the most popular products made by Coyuchi.
The Coyuchi Striped throw is made of dense wool from Canadian sheep. It comes in two sizes: Throw and Queen, and available in five different color patterns: gray/white, blue/white, gray/yellow, gray/blue, and white/red.
With whipstitching all along the edges, this throw includes three slim stripes of color at both the top and bottom.
Coyuchi is a family-owned company founded in 1870. Their goal is to preserve the environment by employing eco-friendly, manufacturing methods and using organic materials. Each of their products is GOTS, Fair Trade, and Fibershed-certified.
Coyuchi Striped Highlights:
100% sheep's wool
Lightweight, yet cozy
Whipstitching along edges to prevent fraying

The Kerry Woollen Mills Irish blanket is made of 100% pure virgin wool. No synthetic materials are added, like polyester, which would cause the material to feel more rugged and less soft. It's woven fabric includes stitched edging to prevent the material from loosening.
Wool naturally wicks away moisture, preventing bacteria growth. It's also breathable and resists fire without added flame retardants.
The Kerry Woollen Mills Irish blanket is super soft, providing excellent warmth and comfort. It measures 90″x108″, perfect for a King or Queen size bed. There are seven color options to choose from: blue, green, gray, blackberry, purple, fuschia pink, and marigold yellow.
Kerry Woollen Mills is based in Co. Kerry, Ireland. It was first established in 1760 and has been in business ever since. Operating for over 300 years, Kerry Woollen Mills creates fabrics and yarns, manufacturing products by combining traditional and contemporary styling.
Kerry Woollen Mills Irish Highlights:
100% pure virgin wool
Prevents bacteria growth from moisture
Fire resistant

The Spencer & Whitney blanket is made of 100% natural Australian wool. It maintains body temperature at an ideal 91.4 degrees— optimal for sleep. It also includes satin edges with a herringbone (zigzag) texture. Light texture and soft material make this a great option for staying warm in winter. However, if you're looking for a blanket specifically for warmth, consider electric blankets.
With a stylish design and luxury appearance, the Spencer & Whitney blanket is soft to the touch and highly durable. It's one of the few blankets recommended for children because of how tough it is. It can even double up as a lady's shawl.
The Spencer & Whitney can be used both as a throw and as a bed blanket. It comes in three sizes: (70.86″x90.55″), (94.48″x98.42″), and (98.42″x106.29″). It comes in three color choices as well: blue, brown, and grey.
Spencer & Whitney is a small company owned by China-based corporation Weihai Hengtai Woolen Blanket Co., LTD.
Spencer & Whitney Highlights:
100% Australian wool
Luxury appearance
Highly durable

The Italian Wool blanket by Swiss Link is a heavy-woven, military-style construction. It's made of 100% pure wool and will keep you warm in extreme conditions. In fact, it's built specifically for disaster relief, by outlasting other types of blankets.
This brand is considered one of the best producers of military-grade blankets ever. The blanket wicks away moisture and keeps a person consistently warm and dry. A great option for camping and hunting, it can be stored in the car and added to outdoor sporting equipment.
The Italian Wool blanket is made of high-quality material that's undergone mothball treatment. This provides extra protection against pests like moths, snakes, and mice. Measuring at 81″x64″, it comes in a color blend of green, brown, and olive, plus a lighter color stripe for an attractive contrast.
Swiss Link Military Surplus is a California Certified Small Business Supplier founded in Paradise, CA. They've been providing new and used military surplus for over 20 years. Since the Camp Fire on November 8, 2018, destroyed their retail store, their online store is fully operational.
Italian Wool by Swiss Link Highlights:
100% pure wool
Highly durable
Military-grade material

The Woolly Mammoth Farmhouse Collection blanket is made of 80% virgin Merino wool and 20% nylon-polyester blend, or acrylic. This mix produces a lighter, more durable fabric. Double-stitched edging with strong polyester thread is overlapped with classic thick whipstitch around the blanket for crisp edges.
Because it uses less wool, the Woolly Mammoth Farmhouse blanket is more affordable than others on our list, ranging between $60-$80 depending on your color choice. By using long staple wool with a tighter weave, the material is less likely to itch. Plus, its twill weave makes stains less noticeable and results in a diagonal texture.
The Woolly Mammoth Farmhouse Collection blanket comes in one size: 18.3″x13.9″, and comes in three different color options: cream, red/black/cream plaid, and red/navy/cream plaid. Each blanket is brush finished for extra softness and loft. Customers can enjoy the luxurious feel of this blanket year-round.
The Woolly Mammoth Woolen Company is U.S.-based, with their blankets handwoven in India. They believe that "every home needs a good blend of old and new pieces." The company specializes in wool blankets and promoting the great outdoors.
Woolly Mammoth Farmhouse Collection Highlights:
80% virgin Merino wool, 20% acrylic
Open weave for better airflow
Double-stitchedsides for crisp edging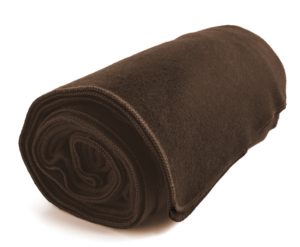 The EKTOS 80% Wool blanket is designed to stay warm in cold temperatures. It's made of a wool blend of material for extra strength and durability. It has a rugged appearance with edging for crisp ends.
Loom woven for high breathability, the EKTOS 80% Wool blanket absorbs moisture which keeps mites and allergens away— a great feature for those who suffer from allergies. It's also a natural insulator with a high warmth ratio. As a plus, this blanket can be used in the summer because of its insulation.
The EKTOS 80% Wool blanket is a great addition to any camping trip. It can be used as a ground cover and padding, as well as creating a makeshift bedroll or tent to protect against the elements. It can also be used as another insulating layer to a sleeping bag.
EKTOS Gear is a family-owned company that's been in business for several years. They specialize in producing quality wool blankets that can handle hard use. Their goal is to keep a person warm, even in the most extreme of conditions.
EKTOS 80% Wool Highlights:
Static-resistant
Rugged design
Naturally insulates air for warmth and cooling

The Arcturus Military blanket is made from 80% wool and 20% synthetic fibers. By blending the wool with synthetic fibers, the blanket is stronger and tougher— it can handle rough use without damage. It'll also stay warm in the winter and cool in the summer.
As military-grade quality, the Arcturus Military blanket absorbs moisture while remaining breathable. Customers will stay warm and dry in cold conditions. It's also naturally fire-resistant with no extra fire retardants added.
The Arcturus Military blanket is hemmed and long-woven on all sides with lock stitching for extra strength to the fabric. Machine washable, it gets softer after each wash. It's available in one size, 66″x80″, and comes in three colors— military gray, navy, and olive green.
Arcturus Gear is based in Washington state. They're well educated on the effects of cold and wet weather, which is where their inspiration stemmed from in constructing the Arcturus Military blanket. They wanted a blanket that could handle the rough use of outdoor activities while keeping a person warm and dry.
Arcturus Military Highlights:
Handles rough use
No added flame retardants
Softer after each wash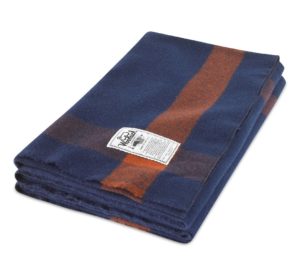 The Woolrich Cavalry blanket is made of 85% wool and 15% nylon. This lends the blanket extra strength while keeping the user warm. It has a rugged appearance with a coarser feel than today's softer styles.
Woolrich Cavalry blanket is protected from the risk of unraveling edges thanks to its selvage edges and over-seamed ends. This blanket is a recreation of the original blankets Woolrich, Inc. provided to the troops in the American Civil War from 1861-1865.
The Woolrich Cavalry blanket is part of the U.S. Heritage Collection. Available in one size 66″x80″, it's navy blue with red brick border strips. It's versatility makes it a great option for both indoor and outdoor use.
Woolrich, Inc. is a Pennsylvania-based company that was founded in 1830. It stands as one of the oldest clothing companies in the U.S. They've supplied blankets to armed forces during the Civil War, WWI, and WWII.
Woolrich Cavalry Highlights:
Warm and durable
Ideal for both indoor and outdoor use
Same blanket construction as those supplied to military

The Faribault Foot Soldier Military Army Medic blanket is made of 100% wool. It's durable and specifically built for hard use. This option is ideal for both indoor and outdoor use.
A recreation of the original blanket created for the U.S. Army Medical Corp, the Faribault Foot Soldier Military Army Medic blanket is built to keep an individual warm and comfortable in cold conditions. It was originally made in 1917 for the U.S. Army Medical Corps. Its olive green color is stamped with the U.S. Army Medical Corps insignia.
The Faribault Woolen Mill Co. is a Minnesota-based company that was founded in 1865. They started producing wool blankets for the public in 1872, then supplied U.S. troops in 1917 during WWI. To this day, its 150-year-old building still produces wool products and is one of the last operating vertical woolen mills in the U.S.
Faribault Foot Soldier Military Highlights:
100% wool
Original design supplied to U.S. troops
Built for rough outdoor use
13. Fells Andes Sill

The Fells Andes Sill throw is our most luxurious and our most pricey pick for best wool blankets. This is largely due to the material. It's made of 100% Peruvian baby alpaca wool— one of the most sought-after materials in the world.
Designed in classic contemporary style, the Fells Andes Sill throw is very soft and easy to clean. It offers warm comfort during the winter and soft, cooling in the summer. It comes with a leather strap to hold the throw when traveling or placed in storage.
As a lightweight option, the Fells Andes Sill throw comes in a cool grey cool with ecru herringbone weave, giving the material a V-shaped pattern. Complete with a twisted fringe, it has 51″x71″ dimensions.
Fells Andes is a California-based company that specializes in producing natural, eco-conscious materials. Each product is designed to bring a feeling of serenity to any living space.
Fells Andes Sill Highlights:
100% Peruvian baby alpaca wool
Comes with a leather strap for easy travel
Soft and lightweight
14. Creswick Australian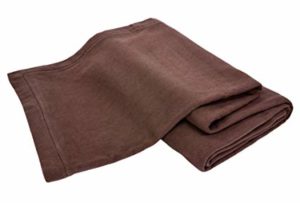 The Creswick Australian blanket is made of 70% recycled Australian wool and 30% nylon. The synthetic nylon fibers make it more durable while providing soft warmth. Designed to be thick, but not bulky.
The wool in the Creswick Australian blanket contains lanolin, a natural wax secreted by wool-bearing animals like sheep and alpaca. It has antibacterial properties, an ideal feature for those prone to colds and allergies. This blanket is suitable for indoor use during the colder seasons— it may not hold up well with outdoor use.
What sets apart Australian wool from regular wool are the fibers. Australian wool fibers are smaller in diameter and more numerous than other wools. Once woven, it produces a soft, strong material. The Creswick Australian comes in three sizes and available in six different colors.
Creswick Australian Mills Co. is Australian-based and founded in 1947. Family-owned and operated, they're the only color woolen mill in Australia.
Creswick Australian Highlights:
70% Australian wool, 30% nylon
Warmth without bulk
Antibacterial properties from lanolin

The Ever Ready Olive Drab blanket is made of 80% wool and 20% synthetic fibers. It does well on its own or as an extra layer during cold weather. It's effective in trapping body heat while wicking away moisture.
Similarly styled to those issued in the military, the Ever Ready Olive Drab blanket is both durable and dependable. It's a great addition to any outdoor activity and emergency kit. Easily folded into a small size for storage and transportation, the wool acts as a natural flame retardant.
The Ever Ready Olive Drab blanket is 66″x90″ and comes in an olive green color. It's warm, but not heavy with stitching along the sides to reinforce the edges. For best care, it's recommended to machine wash and line dry.
Ever Ready First Aid has been in business for over 30 years. They've served governments, municipalities, hospitals, first responders, industrial clients, and the military by offering a wide range of medical products and supplies.
Ever Ready Olive Drab Highlights:
80% wool, 20% synthetic
Ideal for everyday and emergency use
Natural flame retardant

The Stansport® Heavy Weight blanket is made of 55% wool and 45% polyester blend. It's our most budget-friendly option. This blanket will keep an individual warm and dry during the winter season.
Naturally retains heat and repels water, the Stansport® Heavy Weight blanket is an ideal option as an emergency blanket and for camping trips. It's a great form of protection against the elements.
The Stansport® Heavy Weight blanket is 60″x80″ and comes in two colors— gray and olive green. It's best to dry clean only to avoid shedding and to preserve its lifespan. This blanket can also be used as a ground cover, as a tablecloth, and even as an emergency shelter.
Stansport® is based in California and specializes in camping gear. While they don't have their own physical store, their products can be purchased on their site and available through several, well-known sporting goods retailers.
Stansport Heavy Weight Highlights:
Budget-friendly option
55% wool, 45% polyester blend
Ideal emergency blanket
What is a Wool Blanket?
A wool blanket is usually made from sheep's wool. They can also be made with wool from camels, goats, and alpacas. A wool blanket is traditionally associated with comfort and warmth, but few realize that the properties of wool can actually make one of these blankets ideal for year-round use.
Benefits of a Wool Blanket
There are a few benefits to choosing a wool blanket over a regular blanket. Characteristics like temperature regulation, durability, and overall comfort come to mind. Wool is a versatile material that has been around for centuries.
Temperature Regulation
Wool traps heat to provide warmth. It's known as a great insulator— retains heat, but also draws air in for cooling. Wool's high breathability makes it ideal as a year-round option.
Durability
Wool blankets typically last longer than traditional blankets— up to 10 years. it's one of the reasons why wool blankets come at a higher price tag. It's also why this type of blanket is issued in the military. Most wool blankets include edging for increased strength and to prevent fraying.
Comfort
Wool is typically viewed as a scratchy material, however, if you do your research right, you'll realize that not every wool blanket is itchy. Many wool blankets are actually soft— it all depends on the type of wool and how it was woven. Wool wicks away moisture and naturally repels water, plus it's hypoallergenic— its static-free material won't attract dust and dirt.
What to Look For in a Wool Blanket
Before you begin shopping, there are a few things to keep in mind when on the hunt for the best wool blanket. These factors include types of wool, size, and weight, and if a blanket is hypoallergenic.
Types of Wool
Wool doesn't just come from sheep— it can also originate from lambswool (Merino), goats, alpacas, even camels. No matter the source, be sure to look out for "natural fibers." This type of wool will use little to no synthetic material. It will also come at a higher cost.
A couple of terms to look out for are "virgin" wool and "recycled wool." "Virgin" means that a wool blanket doesn't contain any recycled wool. "Recycled wool" is cheaper than virgin wool, and less likely to contain traces of synthetic fibers.
Size and Weight
The size of your bed or whatever surface you plan to use the blanket on will determine which one you buy. A good bed blanket will cover the bed and hang over the sides. Also, focus on the warmth a wool blanket offers, not the weight— weight won't determine warmth. Look at the blanket details to see what type of wool and/or other materials are included as well as the type of weave.
Hypoallergenic
Like memory foam mattresses, a good wool blanket will be hypoallergenic So avoid "wool blankets" that contain synthetic fibers. They may help the blanket last longer, but they may also irritate the skin because of the chemicals they contain from production. Again, focus on a wool blanket made with natural fibers.
To get the cleanest, germ-free sleep, don't forget to wash your wool blanket every month or so, as well.
Frequently Asked Questions
Can wool blankets be washed and dried?
You often can wash a wool blanket, though it's best to check the care label before you throw it in your washing machine. Generally, you should use a gentle detergent with cold water on a delicate wash cycle. And instead of putting your wool blanket through the dryer, let it air dry on a clothesline or drying rack.
How do you brush a wool blanket?
You can give your wool blanket a brush to keep fresh between washings. Try laying your blanket flat and using a soft-bristle garment brush. Move the brush along the wool's grain to keep the fibers lying in one direction.
How do you protect wool blankets from moths?
To prevent moths from ruining your wool blankets, make sure your place of storage is completely clean. Move things around often so moths don't have any place to settle. You might even want to consider an airtight bag for your blankets.
And wash your wool blankets well before you store them, along with any other clothing or bedding items you keep them with. Moths are attracted to things like sweat and food crumbs, so storing dirty bedding can draw the pests in.
Are wool blankets itchy?
It's commonly thought that wool feels itchy, but this trait can depend on the wool's quality. Wool made with thicker strands or a tighter weave may itch more than wool made with thinner yarn or a loose knit. Organic wool may irritate your skin less than a wool blanket that's treated with chemicals. If you're worried about itchiness, we recommend shopping for an organic wool blanket made with finer yarns.
How do you know if you're allergic to wool?
Symptoms of a wool allergy include:
A rash or itchiness
Eye irritation
A cough
A runny nose
Even if you're not allergic to wool, you may still be sensitive to the material. An allergy is a genetic condition where your body perceives wool as a foreign invader that it has to fight off. Allergies can progress to life threatening symptoms, while a sensitivity may cause mild symptoms that disappear when you're no longer around wool.
Have You Chosen Your Wool Blanket?
Wool blankets have several uses— as part of an emergency kit, to use as outdoor gear, or as soft and cozy throws on a cold night. While there are many types of wool, generally you want to choose a wool blanket made of natural fibers and made with 70% wool or higher.