Best Weighted Blankets: Reviews and Buyer's Guide

Bedding Guides
A weighted blanket is a blanket filled with glass beads or plastic pellets and is designed to help you relax. Dating back to the 90s, weighted blankets were first used to help alleviate the symptoms of severe anxiety, autism, and even PTSD.
After the successful Kickstarter campaign for the Gravity Blanket in 2017, hundreds of other weighted blankets popped up in the market. Some customers still use them for anxiety-related issues, while others enjoy the comfort a weighted blanket brings. Because there's such a variety of weighted blankets to choose from, finding the best one for your particular needs can be a headache.
To make your search easier, we cover our favorite weighted blankets as well as what to consider before choosing one.
Best Weighted Blanket
| Blanket | Highlights | Price Range |
| --- | --- | --- |
| BlanQuil | Engineered to be 8%-15% of your body weight so that you feel hugged by your blanket | $129 |
| Calmforter | The Calmforter was developed by a team of healthcare professionals and comes with an extra cozy, Minky cover for cold nights. | $119 |
| Good Knight Weighted Blanket | Good Knight's weighted blanket is hypoallergenic and designed for people with autism, ADD, and anxiety. It's available in three weight options. | $54-70 |
| ZonLi Weighted Blanket | ZonLi's weighted blanket is available in 6 weight options for adults and two for kids. It features premium cotton cover and hypoallergenic glass beads. | $49-$150 |
| Baloo Weighted Blanket | The Baloo blanket is Oeko-Tex 100 Standard Certified, machine washable, and comes with a 30-night sleep trial. | $169-$189 |
| CuteKing Weighted Blanket | CuteKing's weighted blanket is available in four weight options. It comes with a 30-night sleep trial and lifetime mending services, too. | $29.99-$99 |
| YnM Cooling Weighted Blanket | YnM's cooling weighted blanket features moisture-wicking SMART fabric for temperature control. This option is machine washable and backed by a 3-year warranty. | $80.90-$124 |
| Quility Premium Adult Weighted Blanket | Quility's weighted blanket is Amazon's #1 Best Seller in the Weighted Blanket Category. We like this blanket because it comes with a complimentary Minky cover for cold nights and is available in seven weight options. | $74.70-$189.70 |
A team of healthcare professionals designed the Calmforter as a solution for a wide variety of sleep troubles. It only comes as a 12-pound option because the creators this blanket believe it's the ideal weight for both adults and children.
These blankets have an ultra-soft, Minky cover, so they feel fuzzy; however, they have SensaCool Dots throughout to help with temperature control. Inside is a mixture of Calmforter's CloudSoft Polyfill and Stardust Minibeads to create even pressure.
Calmforter comes in a variety of color options to match any bedroom decor and has a removable cover for easy washing. You can find these blankets on Amazon for $119.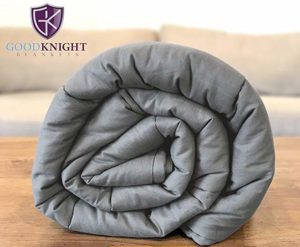 The Good Knight Weighted Blanket is designed to help people with autism, ADD, stress, or generalized anxiety disorder by promoting calm feelings. It's dark grey and available in 15, 17, or 20-pound options. You also have the option to buy a removable cover to go along with it.
The blanket itself is made with 100% premium cotton and non-toxic poly-pellets, so it's hypoallergenic, too. You can find Good Knight blankets on Amazon for anywhere between $54 to $70, and they come with a 100% money-back guarantee should find it's not for you.
The ZonLi weighted blanket is one of Amazon's top-rated options. It's available in 15lb, 17lb, 20lb, 22lb, 25lb, and 30lb options for adults and 5 or 7-pound options for kids. Plus, Amazon carries it in a multitude of different colors and sizes.
This blanket features a premium cotton cover, hypoallergenic glass beads, polyester padding, and two layers of microfiber filling to prevent glass beads from leaking. ZonLi also recommends buying their bamboo-rayon duvet cover to protect your new weighted blanket.
The ZonLi blanket should not be machine washed; instead, they recommend spot cleaning it. Should you buy their duvet cover, it can be machine washed for more convenient cleaning.
The Baloo Weighted Blanket is an eco-friendly option with lead-free glass microbeads sewn inside. It's designed with breathable cotton and double-quilted stitching to prevent uncomfortable bunching and heat retention. Plus, it's Oeko-Tex 100 Standard certified, so it's safe for sleepers of all ages.
The Baloo blanket is grey and available in 15 or 20-pound options, and measures 60×80 inches, equaling the size of the surface of a Queen-size mattress. Every Baloo blanket is machine washable for convenient cleaning, too.
After you buy a Baloo, you have 30 nights to test it out risk-free to see if it fits your sleep needs.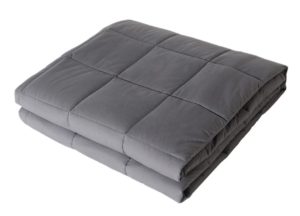 The CuteKing weighted blanket is dark grey and available in four weight options including 10lbs, 15lbs, 20lbs, and 25lbs. It's available in Twin, Queen, and King sizes.
This blanket features a breathable, high-density cotton cover, glass beads, polyester and microfiber layers to prevent glass beads from spilling, and additional polyester padding to keep the beads in place.
CuteKing strongly recommends pairing their weighted blanket with a duvet cover to prevent damage and extend its longevity. We're fans of this brand because they offer both a 30-night sleep trial and a lifetime mending service should your blanket ever tear, spill glass beads, or break down.
YnM sells a wide variety of bedding accessories, including multiple weighted blankets. Their standard YnM weighted blanket receives great reviews, but we're fans of their cooling blanket in particular.
The YnM cooling weighted blanket is available in 15 or 20-pound options and comes in two color options— grey or light blue. On their website, they mention the 15-pound blanket is best for sleepers between 90-150 pounds, while their 20-pound option is better for people over 150 pounds.
The blanket features cool to the touch, 300-thread count bamboo SMART fabric, a thin polyfill, and premium glass beads evenly distributed throughout. The SMART bamboo cover is moisture-wicking to fight body heat and keep you sleeping cool.
The YnM cooling blanket is machine washable; however, they recommend buying a complementary duvet cover for the easiest care. These blankets come with a 3-year warranty and can be purchased on both Amazon or the YnM Home website.
The Quility Premium Adult Weighted Blanket is Amazon's #1 Best Seller in the Weighted Blankets category and has racked up over 6,700 five-star reviews. It's available in 7lbs, 10lbs, 12lbs, 15lbs, 20lbs, and 25lbs options, and comes in numerous sizes and color options as well. To make choosing your best Quilty easy, they include the recommended body weights with each of their blanket options.
This blanket has seven well-crafted cotton and polyester layers for even weight distribution and enhanced breathability. Its design is supposed to ensure glass beads never leak or spill out, either.
Every Quilty blanket comes with a removable, fuzzy Minky cover for extra warmth during cold nights. Plus, these blankets come with a 100% money-back guarantee if you decide it's not right for you.
Looking for a new bed for better comfort? Read our post on the best mattresses of 2023
What is a Weighted Blanket?
Weighted blankets are heavier than comforters, duvets, and quilts, and range anywhere between 5 and 30 pounds. Most often, they weigh 15 or 20 pounds and are filled with either plastic pellets or glass beads. These sleep accessories are best known for promoting a sense of calm and helping people of all ages get better sleep.
Due to their weighted nature, these blankets can provide what's known as deep touch pressure stimulation. Deep touch pressure stimulation (DPS) is firm, but gentle pressure that relaxes the nervous system. Squeezing, hugging, holding, or massaging your body can produce these same benefits, but weighted blankets allow for more relaxation.
This DPS therapy activates the parasympathetic nervous system (PNS)and triggers the release of both serotonin and dopamine. In response, your sympathetic nervous system (SNS) relaxes, and levels of the stress hormone, cortisol, decrease. Your PNS controls your "rest and digest" functions while your SNS is your body's alert system, responsible for your "fight or flight" reactions. When the SNS quiets down, and the PNS takes over, your body enters a state of relaxation and peace.
Dopamine and serotonin are two of your brain's "feel good" neurotransmitters and help induce a calm mood. In the process of falling asleep, your body converts serotonin to melatonin— the hormone that regulates your sleep-wake cycle. When serotonin begins converting to melatonin naturally, your body knows it's time for sleep.
Sleep specialists believe using a weighted blanket can help you fall asleep faster and get more restful sleep because the pressure they put on your body can help your mental and physical self reach a serene state.
Benefits of Weighted Blankets
Weighted blankets have skyrocketed in popularity as a result of the numerous sleep-promoting benefits they offer. Apart from helping you get better rest, they've been used for years to alleviate symptoms of anxiety, depression, autism, ADHD, OCD, and more.
Let's talk about the benefits of these trendy blankets.
Reduce stress. Stress impacts everybody on some level, but if you often find yourself lying in bed ruminating over your to-do list, falling asleep can seem like an impossible task. The deep pressure weighted blankets provides lowers stress levels and promotes calm feelings to stop your mind from running.
Improve your mood. The DPS weighted blankets employs trigger dopamine production. Dopamine is a "happy" hormone that boosts your mood.
Prevent feelings of anxiety and depression. Mood disorders impact more than 8.3 million Americans. Anxiety and depression can stem from low levels of serotonin. Because these blankets promote serotonin production, they combat unpleasant, nagging thoughts and help your mind and body calm down. Often, people feel relief using a weighted blanket.
Help you sleep sounder. Many reviews of these blankets have mentioned the mere weight of them can put an end to restless tossing and turning and help you get comfortable. Plus, because they elicit serotonin production, they promote deeper sleep cycles and prevent you from waking up as often.
Combat insomnia. Serotonin is critical in regulating your sleep-wake cycle because it converts to melatonin. The release of serotonin tells your body it's time to start producing melatonin. In turn, increased melatonin levels cause drowsiness and allow you to drift off to sleep.
Provide relief for restless legs syndrome. People with restless legs syndrome, or RLS, describe the discomfort in their legs as "tingly" or feeling like pins and needles— causing an irresistible urge to move the legs in hopes of relief. The constant need to move can make it both difficult to fall asleep and stay asleep. Many patients find relief from using compression socks because they apply enough pressure to ease the uncomfortable sensations in their legs. Weighted blankets help RLS in the same way compression socks can by reducing discomfort with even pressure.
Relieve arthritis and fibromyalgia pain. Arthritis is defined as inflammation of the joints, resulting in chronic pain; whereas fibromyalgia, a type of arthritis, is characterized as all-over stiffness and pain. The pressure from a weighted blanket can provide benefits similar to a therapeutic massage in relaxing the nervous system and easing discomfort for arthritis and fibromyalgia-sufferers.
Alleviate symptoms of sensory processing disorder and prevent panic attacks. Sensory processing disorder occurs when information gets jumbled in your brain, causing a sort of "traffic jam," preventing you from properly verbalizing your internal feelings. These traffic jams can lead to stress, anxiety, and eventually, meltdowns. These blankets work to promote calm feelings and prevent the anxiety and panic that comes with this disorder, allowing you to gather your thoughts without getting overwhelmed.
Help children with autism and ADHD get better sleep. Deep touch pressure therapy is often used with autism patients to decrease stress hormones and boost serotonin and dopamine levels. The change in hormone levels can prevent nighttime episodes around bedtime and help those with these disorders doze off faster and get more restful, reparative sleep.
While many people sing their praises, these blankets do have their downfalls. Weighted blankets are heavy, hard to travel with, unsafe for children to use without an adult, and sometimes hot. If you have a disorder such as RLS or arthritis and travel often, say for work, these may be too cumbersome to bring along with you. Even though weighted blankets provide you relief at home, they're likely not practical for trips.
Due to how heavy these bedding accessories can be, they can retain body heat and cause you to sleep hot. If you're already a hot sleeper, look for a blanket with breathable fabrics or cooling technologies.
How to Choose a Weighted Blanket
We weren't kidding when we said there are hundreds of different high-quality weighted blankets sold today. You can buy these from major bedding retailers or mattress stores, but they're also found on sites like Etsy and Amazon. So, how do you choose the perfect one for you?
Start by thinking about why you're interested in a weighted blanket in the first place. Are you combating specific sleep troubles? Or, are you just interested in getting better Zzz's? If you're seeking relief from mental health or sleep disorders, choose a blanket that's been engineered to help with your issues. Don't forget to read customer reviews to see if current owners of your prospective weighted blanket have noticed an improvement in their sleep.
Next, determine your blanket's ideal weight. As we mentioned, these bedding accessories can range in weight from 5 to 30 pounds— what is comfortable for one person may not be suitable for the next. A good rule of thumb is to choose a weighted blanket that is 7-12% of your body weight. Meaning, a 130-pound individual would be best suited with a blanket between 9-15 pounds.
Kids below the age of 8 should not use weighted blankets due to the risk of suffocation. For kids 8 and older, choose a 5-lb blanket or one that's 10% of their body weight.
Next, consider your climate and sleeping habits. Do you often wake up overheated, or are you usually struggling to get comfy and cozy? If you live in a warm place or experience hot nights, a breathable weighted blanket is better for you. Many bedding brands even sell cooling weighted blankets to combat body heat.
Alternatively, if you're in a cold climate, a fuzzier, thicker blanket can help you sleep soundly. Plus, some customizable weighted blankets come with removable duvet covers, giving you the freedom to switch it up if you're feeling too hot or too cold.
Lastly, consider your current bed set. While this may not matter to some, many reviews of weighted blankets mentioned wanting the blanket to match or complement their current bedding. Because weighted blankets come in different sizes and color options, you should have no problem finding something compatible.
Are you waking up every morning with a stiff back? Read our guide on finding the best mattress for back pain.
What Should I Consider Before Buying?
After you've determined what kind of weighted blanket is best for you, consider the cost and the perks. Weighted blankets can be anywhere between $50 to $300, with more luxurious options having an even heftier price tag. Many weighted blankets boast sleep-promoting benefits, but not all of them are actually a good value.
Remember to set a budget for yourself. Because weighted blankets do vary so widely in cost, you can often find similar blankets offering the same benefits for different prices. If your budget is tight and you have your eye on a blanket just above your price range, you can usually find a comparable option priced more affordably by doing a little more research.
To get your money's worth, look for a weighted blanket with a trial period or warranty. Unlike mattresses, weighted blankets don't often come with both a sleep trial and a warranty, and some don't come with either! Considering how expensive these bedding accessories are, it's in your best interest to find one with a return policy or warranty coverage (or ideally, both, but that may be hard). What's more valuable to you— sleep trial or warranty— all depends on personal preference.
If you're on the fence about which blanket to choose, you're better off looking for a weighted blanket with a return policy, so you have the chance to try it out and see if you like it. However, if you're pretty certain about your choice, look for one with a warranty. After comparing a variety of different blankets for our guide, we found the average warranty for these products is around 5 years.
Frequently Asked Questions
How do I choose a weighted blanket?
Choose a weighted blanket based on weight and material preferences. A weighted blanket should be about 10% of your body weight, so if you weigh 200 pounds, your weighted blanket should be 20 pounds. If you like an ultra-soft and plush weighted blanket, you'll want to find one with a Minky cover; however, if cooling, breathable blankets are more your speed, you'll enjoy one made with cotton or bamboo.
Do weighted blankets make you hot?
It really depends on the fabrics and materials they're made with. Some weighted blankets are designed for extra warmth, so they can cause night sweats if you aren't necessarily looking for a blanket to keep you warm. However, there are plenty of cooling weighted blankets made from breathable cotton, lyocell, and bamboo available for hot sleepers.
Can a weighted blanket be too heavy?
Yes, if you choose a weighted blanket that weighs more than 15% of your body weight, it may feel uncomfortably heavy. The extra weight may not be bothersome, but it's not necessary, and excess weight doesn't necessarily translate into more benefits. A weighted blanket that's 10% of your body weight offers all of the same sleep-promoting benefits of a heavier blanket.
Are weighted blankets safe for children?
Weighted blankets are not safe for infants and children younger than one year old because they pose a suffocation risk. Children under 10 should never use a weighted blanket to sleep unattended, either. When used safely, children can benefit from a weighted blanket and get better sleep.
Do weighted blankets really help with anxiety?
Weighted blankets were originally developed to ease anxiety and depression, so they are more than just another layer of bedding.  The science behind these blankets is called Deep Pressure Therapy, or DPT. DPT has been used as a treatment method for mental health conditions, including anxiety and depression, for years. When pressure is applied to your body, the parasympathetic nervous system (PNS) is activated. Your PNS is responsible for your "rest and digest" functions while the sympathetic nervous system triggers "fight or flight" responses, meaning once the PNS is activated, your body begins to relax and wind down.
Did You Find Your Next Weighted Blanket?
We hope our guide has narrowed down your selection and pointed you towards a comfortable weighted blanket for your sleep needs. Whether you're interested in a weighted blanket because they're the latest fad, or because you're addressing a specific sleep problem, you can find one that's perfect for you.
Don't forget to read customer reviews and use sleep trials to your advantage, too. If you're not sure which weighted blanket is best for you, these tools are invaluable.
If you're upgrading your entire bed set, check out our other bedding and mattress guides to learn about the top-rated beds sold today.