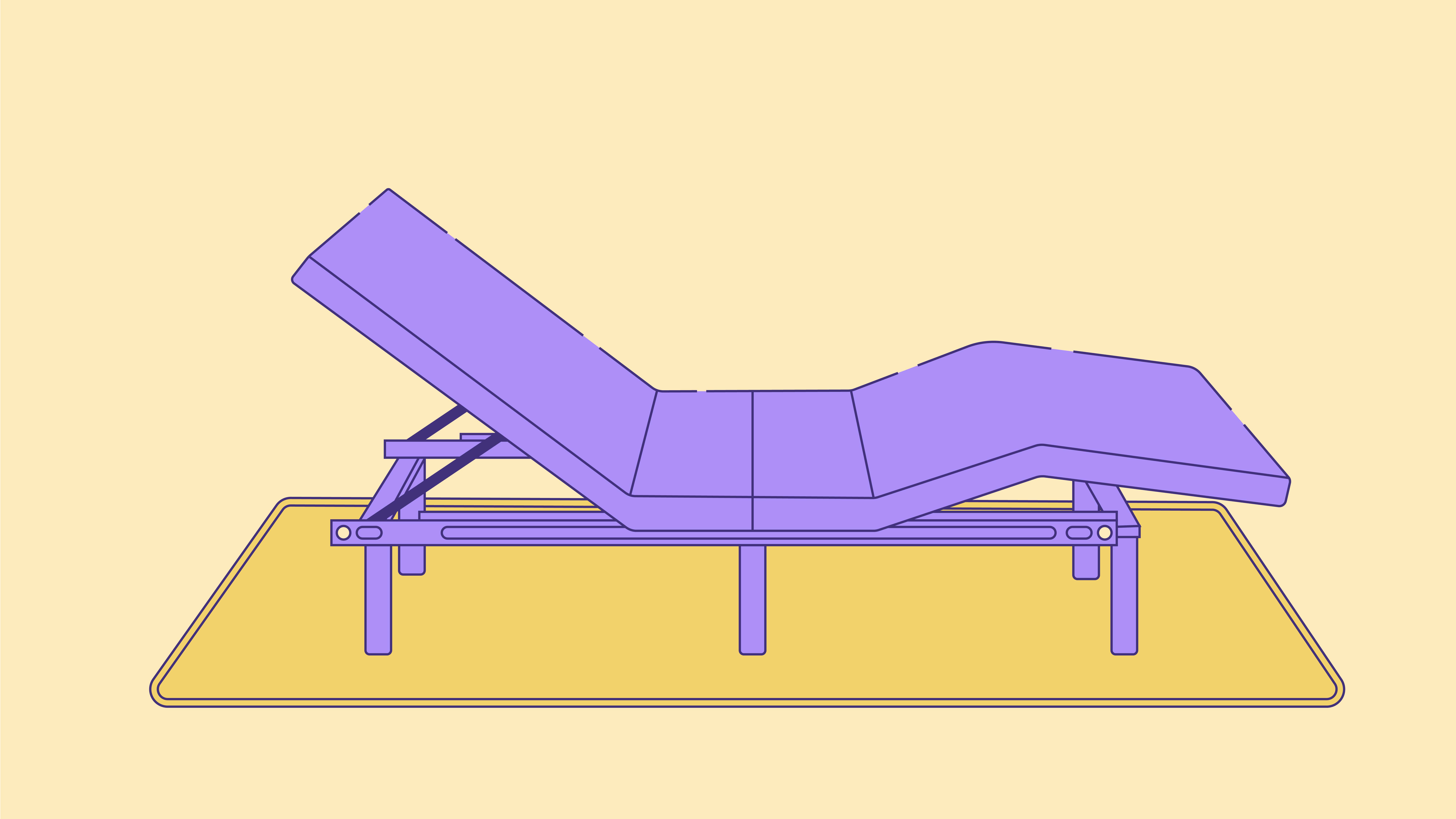 What is a Wall Hugger Adjustable Bed?

Mattress Accessories
Adjustable beds give you the ability to adjust the head and foot of your mattress. Wall hugger adjustable bed frames are very similar to standard adjustable frames, with one important difference: they stay right where you put them while they elevate or recline. This means you can keep them right next to a wall (hence the name). Standard adjustable beds can't be close to a wall because they need room to move backward and forward as they adjust.
Wall hugger beds are often used in small bedrooms and tight spaces. Thanks to their space-saving technology, you don't have to worry about moving away from your nightstand or hitting the wall as you adjust your bed. By diving into the details of wall hugger beds, we'll get a better look at their benefits.
History of the Wall Hugger Adjustable Bed
The Wall Hugger® was invented in 1973 by Leggett & Platt, a company that has been making mattresses since 1883. They knew people often don't go straight to sleep after getting into bed—many read, relax, or are on bed rest. Their goal was to make a bed people could adjust and get comfortable in without worrying about taking up too much space.
Leggett & Platt improved the adjustable bed experience by making a frame that elevated and reclined while staying in the same place. This innovative technology made it possible to put an adjustable base against a wall instead of awkwardly in the middle of the room. Their first two models of this ingenious bed were called the s-cape and the s-cape 2.0.
Why Choose a Wall Hugger Adjustable Bed?
While wall hugger adjustable beds are usually more expensive, they are often a better choice than a standard adjustable bed because they don't move forward or backward as they adjust. This saves space in your bedroom while still improving the sleep experience for people with injuries or health issues. One big way wall hugger beds help physically impaired sleepers is by keeping the nightstand within easy reach at all times and from all positions.
The Amerisleep Adjustable Bed+ has wall hugging technology, along with a few of the convenient features listed above. This bed frame makes adjusting your mattress easy with position presets; simply select the position you want, and the bed does all the work for you. The Adjustable Bed+ also offers a full-body massage, a backlit remote, and USB ports on both sides of the bed. And with a 25-year warranty, you can depend on this bed frame to improve your sleep experience well into the future.
Standard vs. Wall Hugger Adjustable Beds
Standard adjustable beds move forward as they recline and backward as they elevate. This takes the sleeper away from their nightstand and any items they may need. If the sleeper is recovering from an injury, twisting and straining behind them to reach medicine or a phone could do a great deal of harm.
With a wall hugger bed, the sleeper can adjust their bed as needed while staying next to their nightstand, no twisting or reaching required. Since these beds are better at using space, they're also a great choice for sleepers with small bedrooms.
Health Benefits of Wall Hugger Adjustable Beds
Adjustable bed frames give you the power to adjust the head and foot of your mattress. Sometimes elevating your legs and head is all it takes to find your best neutral sleeping position. A neutral position keeps your spine straight and relieves pressure from your joints and muscles.
For those who experience sleep apnea or acid reflux, sleeping with your head elevated greatly improves sleep quality by keeping airways open and clear of stomach acid. Clear airways also mean less snoring.
Lifting the foot of the bed eases foot swelling and improves circulation. For back sleepers, this also helps with back pain because slightly elevating your legs straightens out your spine. The wall hugger feature lets the sleeper customize their bed to best fit their needs.
Sleeping Positions and Adjustable Beds
Many sleep positions benefit from adjustable beds because they help you keep your neck, spine, and hips aligned and free of pressure. The sleepers who shouldn't use an adjustable bed are stomach sleepers. Elevating the head and foot of the mattress would bend their spine in an unhealthy way.
There is no "right" sleeping position for all sleepers—as long as your favorite position keeps your body aligned and pressure-free, you're good to go. That being said, the most common and recommended ways to sleep are on your side or back.
Side Sleepers
Sleeping on your side relieves pressure points and keeps your spine straight. We recommend side sleeping on an adjustable bed if you have sleep apnea because this position keeps your airways open. However, side sleeping on a completely flat mattress creates pressure points in your neck and hips.
An adjustable bed lets you elevate the head and foot of your mattress slightly, relieving the pressure on your neck and hips and putting your body in a neutral position. Having the power to adjust your bed as needed improves your comfort and sleep health.
Back Sleepers
Sleeping on your back in a neutral position helps with back pain and poor circulation. With an adjustable bed, back sleepers can ease pressure on their spine simply by elevating their legs and head until their spine is straight. Lifting your head also helps with sleep apnea because it pulls the tissues around your throat away from the opening of your windpipe, keeping your airways open.
Basic Features of Wall Hugger Adjustable Beds
There are some features you should expect from a wall hugger adjustable bed. A wall hugger should be smooth, quiet, reliable, and easy to operate. The remote they come with is easy to use and usually looks the same as a standard adjustable bed's remote.
Smooth Mobility
The wall hugger should move smoothly and quietly. You don't want to deal with a loud, jerky bed when you're winding down for the night or waking up in the morning. Read product descriptions and reviews carefully before you purchase anything so you know if other customers had any problems with the bed.
Reliability
Every adjustable bed base should come with at least a 10-year limited warranty. If anything doesn't work as it should, contact the manufacturer immediately and see if the damage is covered by the warranty. We recommend carefully reading all the warranty stipulations before you decide on a bed.
Easy to Use
Wall hugger adjustable beds are especially easy to use because they don't move forward or backward while they adjust. You don't have to move or shift your other furniture once you've reached the position you want.
Remote controls make the wall hugger even easier to use. These remotes are intuitive to operate, thanks to clearly marked buttons showing you the different ways you can adjust your bed.
Extra Features for Wall Hugger Adjustable Beds
Not only are wall hugger adjustable beds space savers and better for your health, they often have helpful features. The features we list here don't come with every wall hugger adjustable bed, so if you see something you like, look for a bed that lists it in the product description.
Full-Body Massage
Some wall hugger adjustable beds have a full body massage feature. Massage motors in the bed frame produce vibrations that soothe your muscles; you can adjust the intensity of these vibrations with your remote. After a long day, a massage is a great way to relax and let go of stress before bed.
Zero Gravity Position Preset
The zero-gravity position is a weightless way to sleep with zero pressure points. This is a neutral position that helps your body rest and repair itself during the night. An adjustable bed with a zero-gravity preset automatically adjusts your body into this neutral sleeping position. All you have to do is press a button!
Pillow Tilt
All adjustable beds can elevate the head of the mattress. However, some also adjust the top of the bed where your headrests. This feature better supports your head while you are sitting up in bed.
USB Ports
Many of the newer adjustable bed models include USB ports (some even have dual USB ports) in the side of the bed base near your head. This makes powering up your devices much more convenient. No more extension cords and wishing you had more outlets by your bed!
Under-Bed Lighting
This feature lights up the perimeter of your bed. Under-bed lighting is an excellent safety feature because it makes it easy to get in and out of bed during the night. You can either turn them on when you have to get up in the dark or leave them on all night.
Bluetooth Connectivity
With Bluetooth connectivity, you can connect your smartphone to the bed and use it to adjust your position. This is a handy feature if you ever lose or drop your remote and can't retrieve it.
What Mattress to Choose for a Wall Hugger Adjustable Bed
Wall hugger adjustable bases bend your mattress constantly, so you need one able to bend for long periods of time without breaking or creasing. Innersprings are not compatible with adjustable frames because they are stiff and their coils often break on this kind of bed frame. The best mattresses for an adjustable base are memory foam, latex, and hybrid mattresses.
Memory Foam Mattresses
Memory foam mattresses have layers of supportive, comfortable foam. The result? A very flexible bed that can bend with an adjustable frame while still conforming to your body's shape.
Latex Mattresses
Latex bends with an adjustable base while providing you with healthy and comfortable support. A latex mattress of average thickness is not as flexible as a memory foam mattress. We recommend buying a thin latex mattress for an adjustable base.
Hybrid Mattress
A hybrid mattress has layers of foam, material, and coils that work together to make a flexible and supportive bed. The coils in a hybrid are more supple than the coils in an innerspring mattress, so they don't run the risk of breaking on an adjustable frame.
How to Set Up your Wall Hugger Adjustable Bed
The setup for wall hugger adjustable beds is very similar to standard adjustable beds. Both typically don't require tools for setup, and as long as you read and follow the instructions carefully, it shouldn't take you long. The base is heavy, so we recommend asking a friend to help you assemble the bed. If your adjustable bed includes brackets, you can also attach a headboard to your adjustable bed frame.
FAQs
Do adjustable bed frames ruin mattresses?
This depends on the type of mattress you have. Adjustable bed frames are not compatible with innerspring mattresses. Innersprings are not flexible enough to bend with the base and the springs often break, making the mattress wear out faster. Latex, hybrid, and memory foam mattresses are all flexible enough for adjustable bed frames.
How much weight can an adjustable bed hold?
The weight limit for adjustable beds depends on their quality. Mid-quality beds are usually rated from 450-550 lbs, while high-quality beds are rated as high as 700 lbs. Make sure you read the weight limit carefully because if you go over the limit and something breaks the warranty may not be valid.
Can I use my existing bed frame with a wall hugger frame?
Many wall hugger frames can be paired with your existing bed frame. As long as your frame and the adjustable bed are the same sizes, they should work together just fine. If you have a slatted frame, make sure the slats are no wider than 2.75 inches apart. If the slats are spaced further apart, the frame won't provide enough support for the adjustable bed.
What is a zero clearance adjustable bed?
Other adjustable bed frames need four legs to create room for the large motors powering the joints and moving the bed. The zero-clearance bed doesn't need legs because it doesn't have the same beefy motors; it is much more compact. Without the legs, you simply attach it to your bed frame.
Can you get a split queen adjustable bed?
Yes, you can get a split queen adjustable bed. A split queen requires two custom mattresses, each 30 inches wide and 80 inches long. You can't make a split queen by placing two standard-sized mattresses together, unlike a split king which is two twin XL mattresses.
Is a Wall Hugger Adjustable Bed Worth Buying?
A wall hugger adjustable bed has all the health benefits and convenience of a standard adjustable bed. Thanks to its space-saving technology, you can put it anywhere in your bedroom and not worry about it hitting the wall or moving away from your nightstand as it adjusts. The wall hugger adds comfort and convenience to your bedtime routine. If you are shopping for an adjustable bed, buying one with wall hugging technology is definitely worth the added price.