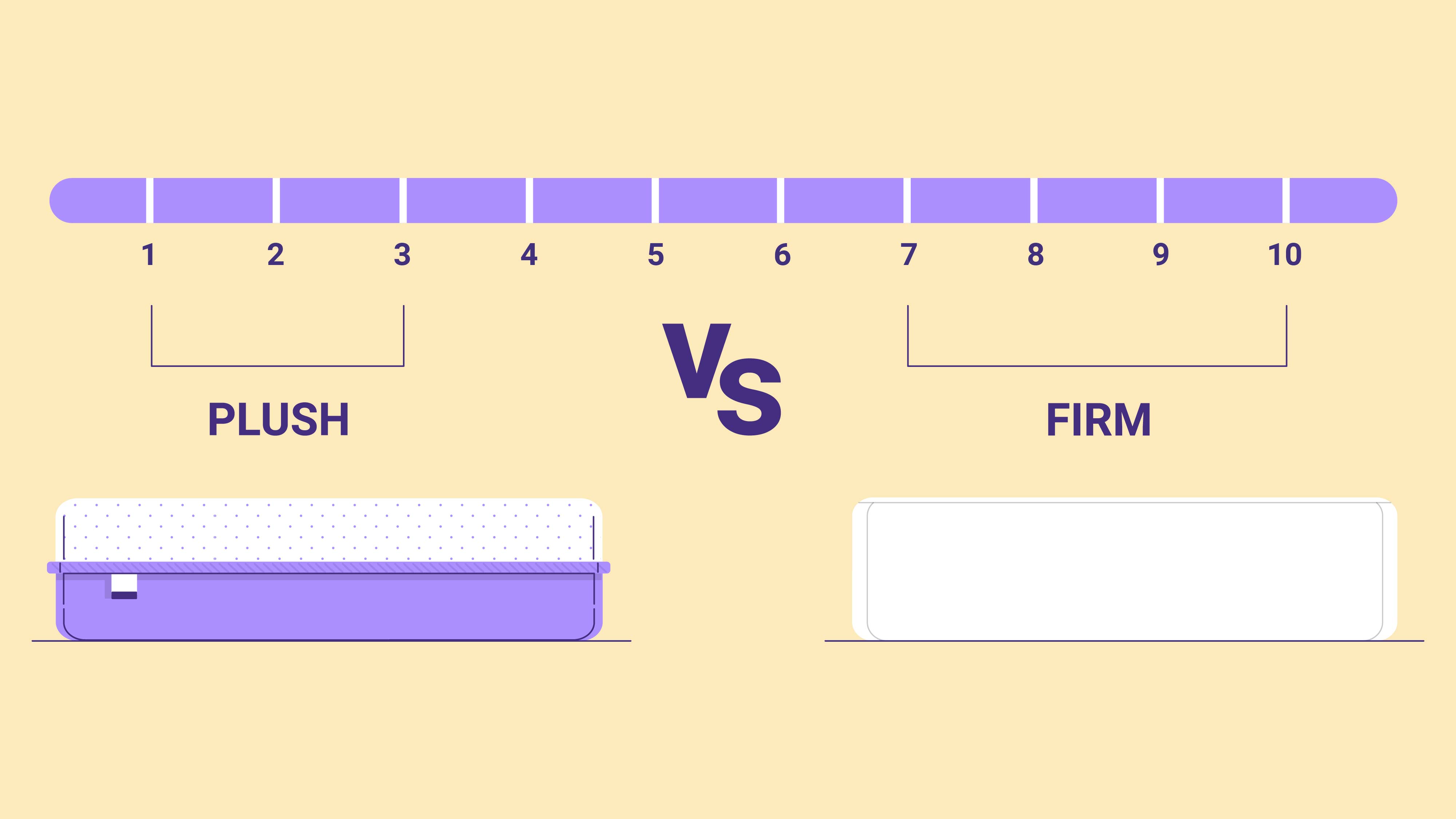 Plush vs Firm Mattress: Which is Best?

Mattress Guides
The firmness of your mattress has a direct impact on your quality of sleep. Sleeping on a mattress that is too firm or too plush can lead to issues falling asleep or staying asleep.
In addition, a mattress that is too firm or not firm enough can lead to joint pain. Finding a mattress with the right level of firmness and support is the key to getting a good night's sleep, especially crucial for those with sleep disorders or health issues.
In this article, we will help you decide whether a plush or firm mattress is the best choice. Your size, body weight, and preferred sleeping position all impact this decision.
Plush Mattress: Overview and Benefits
A plush mattress features a thicker comfort layer and a hugging sensation. On a firmness scale of 1-10, these mattresses rank at a 3 or lower.
The responsive design of a soft mattress allows it to contour to your unique body shape while you sleep. This provides a high level of joint and muscle support.
The body cradling element is beneficial for sleepers with sore muscles or areas of built-up tension. Those with arthritis or targeted joint pain may experience soothing nighttime relief when sleeping on a plush mattress.
Drawbacks of a Plush Mattress
There are some potential drawbacks to be aware of before purchasing a plush mattress. Some heavier or larger framed sleepers may experience a sinking feeling, leading to pain or stiffness in the morning.
In addition to this sinking feeling, plush mattresses may not be ideal for those mobility issues. The give that is associated with a softer mattress can make it difficult for some individuals to get out of bed.
Who Should Sleep on a Plush Mattress?
There are a great number of sleepers who could benefit from sleeping on a plush mattress. Mattresses for petite sleepers, those who weigh less than 130 pounds, are often softer for pressure relief—they're light enough that they won't need to worry about sinking too far.
The best mattresses for side sleepers are typically soft to medium for the same reason. The thicker comfort layers of a plush mattress hug the shoulders and hips for these sleepers. This may prevent pain in these sensitive areas.
A well-made plush mattress maintains a delicate balance between softness and support. After all, the bed can't be too giving, or else the sleeper can misalign their spine. When it comes to high-quality plushness, our top recommendation is the Amerisleep AS5 mattress.
The Bio-Pur® memory foam that forms the top layer is exclusive to Amerisleep. This memory foam is partly plant-based, as Amerisleep replaces select ingredients with plant-derived oils. The result is a memory foam that is more breathable and responsive than traditional memory foam.
Next is Active Flex, a material designed to improve the responsive feel of the Bio-Pur® cushion without limiting its plushness. Without Active Flex, sleepers might find it hard to move and may bow too far into the mattress when lying down.
The main transition layer is Affinity foam with HIVE® technology. This transition foam has hexagonal cutouts across its surface, which are all carefully placed to create different feels across different areas of the mattress. In the shoulder and hip areas, the bed feels more conforming for a softer feel. In the head, back, and feet, conformability is minimized for more support.
The mattress's main support layer is Bio-Core® foam. The stable structure increases the mattress's expected lifespan, allowing the bed to provide nightly comfort for more than a decade.
Amerisleep also produces the AS5 Hybrid, which contains a core of pocketed coils. This model is beneficial for sleepers seeking a soft mattress with firm edge support. The AS5 Hybrid mattress suits the same styles of sleepers as the original AS5, with some added bounce that's perfect for sleepers who enjoy a springy softness.
All Amerisleep mattresses include a 100-night sleep trial and a 20-year warranty.
AMERISLEEP AS5
Plush plant-based memory foam conforms to the body
Active Flex buoys a sleeper's body to minimize sinkage
Targeted pressure relief for the shoulders and hips
Firm Mattress: Overview and Benefits
Firm mattresses rank a 7 or higher on a firmness scale of 1-10. These mattresses feature a thinner comfort layer, while still providing sleepers with a moderate amount of support. Compared to plush mattresses, firmer mattresses have less give and responsiveness.
Those who suffer from back pain or have spine issues can find nighttime relief by switching to a firmer mattress. When you sleep on a firmer mattress, you won't have to worry about sinking into it.
Drawbacks of a Firm Mattress
Like plush mattresses, firm mattresses come with their own set of drawbacks. Those who need a lot of support and comfort while they sleep may find firmer mattresses to be too stiff or rigid. Sleeping on a mattress that is too firm can lead to joint pain or muscle stiffness.
Moreover, those with severe joint issues like arthritis may find that they cannot get the right level of support and cushion from a firm mattress. The lack of give on this type of mattress isn't the right fit for everyone.
Who Should Sleep on a Firm Mattress?
The best mattresses for back pain are often medium-firm to firm. Larger framed or sized individuals will also find a firmer mattress to be more comfortable. If you weigh 230 pounds or more, going with a firm mattress over a plush one is best.
Mattresses for back sleepers are typically firmer because they promote a safe, neutral spine. The right beds for stomach sleeping should also be firmer to limit sinking and to prevent the spine from curving unnaturally. Both stomach and back sleepers receive adequate joint support from a firm mattress.
The Amerisleep AS2 features a medium-firm surface, offering more gentle support than a firmer mattress would. This feel is most suitable for back sleepers, though some stomach and combination sleepers may also enjoy it.
The AS2 possesses many of the same materials as the AS5, they are simply arranged differently to achieve a medium-firm feel. The top layer is Bio-Pur® memory foam, which we mentioned is Amerisleep's unique variation on the traditional formula. The AS2's memory foam top is thinner than the AS5's, meant to feel firmer while still conforming to the body for pressure relief.
Next in the AS2's construction is the Affinity foam with HIVE® technology. The five zones established by HIVE® ensure the bed cushions sensitive areas like the shoulders and hips, while focusing more on firm support under the head, back, and feet.
The last layer is Bio-Core® foam, a material designed to increase the bed's durability while maintaining a supportive mattress surface for a healthy spine alignment.
As with the AS5, the AS2 is also available as the AS2 Hybrid. This model is helpful for sleepers who enjoy the responsiveness of coils or simply seek a cooling mattress.
The AS2 comes with a 100-night sleep trial and a 20-year warranty, the same as every other Amerisleep mattress.
AMERISLEEP AS2
Responsive firm feel with variable support for greater comfort
Five zones of targeted support from transition foam
Mattress structure strengthened by sturdy base foam
Choosing the Best Mattress for Couples
If you share your bed with a partner or spouse, there's a good chance the two of you have different firmness needs and preferences. This is particularly true if the two of you have different-sized bodies and sleep in different positions. In most cases when you're choosing a mattress, a medium mattress works best.
Medium mattresses make the best beds for couples. These mattresses provide some give while also aiding in pain and pressure point relief. There isn't a lot of motion transfer with this firmness level, so you won't be disturbed in the middle of the night when your partner moves in their sleep.
Still, some couples may enjoy soft mattresses if they are both side sleepers. Our soft vs medium mattress guide offers an in-depth comparison to help sleepers better decide.
Conversely, two back or stomach sleepers may enjoy a firm mattress. We recommend checking out our firm vs medium mattress guide to compare the benefits of each firmness.
For couples who have very different body types and sleep positions, there is a solution! A split adjustable bed can give each person exactly what they need to sleep comfortably and pain-free.
This type of bed will allow you to personalize the angle you sleep at and the level of support you get while you sleep. You can pair a medium mattress with an adjustable base for the best results.
FAQs
Is a plush or firm mattress better for back pain?
Whether a plush or firm mattress is better for your back pain depends on two factors. The first is your body size. The second is your preferred sleeping position. In most cases, a medium to medium-firm mattress is best for back problems.
This firmness level will also work for sleepers who are larger and who sleep on their stomach or back. Side sleepers and combination sleepers may require the soft support of a plush mattress to combat their lower back pain.
What is a plush comfort level?
A plush comfort level is a number or level that tells a shopper how plush or soft a mattress is. Typically, mattresses that are labeled as "plush" fall somewhere on the 1-3 range in terms of firmness. The lower the plush comfort level, the less firm your bed will be.
To find your ideal plush comfort level, we recommend lying on a variety of different mattresses before you buy. This will give you an idea of your personal preference when it comes to softness and support.
How do I make my plush mattress firmer?
You can increase the firmness of your mattress by adding a mattress topper to it. Mattress toppers feature several inches of additional comfort and support. To truly feel and experience the benefits of a mattress topper, try to find one that is at least 3 inches thick. A latex mattress topper is a great way to improve mattress firmness.
Is a firm or soft mattress better for hip pain?
In many cases, the best mattresses for hip pain are softer to relieve pressure and tension. Soft or plush mattresses can cradle and support the hip joints while you sleep. This contouring support is especially beneficial for reducing hip pain for side sleepers and combination sleepers.
Larger individuals who suffer from hip pain may require a slightly firmer mattress to alleviate their pain. Those who sleep on their back and stomach may also find more relief from hip pain on a firm mattress. So whether a firm or soft mattress is better can depend on a person's sleep style.
Can plush mattresses be too soft?
A mattress can be too soft for certain people. If you notice your mattress has started to feel too soft, check your warranty, it may be time to replace your mattress or box spring.
If your mattress isn't due to be replaced, you may just need to add some firmness to it. This can be done by adding a firm mattress topper to your bed. You can also try placing a piece of plywood underneath your mattress.
Conclusion
Choosing the right firmness level for your mattress ensures you get a comfortable night's sleep. Plush mattresses are ideal for smaller sleepers who sleep on their side or alternate sleep positions throughout the night.
Firm mattresses are better for larger sleepers who rest on their back or stomach. A firmer mattress prevents sinking and ensures these sleepers receive enough support.
Those with arthritis will experience the most relief from a plush mattress. Sleepers who experience back pain should go with a medium-to-medium firm mattress, as should couples with different body sizes and sleep positions.