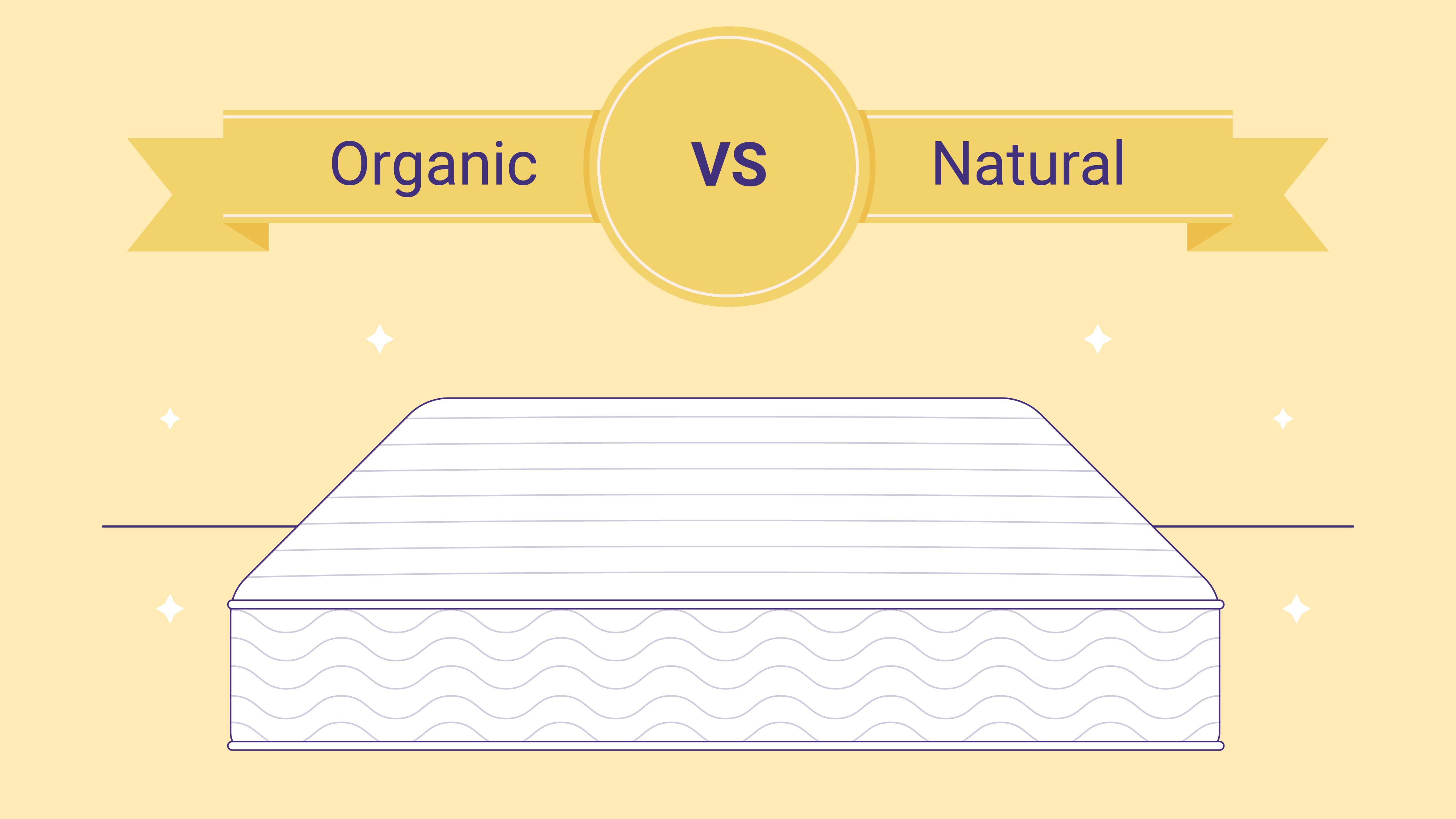 Organic vs. Natural Mattress: What's the Difference?

Mattress Resources
Nowadays, there are so many terms to describe mattress materials. It can feel just about impossible to sift through them all. Retailers rely on words like:
Non-toxic
Organic
All-natural
And even more terms get batted around like baseballs. For most people, these terms are just meaningless marketing ploys. However, the term "organic" actually does have a specific meaning.
In this post, we'll talk about the meaning of the word "organic." We'll also discuss how it differs from another big term used in mattress labeling: "natural."
Organic
When a mattress or component of a mattress is labeled organic, it isn't just all-natural. Its natural materials were raised and processed in a specific way.
Fabrics and materials certified organic are held to a high standard. Growers can't use any old fertilizer or any old pesticide on organic crops. Likewise, manufacturers can't use any chemical additives or processing methods they want.
Rules for Organic Materials
Natural materials like cotton, wool, latex, and more must adhere to lots of different rules. These rules focus on how products are raised and processed to qualify as organic. Typically, regulations focus on:
Pesticides
Toxic chemicals
Environmental impacts
For example, organic farmers rely on natural pest control methods over chemical ones. They cannot spray their crops with neurotoxic or ecologically destructive chemical agents. Instead, organic farmers try to introduce predatory insects like wasps into their crops. Farmers might also use pheromone traps in lieu of sprays.
Organic farmers also avoid chemical fertilizers in favor of mostly natural fertilizers. Conventional farmers use synthetic fertilizers composed of petroleum-based nitrogen. Organic farmers only use only plant or animal-based fertilizers, such as livestock dung.
Organic Certifications
Organic mattresses should have at least one of several certifications. Does the label say it's organic, but it lacks any organic certification logos to back up that claim? You should be suspicious of false advertising.
You may notice a variety of organic labels on your mattress. This is because there's a difference between certifying a whole mattress as organic vs. certifying some of its components. For example, it's common to see a mattress with a GOTS-certified organic cover and a GOLS-certified organic latex foam interior.
However, many mattresses cannot get an organic seal for the whole mattress. Lots of bed materials are not certifiable as organic (i.e., the components are synthetic or metal).
For example, pocketed coils make up a large percentage of a hybrid mattress' materials. That means it isn't possible to certify even a latex hybrid as organic. Only specific components like its cotton cover or latex foam comfort layer can be organic.
Mattresses with almost 100 percent organic components can apply for whole-mattress certification.
Understand it isn't bad if a mattress has certified organic components but is not organic-certified. Some of the best memory foam mattresses might sport:
All of that means it's probably a good mattress. It's just not certifiable as organic.
USDA Organic
USDA Organic attests that a product meets the organic standards set by the United States Department of Agriculture. It applies to crops and products grown or manufactured in the US or imported to the US after being certified compliant with USDA standards. The US also exports USDA Organic crops to other countries.
Does a mattress have a USDA Organic label? It likely applies only to specific components of the mattress.
It's not common to see a whole mattress with a USDA Organic label. Most mattresses don't meet the standards to sport this logo. A mattress with a USDA Organic seal must be at least 95 percent certified organic materials. That means unless a mattress is almost 100 percent organic latex and organic textiles, the whole thing isn't organic, according to the USDA.
GOTS
It's more common to see mattresses with the Global Organic Textile Standard (GOTS) label. This is because these standards are more international than the USDA Organic label. Thus, this certification is easier to obtain for manufacturers that don't source their materials in the US.
Natural textiles like silk, wool, cotton, and more can get a certification from GOTS. However, they must go beyond just being organic. They also have to adhere to strict standards on:
Toxicity
Eco-friendliness
Ethicality when it comes to the treatment of workers
Ninety-five percent of a GOTS-certified textile must be organic fiber. The other 5 percent still cannot contain any contaminants such as:
Toxic chemical fire retardants
Polyurethane
Heavy metals (like mercury and nickel)
Certain types of glues
GOTS-certified material cannot exploit workers at any point in the manufacturing process. The Global Organic Textile Standard also sets strict limits on the environmental impact of manufacturers and retailers.
GOLS
GOLS (Global Organic Latex Standard) is like GOTS. It expects similar things from manufacturers and sellers. However, it applies to organic latex rather than textiles.
Like with GOTS, GOLS-certified latex cannot contain things like:
The latex must also be low VOC to get a GOLS certification. Plus, mattress makers cannot destroy the ecosystem or exploit their workers.
Keep in mind only natural Dunlop latex can be certified under the GOLS standard. Natural Talalay latex is still a product of rubber tree sap. But it goes through several more steps in its manufacturing process. These steps make it ineligible to be labeled organic by either the USDA or GOLS. For more on the difference between the two, see our Dunlop vs Talalay foam mattress guide.
Natural
All-natural materials are not held to the same standard as organic materials. "Natural" simply means that the material comes from a plant or animal (such as cotton or silk). It does not imply that the plant or animal was raised in an ethical or healthy manner.
For instance, organic cotton is subjected to many regulations concerning:
Fertilizers
Processing chemicals
However, non-organic or "natural" cotton is not. Most of the time, the label "natural" means nothing. It's little more than "not synthetic" or "containing some natural fibers."
Since the term "natural" is not regulated in any meaningful way, it's largely meaningless. This is especially true when compared to the label "organic." That said, there are certifications natural mattresses can have without being organic. Such certifications include:
These certifications are still a sign of verified quality. So it's possible to find a high-quality mattress that isn't organic but still safe for sleeping. For example, many of the best latex mattresses have numerous certifications but fall short of being truly organic.
Other Organic Bedding
Because it's difficult to produce a mattress that can be verified as organic, it's also difficult to buy one. Particularly if you're hunting for a budget mattress that provides a high amount of value.
Many shoppers might find it easier to be eco-friendly with organic bed accessories, such as organic bed sheets. Some of our favorite organic bed products include:
If you're looking for natural materials that may not have an organic certification, there are plenty of options to consider:
FAQs
Can non-organic mattresses be certified?
There are many certifications for natural or synthetic mattresses. The CertiPUR-US® certification applies to memory foam mattresses. The certification means the polyurethane foam is free of toxic chemicals and heavy metals.
GREENGUARD certifications demonstrate that a mattress has low off-gassing potential. That means it won't release VOCs that can affect sleepers' health or indoor air quality. OEKO-TEX Standard 100 certification also sets limits on harmful VOC emissions. In addition, it prohibits the use of other potentially harmful substances.
Can viscose or lyocell be organic?
Viscose and lyocell are both made from wood pulp from trees and plants such as birch, eucalyptus, bamboo, and more. Often, the growing process for these crops is eco-friendly. However, viscose is dissolved using a corrosive solvent (Sodium Hydroxide). So it can never be classified as organic.
Lyocell is a different story. Lyocell is made using an organic solvent that doesn't create toxic waste. Plus, it doesn't leave behind traces of harsh chemical residue. That means lyocell can be organic.
What's the purest mattress material?
When it comes to purity, it's tough to beat organic latex. GOLS-certified organic latex is basically just latex. It doesn't have all the synthetic ingredients that come in other mattresses.
Do you want a mattress that is nothing but pure organic material? Then, an all-latex mattress with an all-natural fiber cover and GOLS and GOTS certifications is just about your only option.
Are natural or organic mattresses hypoallergenic?
That depends on what sensitivities you have and what your desired hypoallergenic mattress is made of. There are some memory foams made with plant oils rather than petroleum products. These foams are natural and hypoallergenic. However, they also contain synthetic components. So they cannot be classified as organic.
By far the most common natural/organic mattress material is latex. Natural latex is a hypoallergenic option for people who don't have a latex allergy. The material resists mold and mildew buildup. It can also fight other common allergens like dust, dust mites, and pollen.
On the flip side, what if you have a latex allergy? Then you're probably better off with a synthetic or plant-based memory foam mattress. Do you have a latex allergy? Even an organic latex mattress can cause skin irritation.
Is synthetic latex as good as natural latex?
Styrene-Butadiene Rubber (SBR) is nowhere near the quality of even non-organic natural latex. SBR is created using petroleum products as a cheap alternative to natural latex. Manufacturers may claim it mimics the feel of natural latex. However, SBR is not supportive, contouring, responsive, or even breathable.
Do you want the most sleep-friendly mattress available but can't afford expensive organic latex? Then, memory foam is a better option. Memory foam offers much more support and comfort than SBR. CertiPUR-US® certified memory foam also has a lot fewer harsh chemicals than SBR.
Bottom Line
Many manufacturers try to pass off the term "natural" as a synonym to the term "organic." But these two are not the same. Do you want the best organic or natural mattress on the market? You need to ensure that certifications back up any "organic" or "natural" claims.
Certifying bodies hold manufacturers to high standards of purity and ethicality. They don't allow them to use their logos unless they meet those standards. Does your mattress have a GOLS, GOTS, or other organic logo? That means you can rest assured your mattress truly contains natural and organically grown materials. You don't just have to take the seller's word for it.